Going to Rome for the first time? That makes you a Rome rookie 🙂 Be sure to avoid these tourist mistakes so you don't look and feel like a total newbie!
If we haven't met, we're Jana and Brett. We're normally exploring the Alps, but Italy is also in our hearts and our blood. Like, literally, it's in Jana's blood because her great grandparents came from Italy! And because of them, we both have dual Italian citizenship. But what does that have to do with you? 
In 2016, we spent 8 months living in Rome, Italy, and we've been back 4 times since. And while it takes a whole lot longer to truly become an expert in all things Rome, we've learned just a little bit (or a lot a bit!) along the way.
Our goal is to take you from a rookie to an experienced traveler before you ever set foot in Rome. So here are the top 15 tourist mistakes to avoid in Rome. 
---
Prefer to watch? Join 100,000+ people who viewed this on YouTube! Click here to watch.
---
Mistake #1 | Not using the water fountains (or using them incorrectly)
First of all, you do not need to buy bottled water in Rome, Italy. There are more than 2500 water fountains in the city of Rome flowing crisp, cool water from the Apennine Mountains or Lake Bracciano.
Bring a water bottle to refill from these fountains on a full day of touring the city. But even if you don't have a water bottle, you can still refresh yourself.
Don't bend over to sip from the fountain like a dog. Instead, plug the spout with your hand and the water will spring up from a hole on the top, resembling most modern day water fountains.
Can't visualize it? Skip to 1:17 in our YouTube video for a demonstration.
---
Mistake #2 | Assuming everyone in Italy speaks English
Although English is one of the most widely spoken languages in the world, the native language in Italy is, of course, Italian. And it's kind of rude to come to their country and assume they will speak your language (or English).
Also, speaking louder or more slowly doesn't change the fact that you're still speaking English. And it likely won't help a local who either doesn't understand (or doesn't want to understand). Recent estimates suggest that only about a third of Italians speak English on even a basic level. So don't assume that a local who won't respond to you in English is being rude.
All of this should encourage you to learn some basic Italian words, both to help you communicate and to better connect with the locals. 
Buongiorno / Salve = hello
Ciao = goodbye
Grazie = thank you
Per favore = please
Dov'è il bagno? = Where is the bathroom?
Il conto = the bill
---
Mistake #3 | Not being aware of scams and pickpocketing
Approximately 9 million international tourists visit Rome every single year, which makes this place a magnet for robbers and petty thefts. So please, please, please do not be the oblivious tourist who gets robbed or scammed! Especially when you're in the metros or crowded places. Keep an eye on your bags and your valuables.
Some of the most common scams you'll see are people trying to give you stuff for free. Like they'll try to put a bracelet on your wrist and tell you it's free. But of course, once it's on your wrist, they're going to ask for money.
There are lots of people who have roses and they'll shove them in your arms until you have to hold them.
And while there are some really nice locals who genuinely want to help you, unfortunately you can't trust that everyone is kind or giving you free stuff. 
---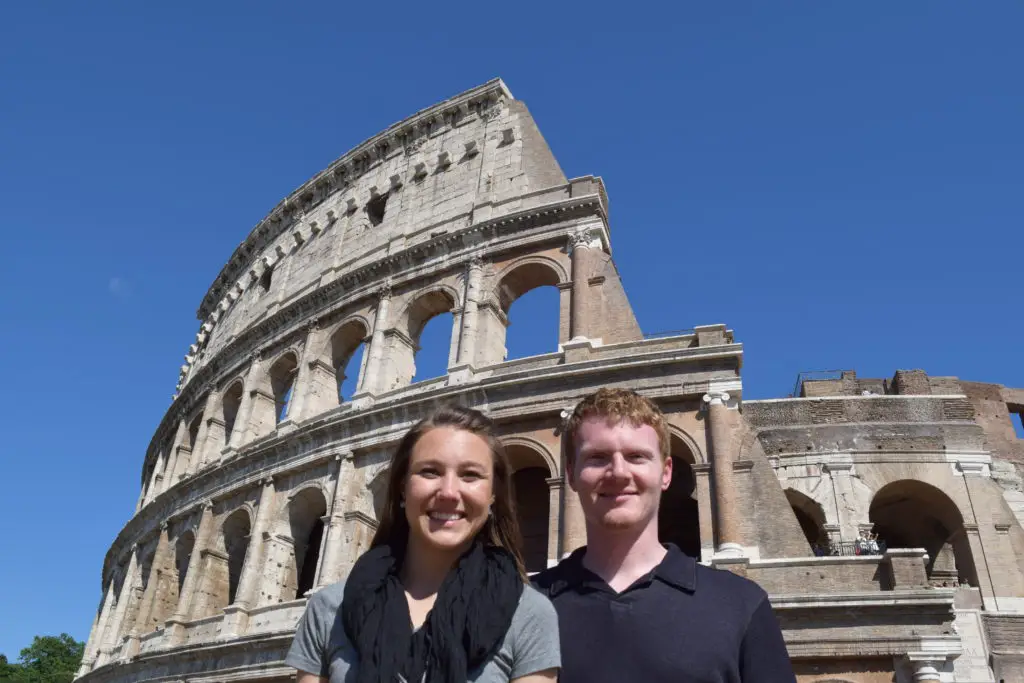 Mistake #4 | Trying to see all the main tourist sites in a short time
There are so many places to see in Rome, and you're going to need more than 1, 2, 3 days or even a week to see it all. So trust us when we say don't try to squeeze it all in or even think you have to take a tour of all the major sites.
Instead, decide where you really want to spend your time and then be okay with seeing the other things from the outside. Or better yet, choose to save some things for another trip to Rome altogether. 
---
Mistake #5 | Not pre-booking for the major sights
One of the best things about amusement parks is riding the roller coasters. But one of the worst things about amusement parks is waiting in long lines. And the same thing is true in Rome. Nothing is worse than waiting all afternoon in the heat of the sun in this long tourist line. So avoid this mistake by booking your entry times or your tickets in advance.
This definitely applies to the Colosseum, the Roman Forum and the Vatican. But it's worth checking online to see if you can pre-book for any of the sites that you want to visit. Not only does this save you time, but it also preserves your energy so you can see so many of the incredible sights that Rome has to offer.
---
Mistake #6 | Trying to take pictures at tourist spots during midday
Imagine that it's hot, sunny, and crowded with hundreds, if not thousands, of sweaty tourists. And that's pretty much every single site, every single day during peak season in Rome. 
You might be thinking, "How can this be a mistake? How else am I going to see all these sights?"
Our best advice is to go early in the morning or late at night if you want a great photo or just the opportunity to sit and take in the setting. Italians typically aren't morning people and neither are tourists. So the early mornings, especially before 8 a.m., have less people and it's cooler. 
Also, consider visiting places like the Colosseum after they've closed for the day. Not only are there less people lingering around, but Rome is so charming when it's lit up at night. 
---
Instead of telling you what you should do, we had so much fun creating skits in our YouTube video about what you shouldn't do. So if you found this helpful (or if our mid-grade acting was funny), then subscribe for more informative and entertaining content!  
---
Mistake #7 | Exposed knees and shoulders in church
The weather in Rome can be hot when you visit in summer. So often tourists wear *minimal* clothing. And while it's true that you can pop into a church in the middle of the afternoon to cool off, when you enter churches, you should probably think modest is hottest. 
We've often seen people turned away at the door or forced to wear these awful papery plastic coverings. So here's how you can avoid that mistake. 
Remove your hats.
Cover your shoulders, cleavage, midriff, and anything visible above the knees.
Stash a cardigan, sweater, or scarf (or even a rain jacket) in your day backpack to put on before entering a church. 
Sometimes they check and sometimes they don't, but just aim to be respectful anyway.
---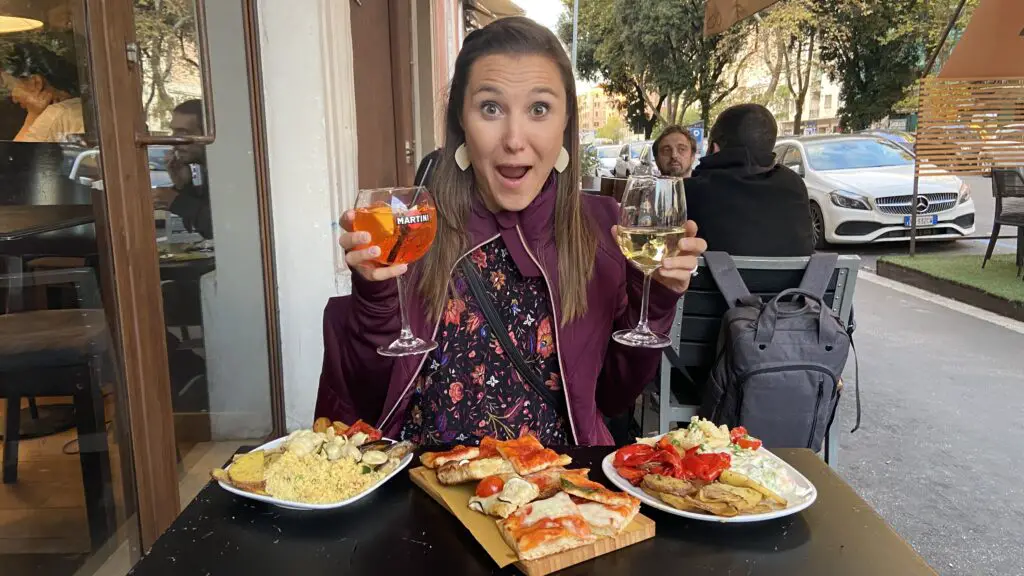 Mistake #8 | Not venturing into neighborhoods outside the center of Rome
Most of the main tourist sites are concentrated into a relatively small area of the city of Rome, but never leaving the center would be a mistake. There are neighborhoods just a few metro stops away that'll bring you in contact with the authentic Rome that locals experience each and every day.
In particular, there's Trastevere. Now, this neighborhood is no longer a secret, and you'll see hordes of tourists. But for the most part, if you go just a few streets in from the Tiber River, you'll be alone with the locals. 
Also, check out Prati not too far from the Vatican. This is one of the more affluent areas of the city and it has some of the most can't miss eating spots.
Another example is Testaccio on the southeastern part of the city. There you'll find some of the most authentic Roman dishes in the city, as well as the most locals of the three neighborhoods we've mentioned. 
---
Mistake #9 | Not looking both ways before crossing the street
The Italians have a really rigorous driving test, but they aren't known for being the best drivers in the world. In fact, here the road rules are kind of more like suggestions. 
And we have this theory that the Roman drivers don't really want to run you over, but they might, especially if they're in a rush and not really paying attention. A lot of drivers, especially taxis, will do anything to either beat you through a crosswalk or arrive just after you pass. Basically, whatever they can do to avoid coming to a complete stop.
So you don't want to cross the streets here without paying attention, but you can't be too passive either. So when you're ready to cross the street, make your intentions known, make eye contact with the driver, and then walk across the street with confidence.
---
Mistake #10 | Forgetting to validate train ticket
You validate a metro ticket by scanning it to enter the turnstile, which you have to do to get into the metro. But for buses and overground trains, you must validate your ticket at the machine.
Slide it all the way in and to the left until you hear it punch your ticket. Then keep it with you while you ride just in case you're asked. 
I've heard of people being fined €50 or more just for failing to validate their ticket. You could buy 20 gelatos for that price! 
---
Mistake #11 | Expecting public transport to run on time
Rome is beautiful and charming and full of food that will overwhelm your tastebuds. But no one's in a rush here, and this place isn't exactly known for its promptness.
So when you come, just be prepared for adventure and expect everything to take longer than you think. Metros typically run every 5 to 10 minutes, and trains will often alert you if they're going to be delayed. But as for the buses. Who knows? Sometimes you literally might arrive faster if you just walk. 
---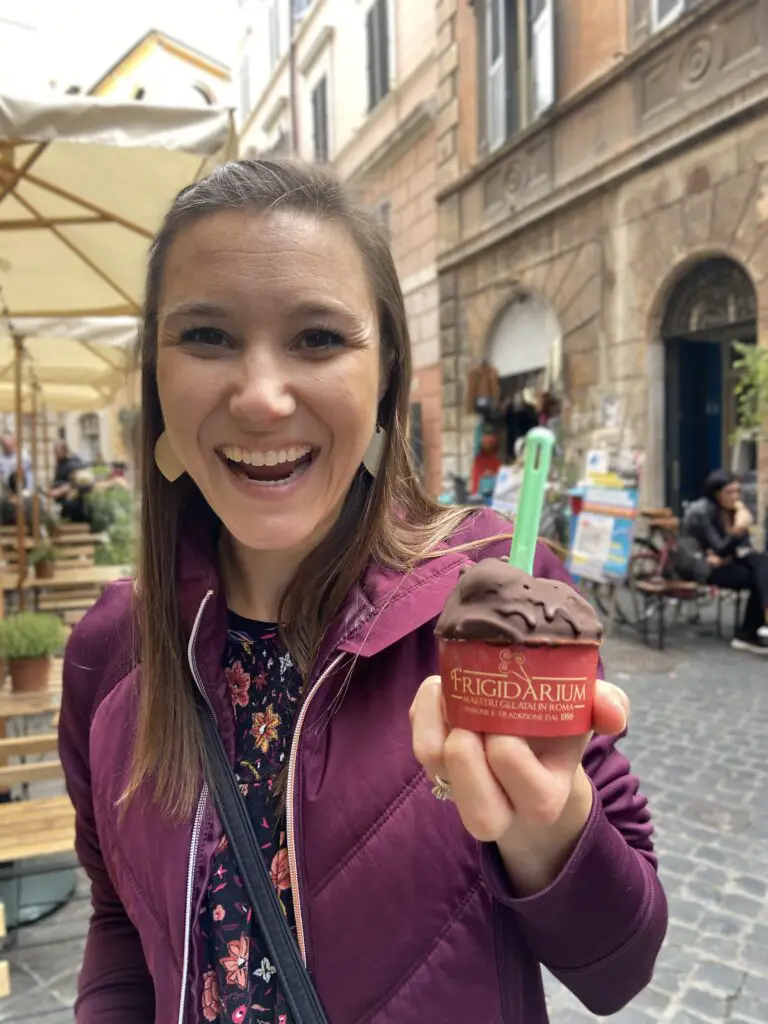 Mistake #12 | Trying to hail a taxi
Taxi… Taxi… Taxi!
If you don't want to walk, you can take a taxi in Rome. But this isn't New York City. Taxi drivers don't just drive around looking for customers. In fact, if you see one driving, they're probably already driving another customer or headed to the taxi stand. And in nearly every case, they are not going to stop to pick you up.
So if you're looking to ride a taxi, head to the taxi stand. They are in front of almost all the major sites. So you just head there and hop in the first taxi in line. 
Now, there could probably be an entire video with everything you might need to know about riding taxis in Rome. But we'll save that video for someone else.
---
Mistake #13 | Not wearing comfortable shoes
It's unavoidable. You're going to be doing a lot of walking in Rome, Italy. In fact, at the end of the day, if you check your pedometer, you're going to have no trouble reaching your 10,000 steps!
But here's the thing. Skip the cute sandals, skip the high heels, skip the flip flops because they just weren't made for the cobblestones and uneven streets of Rome.
The sites aren't as close as you think, and the metros don't drop you off at all the main touristy sites, which means you'll be doing plenty of walking. 
---
Mistake #14 | Expecting air conditioning
Americans love air conditioning. Italians do not. In fact, we've heard multiple locals say that AC causes bronchitis. (No joke.) So don't expect to walk inside to cool off unless you're hitting up a grocery store.
Actually, the insides of restaurants are often warmer than the outside. Which is partially why so many Italians eat outside.
On a related note, this can be true of lodging as well. Not everywhere is equipped with air conditioning and the places that do have it often have wall units that struggle to keep up. So before your trip to Rome, adjust your thermostat a bit higher to try and acclimate before you arrive.
And while you're here, use churches and grocery stores strategically to cool off during the day. 
---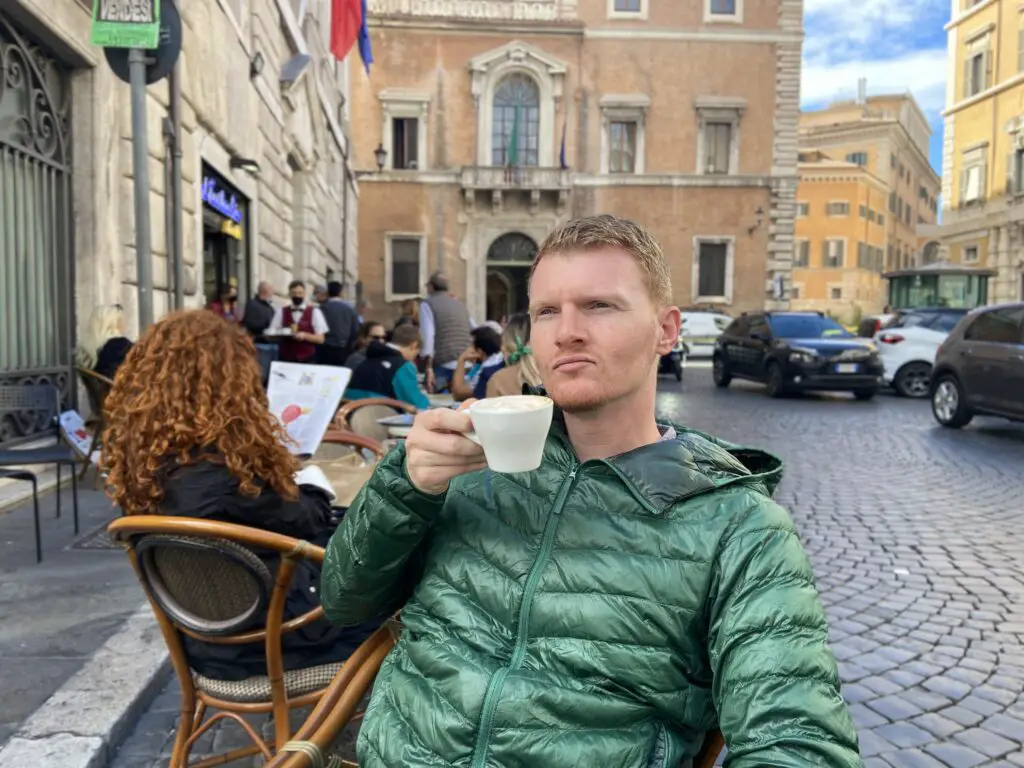 Mistake #15 | Not eating authentic Roman food
We read that there are more than 15,000 pizzerias and 8000 restaurants in the city of Rome. But please don't stop and eat at the first one you see! In fact, one of the biggest mistakes I see tourists make here in Rome is eating at the restaurants that cater to tourists.
Rome has so much incredible local food that you're not going to want to miss! We made this video about the best food to try in Rome, and this video delivers some of our best tips to help you eat like a local in Rome, Italy.