If you've ever searched "How to pack a carry on" or "What to pack in a carry on" then you're in the right place! Get an inside look at our travel packing list — and download a carry on packing list too!
---
Prefer to WATCH instead of READ? Here ya go!
---
If we haven't met, we're Jana and Brett, Aplins in the Alps. Since we both work online and have dual Italian citizenship, we spend half of the year living in Europe! And we've done that by learning how to pack a carry-on really, really well. 
I know it sounds crazy, but we pack up all of our life into one suitcase each plus one tech backpack. And then we live with only those 3 bags for at least 4 or 5 months a year. 
Which means that you can definitely pack carry-on only for your next adventure! Whether you're going to the beach, heading to the mountains, enjoying a cruise, or embarking on a road trip, you can also travel carry-on only. 
(The only exception is if you're traveling in the middle of winter. Since we only travel during the other 3 seasons, we pack just enough layers to manage during the chilly spring and fall.)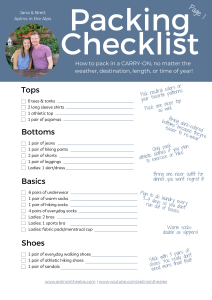 This is exactly what we pack, plus our personalized notes to help you customize the list to you and your travels. Get your travel packing checklist PDF today!
10 Essentials That I Always Pack (And Other People Don't)
Since we first started traveling in 2016, I've read hundreds — hundreds — of travel packing lists. I just enjoy seeing how people prioritize what they bring, and how they squeeze countless items into one bag for full-time travel around the world. 
I've found that my travels are less impacted by my clothing and more enhanced by these other essential items! So here are 10 things I never travel to Europe without.
1. USB drive: This should be included on every ultimate packing list. We put digital copies of all of our important documents on a USB drive, and we stash one in each of our bags. They're password protected and encrypted for safety, but they're also a backup for us in case any of our documents get stolen. Suggestion: Buy a 3-pack of USB drives. We haven't used these exact ones, but they have excellent reviews on Amazon!
2. Collapsible containers: Zippered bags can be hard to find, and we take a lot of picnics. Instead of nesting containers (which we traveled with last year), we've upgraded to these collapsible ones because they take up even less space. Here are the collapsible containers we use.
3. Packable daypack: Most carry-on packing lists include a backpack, but not a packable one. I only like to travel with my suitcase and small purse, but not a backpack. Yet I need a bag for hiking. So this collapsible backpack does the trick. It's not the most comfortable, but it gets the job done. It folds in on itself when not being used so I can stuff it into any corner of my suitcase. And it's super durable because we've used these bags for years now! Buy your packable backpack here.
4. Laundry soap: Are you ready for one of the best carry-on packing tips? It's tough to travel carry-on with liquids, so these foam laundry sheets are incredible! You can toss a whole sheet in the washer with your clothes, or just rip off a small piece if you need to hand wash something in the sink. These are my favorite laundry detergent strips.
5. Laundry bags: And the next best carry-on packing tip is similar. Some of our clothes need to be washed on delicate, but these mesh laundry bags also make sure that I don't lose anything when I'm walking to/from the laundry room, and so that I don't leave behind any socks in the machine either. Grab a set of these mesh laundry bags! Bonus tip: pack a paracord to double as a laundry clothesline!
6. Grocery bags: Did you know that you have to pay for grocery bags in European grocery stores? So we always pack a few thick, plastic bags for our groceries. And since we travel for months at a time, we do a lot of grocery shopping and cooking, so these get plenty of use during our travels. We don't have a link for this one because we just bought them at the grocery store 🙂
7. Spices: You know how most airbnbs only have salt and pepper? Well that gets boring after a while, so I always pack 1 or 2 of our favorite spices to keep our meals tasty! Cajun seasoning is one of our favorites!
8. Sewing kit: You would not believe how many times we lose a button or get a little hole in our shirt. This sewing kit gets more use than you might think! Here's a good mini travel sewing kit.
9. Thank you notes: Don't forget to add thank you notes to your carry-on packing list! We love to leave handwritten thank you notes for our airbnb hosts or when we stay with friends, and even when we meet new friends at church, so a few thank you notes are a must for my bag. Tip: Store them in your planner, journal, book, or computer so they don't get bent. We often buy a bulk set of blank multi-purpose notecards and envelopes.
10. Fabric pads: Gentlemen, you can skip this one because it's just for the ladies. I highly recommend packing fabric pads and daily pads. They are super comfortable and perfect for long-term travel because you always have your feminine products with you — you don't have to try to find products in the grocery store or pharmacy. I just toss them in a laundry bag and wash them with our clothes every week. I'm loyal to WeeEssentials handmade fabric pads.
---
Our Clothes and Toiletries
I'm sure you clicked this link expecting a detailed report of the ultimate packing list. So, we're going to deliver! This is what we have packed for years, and what we give our friends when they ask for carry-on packing tips.
---
Our Other Favorites
Here are some of our favorite products that are already packed in our bag for our next season of adventures! As a bonus, these items are perfect for domestic or international travel packing lists.
*These are affiliate links and we earn a small amount if you purchase something through these links. We only recommend products that we actually use (and have already packed in our suitcases). We're grateful for your support and hope you enjoy these as much as we do!
Bags/Storage
Laundry & Sewing & First Aid
Clothes
SPF
---
Pack confidently!
Now you don't need to search "How to pack a carry on" or "What to pack in a carry on" because you already have the ultimate packing list!
Curious about our travel tech gear? Browse our tech travel backpack here.
Or see more on our Gear Page!
Prefer to watch? Here ya go!