One of the most popular things to do in Switzerland: riding on a 100+ year old train line through a mountain to more than 11,000 feet in elevation.
If 365 days of snow, walking on a glacier, exploring an ice palace, and visiting the highest Lindt chocolate shop sounds fun to you, then you will love Jungfraujoch—Top of Europe!
How to get to Jungfraujoch
There are 3 main ways to get up to Jungfraujoch. No matter which one you choose, the final leg of your journey will be the same: from the Eigergletscher station you'll ride the Jungfraubahn through tunnels in the Eiger and the Mönch all the way up to Jungfraujoch. But how you get to Eigergletscher is up to you.
From Interlaken via Lauterbrunnen: 2 hours and 5 minutes
Train from Interlaken (platform 2A) to Lauterbrunnen.
Then switch to the train that goes up to Wengen and continues to Kleine Scheidegg.
From there, you switch to another train that takes you to Eigergletscher, and finally to Jungfraujoch.
From Interlaken via Grindelwald station: 2 hours and 5 minutes
Train from Interlaken (platform 2B) to Grindelwald Station.
Then you'll switch to the train that descends deeper into the valley (first to Grindelwald Grund) and then climbs steeply and slowly across the base of the north face of the Eiger. Enjoy the sweeping views of Grindelwald and Männlichen.
This train ends at Kleine Scheidegg where you'll switch to the final train headed to Jungfraujoch.
From Interlaken via Grindelwald Terminal: 1 hour and 35 minutes (fastest route)
Train from Interlaken (platform 2B) to Grindelwald Terminal.
Take the new Eiger Express tricable gondola directly up to Eigergletscher.
Then switch to the train to Jungfraujoch.
Note: In Interlaken, board the train on platform 2A for Lauterbrunnen or 2B for Grindelwald. The train stops in Zweilütschinen and splits in two, with the front half going to Lauterbrunnen and the back half continuing to Grindelwald.
If you're not in the correct train car, you'll have 2-3 minutes to switch while the train is stopped. And chances are that you're not the only one hopping to a different part of the train! If you're not sure, check the screens or ask a train attendant.
Looking for more ways to save money on train passes? Read our Ultimate Guide To Swiss Train Passes, and download our free checklist!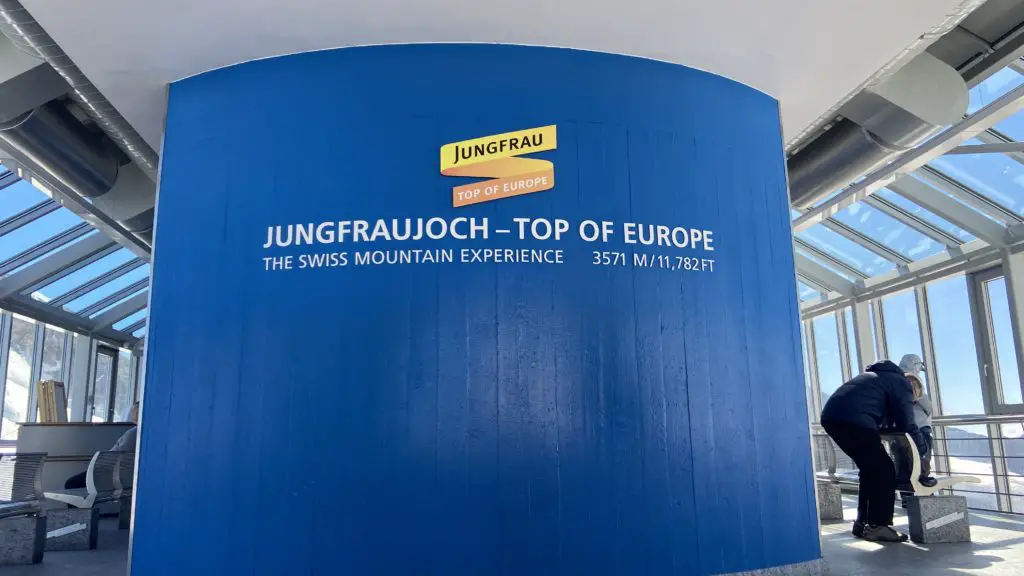 Fastest Route: Grindelwald Terminal and the Eiger Express
We chose to take the fastest route via Grindelwald Terminal. This new station has public bathrooms, a grocery store, a pharmacy, a clothing and sports store, and tourist shops. So if you need anything, this is the best place to grab it! 
The Eiger Express is the world's "most modern tricable gondola." And once those doors close, you're just 45 minutes away from reaching the Top of Europe! Enjoy the views of Grindelwald and Mannlichen on the way to Eigergletscher. 
Eigergletscher Station
In true Swiss fashion, Eigergletscher station is an engineering marvel with plenty of amenities. There are restaurants with incredible views, loads of hiking trails, luggage lockers, and—oh yeah—bathrooms.
But most importantly, you will stop here to switch to the Jungfraubahn train.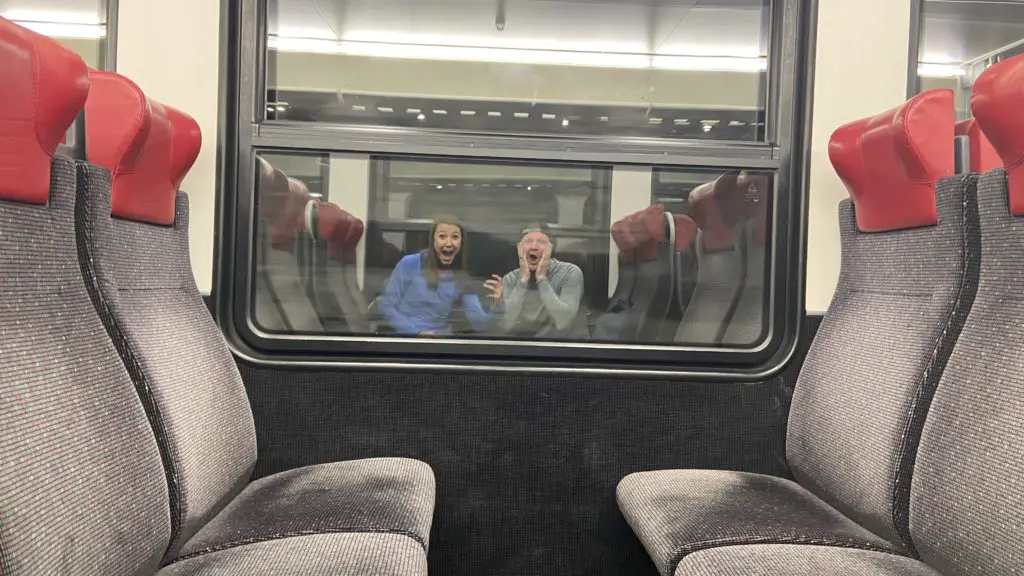 The Jungfraubahn (train to Jungfraujoch)
When you buy a ticket for the Jungfraubahn, this is also your entry ticket to Jungfraujoch. Prices are steep, often more than 200CHF per person. Here are some examples (cost of a return trip from Interlaken Ost):
Adult Full Price (no pass or reductions): 235.80 CHF
Adult with Eurail Pass: 177.20 CHF
Adult with Swiss Travel Pass: 158.40 CHF
Adult with Half Fare Card: 117.90 CHF
Children (6-15 years): 20 CHF
Children (0-5 years): Free
But we've done all the research to help you get there for a much cheaper price. (Hint: train passes!)
If you're like Jana, then you love learning interesting facts. Here are a few noteworthy ones about the Jungfraubahn:
It took 16 years to build, from 1896-1912.
It cost approximately 16 million Swiss francs to build (which was twice the original estimate of 8 million).
Every week, someone walks along the 9km of track between Kleine Scheidegg and Jungfraujoch to check the railway!
Approximately 100 Italian workers built the railway.
Along the way, the train stops at Eismeer Station at 3,160m. You can leave the train for 5 minutes and get a glimpse of the Aletsch Glacier. There are also bathrooms here. However, this is a good place to put on more layers because you will notice a temperature difference! In fact, the average temperature at Jungfraujoch is -8°C/17°F.
The entire ride is approximately 30 minutes.
Seat Reservations
You're probably wondering if you should pay extra for seat reservations to Jungfraujoch. Our advice: save the extra money by visiting midweek and just going up early! Most tourists like to sleep in, so this means you'll have less crowds to face, plus you're more likely to have better views.
When we asked at the railway office, they said that it wouldn't be necessary to make seat reservations. We trusted their advice and think they were right!
By the way, don't forget to check the Jungfraujoch weather webcam before you go to make sure you have clear views!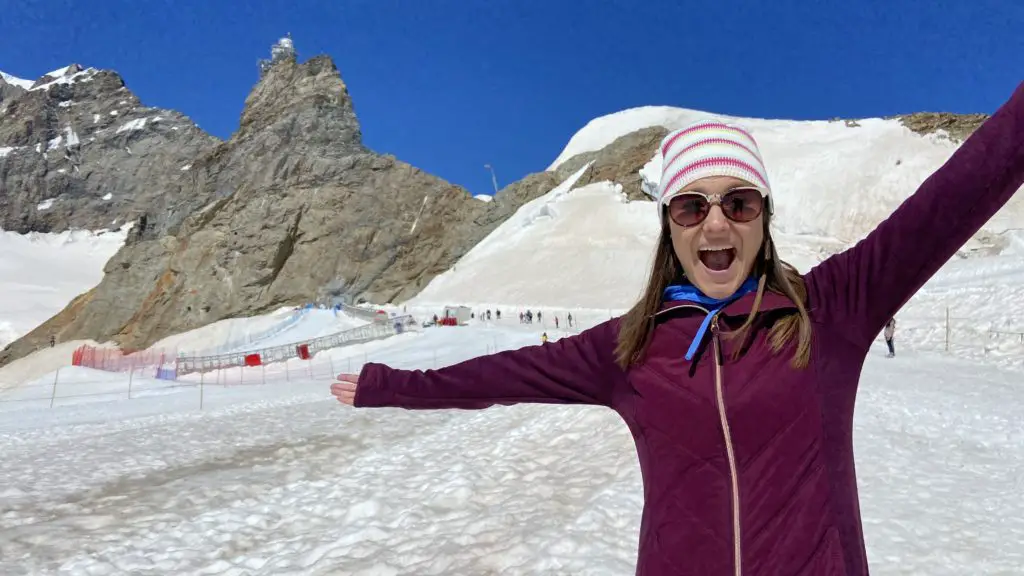 Jungfraujoch Tour
One of the best things about visiting Jungfraujoch is how simple they've made it. There is a self-guided walking tour with more than 10 stops to help you experience all of the activities at the Top of Europe!
(By the way, everything we mention is included in the cost of your train ticket, unless we tell you otherwise.)
1 | Jungfrau Train Station
The first stop on the tour is the Jungfraujoch train station. This UNESCO World Heritage Site is the highest railway station in Europe at 3454 meters/11,332 feet. 
Just inside the doors from the train tunnel to the building is our next stop: the highest post office in Europe! Plan ahead to mail a postcard from here (because it even has its own postal code).
And between the red mailbox and the coffee/snack bar is a passport station! Stamp your Jungfrau Tourist Guide for a neat souvenir. We have a feeling that a lot of people miss this, but it's a quick and fun touristy thing to do while you're up here.
2 | Luggage Lockers 
The second stop on our tour is at the luggage lockers. Plan to spend 2-4 hours up here (or more if you plan to hike to Mönchsjochhütte—more info on that below!), so if there's something you don't want to lug around the whole time, drop it here. But don't forget that it's cold so carry your layers with you! (You'll thank us when you get to Stop #8).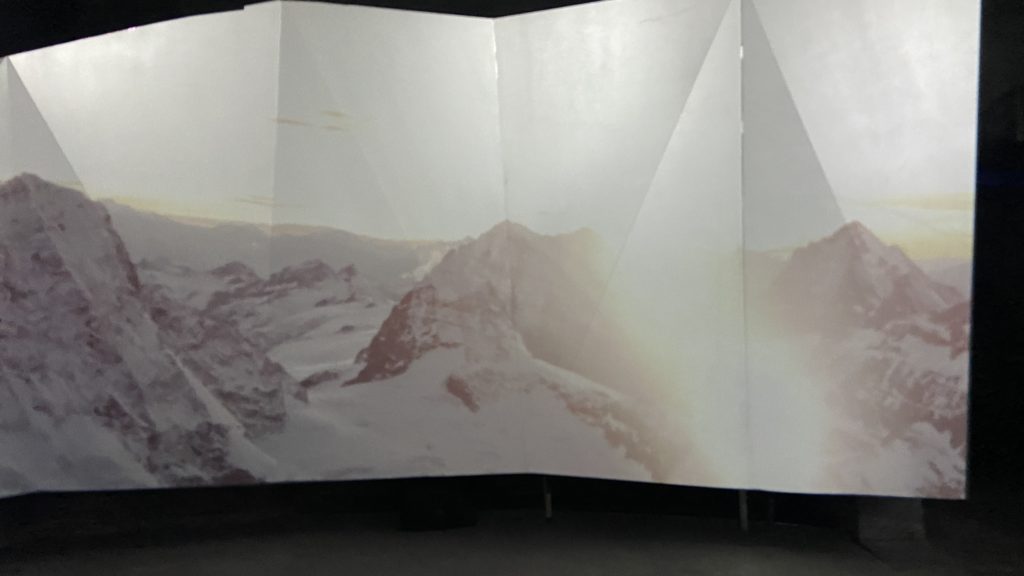 3 | Jungfrau Panorama 
Cue eerily dramatic music! When you start to hear that down the long, carved tunnel, you know you're close to stop number 3.
The Jungfrau Panorama is a 4-minute, 360-degree video about the Jungfrau in all types of weather.
The views are neat to see, but the motion graphics combined with the altitude made Jana a bit dizzy. You may slightly feel the impact of altitude up here at more than 11,000 feet: shortness of breath, easily winded, mild headache. Just take it easy and take your time! (We are not medical professionals, we are just sharing our experience to help you prepare for your trip to Jungfraujoch!)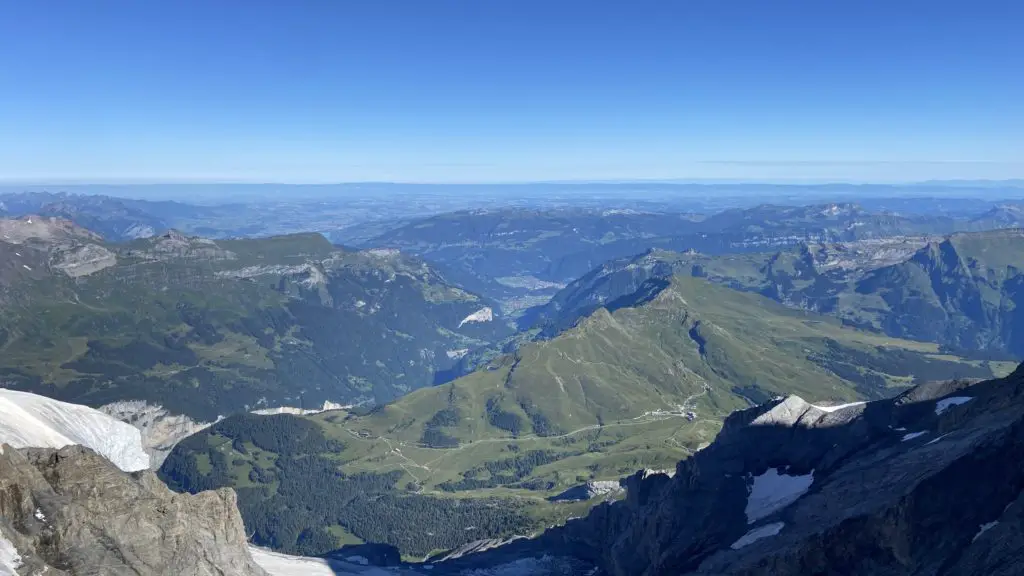 4 | Sphinx Observatory Terrace 
Speaking of dizzy, this next elevator whizzes you up 108 meters to the Sphinx Observatory in just 27 seconds. And once you reach the top, you're standing on the Top of Europe at 4,572 meters/11,719 feet!
Well, kinda. This is actually the second highest observation platform in Switzerland, but the views are still one-of-a-kind! 
Walk around the entire platform. On a clear day you can supposedly see all the way to Italy, France, and Germany.
Then glance up at the building's dome. That's a research station and astronomical observatory from 1922. They used to study high altitude medicine and astronomy, but today they study meteorology, glaciology, environmental research, and the climate.
And finally, gaze at the beauty of the Aletsch Glacier, Europe's longest glacier at 23 km. In fact, that's where we are heading next on our Jungfraujoch tour!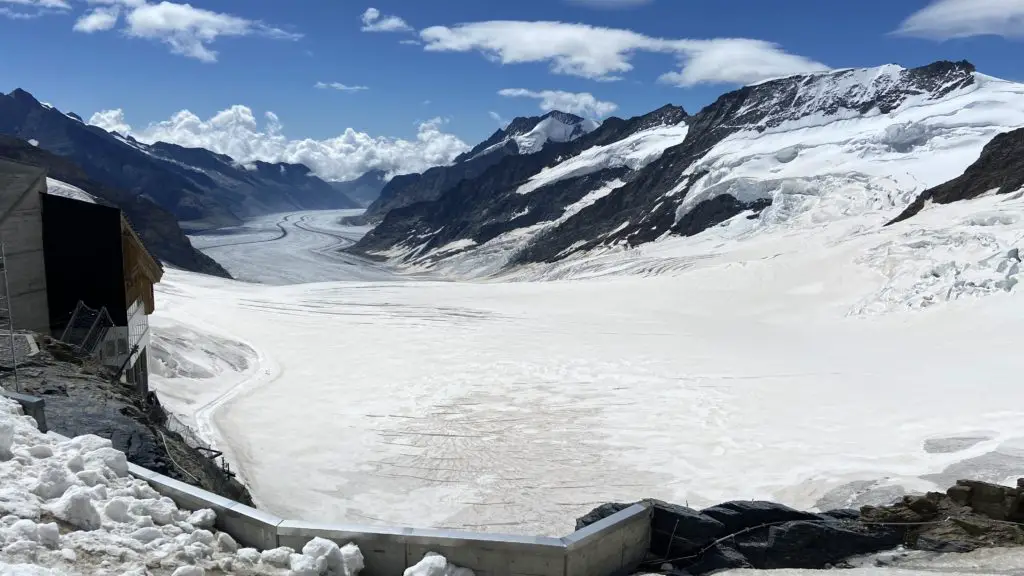 5 | Aletsch Glacier 
Did you know that Jungfraujoch is open 365 days a year? And it has snow every single day too! So no matter when you visit, you have the chance to play in the snow.
The Snow Fun activities include a downhill sledge park, skiing, snow tubing, snowboarding, and a 250-meter zipline. These activities are not included in your Jungfraujoch ticket. But it is free to walk and play in the snow 🙂 Just stick to the designated path because, well, you're walking on a glacier!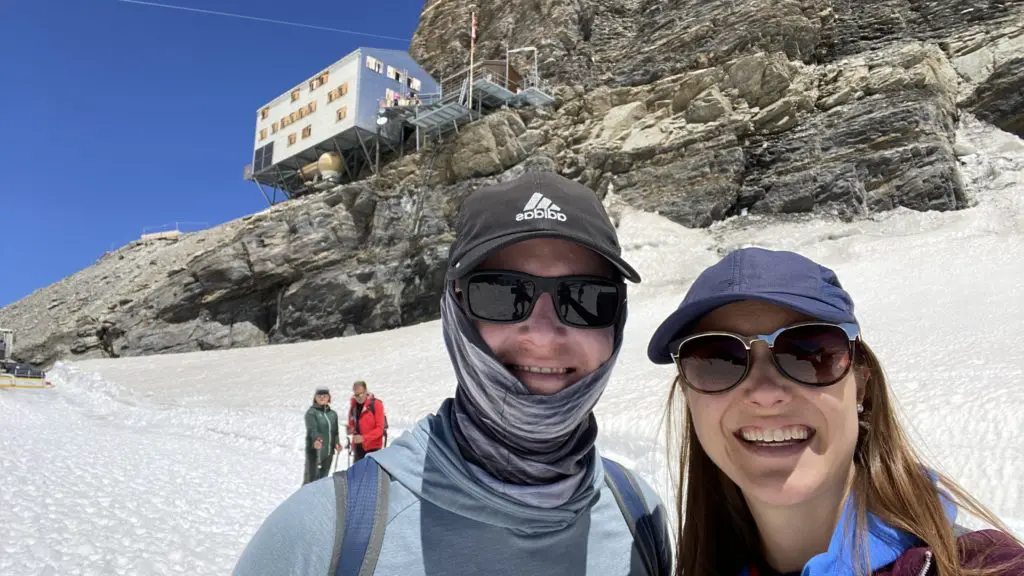 6 | Mönchsjochhütte 
When you're all done playing, you can take a walk along the Aletsch Glacier to the Mönchsjochhutte, the highest manned hut in Switzerland. It's a relatively steep, uphill hike that takes approximately 45 minutes. And remember, you're hiking at more than 11,000 feet in elevation so it's normal to feel slightly winded!
Tip: Our hiking shoes help up really well in the snow! Brett's shoes had good traction and Jana's feet hardly got wet. Shop Brett's Altra trail running shoes here and Jana's Salomon trail running shoes here.
The hut is typically open daily from 11:30-3:00, from mid-March to mid-October.
When you get inside, you'll need to swap your hiking shoes for a pair of crocs, Birkenstocks, or slippers on the shelf. We imagine this helps keep the building clean from snow and mud!
You can buy a variety of food and drink in the hut, everything from wine and beer and soda to alpine macaroni and cake!
Also, "joch" in German means "ridge between two peaks." So you just hiked from the Jungfraujoch (between the Mönch and Jungfrau) to the Mönchsjoch!
---
If this Ultimate Guide to Jungfraujoch has been helpful so far, then please subscribe to our email newsletter for even more Switzerland travel tips!
---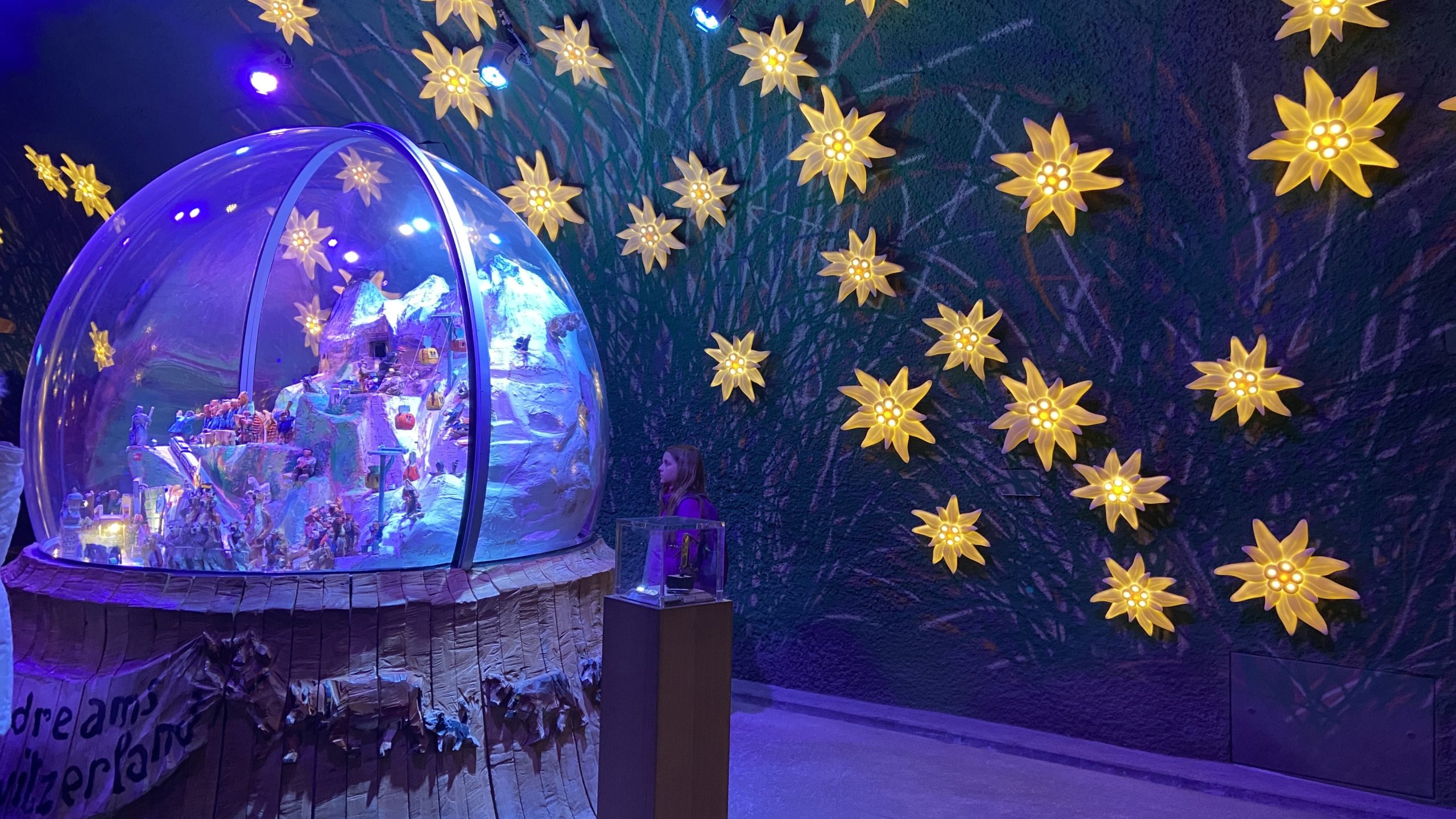 7 | Alpine Sensation Walk
Whew, after that hike there is still more to see at Jungfraujoch! Head inside to the Alpine Sensation Walk. This section of the tour presents the history of Jungfraujoch tourism, with exhibits for the 100 Italian construction workers who built the Jungfraubahn as well as the founder, Guyer-Zeller. 
This is an interesting walk with lights and sounds and textures, but it felt more like a museum stop along the way to the next stop on the tour, which happens to be one of my favorite activities at Jungfraujoch!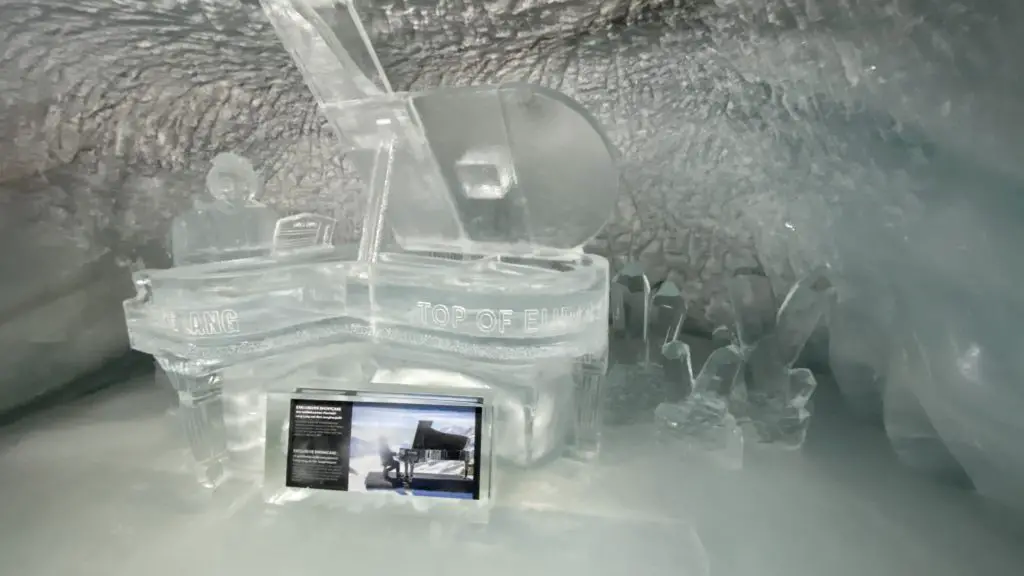 8 | Jungfraujoch Ice palace 
When you enter this cold room, you're walking through 1,000 square meters of ice that was first carved in 1934. In here, the temperature is never above -2°C/30°F, so bundle up!
Some of the ice moves up to 15 cm/6 inches per year — but don't worry, the floor isn't as slippery as you'd expect. 
Along the way you'll see statues of penguins, eagles, bears, and even a piano. Don't skip your photo opportunity at the ice bar or in the skinny tunnel.
And Brett's favorite part was at the Rugenbrau whiskey barrels since he tasted that whiskey on our Swiss Food Tour!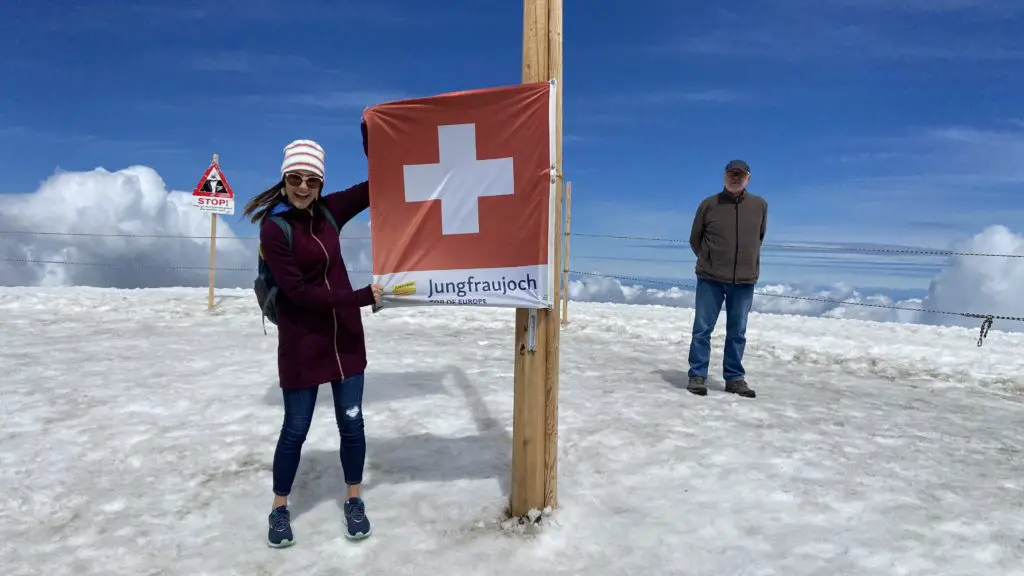 9 | Glacier Plateau with Swiss Flag 
It's surprisingly cold in that ice cave, so it might actually feel warm outside. And that's a good thing because this is another perfect picture spot by the Swiss Flag! (But first, turn left as soon as you exit the elevator for another cool photo opportunity!)
If you didn't get enough snow earlier, you can play in the snow one more time here. And for even more fun, I like to play Eye Spy the hikers out on the glacier or the snow trails.
10 | Shopping at Jungfraujoch
The Swiss are definitely known as watchmakers. So of course you can buy a Swiss watch from the Tissot Souvenir Shop. Or your choice of other Jungfraujoch souvenirs at the shop next door, like sweatshirts, postcards, and cowbells.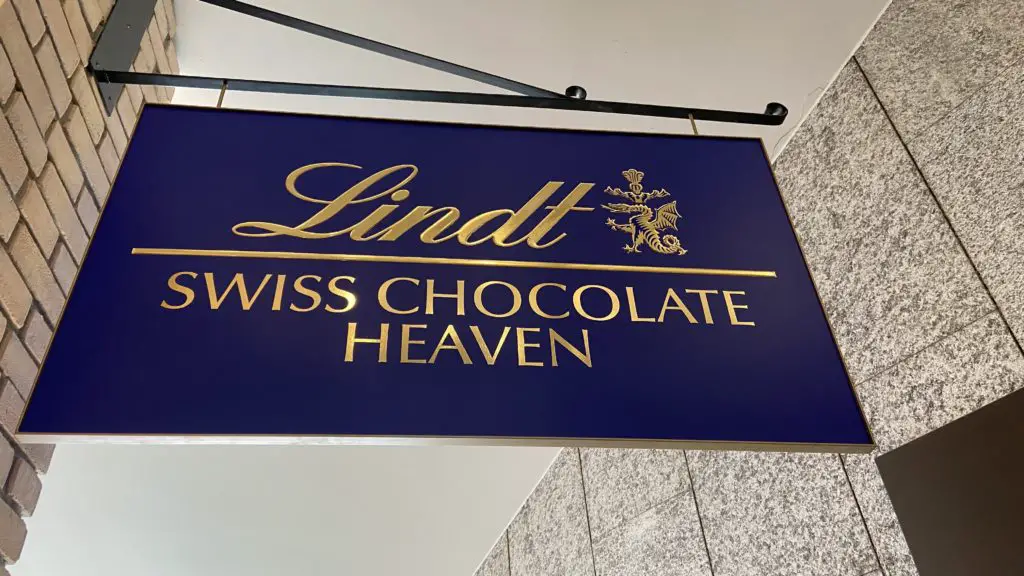 11 | Lindt Swiss Chocolate Heaven
The Lindt Swiss Chocolate Heaven is the highest Lindt chocolate shop in the world! Learn a bit of background on chocolate making, then buy something tasty from the shop. But don't completely fill up on chocolate from the Lindt shop—save room for a surprise as you're leaving Jungfraujoch!
12 | Jungfraujoch Restaurants 
There are 3 restaurants at Jungfraujoch:
Aletsch Self-service restaurant: traditional dishes, Rugenbräu beer, Top of Europe wine
Crystal a-la-carte: classic Swiss dishes with a sit-down restaurant
Coffee and snack bar: on-the-go drinks and baked goods
Discounted Jungfraujoch Tickets
With a full belly, a backpack of souvenirs, and maybe a little fatigue from the elevation, it's time to head back down from the Top of Europe. If you want to visit Jungfraujoch without paying full price, we can help.
With the Top of Europe Pass, one trip here is completely covered. But before you go out and buy that pass for you and your entire family, you need to read this Swiss Rail Pass Guide.
After building a spreadsheet and crunching the numbers on a few dozen possible Swiss trip itineraries, we've created what just might be the most comprehensive guide to Swiss train passes on the entire internet. So use our free download to help you buy your pass with confidence!
And if you're looking for more ways to save money while you're in the Swiss Alps, read this next. See ya in Switzerland!