Planning a trip to Lucerne, Switzerland? Here are 15 things to know before you go!
We're Jana and Brett. We've spent loads of time exploring and researching Lucerne so you don't have to! Which means you really can arrive here—even if it's your first time—and feel like a confident traveler.
So get ready, because here are 15 practical tips about arriving by train, getting a feel for the city, using the local guest card, and more!
---
Want to Watch Instead of Read?
---
#1 | Where is Lucerne, Switzerland?
For starters, Lucerne is located in the Canton of Lucerne in Central Switzerland. It's the largest city in Central Switzerland and the 6th largest city in the country. It sits at the northwestern tip of Lake Lucerne, which happens to be the second largest lake in Switzerland as well.
---
#2 | How far is Lucerne from the Swiss Airports?
Since most of you are likely to arrive in Switzerland by plane, you'll be happy to hear that Lucerne isn't too far from any of the Swiss airports. In fact, its central location makes it easy to reach no matter where you are in Switzerland!
From Zurich, it takes about an hour by train or a little less than an hour by car.
From Basel, it takes about an hour by train or an hour and fifteen minutes by car.
And from Geneva, it takes about three hours by train or by car.
If you'd like more help navigating from a Swiss Airport, you can find specific directions in our Lucerne Travel Guide.
---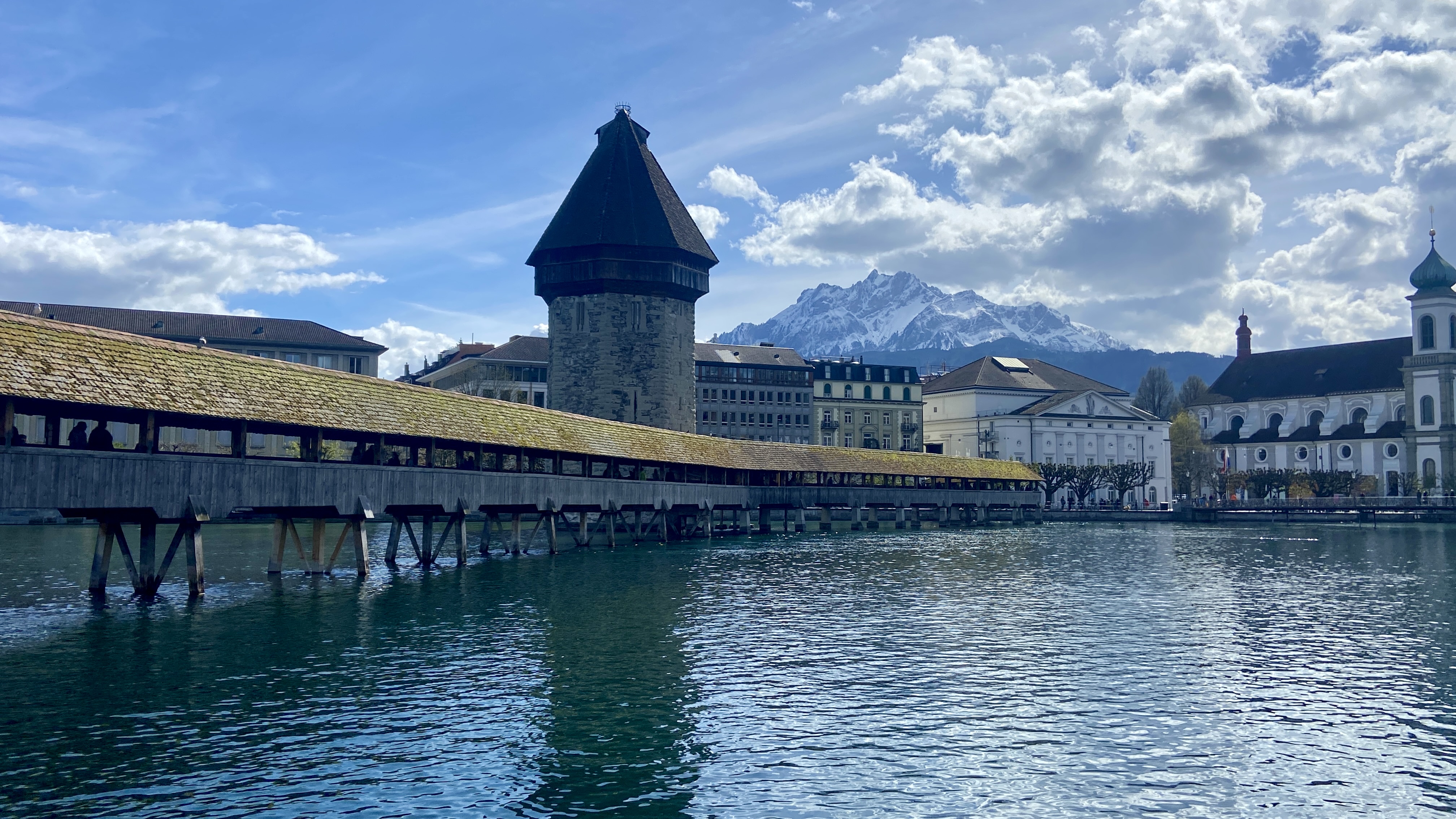 #3 | What language do they speak in Lucerne?
Switzerland has four national languages, which as you dive deeper, really represent the fact that it's made up of four linguistic and cultural regions: Germanic, French, Italian, and Romansh.
Lucerne is located in the Germanic part of Switzerland, so we find it helpful and fun to brush up on a few German words before visiting. For example, hallo (hello), danke (thank you), bitte (please), and schönen tag (Have a nice day) are easy, friendly words you can use to connect with locals.
But keep in mind it's really Swiss German that the locals speak, and a dialect at that! So even if you learn some Swiss German greetings, expect to hear different ones depending on where you go in Switzerland!
However, most everyone will understand your "high German," and you'll find plenty of English speakers too, especially in the tourist areas.
---
#4 | Lucerne or Luzern?
One byproduct of having 4 national languages is that there are often different ways of spelling and pronouncing the cities and towns.
So in German, it's called Luzern, and in French it's Lucerne—and this is the form adopted by most English speakers. But which one is correct?
Since it's in the Germanic Region of Switzerland, Luzern is the form you're most likely to hear and read while you're there. But either is totally acceptable. In fact, this dual-language spelling is even adopted by the official Lucerne tourism logo.
So what's the lake called? Well, in German it's Vierwaldstättersee, and in French it's lac des Quatre-Cantons, and both names represent the fact that this sprawling lake actually stretches into 4 different Swiss cantons: Lucerne, Schwyz, Nidwalden, and Uri.
But since both of those are rather complicated to non-native speakers, you have full permission to use the much simplified English name: Lake Lucerne.
---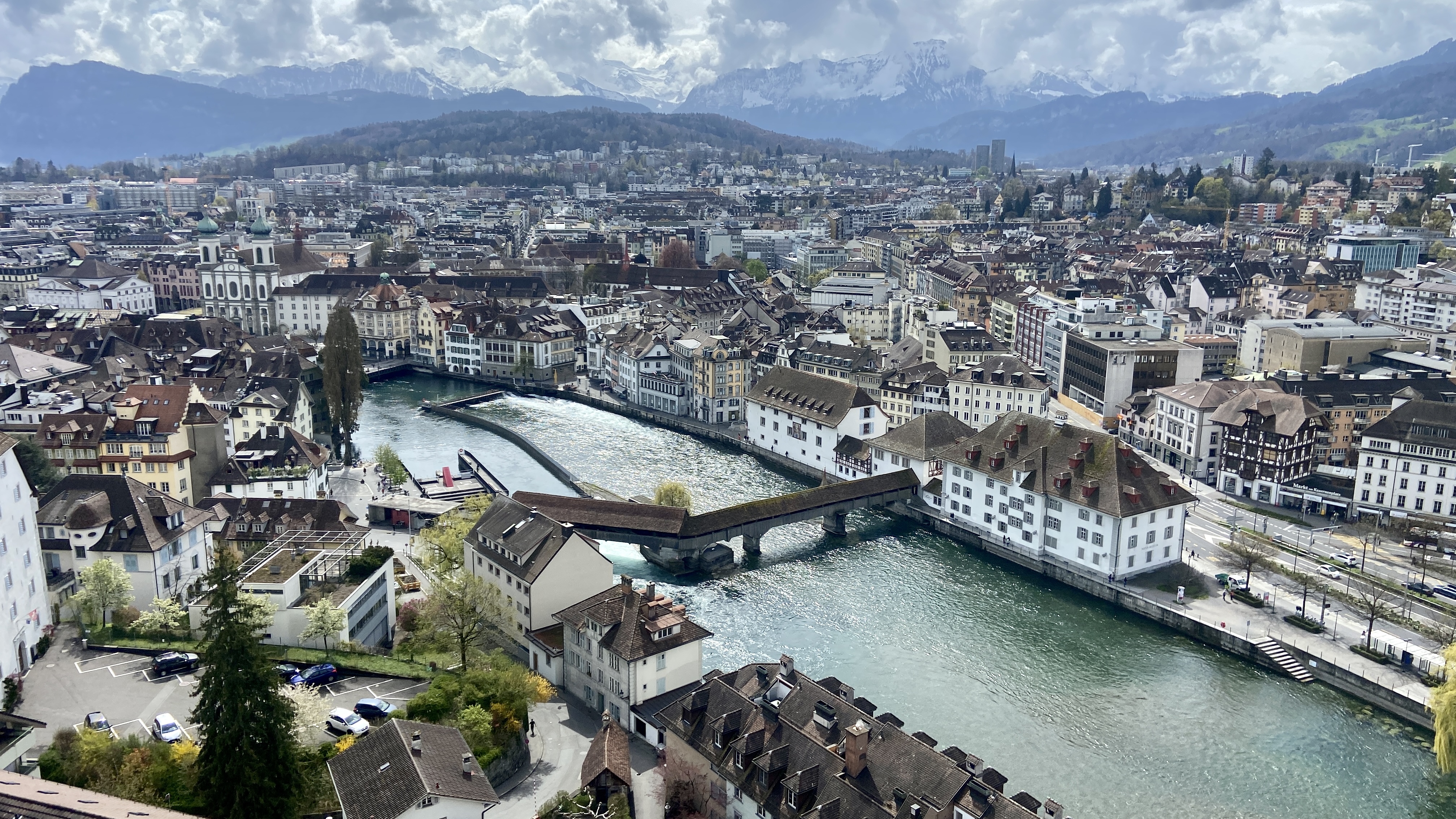 #5 | Lucerne Bahnhof, Boat Dock, and Bus Station
If you come to Lucerne by train, you'll arrive at the central train station, called Luzern Bahnhof. It's located right next to the lake, directly across from where the boats dock, which is called Bahnhofquai. This is also where you'll find the main bus station, with stops for all the important bus lines.
Lucerne is beautifully situated with the Reuss River running right through the middle of the city, dividing it into Altstadt or old town to the north, and Neustadt or new town to the south. And the train station is just a 5-minute walk from the old town.
Choosing to stay in either Old Town or New Town is one of the most important decisions you'll have when you visit this Swiss city.
But thankfully Lucerne is pretty compact and easily walkable. And with plenty of buses running between the two parts of the city, either area can work as a sightseeing base.
---
#6 | Lucerne Luggage Storage
As a central hub, you may find yourself passing through Lucerne on your way to another Swiss destination. So even if you're not spending the night here, consider stopping for a few hours to explore.
This is made so much more practical by the abundance of luggage lockers available at the Lucerne train station. They come in a handful of sizes and are available 24 hours/day, starting at just 5 CHF for a small locker for 6 hours.
So you really could leave one part of Switzerland in the morning, stop off in Lucerne for a few hours of luggage-free sightseeing, and find yourself in an entirely different part of Switzerland by the evening. Gosh I love this country!
---
Think these tips are helpful? We have more good-to-know info about traveling Switzerland! Discover more by joining our weekly email newsletter.
---
#7 | Lucerne Visitor Card
But if you are staying overnight here, you'll benefit from the Lucerne Visitor Card. And this gives you 3 important benefits:
First is free use of buses and trains within zone 10 of the city network. Now, you could theoretically enjoy the sights near the Old Town without ever riding transportation within the city. But there are actually quite a few spots worth visiting just a bit outside of the city center that are still within zone 10.
Another plus is the flexibility this gives you in choosing lodging. You could find a cheaper place to stay a little outside the city, but still just a 5-minute (free) train ride away from the heart of Lucerne.
It's also worth knowing you can take advantage of the free local transportation on your arrival day before you check in, departure day after you check out, and any days in between. So if you require an extra train or bus ride to reach your accommodation, you can do this for free, too.
Just show your Lucerne Guest card (if you received it by email) during ticket inspection, or if you don't have it yet, your confirmation of lodging will work instead.
A second benefit of the visitor card is access to Free WiFi hotspots throughout the city. In our experience, the wifi just worked okay, but some wifi is better than none!
And finally, there are lots of discounts available on museums, excursions, mountain railways and cableways, and other activities throughout the entire Lucerne/Lake Lucerne Region.
---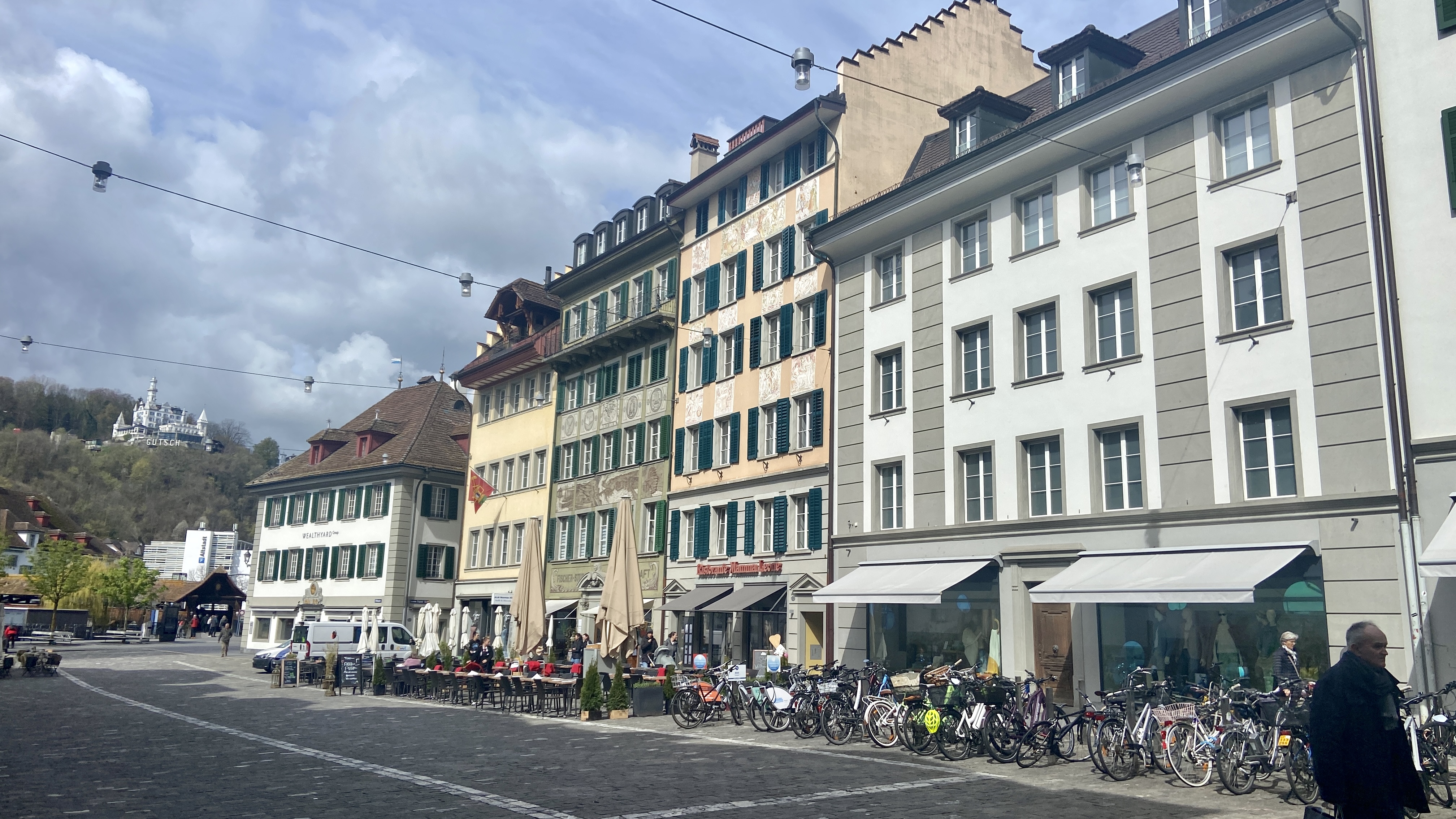 #8 | Lucerne Train Pass
Speaking of mountain railways and cableways, there's a regional train pass available here called the Tell-Pass.
It covers just about any transportation you could imagine using during a visit here, including all the major mountain excursions, boat rides on the lake, and travel between Lucerne and nearby towns.
It starts at 190 CHF for 2 days, but you really need to do lots of day trips and mountain adventures to make this worth your money.
We're not going to do a deep dive on Swiss Train Passes in this post, but we have another one where we do just that. And all of our Swiss Travel Guides discuss train passes too. So be sure to check those out later if you need more help.
---
#9 | Lucerne Opening Days & Times
Be mindful of opening and closing hours and days for shops and restaurants. It's still pretty normal for lots of places to close down on Sundays. And plenty of stores are closed during the lunch hour on weekdays as well.
In fact, there are enough differences from one restaurant or shop to another—or even one day to the next—that it's just best to get in the habit of checking opening days and times before you visit, especially if you're coming between the summer and winter seasons.
For example, one of our favorite restaurants stops serving hot food after 3:30 in the afternoon, and Brett's top coffee spot is only open Monday – Thursday.
But the main tourist attractions are open daily, and stores in and near the train station tend to have longer hours, so if you really need something, you shouldn't have trouble finding it.
---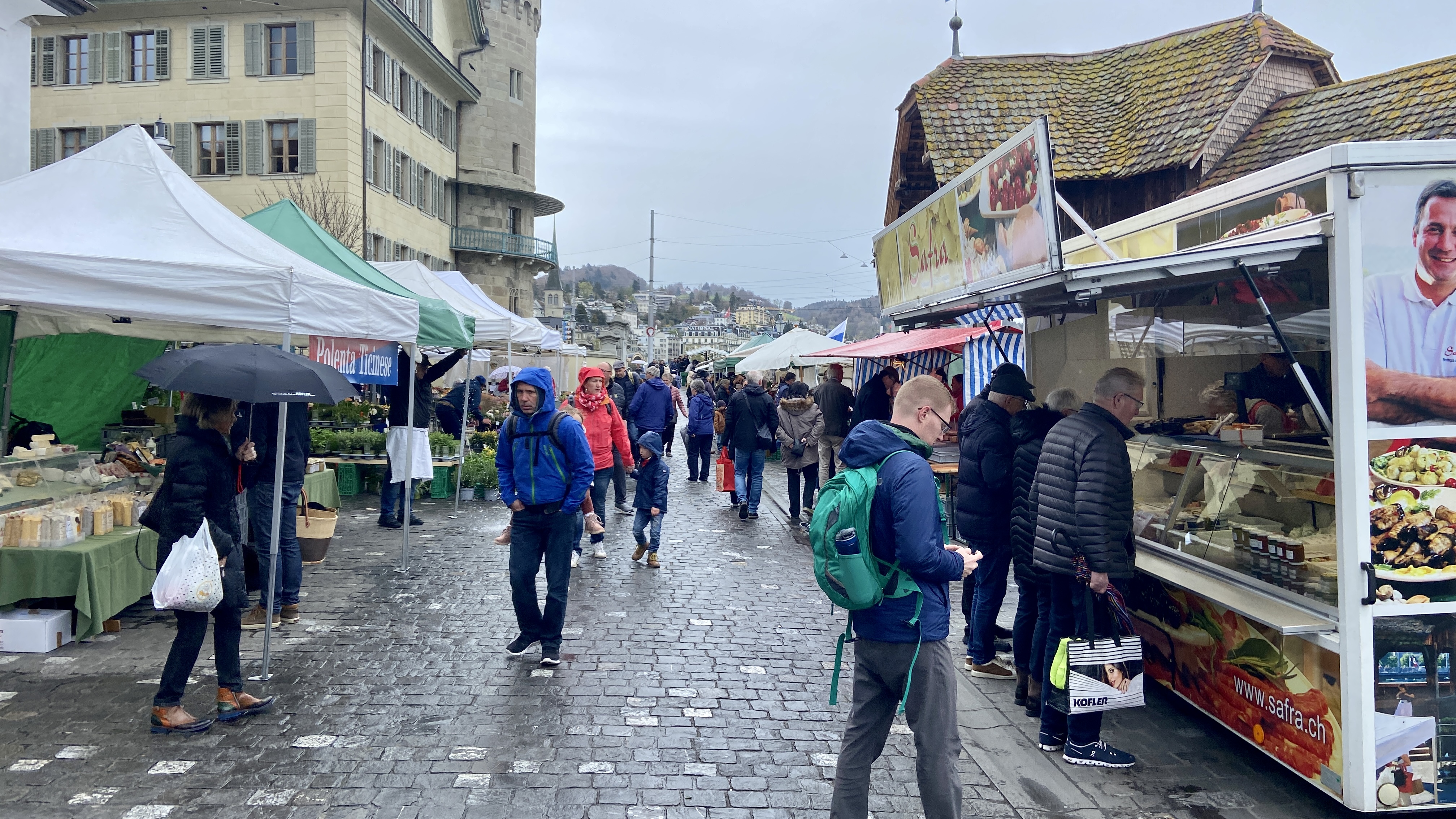 #10 | Lucerne Weekly Market
But if you plan well, Lucerne will reward you, and a perfect example of this is the weekly market.
The Wochenmarkt takes place every Tuesday and Saturday until noon, and is filled (in their words) with "fresh bread, tangy mountain cheese, freshly picked flowers, and crisp vegetables."
It'll be hard to miss this market, with market stalls spreading out along both sides of the river. So show up hungry to eat fresh and local!
---
#11 | Lucerne Water (and Toilets!)
All that bread and tangy cheese is gonna make you thirsty. And while Swiss water is some of the best in the world, where can you find drinkable water when you're out exploring?
No, not at the grocery store! Skip the bottled water, and instead, fill up at one of the hundreds of fountains mapped by Lucerne Water.
For each fountain listed, you can see if the water is drinkable, when the fountain was built, and even learn a little bit of history if you're interested.
And—uh—public bathrooms are on the map too. So now nothing should stop you from staying hydrated on your trip to Lucerne. How helpful is that?!
---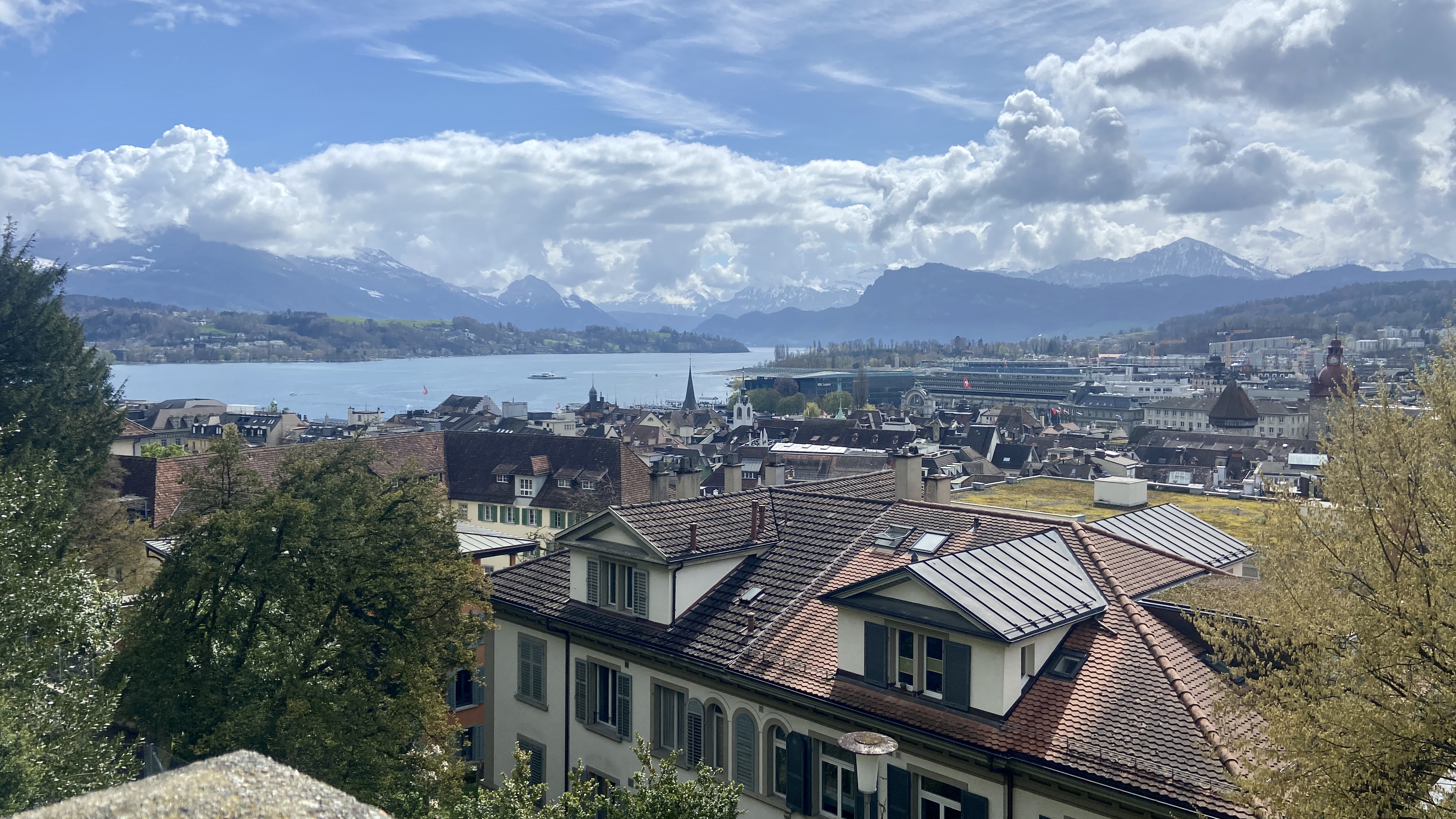 #12 | How far is Lucerne from other Swiss destinations?
It's highly unlikely that Lucerne is the ONLY place you'll be visiting on your trip to Switzerland. Beyond the easy connections to Zurich, Basel, and Geneva that we mentioned earlier, you can also reach Interlaken in 1:50 by train (or 1:15 by car) or Bern in as little as one hour.
But it's also strategically positioned for traveling to Southern Switzerland and Italy as well.
Getting to Lugano—the largest city in the Italian-speaking canton of Ticino—takes just 1:40 by train, thanks to the Gotthard Base Tunnel, the longest railway tunnel in the world with a length of 57km!
But Como is just another 30 minutes past that, meaning you could go from the north side to the south side of the Alps—and from Switzerland to Italy—in just a little over two hours.
---
#13 | Scenic Train Rides to Lucerne, Switzerland
We can't discuss Interlaken and Lugano without also mentioning the scenic trains connecting them both to Lucerne.
The route between Lucerne and Interlaken is part of the GoldenPass scenic train, and along the way you'll pass 3 beautiful lakes—Sarnen, Lungern, and Brienz—and head up and over the Brünig Pass as well.
Between Lucerne and Lugano, you can enjoy the Gotthard Panorama Express, an underrated scenic journey that includes a leisurely boat ride across Lake Lucerne and a first-class train experience along the Gotthard route to Southern Switzerland.
Which basically means you can choose the efficient and economical route OR the scenic and experiential way of going just about anywhere from Lucerne.
---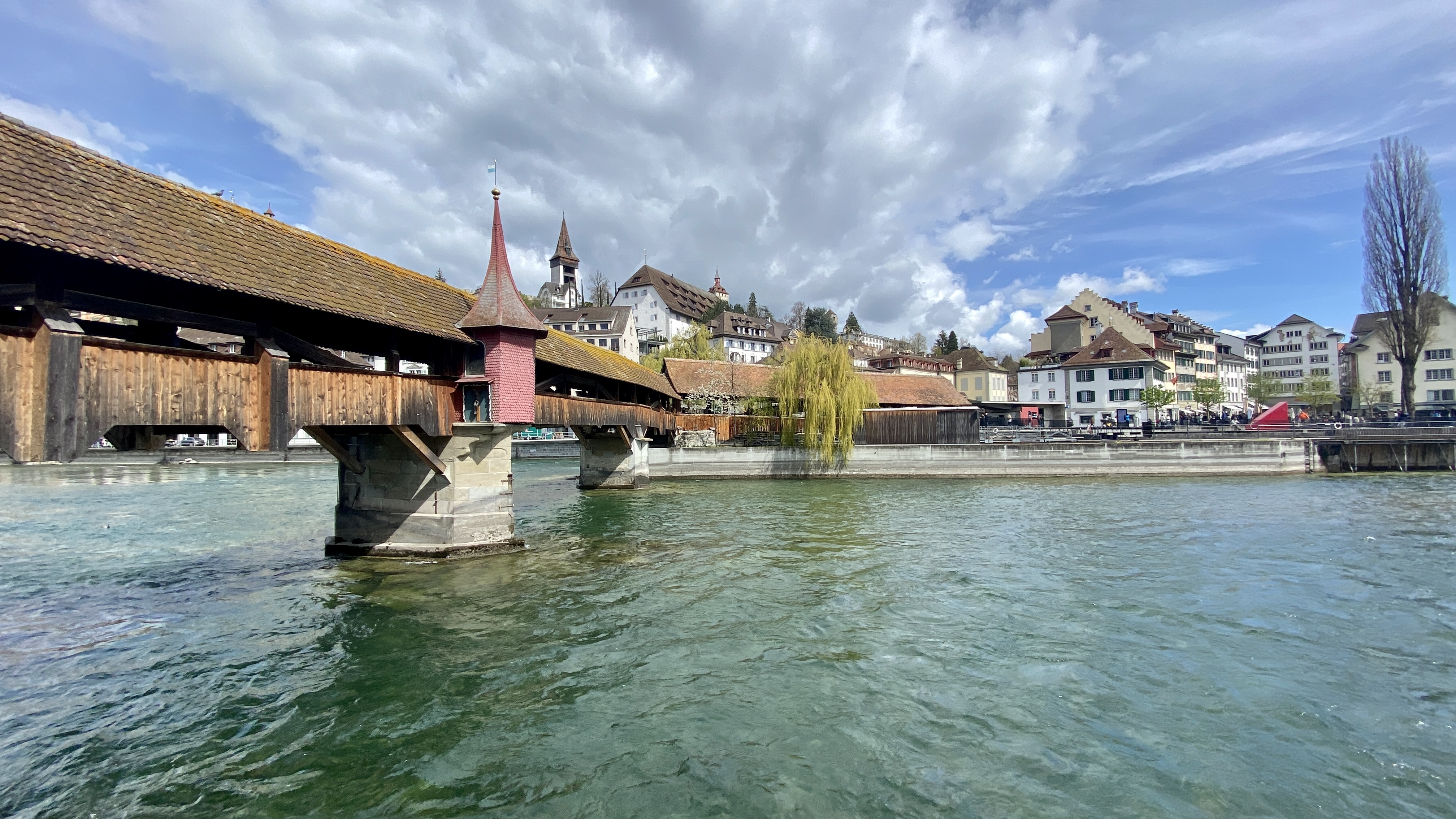 #14 | How many days should I spend in Lucerne?
We think Lucerne is worth a 2-4 day visit. We like to avoid one-night stays when we travel, so we recommend spending at least two nights here so you have one full day to explore the city.
But with so many day-trip and excursion possibilities, you'd have no problem filling up to four days, especially if the weather is nice.
---
#15 | Things to do in Lucerne, Switzerland
So what should you do while you're here? Our Lucerne Travel Guide gives you those answers. It's filled to the brim with insider tips to help you travel Lucerne with confidence.
In fact, all of our Swiss Travel Guides are crafted with detailed itineraries and point-to-point navigation — plus lots of other bonuses — to help you maximize your trip to Switzerland.
So check out our Guides and we'll see you in Switzerland!