Visiting Grindelwald, Switzerland and looking for things to do? Well, we've got you covered with these 16 ideas (beyond just the popular spots like Grindelwald First and Jungfraujoch)!
If we haven't met, we're Jana and Brett and we've spent the last two summers living in the Swiss Alps, which means we've spent plenty of time in Grindelwald. No, that's not a Harry Potter reference. We're talking about the tourist town nestled at the base of the Eiger mountain near Lauterbrunnen Valley and Interlaken.
In fact, when we asked our YouTube community about where you would go if you only had one day in the Swiss Alps, 35% of you picked Grindelwald—the number one choice.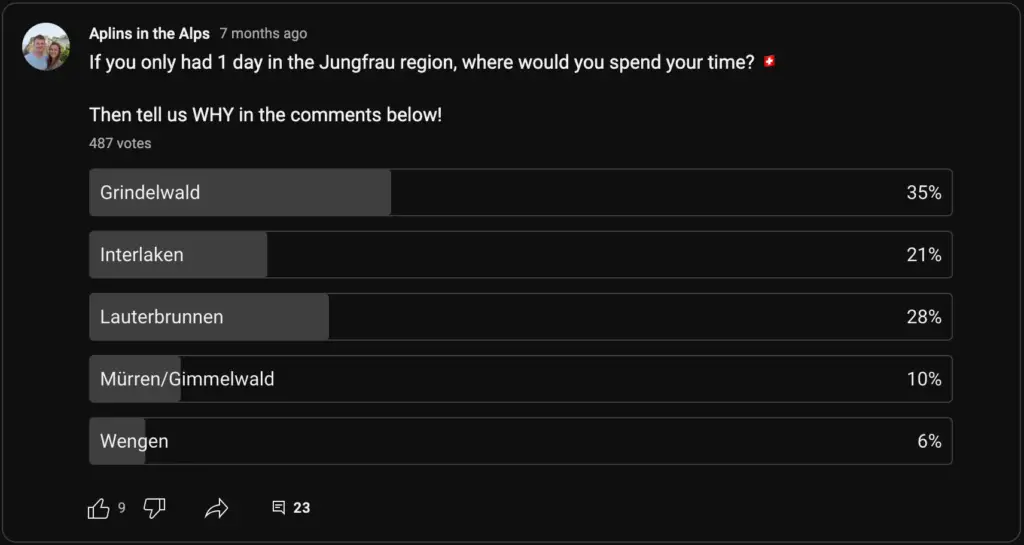 So today we're going to show you 16 things to do near Grindelwald, including thrilling activities, plenty of Swiss food and, of course, alpine views. (Listed in no particular order.)
---
By the way, if you already own our 3-Day Guide to Grindelwald, then you have all the details you need to reach and enjoy nearly every single spot in this video! CLICK HERE to buy the 3-Day Guide to Grindelwald, Switzerland today! 
---
Prefer to WATCH instead of Read?
---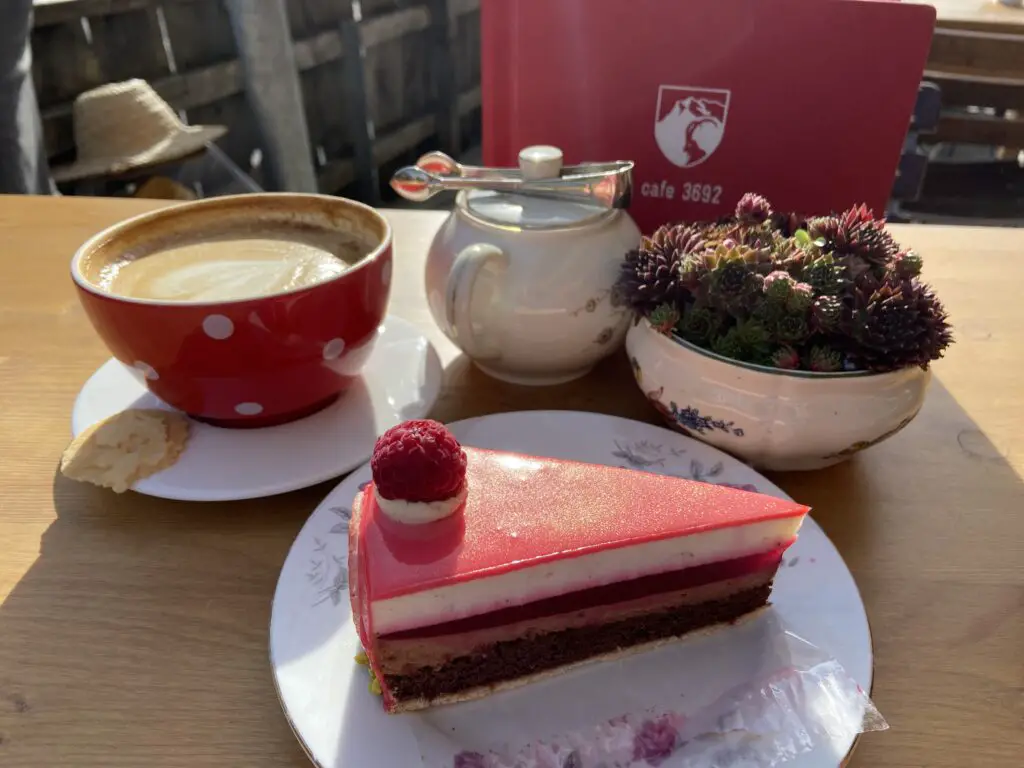 1 | Café 3692
There are two cafés that we keep returning to again and again when we're in the Jungfrau Region and this is one of them. Café 3692 is perched a few streets above Grindelwald village, just a short ten minute bus ride or a very steep 15-minute walk from the train station.
And it's special for a few reasons. First are the terrace views. I mean, holy cow, how do you beat this? But go inside and you'll see why we love this place even more. The owner designed and created all the woodwork himself! From the floors to the ceilings and even the bathroom doors, this place has some really neat vibes. There's an old mining cart, and the beer taps are even made out of wooden hand planes.
But a café has to have more than just good vibes. It has good coffee, too. And BIG coffee—in fact, you can get a whole bowl of it! And the cakes here are second to none too. They're elaborately made by a local baker, and there are different choices every time we visit.
So whatever you do, don't skip a visit to Café 3692 on your next trip to Grindelwald, Switzerland!
---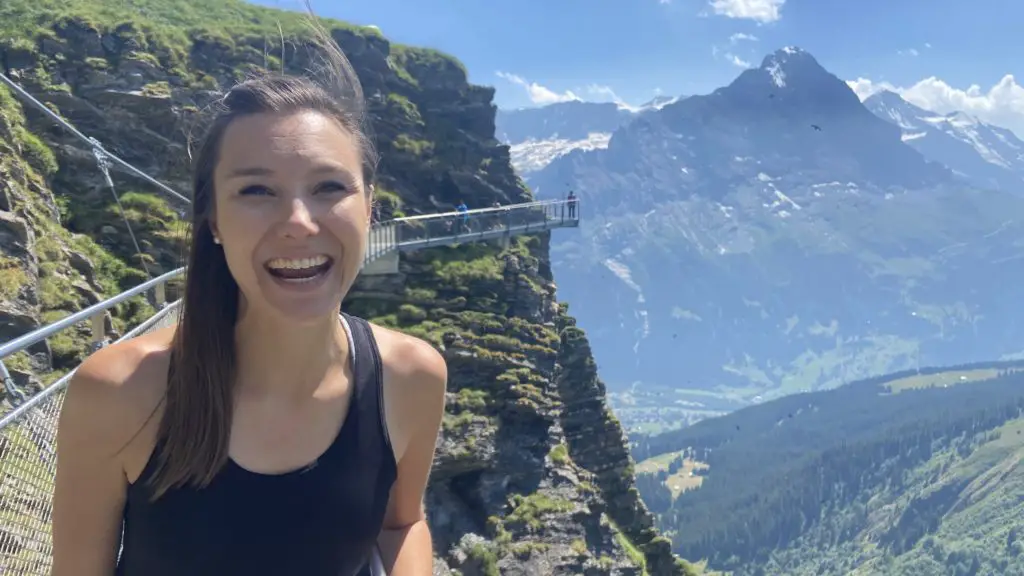 2 | Grindelwald First Cliff Walk
Our next three activities are all up at Grindelwald First, which is an easy 25-minute cable car ride from the station in the center of Grindelwald. And once you get up there, amp up your courage and hold onto the handrails because our next activity is the Grindelwald First Cliff Walk.
This free experience is absolutely worth it—even if you have a fear of heights. In addition to the impressive views, you can walk along the edge of a cliff on an open air walkway, across the bridge, and onto a glass-floored panoramic viewpoint. Oh, and you may even get to watch some hang gliders fly by as well!
P.S. Check out our Complete Guide to Grindelwald First HERE! (There's both a YouTube video and a blog all about it!)
---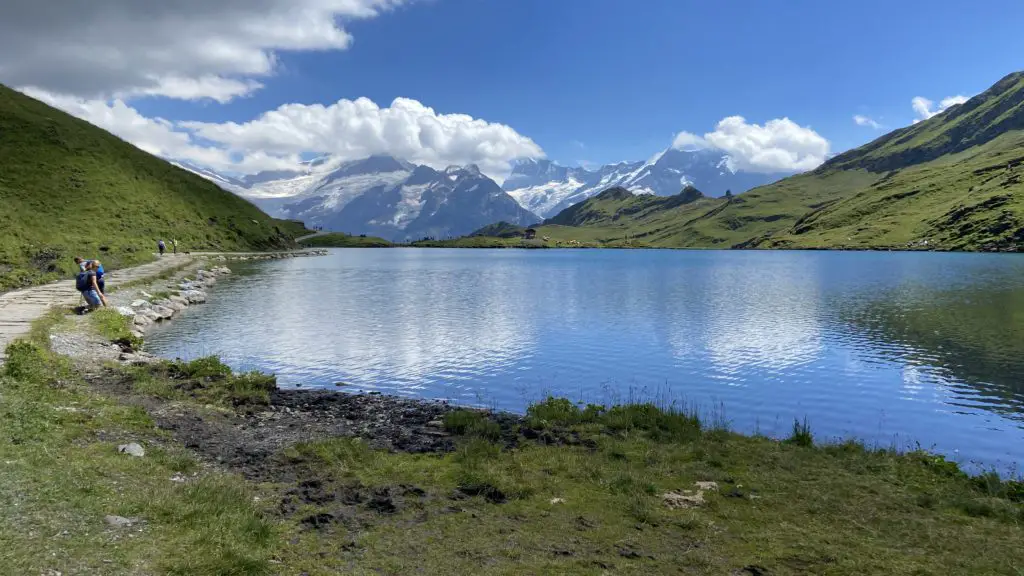 3 | Bachalpsee
The Jungfrau region of Switzerland is basically mountains upon mountains upon more mountains. So get your fill of mountains by visiting Bachalpsee, an alpine lake that reflects the Shreckhorn mountain on a clear day.
Bachalpsee can be reached in less than an hour by hiking from Grindelwald First. And it's an excellent picnic spot by the cows. Bring some cheese and sausage that you bought from a local farm fridge and soak in the majestic views.
The hike here is an out-and-back, meaning you'll have to return the same way you came. It's pretty steep for about 15 minutes when you leave the First station. But take heart, that just means it'll be downhill on the way back. 
---
4 | Grindelwald First Adventure Activities
If you've come to Grindelwald for some adventure activities, then you should definitely start at Grindelwald First.
You can whiz through the air like an eagle on the First Glider or fly downhill on the First Flyer, both of which travel faster than 80 kilometers an hour. If you'd rather keep your feet on solid ground, head down the mountain on a mountain cart or a trottibike. In our opinion, the trottibikes are super exhilarating.
No trip to Grindelwald is complete without a visit to Grindelwald First. In fact, this is so essential to your Swiss vacation that we've already made a complete guide about it. If you haven't seen it yet, be sure to check it out later.
---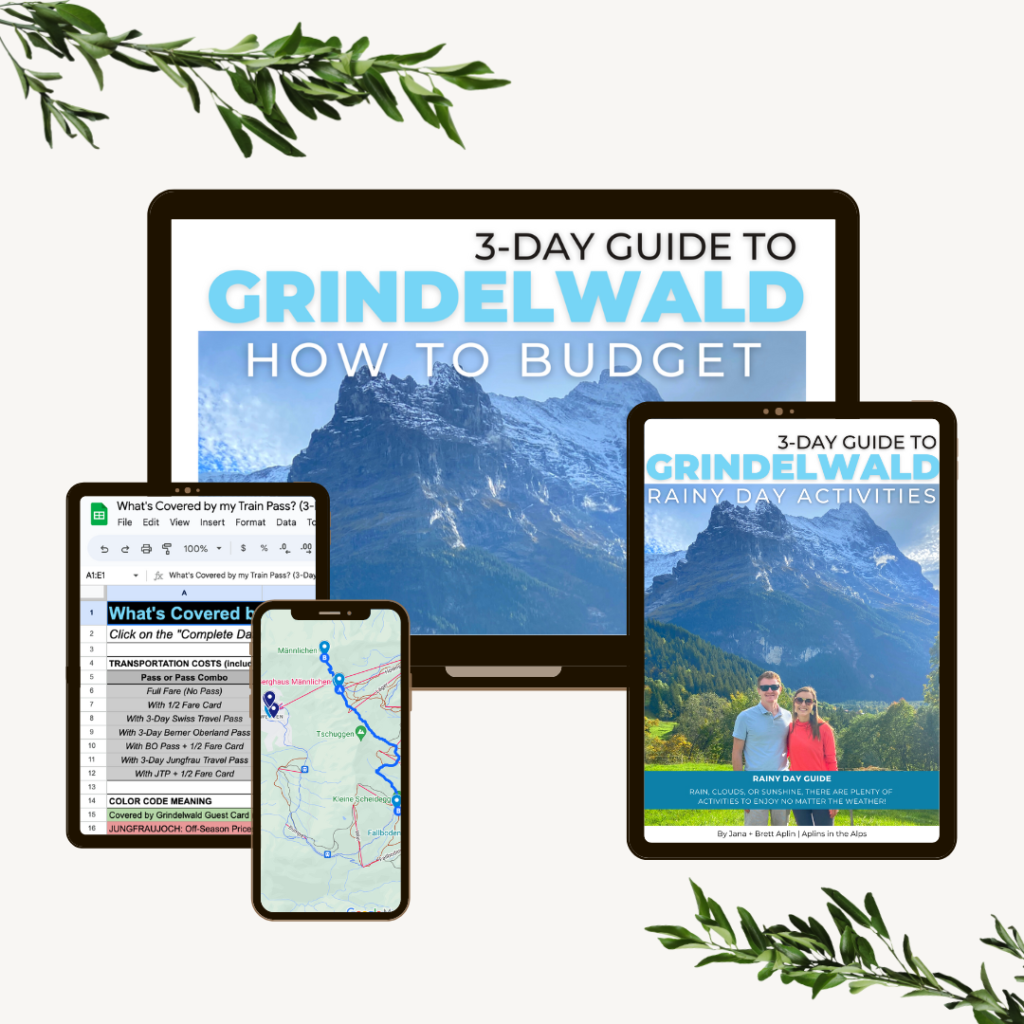 Done-for-you Guide to Grindelwald
Not knowing how to shape these Grindelwald activities into an itinerary shouldn't hold you back from having an epic Swiss vacation! Find the answers to your biggest travel questions with our 3-Day Guide to Grindelwald, Switzerland.
---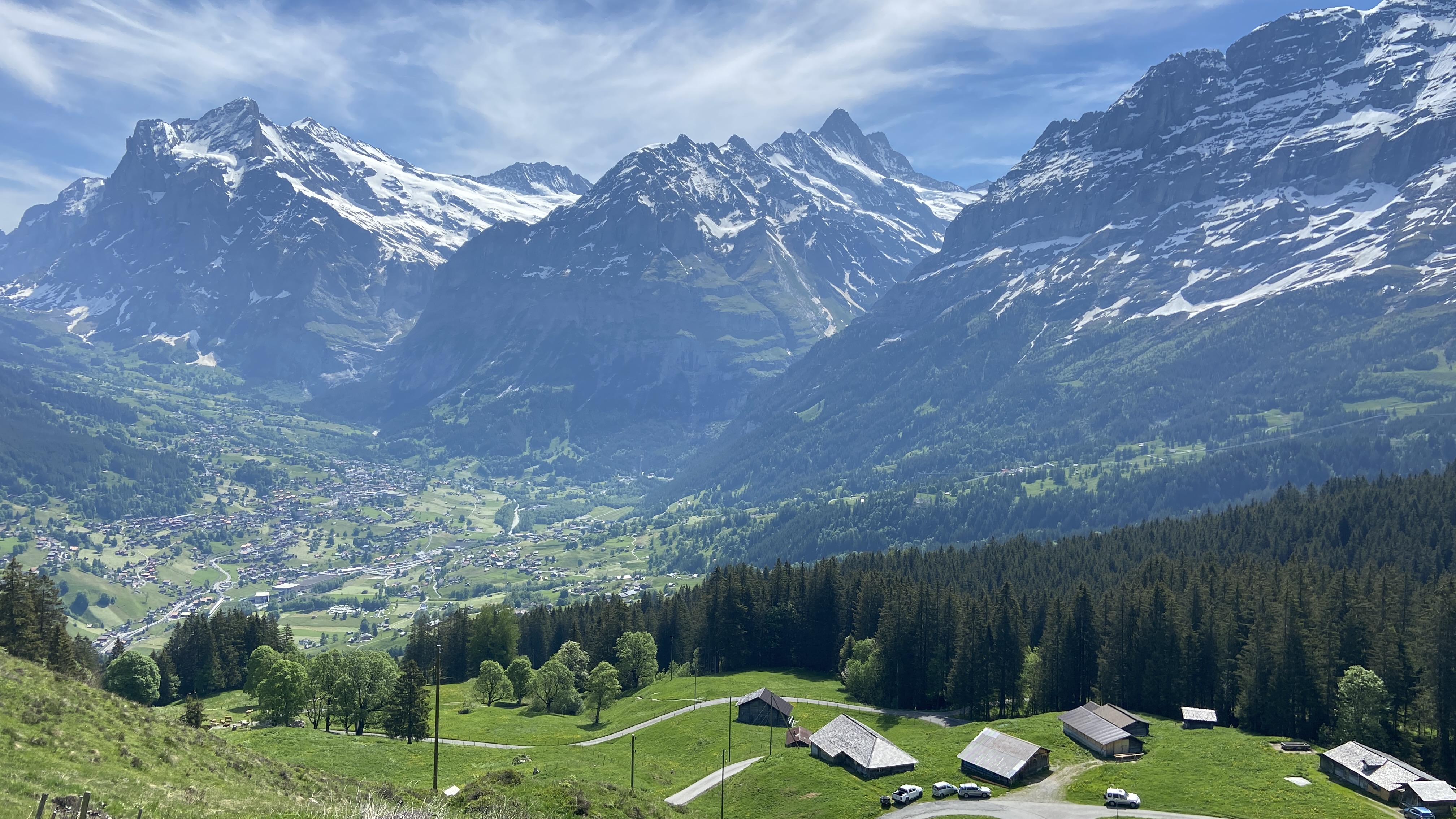 5 | Männlichen Royal Walk
Imagine that you're a king or queen while taking the Royal walk to Männlichen summit. Something tells me that if we were truly royals, someone would volunteer to carry us up this steep 25 minute path. But here's the thing: the views really are fit for a king or queen, which means it's well worth the effort for peasants like us.
You can see straight down into Lauterbrunnen Valley, all the way to Lake Thun, Interlaken, and Schynige Platte, and, of course, over to Grindelwald. 
But it also might be one of the best views of the three peaks—the Eiger, Mönch, and Jungfrau—that you'll ever see. Naturally, these views are stunning on a clear day. But just because it's cloudy in the valley doesn't mean you'll be up in the clouds up here. So pro-tip: check the webcam before you come.
We came up here earlier this summer, and when we left the station below, it was totally cloudy. But halfway up we broke through the clouds into clear blue skies all around us. It was fascinating to only see the mountaintops while the valleys were buried beneath a layer of white.
---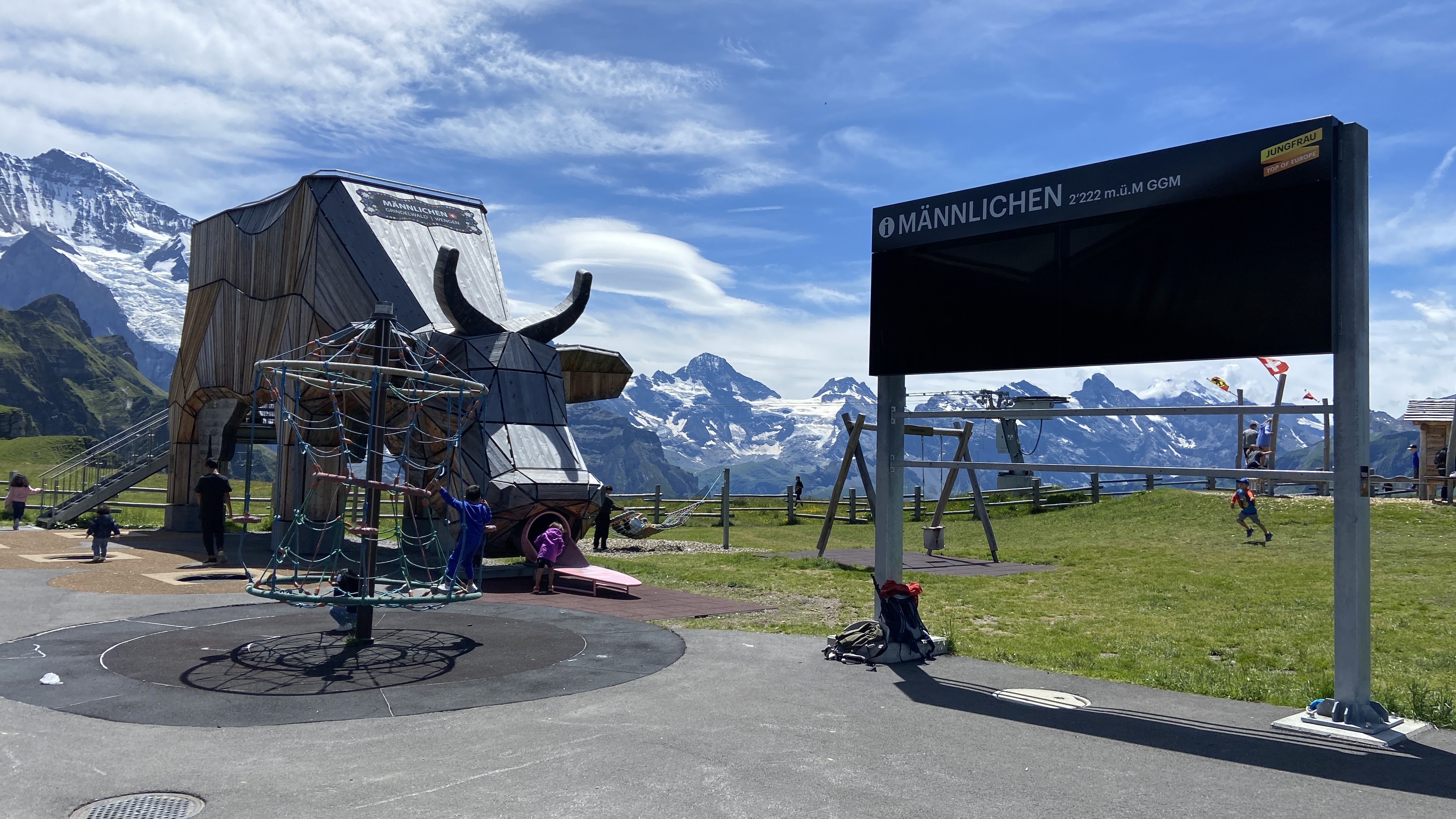 6 | Männlichen Playground
Männlichen is also an excellent destination for families because of this farm-themed playground with a giant cow. You climb up under the tail and slide out the mouth—so fun!
There are also mini trampolines, swings, seesaws, balance beams and even a bowling lane. Our suggestion is to bring a picnic up here so your kids can play on the playground while you enjoy the views. And if picnics aren't your thing, there's a restaurant up here, too.
---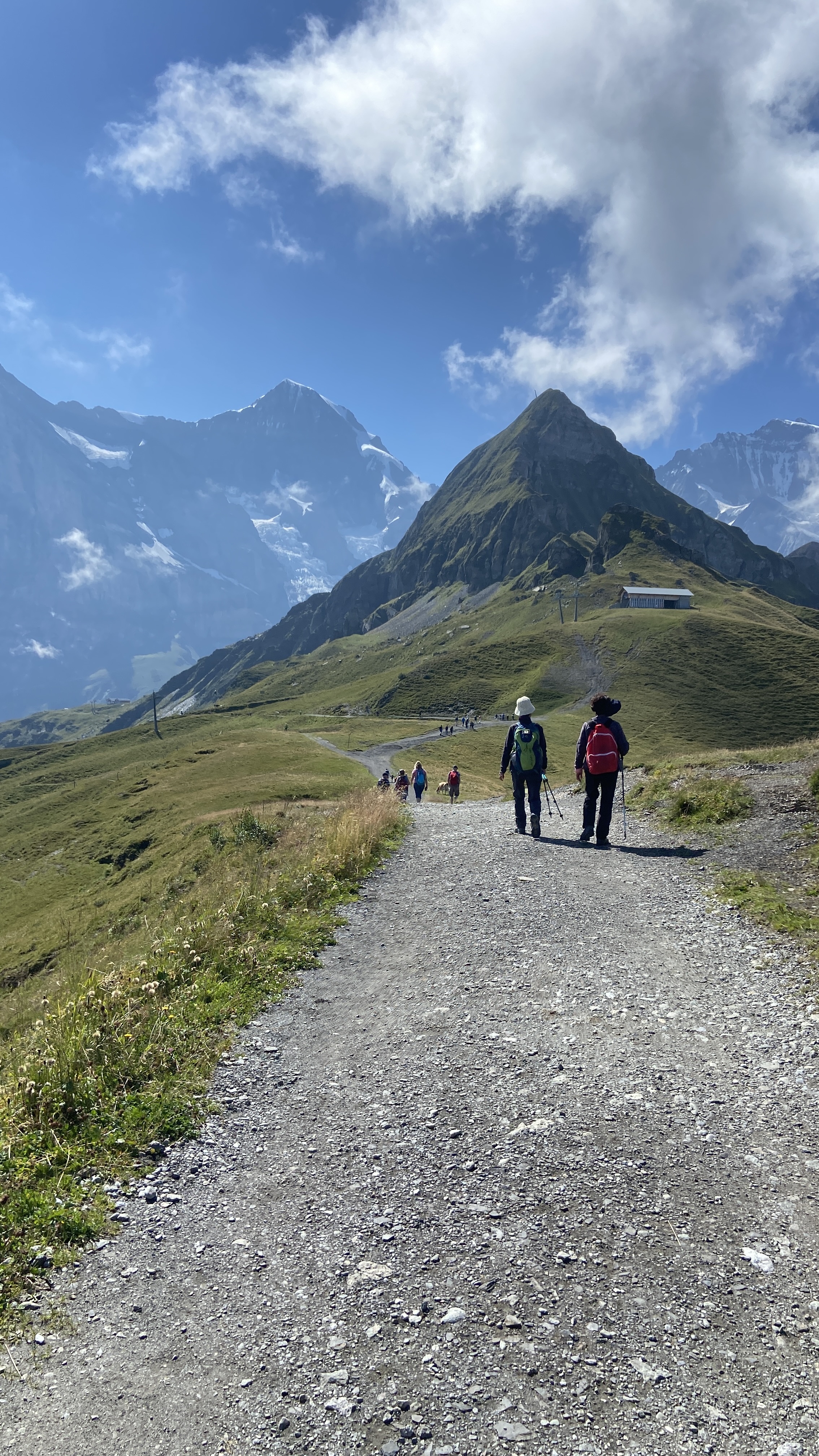 7 | Panoramic Hike from Männlichen to Kleine Scheidegg
There's another thing absolutely worth doing at Männlichen, and it's the panoramic hike.
If you ask us for just one hike that provides maximum views with minimal efforts, it's this one. It's three miles gently downhill on a wide trail and posted at just 1 hour 20 minutes, making it friendly for all ages and athletic abilities. 
As the name suggests, it offers panoramic views of Grindelwald. Plus, you're staring at the Eiger North face the entire way.
Just before you reach Kleine Scheidegg, you'll spy a wooden treehouse with a Swiss flag. Climb up for a fun viewpoint or relax a bit at the restaurant below. And then from the train station you'll have access to lots more fun, including what we're showing you next. 
---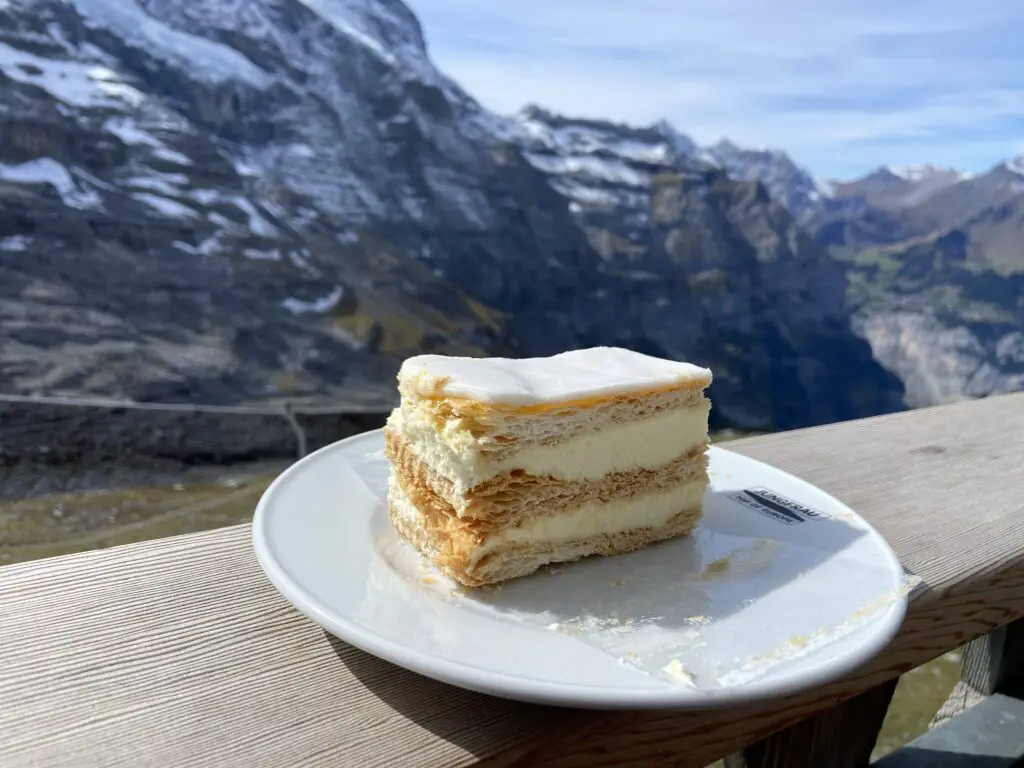 8 | Eigergletscher Restaurant
If you're like us, then hiking makes you hungry. And nothing satisfies better than a homemade dessert.
At Eigergletscher restaurant, you can order a traditional rahmschnitte, made right here at 2322 meters. It's a layered dessert of sweet cream and flaky dough, topped with a rum flavored icing. But there's more here than cake, although that's a completely legitimate reason to visit Eigergletscher. Find a spot on the panoramic terrace as your eyes wander the landscape for views of Lauterbrunnen Valley and Mürren in the distance.
---
9 | Via Ferrata
Only the best climbers in the world dare scale the mighty Eiger North face. But you can get a taste of it yourself on the Rotstock Via Ferrata.
A via ferrata uses fixed ropes, iron rungs, and ladders to create an epic experience that normally isn't accessible without mountaineering experience. But that doesn't mean you should take it lightly. We recently did our first via ferrata, and since we hadn't ever done anything like it, we opted to go with a guide to have a little more confidence.
We scaled cliff sides, tiptoed over gorges using a tightrope, and rode a zip line over a waterfall, all with the help of our incredible guide provided by Outdoor. While we haven't yet done this via ferrata, it's next on our list after that incredible experience. 
---
10 | Hike the Eiger Trail
The Eiger Trail is one of the most popular hikes in Switzerland. It gradually winds down from Eigergletscher along the bottom of the Eiger mountain.
In fact, this is where you'll start that via ferrata, too. Along the way, you'll have sparkling views of Grindelwald below and you'll probably pass a few sparkling waterfalls, too. After about 2 hours and six kilometers later, you'll find yourself in Alpiglen. 
---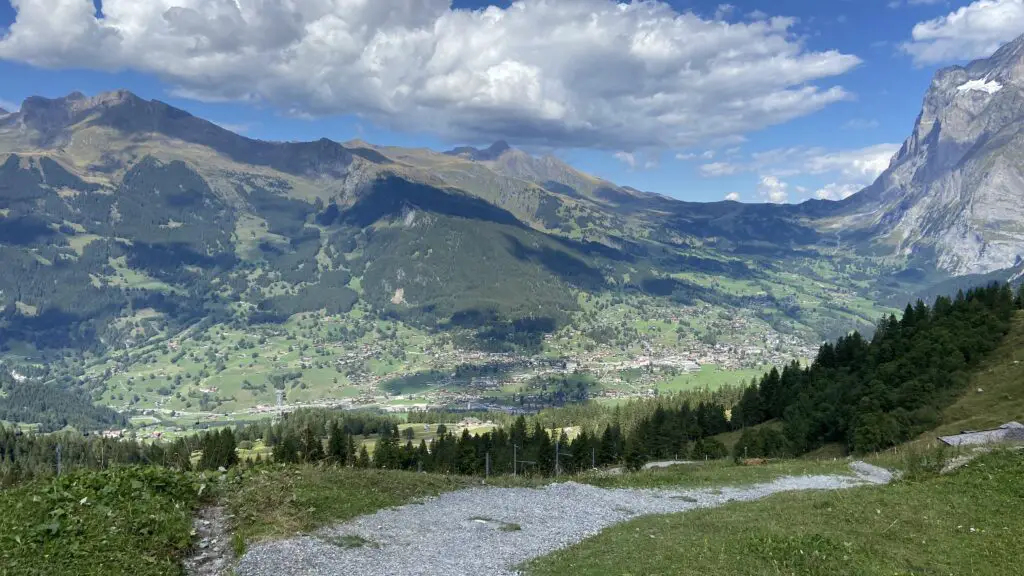 11 | Restaurant Alpiglen
We hiked the Eiger trail a few years ago and completely skipped over this awesome spot at the time. But now that we've discovered it, there's absolutely no reason for you to repeat our mistake!
Stop here for a beer at Restaurant Alpiglen. It's perfectly situated at the end of the Eiger trail, providing a cold drink and somewhere to rest your legs. This hotel restaurant can only be reached by hiking, biking, or with the train. But it's oozing with charm.
Besides being a nice place to relax with a view of Grindelwald, you can also enjoy a hot meal of traditional Swiss cuisine. And if you visit during the summer, you might get the chance to be up close and personal with a herd of cows. 
---
12 | Ride the historic Wengernalpbahn
Before the Eiger Express was built, passengers rode down from Kleine Scheidegg on this historic train.
It winds down through farms and cow pastures, tunnels and trees all the way down to Grindelwald. You can hop off anywhere along the way for a casual downhill walk with, you guessed it, sweeping views of the village of Grindelwald.
---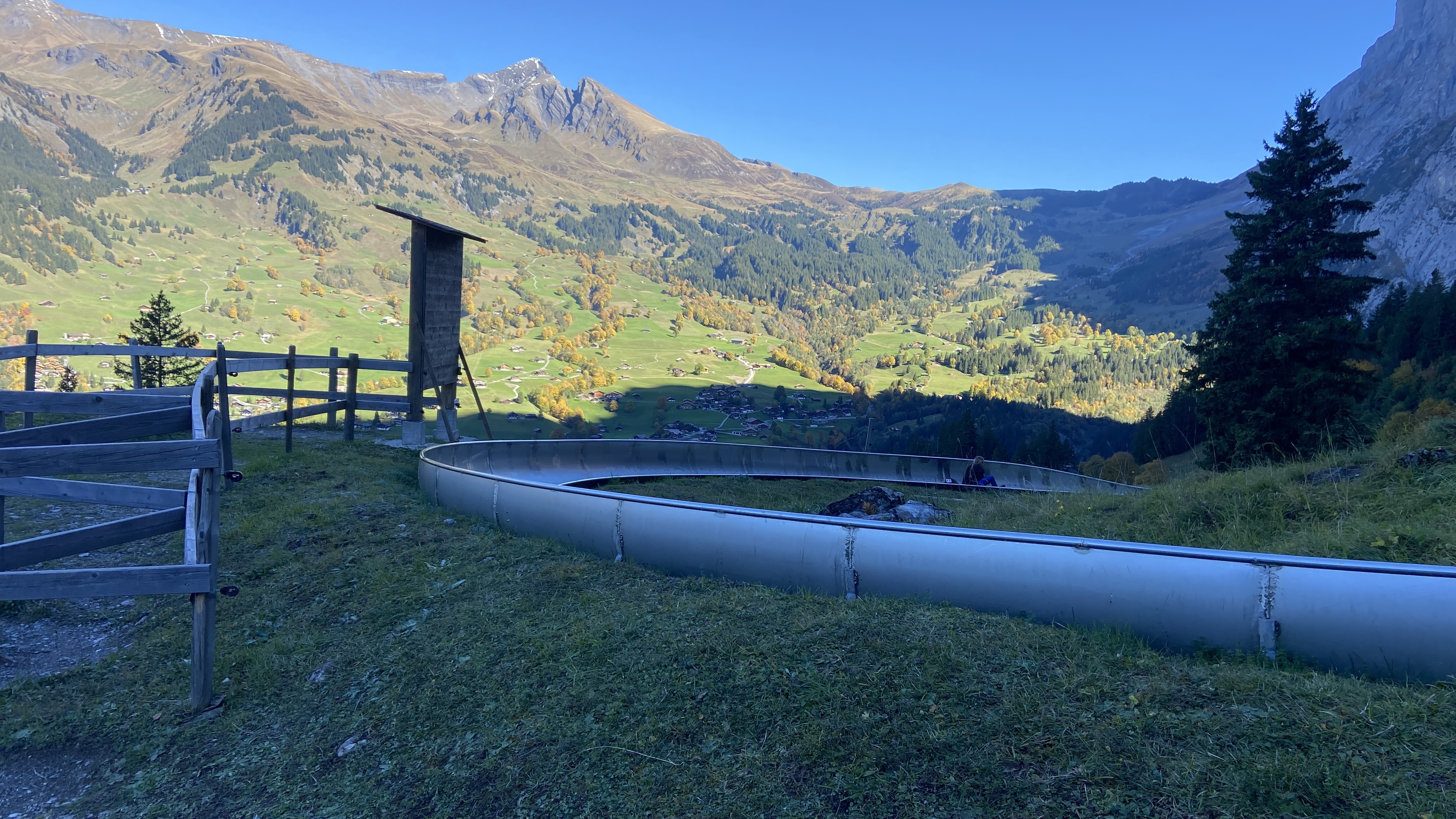 13 | Pfingstegg Adventures
We hope you have more energy because Grindelwald is full of adventures and the next one on our list is Pfingstegg.
Ride bus 122 for 5 minutes from the Grindelwald train station to the Grindelwald Pfingsteggbahn stop. Why come here? For a smooth ride over 735 meters on the toboggan run. Or you can float through the trees at 8 to 12 kilometers an hour on the fly line. Or you can even connect Pfingstegg with multiple hikes to mountain restaurants and hotels next to the glaciers.
One thing is for sure, Pfingstegg is fun for the whole family!
---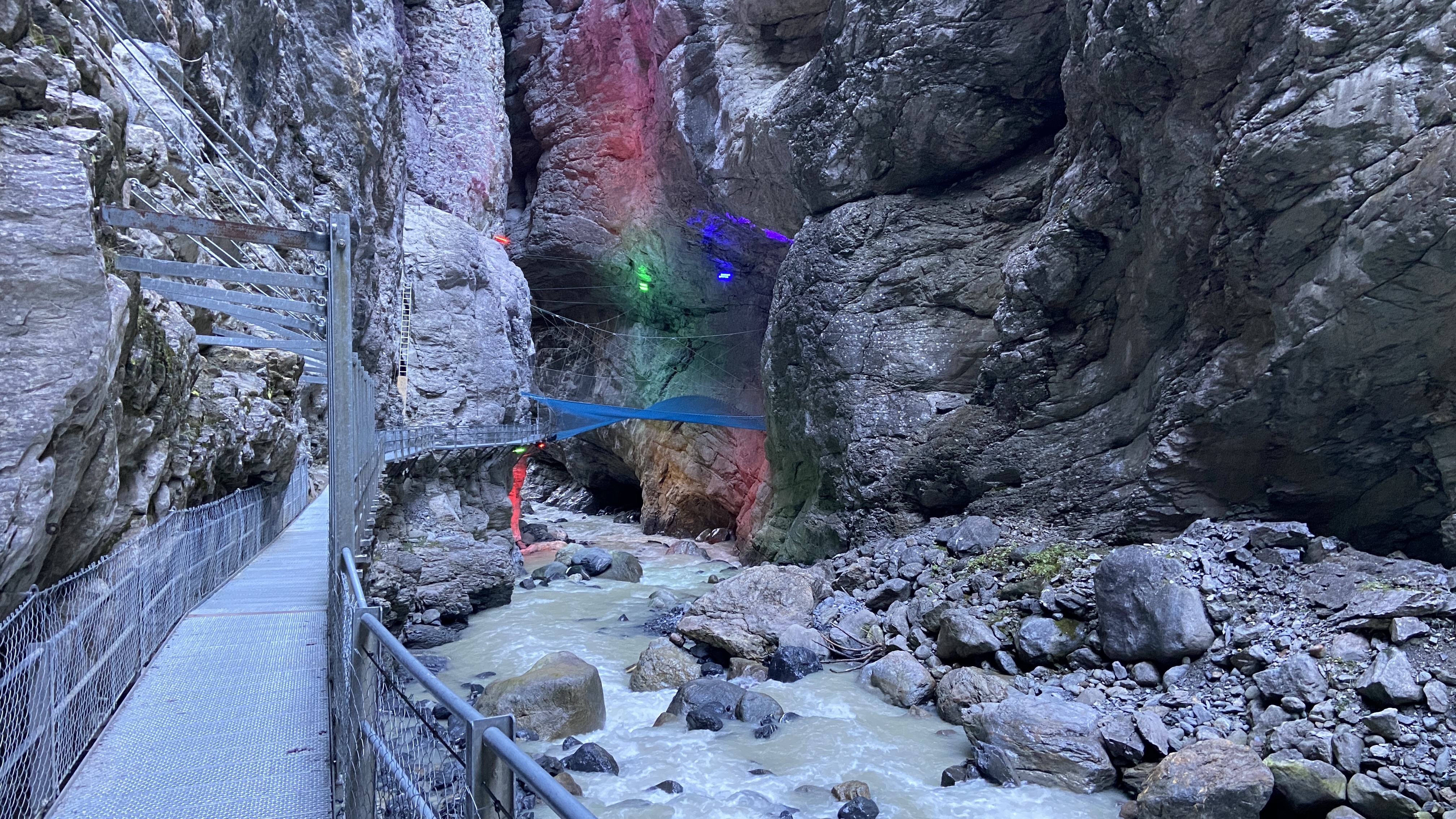 14 | Grindelwald Gorge (Grindelwald Glacier Canyon)
Grindelwald is gorgeous. And to make it even better, there's a gorge here too! Gorges are Jana's favorite landscape because of the way they carve through the land with flowing sparkling water, small pebbles, and giant rocks. 
Do you remember how we said that Grindelwald is a great spot for adventure activities? Well, here at Grindelwald Gorge, you can climb on a spiderweb or fly through the air on a giant swing. 
---
15 | Ride the Eiger Express
You can't help but admire the Eiger from Grindelwald. This imposing black pyramid calls out to visitors from every corner of the valley. So take in the entire landscape while riding the Eiger Express, the world's most modern tricable gondola—whatever that means!
Its 26-passenger gondolas offer 360-degree views from Grindelwald Terminal to Eigergletscher. And it's also the first part of the route to Jungfraujoch. It used to take 47 minutes and two trains to reach Eigergletscher from Grindelwald, but the Eiger Express has shaved 30 minutes off of that time, whisking you up to the last stop before Jungfraujoch in just 17 minutes.
---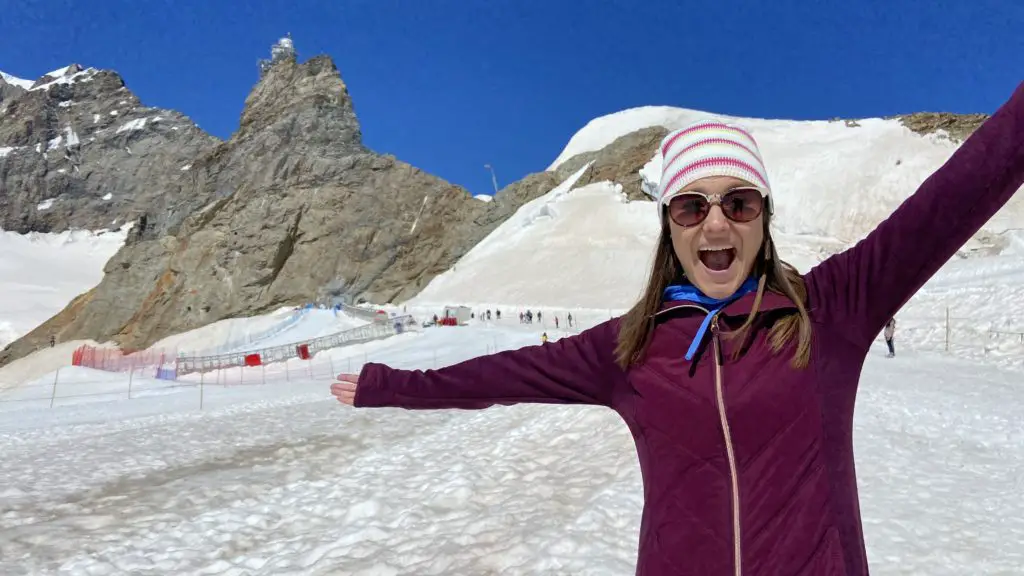 16 | Visit Jungfraujoch Top of Europe
Speaking of Jungfraujoch, you can reach it from Eigergletscher by riding about 30 minutes on the Jungfraubahn. And this is one of the most popular places to visit in Switzerland, and here's why:
It's the highest train station in Europe at 3454 meters
It has snow 365 days a year
And it provides a glimpse of the longest glacier in Europe.
Honestly, there is so much stuff to do up at Jungfrau that we made a video all about it. So if you're up for an adventure like we usually are, then you're not going to want to miss learning about walking through tunnels of ice and hiking along a glacier at nearly 12,000 feet.
---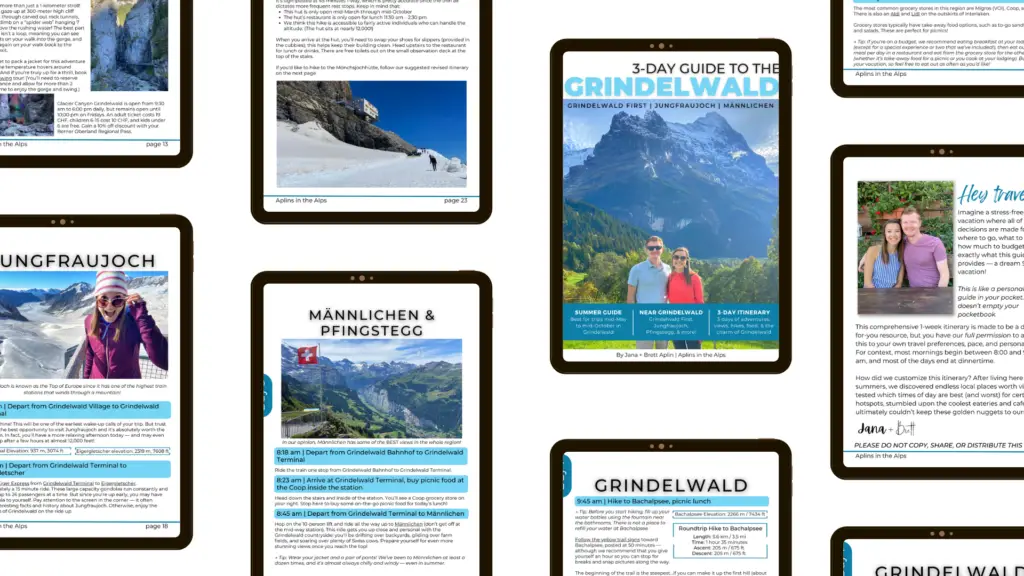 Need more help planning your trip to Grindelwald, Switzerland?
Whether you're wondering what to do in Grindelwald, which Swiss train pass you need, or how to budget, you can find all of those answers in our 3-Day Guide to Grindelwald!