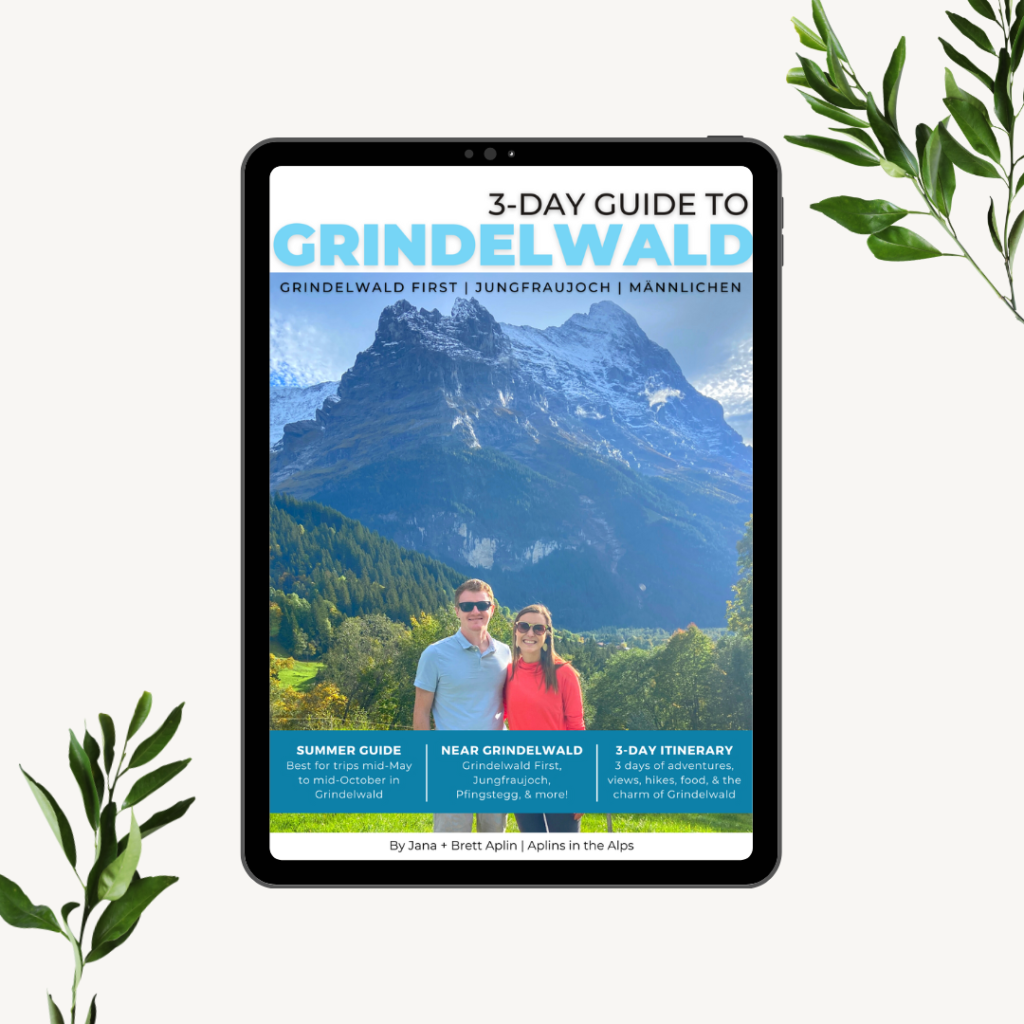 $29 BUNDLE
3-Day Guide to Grindelwald, Switzerland
The most comprehensive minute-by-minute digital Grindelwald itinerary available online
✔️3 individual daily itineraries compiled into 1 guide
✔️Features: Grindelwald, Grindelwald First, Jungfraujoch, Eigergletscher, Männlichen, Pfingstegg, Grindelwald Glacier Canyon, and more!
✔️Best from mid-May through mid-October
✔️Perfect for 1-3 days in Grindelwald, Switzerland
✔️Most (but not all) of this 3-Day Guide is featured in our 1-Week Guide to the Jungfrau Region
INCLUDED: Bundle Bonuses
✔️ BONUS: 3 Digital maps help you navigate each day's activities
✔️ BONUS: How to Budget for 3 days in Grindelwald, Switzerland
✔️ BONUS: Rainy Day Guide
✔️ BONUS: "What's Covered By My Train Pass?" Spreadsheet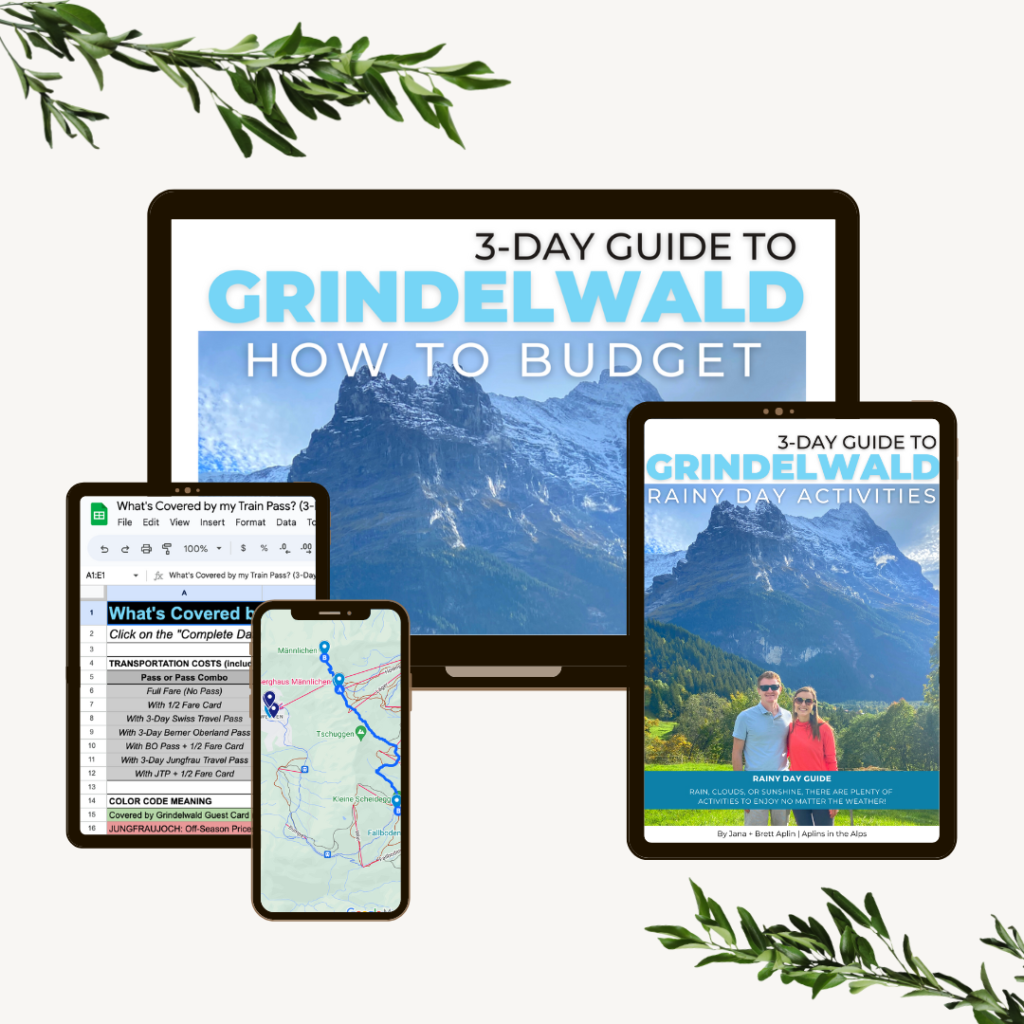 ---
Going on a trip is awesome. Taking a vacation in the Swiss Alps? Ultra awesome!
You could just show up and seize the day, but you'd find yourself waiting for trains to arrive, wondering how far away something is, and getting swept up in the tourist hotspots in the center of town.
But what if you could experience a morning in the mountains with magnificent views, an afternoon of alpine adventures, and dinner table views of snowy peaks and twinkling stars — for 3 days in a row?!
And what if you could enjoy all of that while spending less on your Tour de Grindelwald?
---
Save money and savor your Swiss vacation with a complete 3-Day Guide to Grindelwald!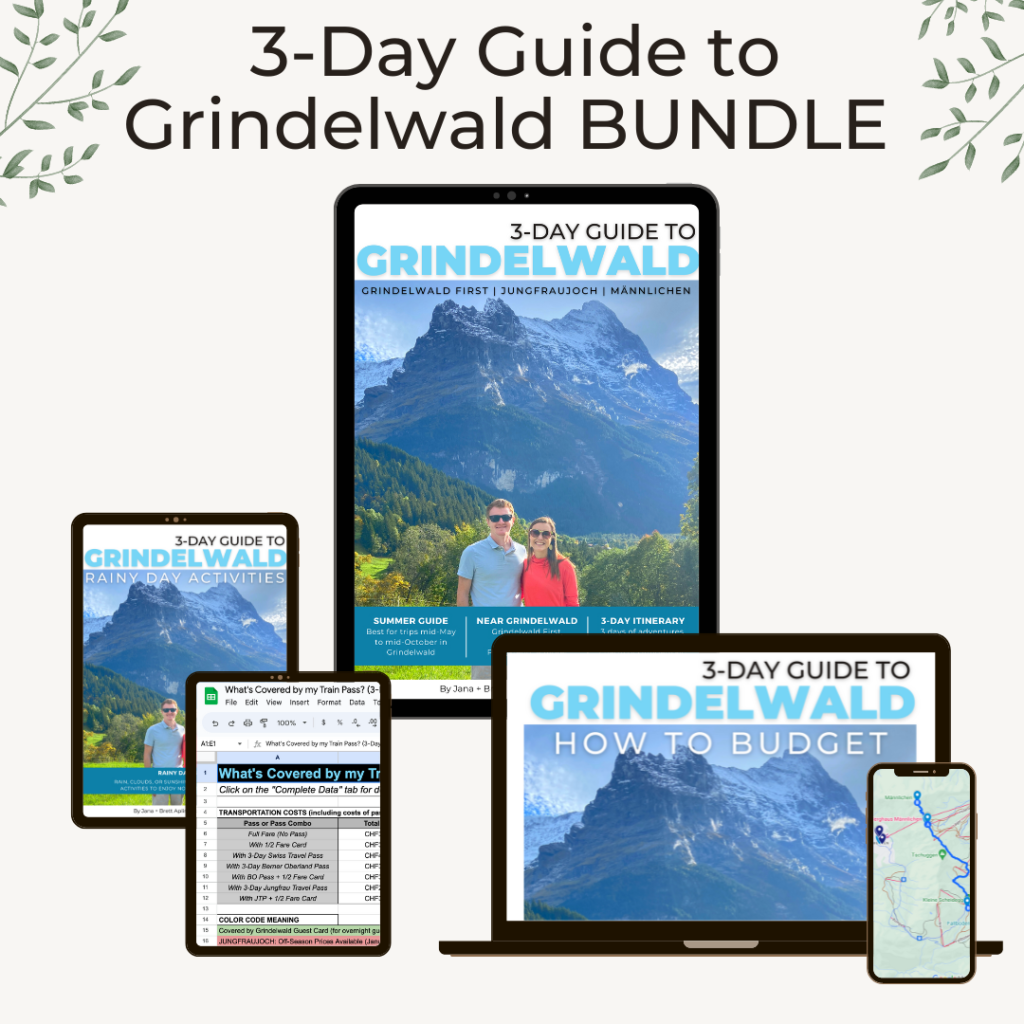 Where to go: Grindelwald First, Jungfraujoch, Männlichen, and more!
How long to stay: 3 days
What to do:
Mountain summits (imagine the snow!)
Panoramic restaurants (where it's okay to linger over your meal)
Must-do adventures (height, speed, thrills, and views)
And typical Swiss experiences (hello, cows and cheese!)
Where to eat: Our recommended cafes and restaurants
Which train pass to buy: To maximize your budget and travel experiences
And that's not even everything!!
---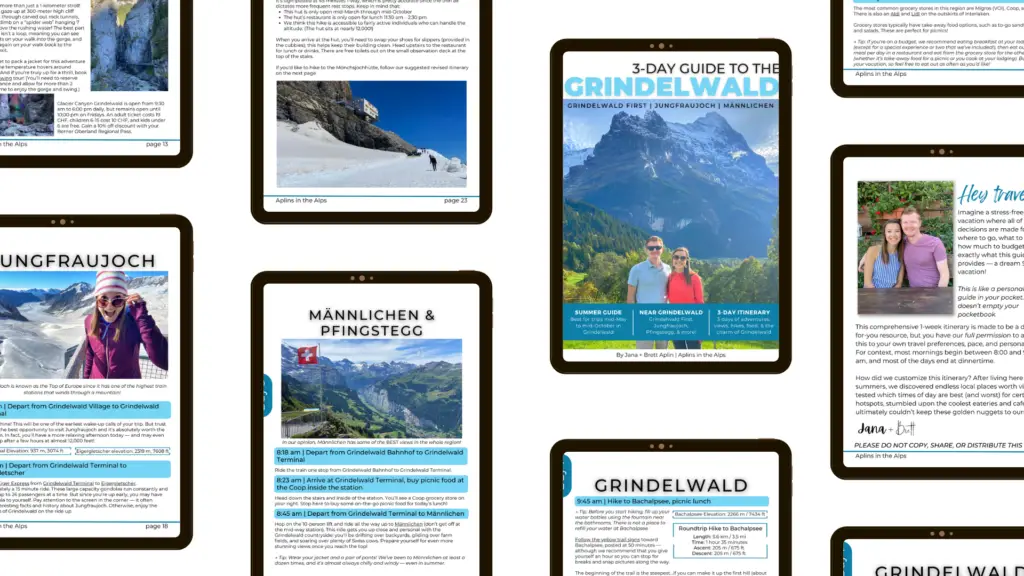 This 3-Day Bundle includes:
49 pages of minute-by-minute itineraries. (Hello, train timetables.)
3 daily maps to help you navigate — and stop at unbelievable viewpoints.
Insider advice to ease your vacation decisions, like if you should buy the Grindelwald Adventure Package or Pfingstegg FUN Package.
A bonus Rainy Day Guide since weather shouldn't be the reason you don't fully enjoy your 3 days in Grindelwald.
A Bonus "What's Covered by my Train Pass?" spreadsheet to help you understand the cost and coverage of various Swiss train passes using this 3-day travel itinerary.
Plus a Bonus Budget Guide so you can estimate how much money to save for your days in the mountains.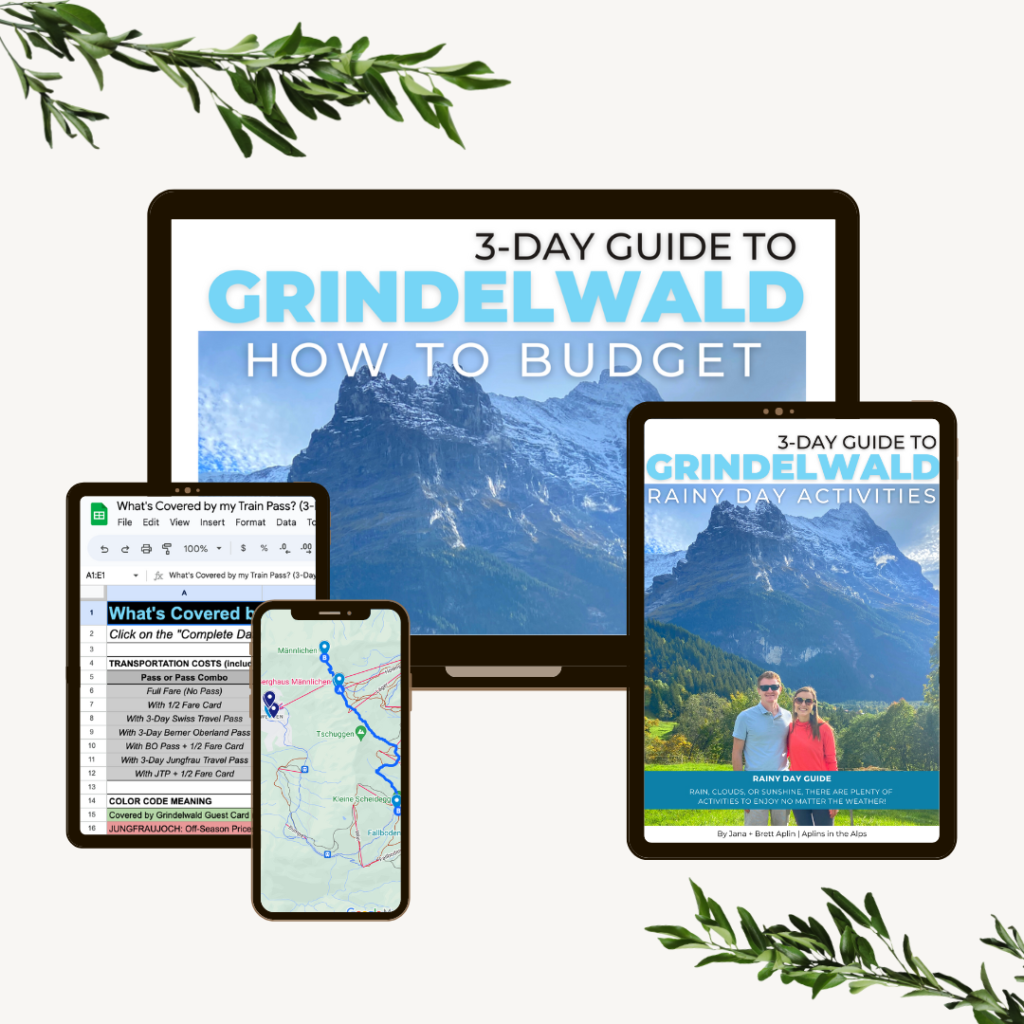 ---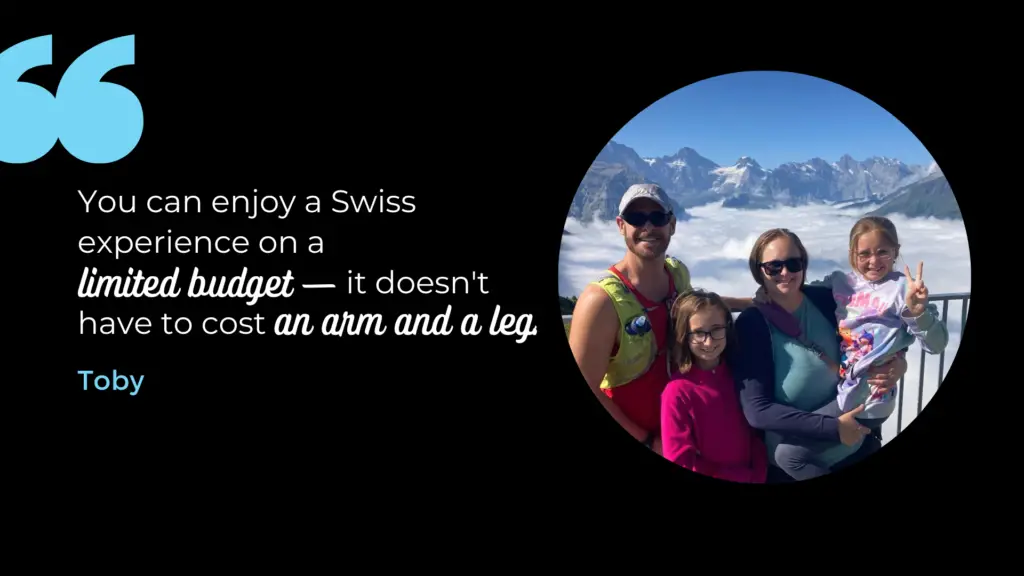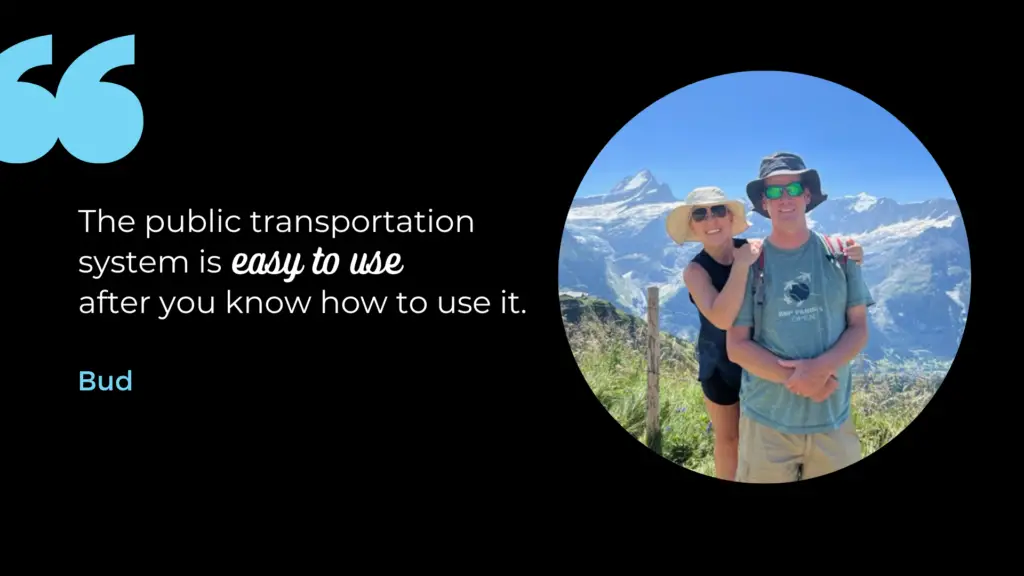 ---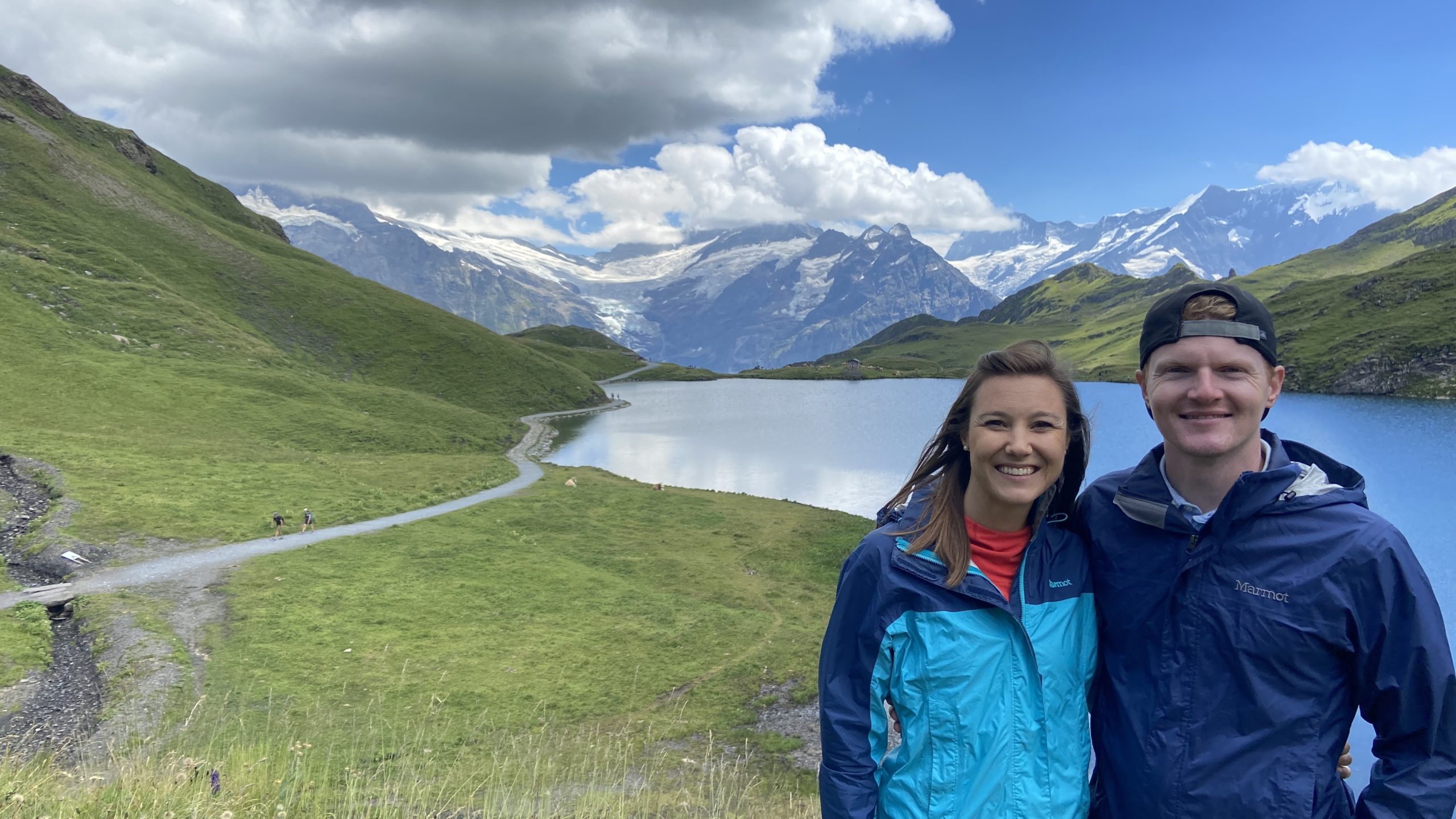 Hi! If we haven't met, we're Jana + Brett.
We love Switzerland, and we're pretty confident you will too.
After spending more than 2 summers living in the scenic Swiss Alps, we can't keep these insider secrets to ourselves.
You deserve to gain the benefits of a guided tour from the convenience of a digital bundle.
Join the 30,000+ subscribers on YouTube, 6,000+ travelers in our inbox, and hundreds of customers who have trusted our advice.
---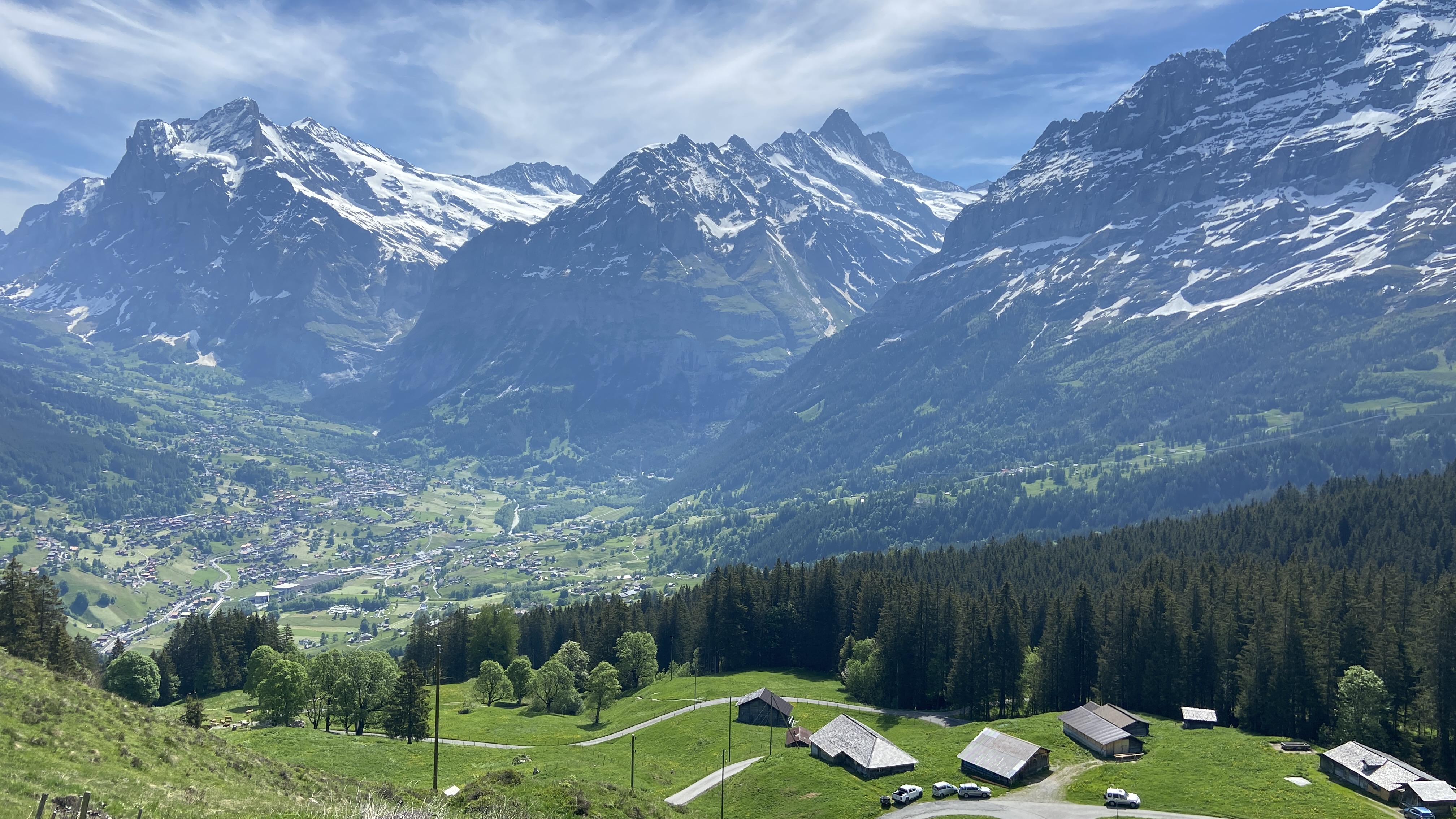 Not sure if this Swiss Travel Guide is worth your money?
Let's put it in perspective. The cost of the 3-Day Guide to Grindelwald is less than the price of:
1 average lunch from a restaurant in Grindelwald
3 dried sausages from a self-service farm fridge
1 one-way ticket to Grindelwald First
---
A Return Policy with YOU in mind!
We know how it feels to spend money on something that doesn't feel worth it. After all, Switzerland isn't a cheap destination. That's why our refund policy is all about YOU.
Take 1 week to sample this product, and if you're not satisfied with the test drive within 7 days, we will fix the problem or deliver a full refund. 
And here's the cherry on top: you get free lifetime updates! We will regularly update our content and incorporate new info to keep you in the loop.
Questions? Send us a message on our Contact Form.
---
Is the 3-Day Guide to Grindelwald, Switzerland right for me?
Tap the "Buy now" button if:
You will be spending 2 or 3 days in Grindelwald, Switzerland.
You want help deciding what to do during your trip.
You don't know where to stay…on the main street? Near Grindelwald Terminal? Beyond Grindelwald Grund?
You are hoping for advice on how to fit the must-do activities into only 3 days.
You prefer eating at recommended restaurants instead of checking Tripadvisor.
You know a Swiss train pass will save you money, but don't know which one is best for your itinerary.
This Guide is not right for you if:
You want to wing your 3 days and just see what you find to do.
You aren't looking to see the highlights near Grindelwald.
You're going to be in the Jungfrau Region for more than 3 days. (Hint: We have other guides for that!)
You're looking for a budget guide to spend as little money as possible during your 3 days.
If that's you, don't worry — we have plenty of free resources and videos that will still help you out!
Note: Most (but not all) of this 3-Day Guide to Grindelwald, Switzerland is included in our 1-Week Guide to the Jungfrau Region.
---
Get ready for an ultra awesome vacation to Grindelwald, Switzerland!
You don't have to settle for an okay trip to Switzerland. Instead, choose an ultra awesome vacation to Grindelwald with a step-by-step Swiss Travel Guide! 
This 3-day, family-friendly, itinerary is packed with adventures, views, walks, and tasty food — a big improvement over a loose "meh" schedule. Join the hundreds of travelers who follow our travel itineraries!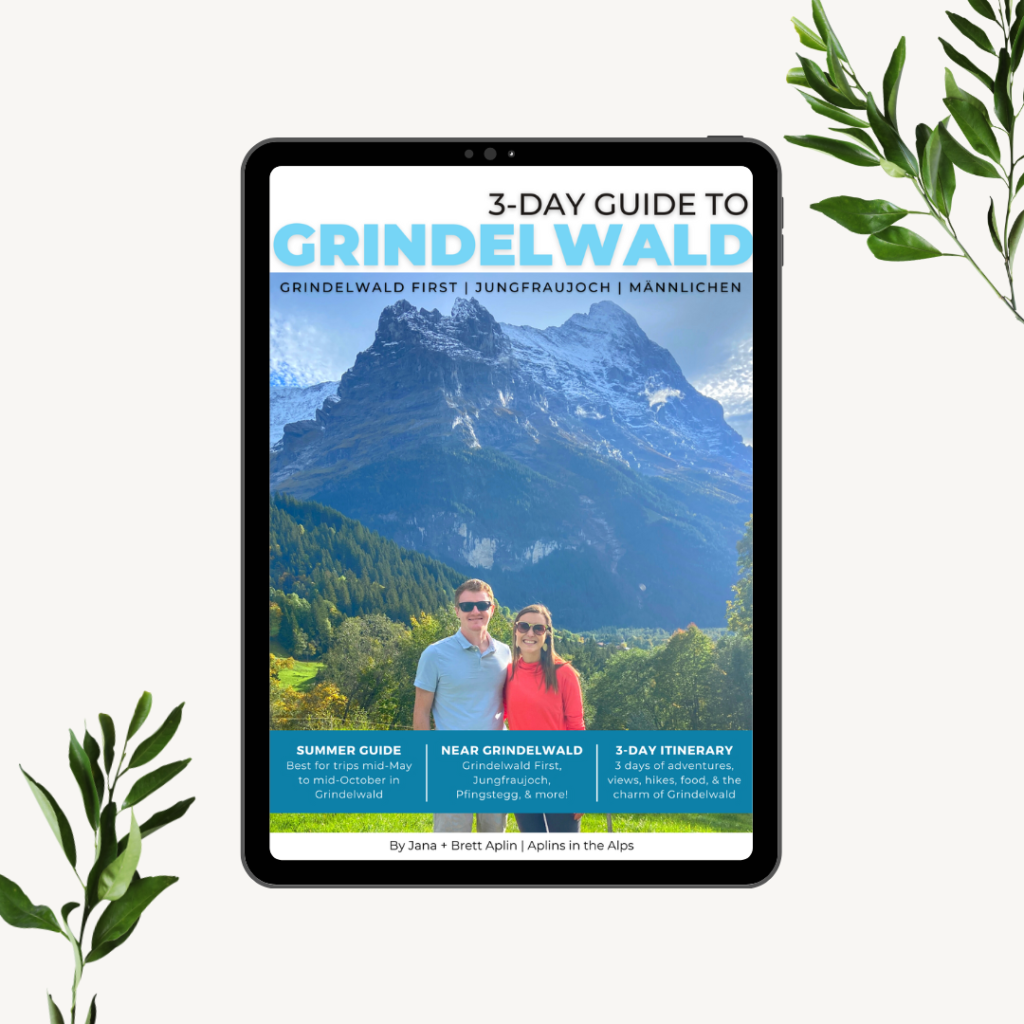 See ya in Switzerland!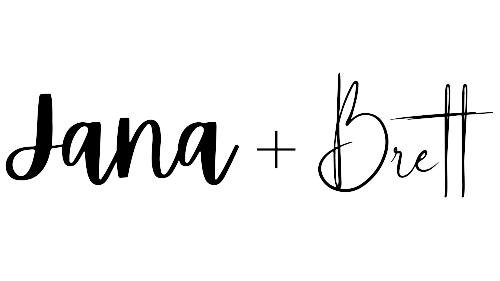 ---
Going somewhere else in the Swiss Alps? Browse our other Swiss Travel Guides: