Does zip lining over a gorge sound fun? Or tightrope-walking over a waterfall? How about crossing a swinging suspension bridge? Or maybe traversing a sheer side of a cliff? If that's your idea of fun, then you're not gonna want to miss this incredible via ferrata experience in Mürren, Switzerland!
And if it sounds terrifying, then maybe you'll enjoy watching us two crazies give it a try!
---
Prefer to WATCH instead of Read?
---
We're Jana and Brett, and we help you travel Switzerland with confidence. Although you may not feel very confident about what you're looking into — the via ferrata in Mürren, Switzerland — we know you're gonna love it as much as we did! In this post, we're going to share our whole guided experience with Outdoor, and tell you how you can do this too.
---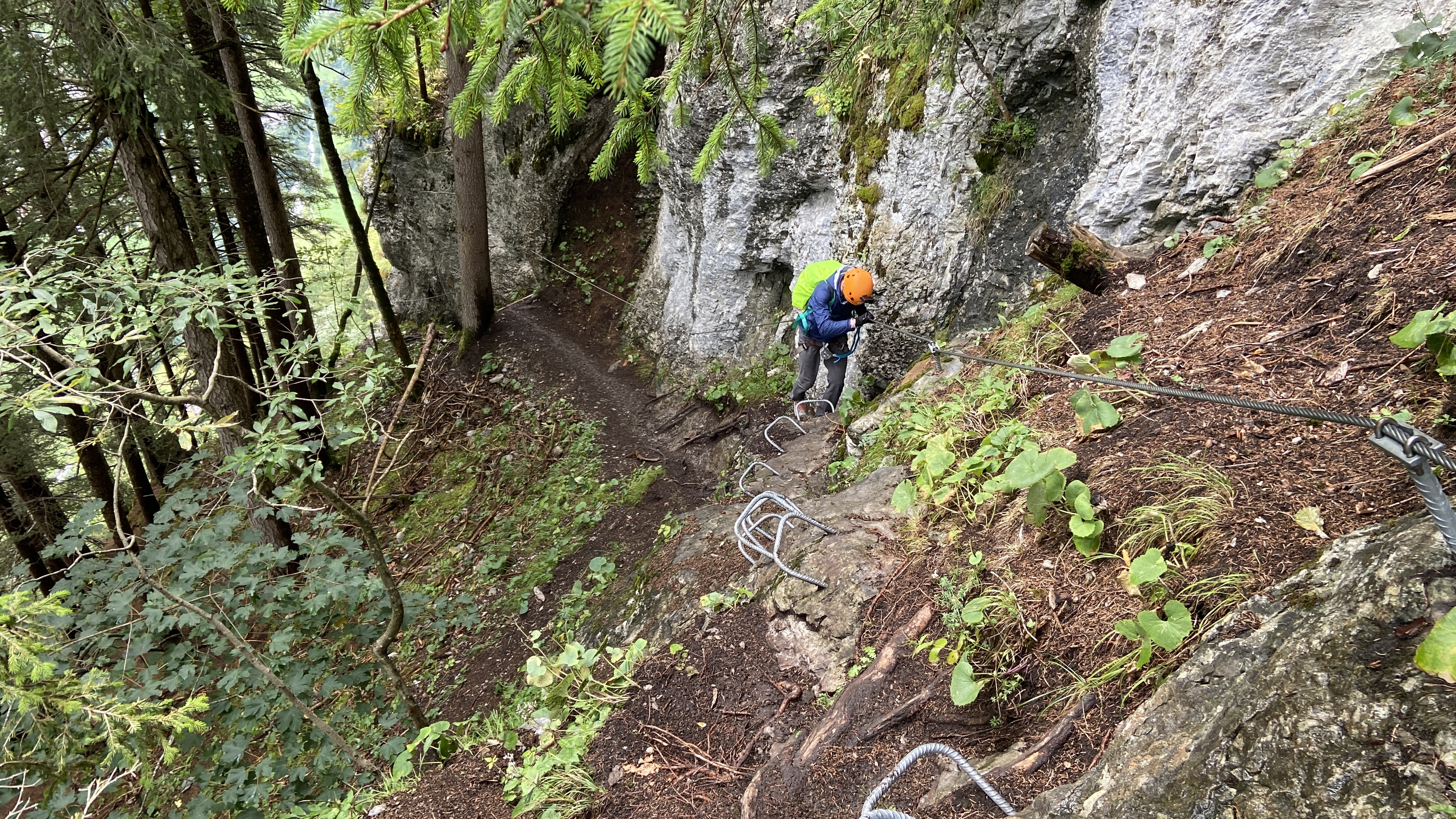 What is a via ferrata?
Via Ferrata means "Iron way" in Italian. It dates back to the 19th century and was used extensively during WWI to move Italian troops and their weapons through the high elevations in the Dolomites. But now, it's basically just a form of sports and recreation.
Via ferrata experiences use steel cables, ladders, and other fixed anchors to provide a fully secured route in places that no amateur would dare attempt otherwise. I mean, the one in Mürren literally scales the walls of Lauterbrunnen Valley!
It's like a hybrid method of hiking and mountaineering that allows experienced hikers but inexperienced climbers (like us) to enjoy a mountaineering-like experience. 
---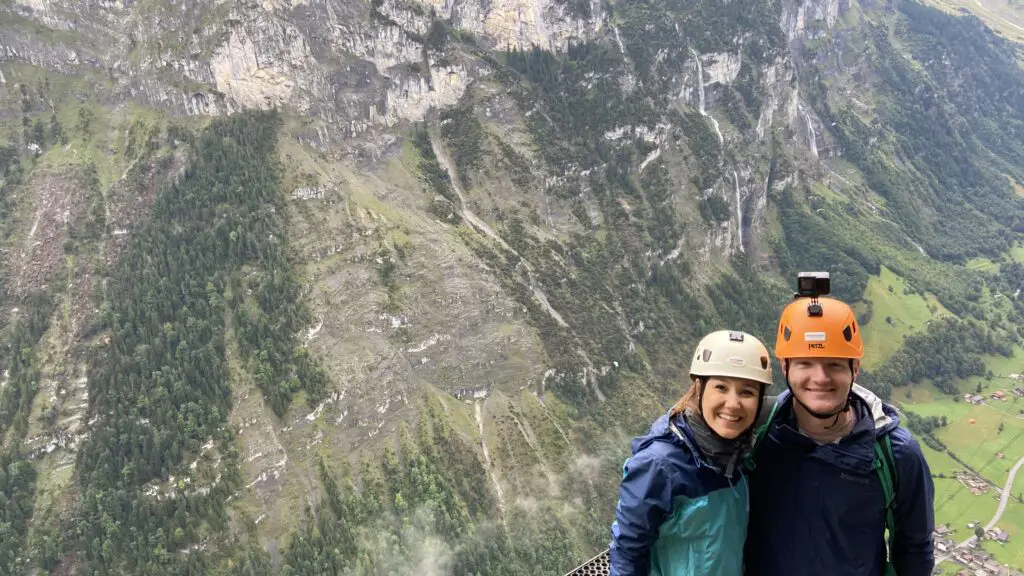 Mürren Via Ferrata
Most via ferratas are used to climb up a cliff or mountain. But this one is unique in that it goes downhill, on a 2.2 km one-way route from Mürren to Gimmelwald.
The 3-hour experiences includes a few main elements:
An exposed section where you are 600 meters above Lauterbrunnen Valley
A zipline
A tightrope walk over a waterfall
A swinging suspension bridge over a 400-meter deep gorge
And lots of ladders
This is a beginner via ferrata ranked K3. It is accessible for anyone with an average fitness level, who is comfortable walking up to 5 hours and up to 600m vertical ascent per day.
2.2km
One-way route from Mürren to Gimmelwald
Beginner via ferrata (K3)
---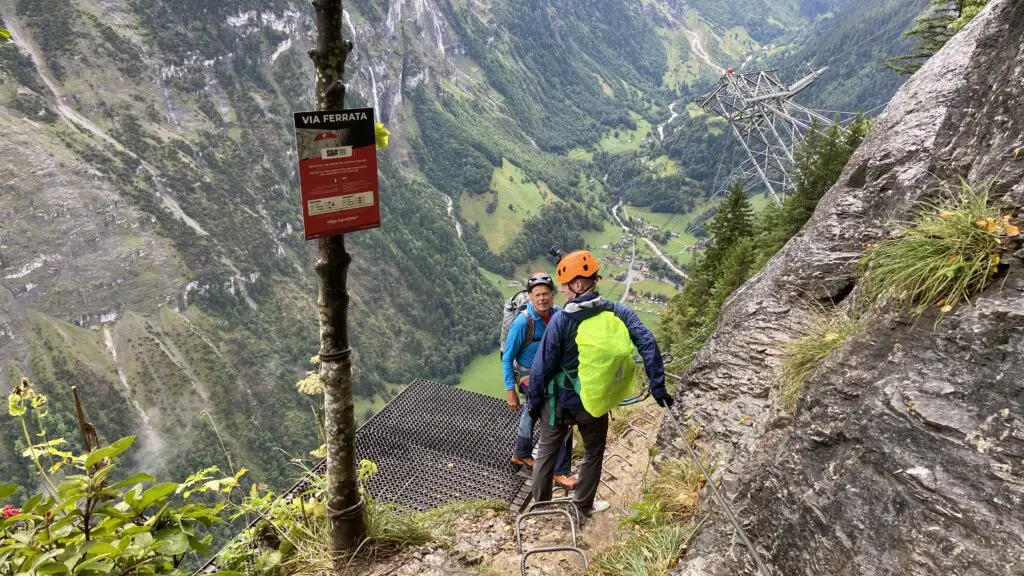 Mürren Via Ferrata Guide
We first wanted to enjoy a via ferrata experience on our honeymoon to Mürren in 2012. For a variety of reasons, including the cost, we didn't do it. But now, 10 years later, we finally did! So, how did we feel about it?
Since neither of us have really done much rock climbing or mountaineering and we've never been on a via ferrata, we paid for a certified guided tour with Outdoor, the number 1 adventure activity provider in Switzerland — especially in the Jungfrau Region. And boy, it was absolutely worth it!
In fact, if you're looking for adventure, you'll probably love some of their other experiences, too — like a canyon swing in Grindelwald, a ropes course in Interlaken, whitewater rafting, and more!
Because we were excited and nervous at the same time, we were so glad to have a guide. His name was Willy, and he was essential to our experience! First, he made sure our via ferrata gear and equipment were safe and secure. Then he reviewed our route and taught us how to use our harness and carabiners. Lastly, he calmly guided us from Mürren to Gimmelwald, with plenty of encouragement and joy!
Here's a preview of the Mürren via ferrata with Outdoor:
Groups of no more than 8 people (private tours can be booked for smaller groups)
Must be at least 12 years old to participate (and if you're older than 75, they request that you contact them before booking)
Available to book June through October
Two daily departures at 9:10am and 2:10pm
If you have previous via ferrata experience and want to go on your own, you can rent the equipment for 25 CHF per day. You must weigh 90-260 pounds (40-120kg) and be at least 4'7" (145cm) to rent. Additionally, you can rent hiking shoes for 20 CHF. If the course is wet or there is rain in the forecast, Intersport cannot rent the equipment to you if you don't have a guide.
---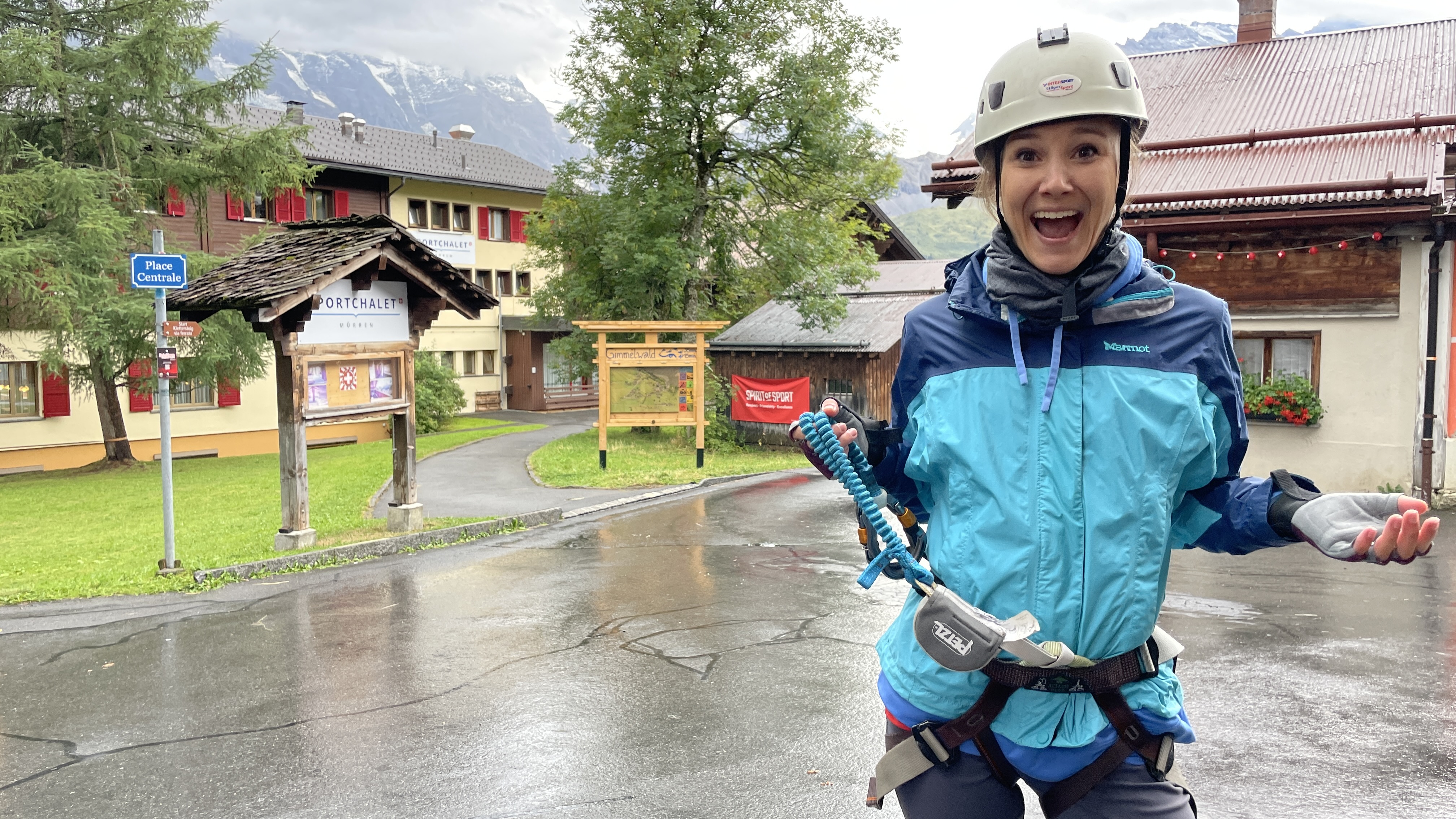 Where To Start The Mürren Via Ferrata
Like we mentioned, this via ferrata adventure started in Mürren and ended in Gimmelwald. Our guided tour with Outdoor met at the Intersport in Mürren. If you've seen our video about how to spend 1-day in Mürren, then you should be familiar with the village and the meet-up spot is at Intersport, right across from Stägerstübli restaurant.
Outdoor provides a guide and the via ferrata gear and equipment that you will need.
A helmet (you can request one with a GoPro mount)
A harness
A via ferrata carabiner kit
They recommended that we purchase rock climbing gloves, so we did. I cannot imagine doing this without gloves because your hands are running along metal ropes and rungs the entire time!
Otherwise, all you need is to wear athletic clothes and sturdy shoes with good soles.
Tip: You can purchase rock climbing/fingerless gloves at Intersport for 10-20 CHF/pair.
---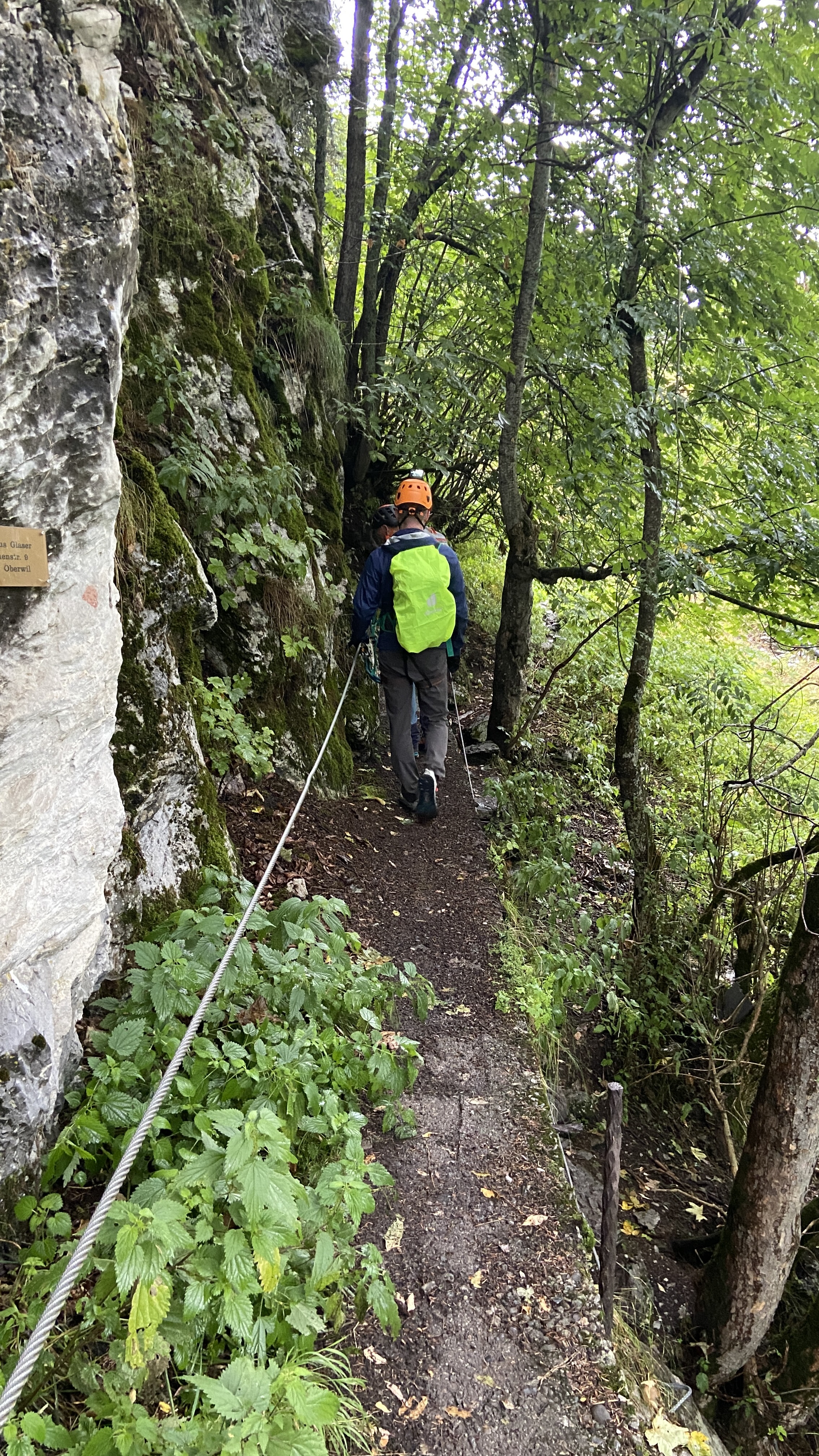 Mürren Via Ferrata part 1: The Beginning
After a short walk downhill from Intersport, our tour officially began with a briefing from our awesome guide Willy, followed by a stroll through what we're affectionately calling the "tunnel of doom," and a little skills training to make sure we knew how to use our via ferrata kit.
Then, you're off! You begin in the trees and woods, quickly descending and getting plenty of practice "clipping in and clipping out" (as Brett repeated about a hundred times during our via ferrata adventure).
Before we started, we were both worried that the height and exposure might be too much for us, even though we are in good physical shape and this is rated as a beginner via ferrata. However, once we got into this groove of using our equipment, our confidence was boosted!
When you reach the old base jumping platform, you're almost to the next section.
---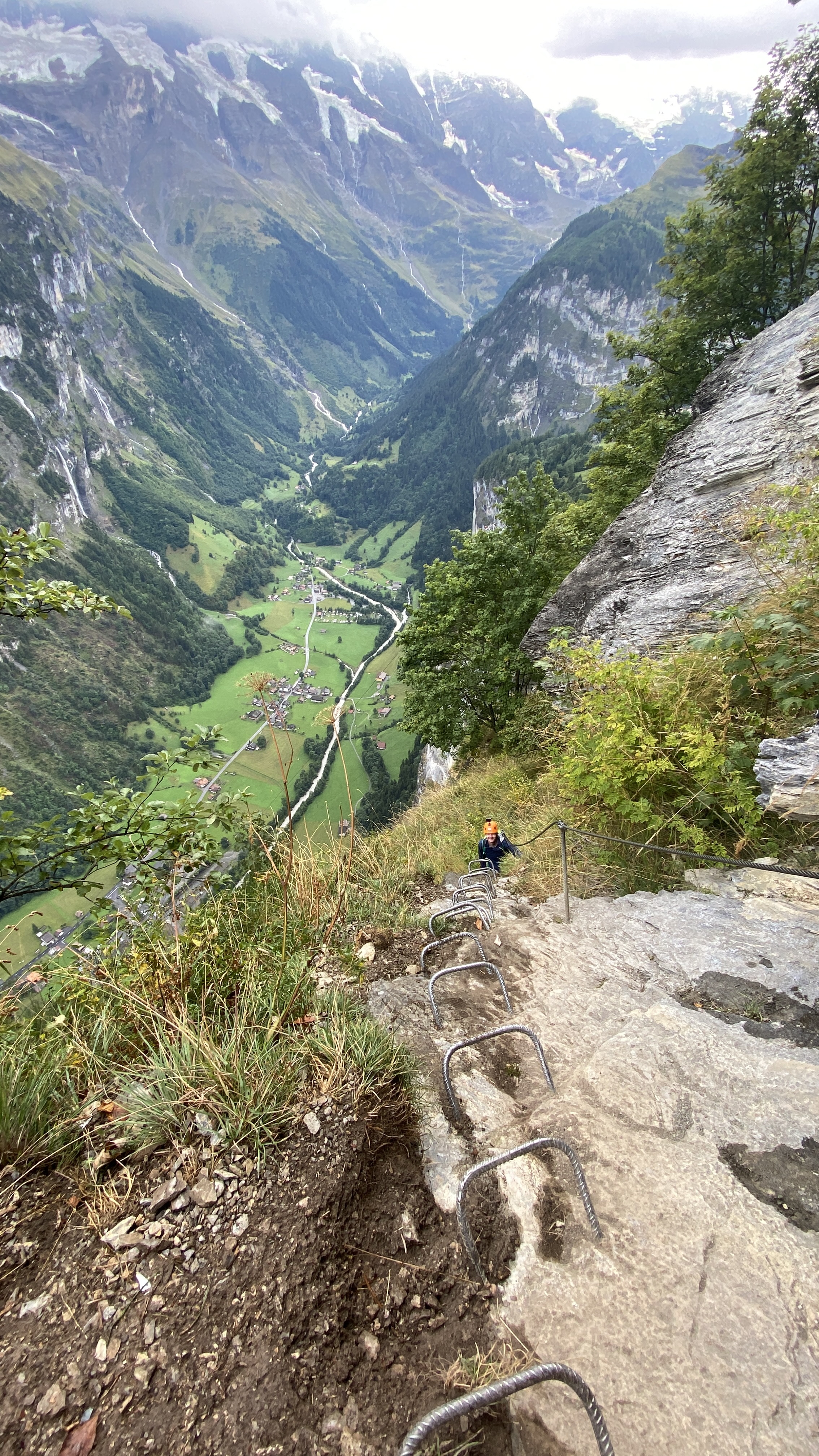 Mürren Via Ferrata part 2: The Exposed Section
This is the part we were most nervous about. I mean, our stomachs were a bit tense all morning in anticipation of this section!
As we hiked down, we could gradually start to see the Lauterbrunnen Valley below us. Then our guide told us that we were almost there.
You're still clipping in and clipping out, except now you're standing on metal rungs on the side of a cliff. And when you look down, your eyes have a long way to look before they reach solid ground!
This section is only about 40 meters and 10 minutes long. Thankfully, about halfway through we were able to calm our nerves to pause and look around. After all, this is one of the reasons we did a via ferrata in Mürren — for these views!
If we're honest, we both took a sigh of relief when our feet landed onto solid ground again. Brett described it well: "I felt like an explorer who just spotted land for the first time."
---
Did you know that we can help you travel Switzerland with confidence? Join the thousands of readers on our weekly email list to learn about more alpine adventures!
---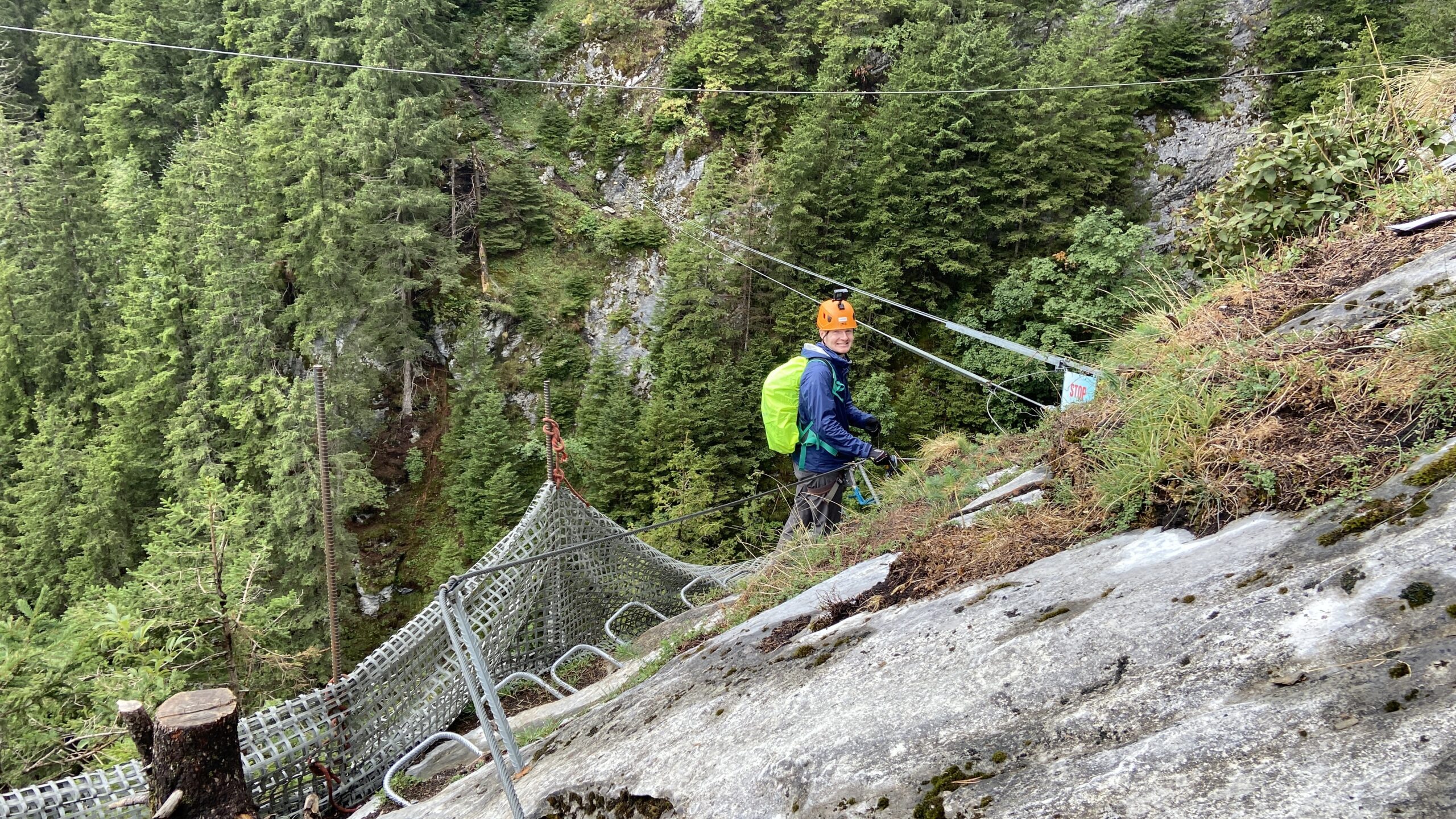 Mürren Via Ferrata part 3: Zipline over Mürrenbach Waterfall
We continued through the woods and trees, past the giant metal support for the Schilthornbahn, before we reached element number two: the zipline! Our via ferrata guide partnered with another guide to set it up. One person at a time gets hooked into the zipline, and then the guide says you're ready to go.
Your feet leave the platform and you're gracefully whizzing through the air! To your right is the cliff wall with a small waterfall. To your left is Lauterbrunnen Valley. And below you is nothing but air! After about 15 seconds, you safely reach the other side, where a guide is waiting for you. You're unhooked from the zipline and hooked back into the via ferrata cables.
We waited for our group to finish their zipline before we continued our journey through the woods.
Note: If you do not complete the Mürren via ferrata with a guide, you cannot ride the zipline. There is an alternate route that hikes around the zipline.
---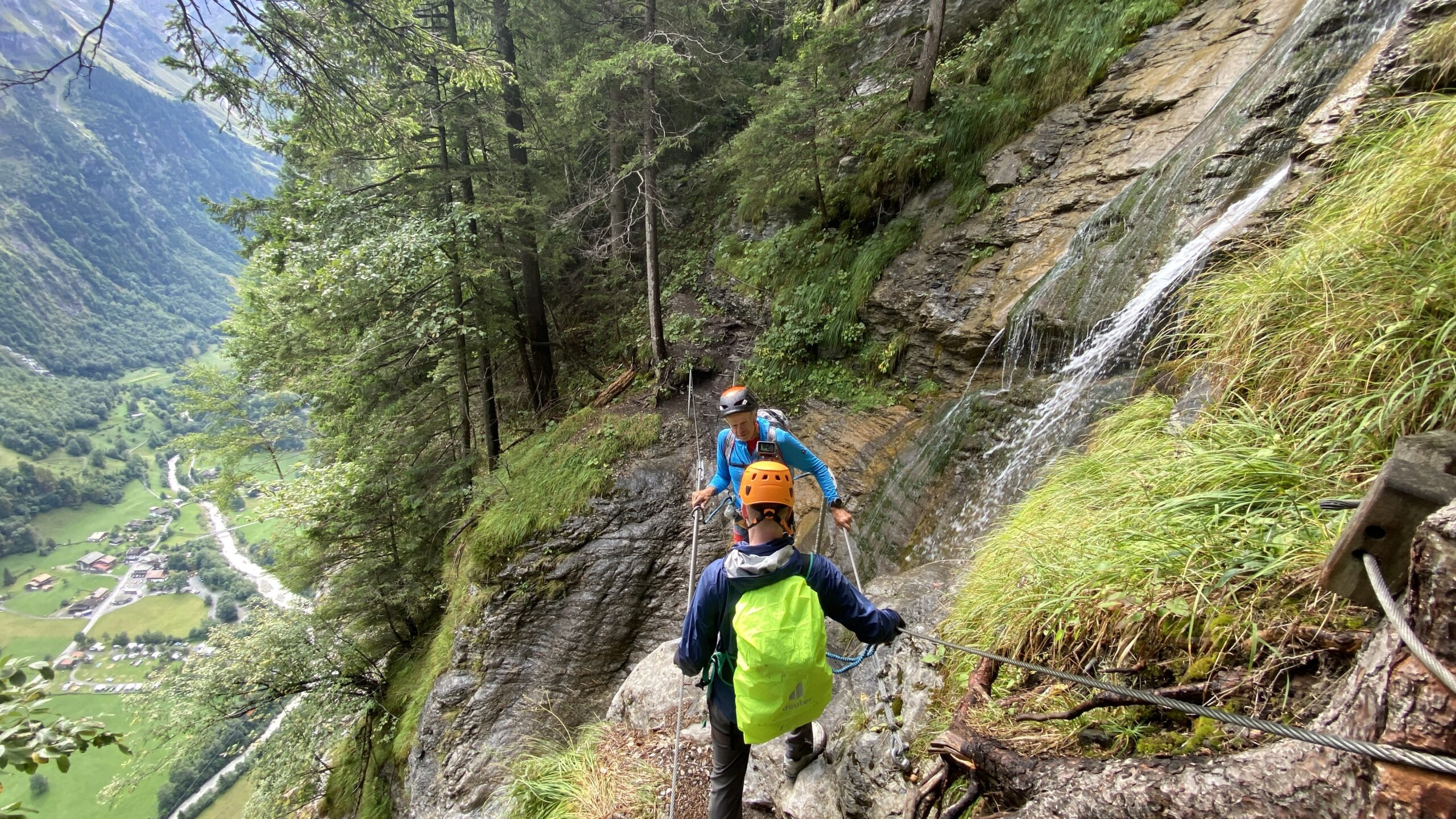 Mürren Via Ferrata part 4: Tightrope over another waterfall
This next section has a lot of descent — but not by hiking. Nope, you're scaling down what feels like dozens of ladders.
And if you haven't gotten a bit messy already, you will now! By this point, I had specks of mud on my pants and jacket; and of course my gloves were muddy from holding onto the same rungs where my feet just stepped. (We did our via ferrata adventure on a drizzly day, so it's not always this damp.)
But eventually we reached element #3: a tightrope! This section is not nearly as exposed as the previous two elements. It's also much shorter of a distance — but that doesn't mean it's any less fun!
You stand on a single wire while holding onto a "handrail" wire on both sides. Below you is a rushing waterfall! As usual, you can still catch a glimpse of Lauterbrunnen Valley to your left. Although I was more focused on the waterfall.
Each person crosses one at a time, and then we continued on once our whole group had passed across the tightrope.
---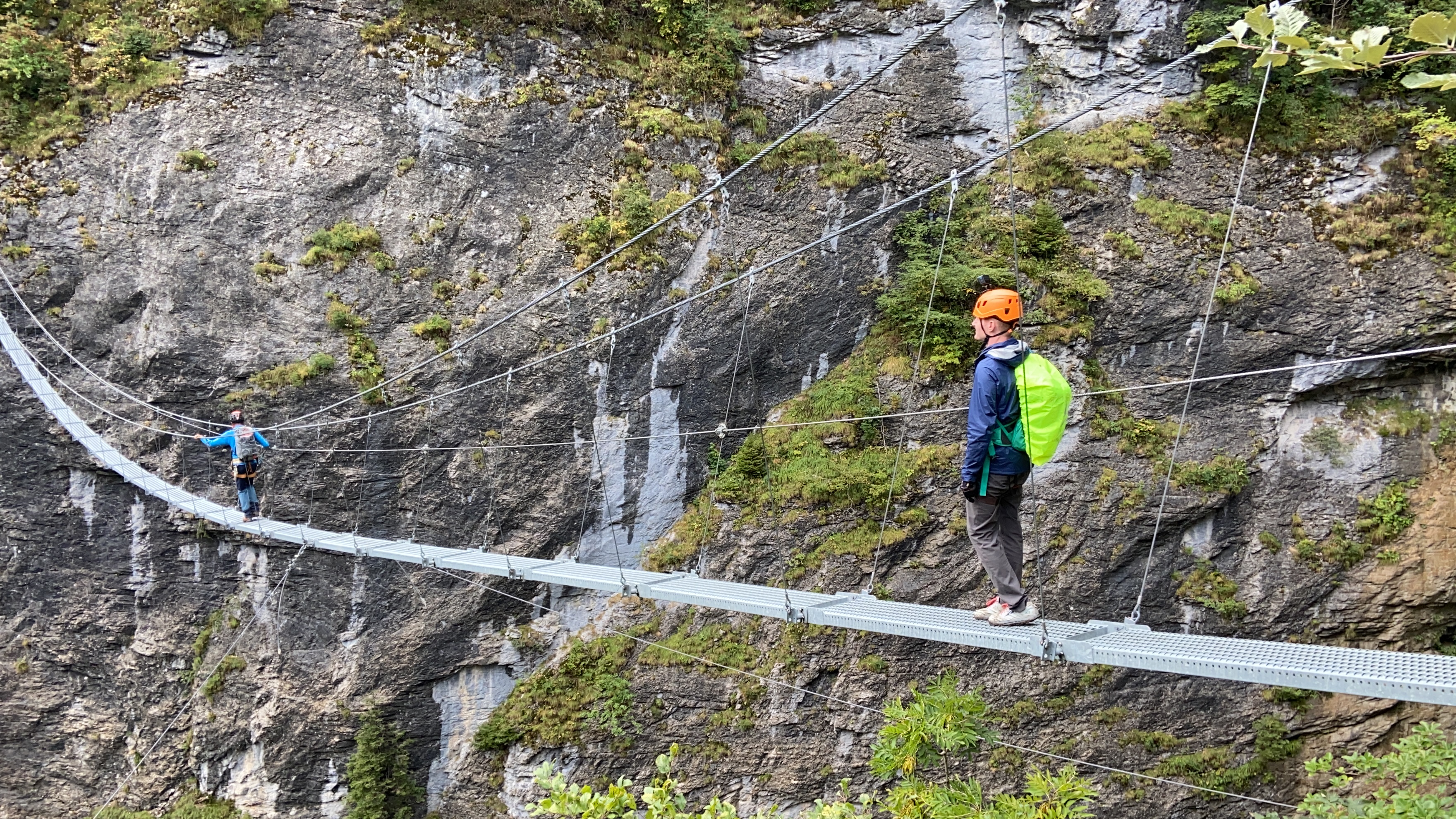 Mürren Via Ferrata part 5: Suspension Bridge
At this point, we knew we were nearly finished with our entire via ferrata experience. It was so thrilling, so enjoyable, so exhilarating that we didn't want it to end! More trekking through the woods and a few more ladders led us to the final, and possibly the most impressive, element: an 80-meter suspension bridge.
Yes, it sways. Yes, it's long. Yes, it's awesome!
Up to ten people can walk across at a time, which encourages the natural movement of the bridge. When we walked across, we saw the Schilthorn cable car gliding down from Gimmelwald to Stechelberg. There was not much water dripping down the mountainside on our right. And since the bridge is metal, we could glimpse the ground that was far, far beneath us!
Once our feet stomped on the land again, we couldn't believe our via ferrata adventure was almost over!
---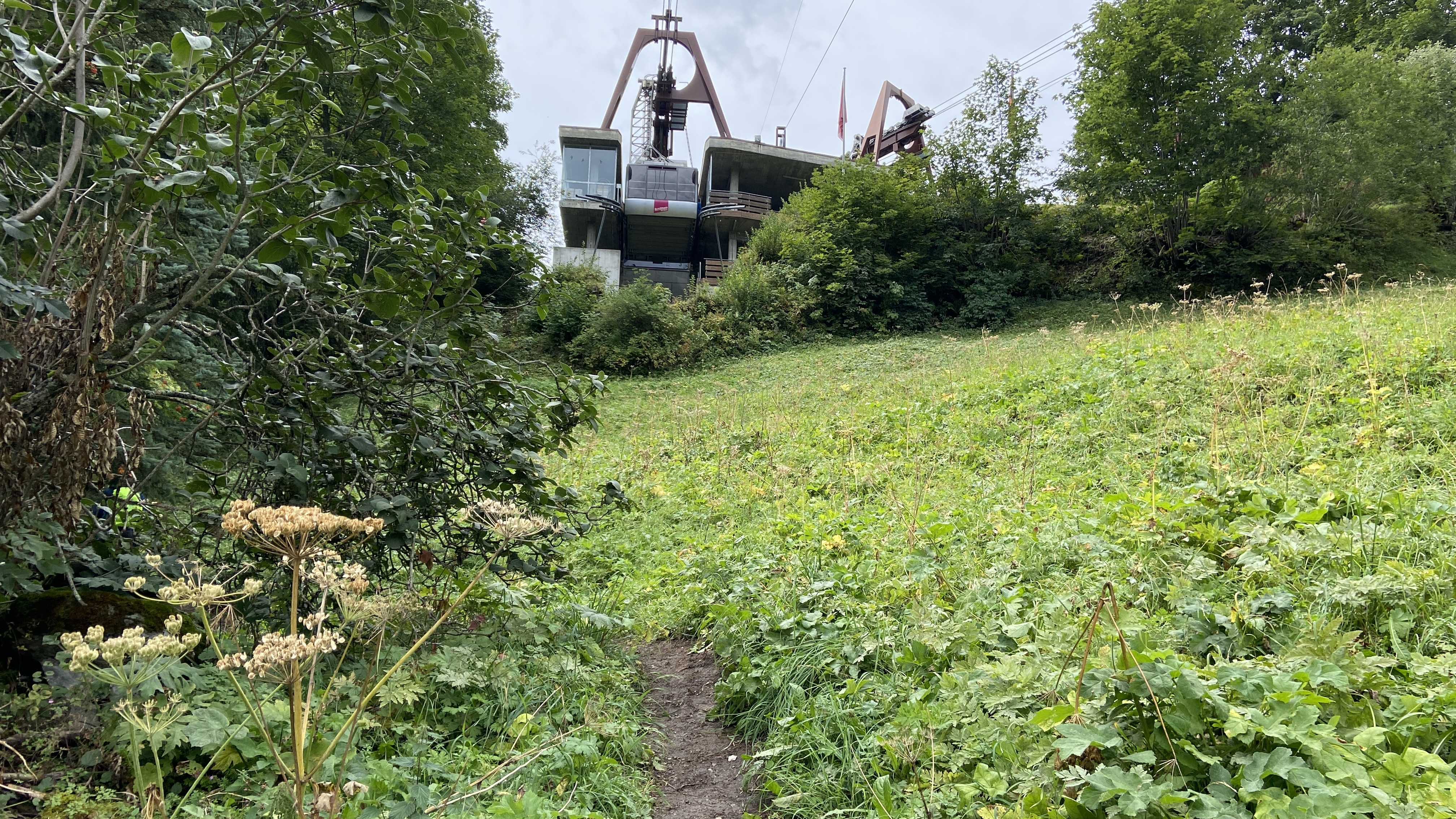 End of the Mürren Via Ferrata in Gimmelwald
You hike the remainder of the way through the woods, past some farms, and up toward Gimmelwald. Right when you catch a glimpse of the Gimmelwald cable car station, you clip out for the very last time.
Our group met at the station to remove our via ferrata gear and equipment, which our guide took back to Intersport for us.
Tip: Get the name and email address of other people in your group. We took photos and videos for each other and then shared them via email after our via ferrata experience!
---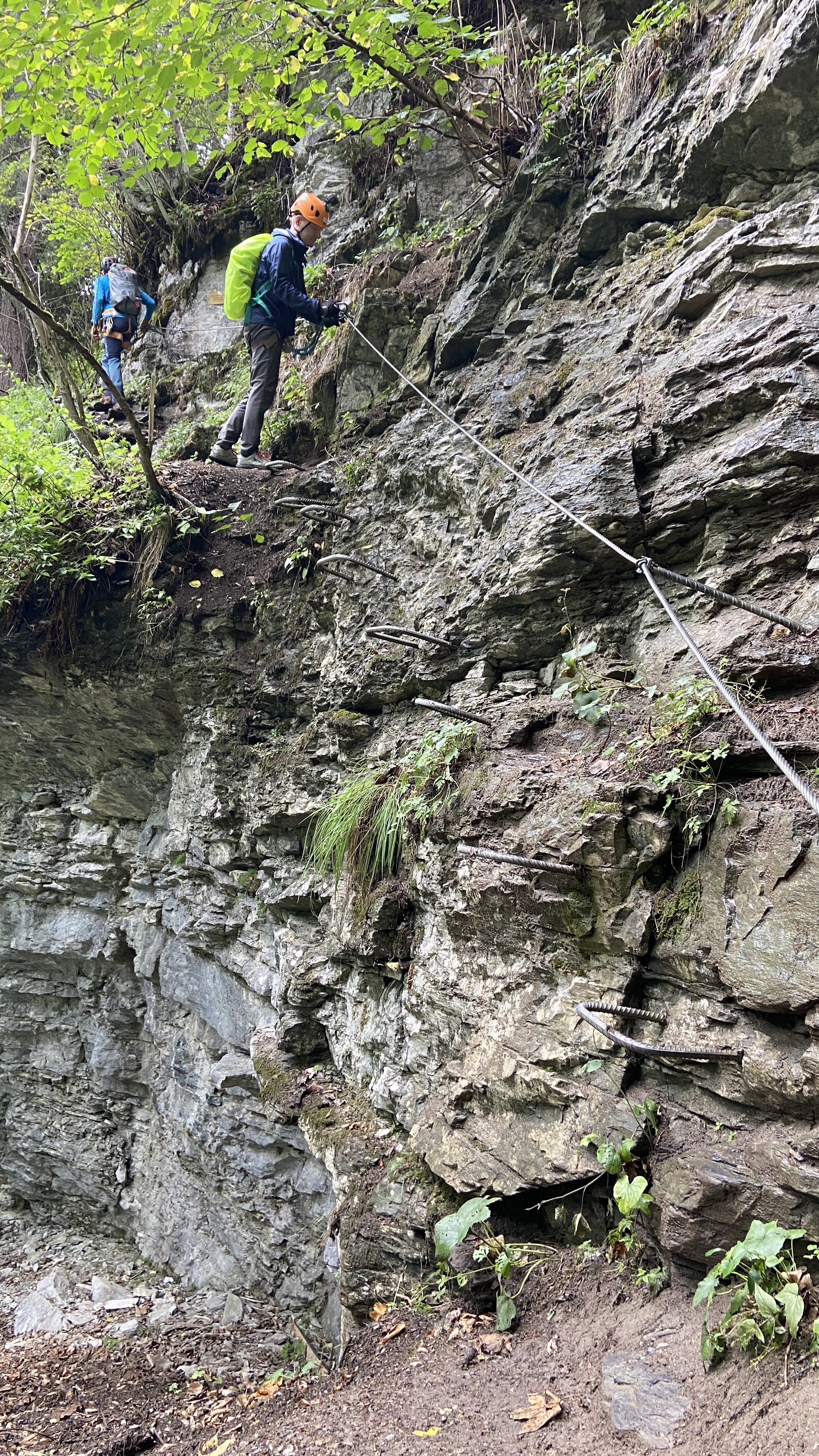 Mürren Via Ferrata Tips and Tricks
Now that we've completed our first via ferrata, we can't wait to do another one! But here are a few Mürren via ferrata tips and tricks to keep in mind:
Wear gloves and remove your rings. Your hands will be sliding along cables and rungs. You will be continually clipping in and clipping out. When it comes to Mürren via ferrata gear and equipment recommendations, your hands will thank you if you wear gloves! Tip: Buy fingerless rock climbing gloves.
Wear sturdy shoes and athletic clothes. Because you will be getting a bit dirty! From wiping your hands on your clothes, to climbing up and down ladders, to hiking through the woods, you will want clothes that can be as adventurous as you.
Bring a small backpack. Brett wore our hiking backpack, which has a chest strap and a waist strap that kept it secure. We packed water, snacks, camera gear, and rain jackets in there. When we walked through the woods, it was a safe spot to take off the bag and grab a drink or snack.
Go with a via ferrata guide! If this if your first via ferrata adventure, definitely splurge to go with a guide. We felt more safe, more secure, and more comforted by Willy's wisdom and expertise. Plus he secured our equipment, taught us what to do, and was there in case we had any concerns. Tip: Book a via ferrata guide with Outdoor, the #1 outdoor activity provider in Switzerland!
---
More Things To Do Near Mürren, Switzerland!
This via ferrata is just one of the many things you can do near Mürren. In fact, we made a whole itinerary all about things to do near Mürren — as a video and as a PDF guide. And since this Via Ferrata is only a half-day experience, you still have plenty of time for some of those other activities. Check them out and we'll see you there!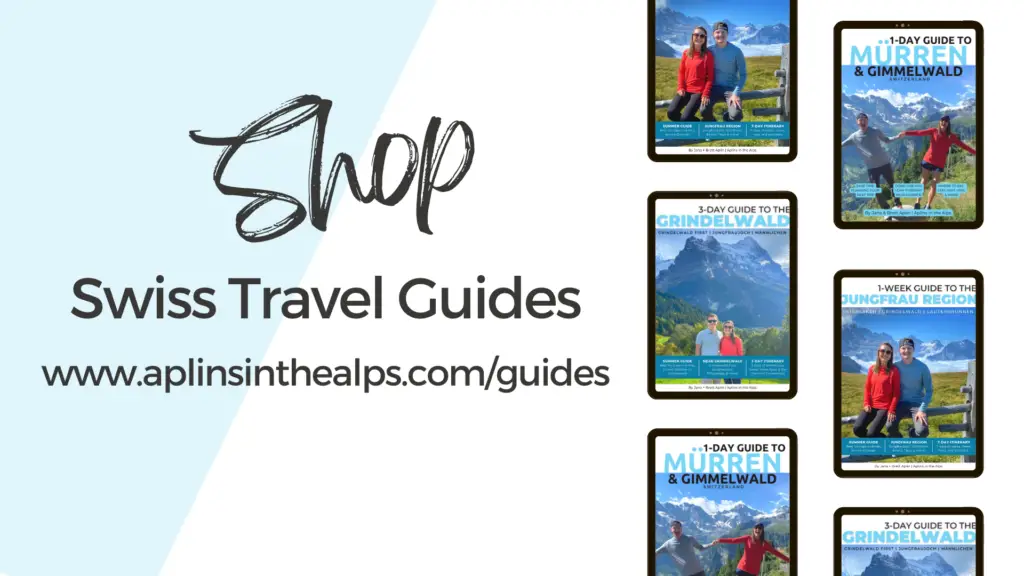 Thank you Outdoor for this incredible via ferrata adventure!