If your ideal day in the Swiss Alps includes impressive mountain views, charming villages, panoramic hikes, and tasty Swiss food, then this is the best 1-day itinerary for you!
Plus, if you're already planning to visit Lauterbrunnen Valley or ride up to Schilthorn, then here are even more ideas to complete your day in this area!
Prefer to see all of these places in more detail? Check out our YouTube video!
---
Hi, we're Jana and Brett, and we help you travel Switzerland with confidence. Today we're going to guide you through the best things to do near Mürren, Switzerland.
We've planned this as a 1-day guide, but if you want to slow down and have a more relaxed pace, you could definitely spend an entire weekend on these activities. 
So here's how to spend an awesome day near Mürren!
---
Done-for-you 1-Day Itinerary
In addition to a free YouTube video and blog, we've created a comprehensive 1-day itinerary near Mürren! This bundle includes a PDF guide, custom Google map, detailed spreadsheet, bonus nearby activities, and a links cheat sheet.
---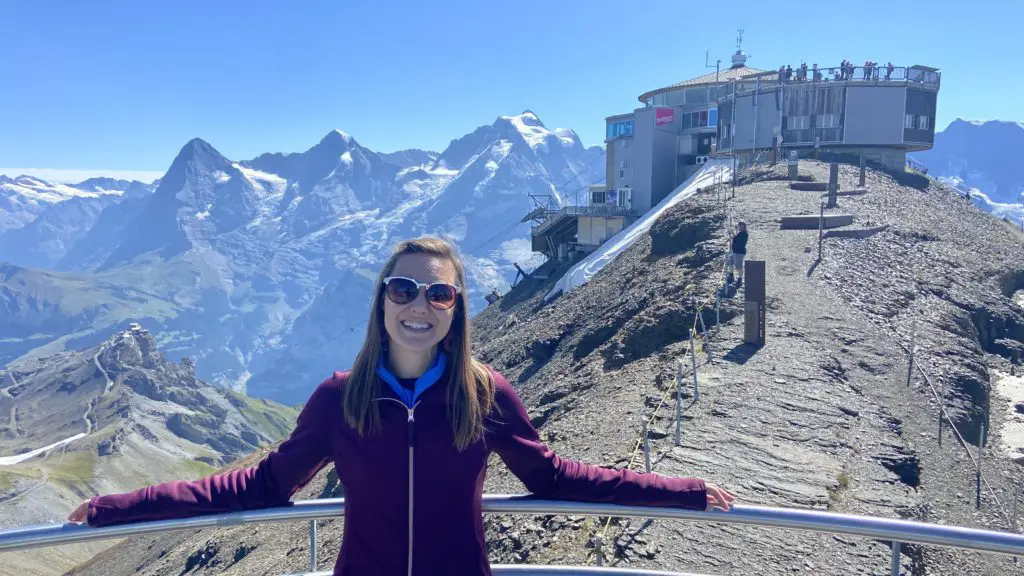 1 | Visit the Schilthorn—8:00am
Your morning begins bright and early on the first cable car to the Schilthorn. 
I know you're on vacation and may want to sleep in, but waking up early usually guarantees clearer skies and less crowds. 
Before you head to the Schilthorn cable car, see if the view is clear. You can check the forecast on the Schilthorn website, or view the webcam on the website or at the station.
Once you're at the top, you're going to have expansive views of more than 200 alpine peaks, including the 3 main peaks: the Eiger, Monch, and Jungfrau, (as well as the Jungfraujoch station). And on a clear day, you can supposedly see as far as the Black Forest in Germany and the Mont Blanc in France.
You may also notice a giant pile of snow on the hills below you. You can touch the snow 365 days a year here! There are two different snow depots, both of which are 10 meters deep and collect 62,000 cubic meters of snow!
But there is more to do up here than just admire the views! Take an hour to enjoy all of the activities, which are free (well, included in the cost of your ticket) except for the restaurants and shopping.
Skyline View Platform
Walk of Fame
James Bond Museum and Cinema
Piz Gloria revolving restaurant
How to reach Schilthorn
If you're coming from Lauterbrunnen, the best way to reach the Schilthorn is to ride the Schilthorn cable car up from Stechelberg to Gimmelwald to Mürren. And if you're already in Mürren, you can hop on here. The ride continues to Birg, and then one more stop to the Schilthorn. 
---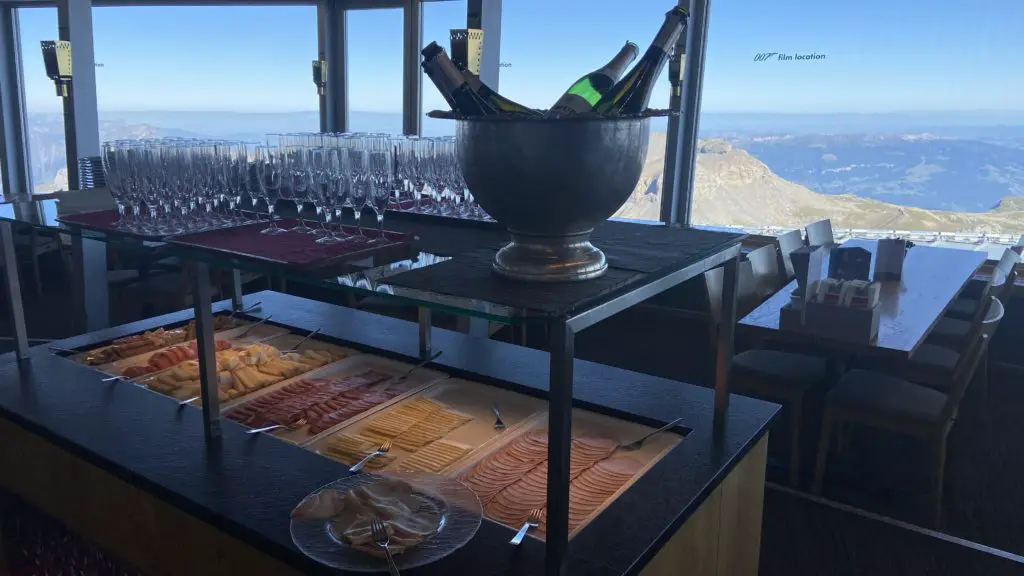 2 | James Bond Brunch—9:00am
In our opinion, the most unique thing about the Schilthorn is the Piz Gloria revolving restaurant! Every 45 minutes it makes a complete rotation so you can have 360 degree views from the comfort of your own table!
The James Bond Brunch happens daily until 2pm, but if you're following our 1-day itinerary then make a breakfast reservation for 9am. With a fantastic spread of breads, cheeses, meats, and a whole lot more, you're sure to fill up!
If you go in the afternoon, you can order the special Piz Gloria afternoon platter of regional meats, cheese, and wine or soda. 
And we haven't tried this yet, but the 007 burger also sounds fantastic! (I mean, who wouldn't want the 007 logo burned into the bun?!?)
After you've filled up on breakfast (and the views), take the cable car back down to Birg for your next activity.
---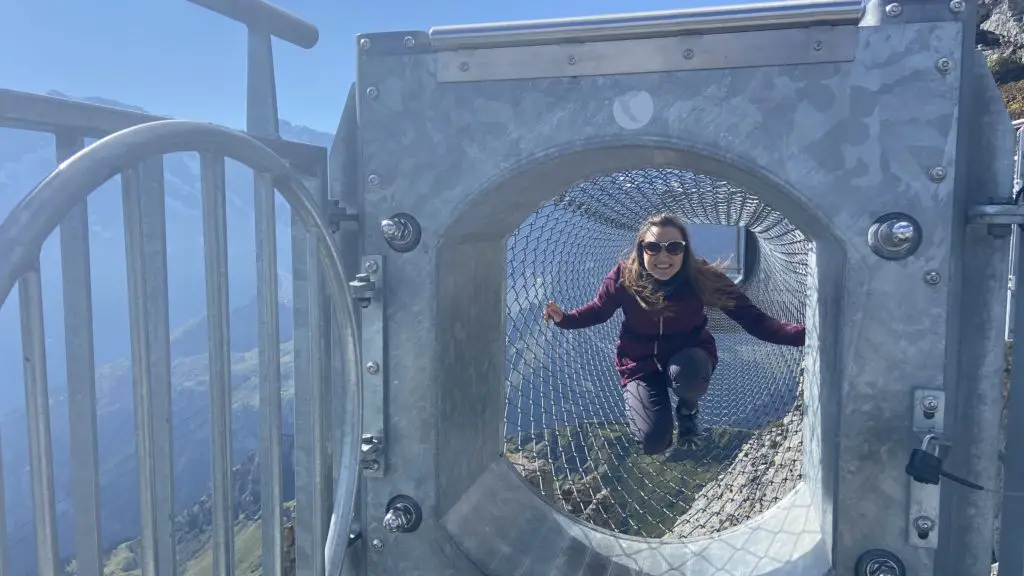 3 | Birg Thrill Walk—10:45am
You might just assume that Birg is a random lift station along the way to the Schilthorn, but it's actually worth a stop…unless you're afraid of heights! Take an exhilarating walk along the side of the cliff on the Birg Thrill Walk! You'll have a chance to trapeze across a line, walk along a glass walkway, and even crawl through an open-air tunnel!
If you chicken out, no big deal! There's always an aisle beside the activities so you can bypass them, or you can watch from the panoramic viewing platform above. 
Once you get your adrenaline out of the way, head back up to Birg to catch the next cable car going down to Mürren. 
But before you do that…
You might want to consider these 2 optional hikes if you're more active or have more time in Mürren.
Birg to Grauseeli: First, you can hike a 2.6km roundtrip trail from Birg to Grauseeli, a stunning little lake with incredible views. If you choose not to eat up at the Schilthorn, this makes for an amazing picnic spot. Plan about an hour of hiking time plus 15-30 minutes to enjoy the views. Then take the lift from Birg back down to Mürren.
Wasenegg Ridge: Or as another optional activity, you can hike from Birg to Grauseeli and then across to the Wasenegg Ridge and all the way down to Mürren or Gimmelwald! Expect this hike to take approximately 3 hours. But the best part is that this trail actually links back up with our itinerary at stop # 7 (Spielbodenalp).
If you enjoy hiking, you may also enjoy this nearby trail along the Hardergrat Ridge to Harder Kulm.
---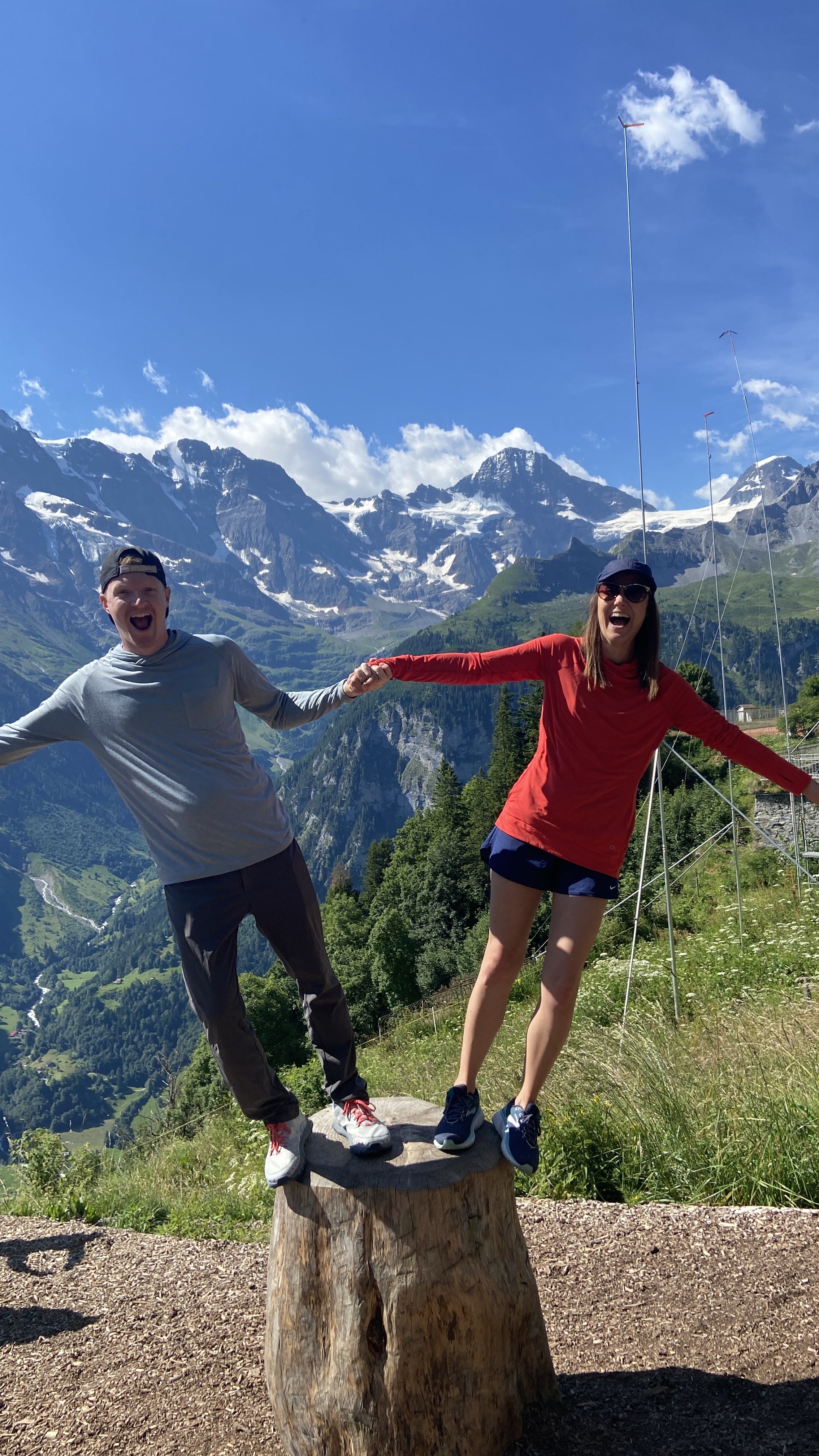 4 | Admire Mürren—11:40am
After taking the cable car down from Birg, you'll end up in Murren for stop # 4 on today's itinerary.
This is your opportunity to really explore the car-free village!
Watch paragliders taking off just beyond the Mürren Schilthornbahn station.
In addition to the main street, wander along the upper and lower streets of the village (where you'll often find yourself alone with the locals).
We always stop to take photos at the stump near Cafe Liv because it's a perfect picture spot!
No matter how long you spend, just wander slowly, admiring the architecture, garden, and the views along the way.
After you finish exploring, be sure to plan a few minutes to grab some picnic food at the Coop grocery store in town. And then, ride the funicular from Mürren up to Allmendhubel.
---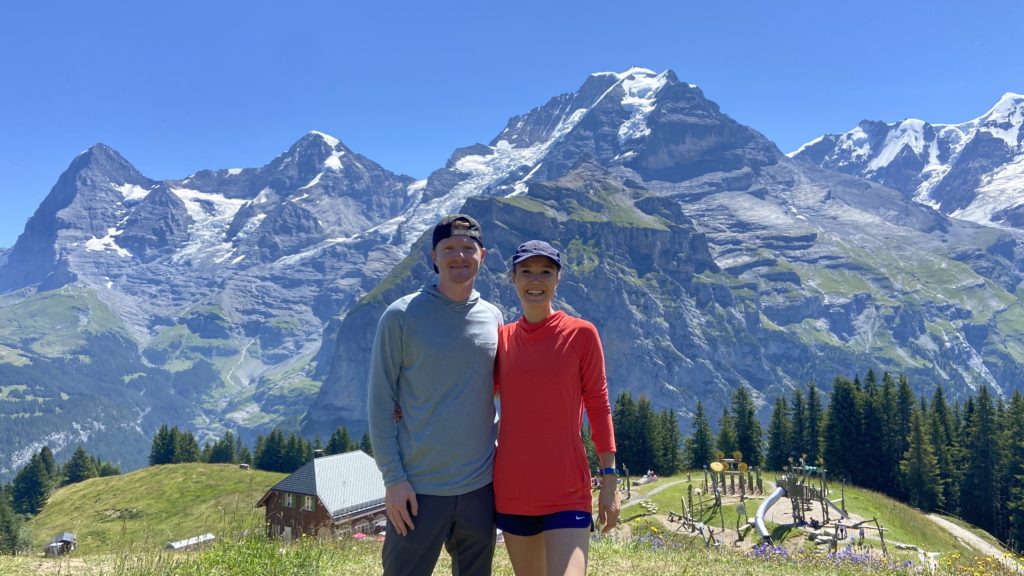 5 | Picnic at Allmendhubel—12:45pm
Up here may be one of my absolute favorite spots to take pictures in the Swiss Alps. I think it's because we're on this little hill with nothing but massive peaks in front of us…and behind us…and beside us. Basically, you get 360 degree views! 
You can see: Jungfrau, Mönch, Eiger, Eigergletscher, Wengen, Männlichen, Schynige Platte, and Birg!
Climb up the hill to find yourself a picnic bench, and enjoy the panoramic views before you start your hike. 
---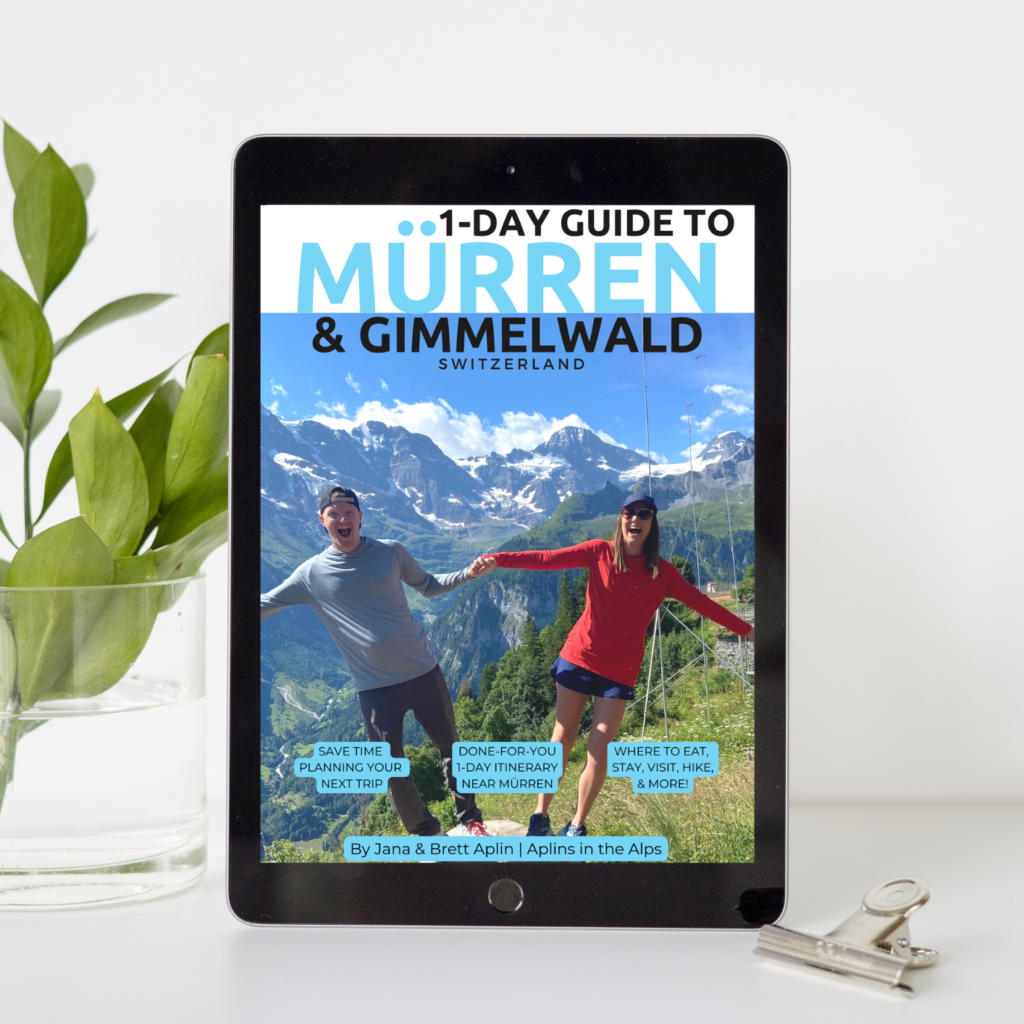 Intermission: 1-Day Itinerary near Mürren
At this point we're about halfway through our 1-day itinerary in Mürren! But you're probably wondering:
Where are these places?
How do I get there?
When are they open?
How much should I budget?
We've created a comprehensive, done-for-you guide with everything you need to know in order to enjoy your day or weekend in Murren. That means less planning time and more memorable experiences on your next trip here. 
If you go check it out now, be sure to come back and see the rest of the stops on our tour. But we'll also tell you more about that guide later, so let's keep going for now!
---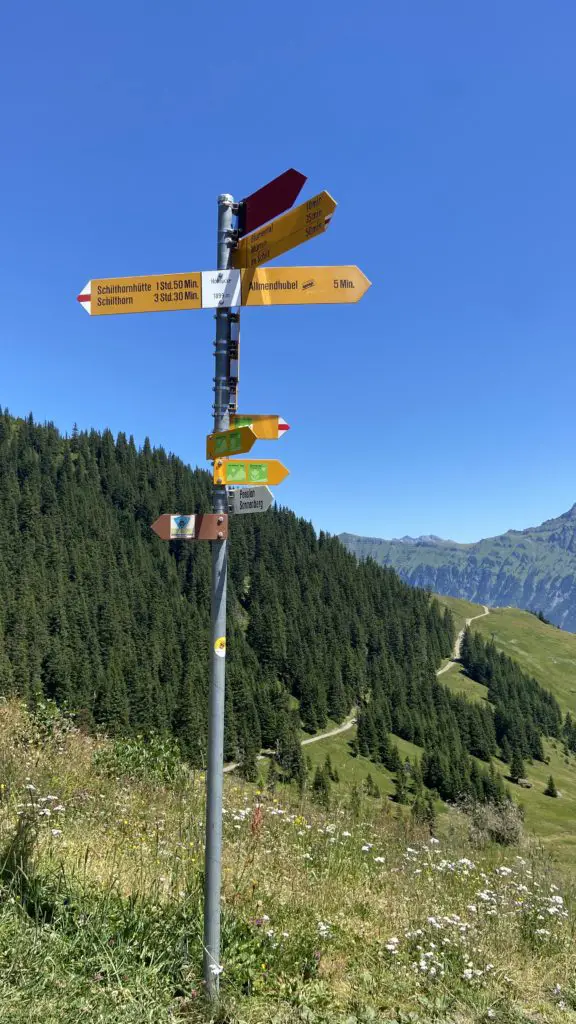 6 | Northface Trail—1:45pm
Alright, we know your bellies are full, but it's time to hop up for one of our favorite hikes in this region: the Northface Trail!
This relatively easy 6.5km/4 mile, 2.5 hour trail winds through alpine meadows with musical cow bells and fields of wildflowers, adorable Swiss barns and chalets, and even a few mountain restaurants along the way.
The signs are well-marked so you shouldn't have much trouble following the trail. But if you do, people are always friendly and would be happy to point you in the right direction!
---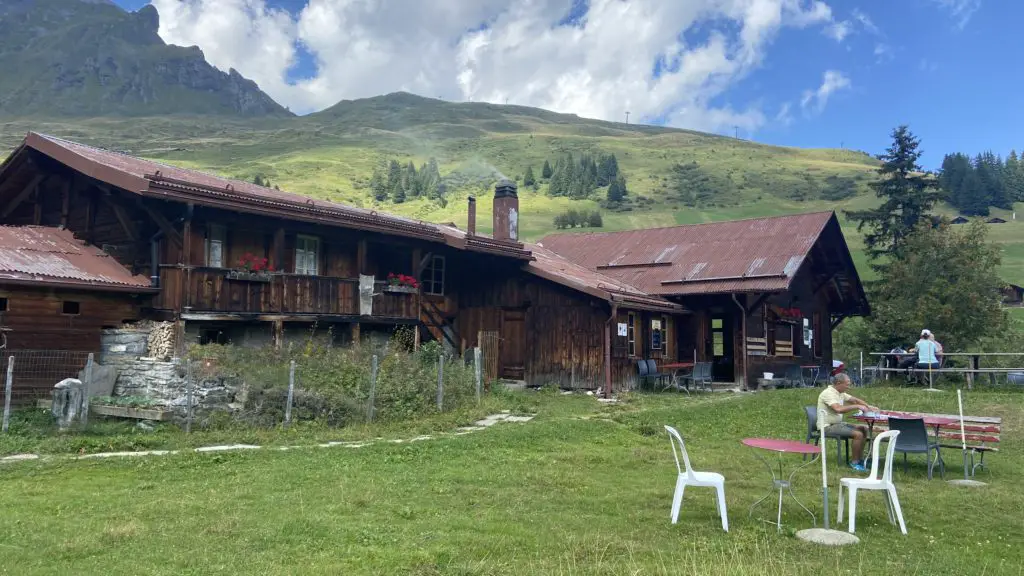 7 | Stop at Spielbodenalp—3:15pm
When you reach Spielbodenalp, you're about two-thirds of the way through the Northface trail. Which means you might be needing a snack or a cold drink or maybe a bathroom break. We particularly enjoy the cakes here. But it's also a great place to fill up your water bottle.
And you to use the bathroom, because this toilet might literally have the best view in the world!
---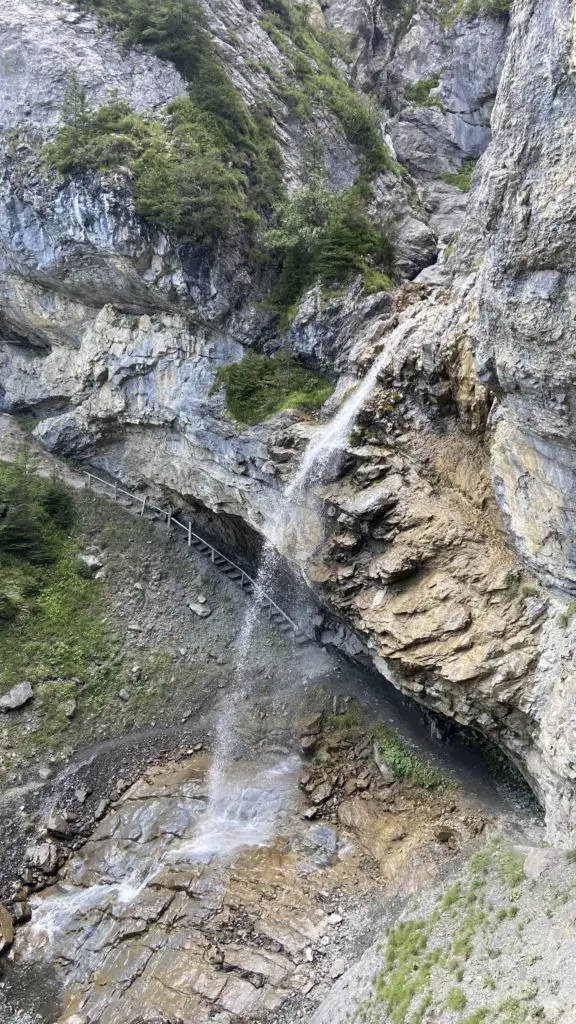 8 | Visit the Sprutz Waterfall—4:00pm
If you have the energy, we recommend descending from Spieldbodenalp through the forest to Sprutz Waterfall! Similar to Grauseeli earlier, this is an awesome place that we don't hear many people talking about.
The coolest part about this is that you can actually walk behind the waterfall! In Swiss German, Sprutz means "to splash" so getting a little wet in the mist is actually a pretty refreshing way to sprutz yourself here!
The challenging thing about visiting the Sprutz Waterfall is that you kinda end up being stuck between Mürren and Gimmelwald.
Your choice at this point is to either hike steeply back uphill to reconnect with the Northface trail back to Mürren. Or you can continue steeply downhill through the forest to Gimmelwald.
The time for each is approximately the same, but if you'd rather avoid the steep sections, you might prefer to skip the waterfall altogether.
In this case, from Spieldbodenalp you'll follow the Northface trail back to Mürren, and ride the cable car down to Gimmelwald. Then you can rejoin our itinerary at #10. But we're taking you down to Gimmelwald from here.
---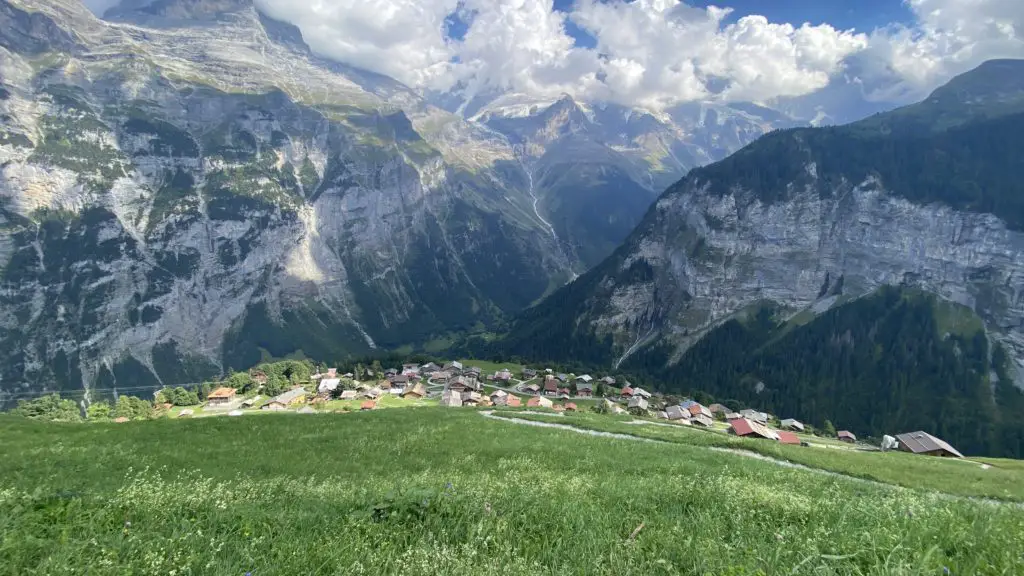 9 | Viewpoint overlooking Gimmelwald—4:30pm
We know this last descent is a bit steep, with hardly any views. But catching your first glimpse of the village, and then leaving the forest behind for one of the most dramatic landscapes you'll ever see in your life makes this one of our favorite ways to experience Gimmelwald.
We often relax on this bench to admire the views, and that sometimes even includes a little cat nap to get a second wind for the rest of our day!
Also, this is a great spot to spy my favorite face in the mountain. We call him Tom because he looks just like the character Tom in Guess Who!
When you're ready, walk down to the village and head straight to Pension Gimmelwald.
---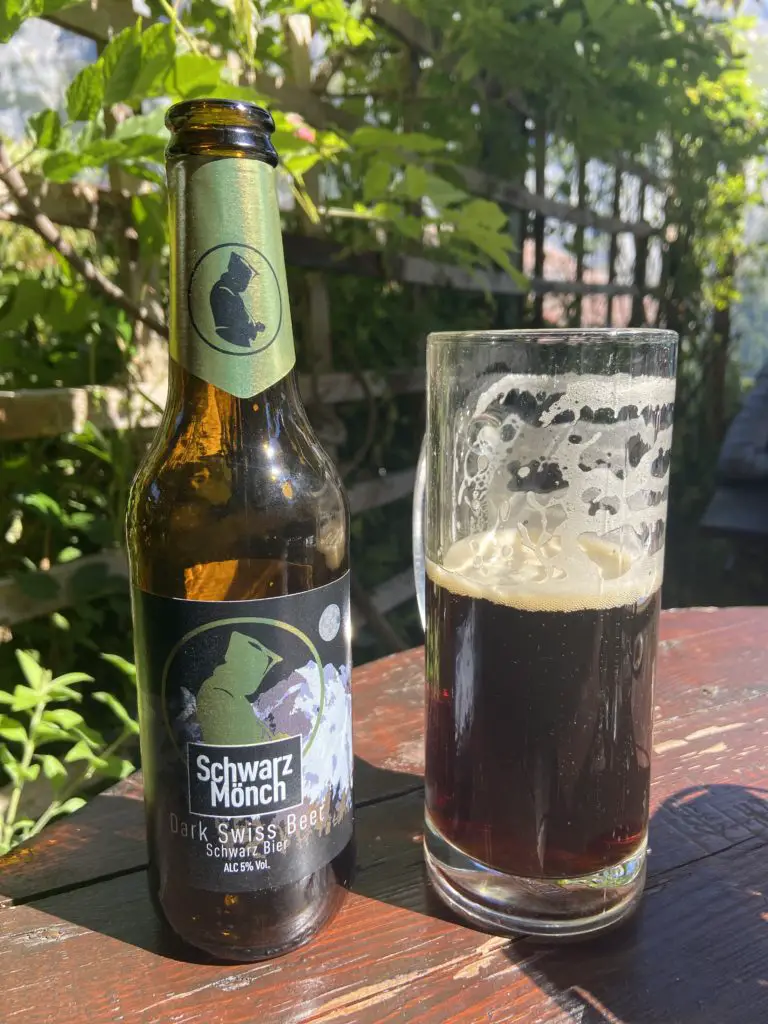 10 | Try one of the world's best beers at Pension Gimmelwald—4:45pm
Pension Gimmelwald is a 19th century alpine hotel that's hardly changed in the last 100 years. But you're not here for an overnight stay. You're here to try the famous Schwarz Mönch beer!
From 2018-2020, Schwarz Mönch was the #1 rated dark lager in the world according to Untappd, a beer rating app. It's since been dethroned (to #2), but it's cold and refreshing even on a hot day. In their words—tall, dark & snowcapped!
Order at the bar, but enjoy it outside at one of the tables on the panoramic patio.
---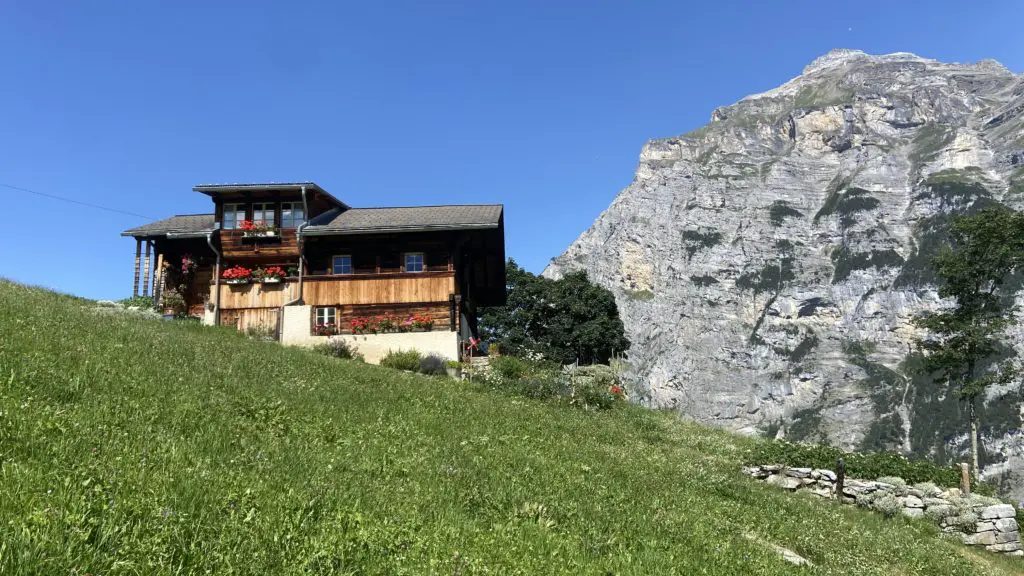 11 | Enjoy the village—5:30pm
Next door is the Honesty Shop, a cute place where you can buy an item and just leave your money in an envelop in the box—similar to the farm fridges around here.
Speaking of farm fridges, bring your cash and coins to purchase local alp cheese, sausage, butter, or even some handmade crafts. 
Then enjoy this charming, car-free village on your walk back to the lift station. There's even a building here from the 1400s, which blows my mind!
Oh, and don't forget to stop for some locally-made ice cream at Esther's Guesthouse, yum!
If you're traveling with children (or a childlike heart!), pass the time while waiting for the next cable car by enjoying a ride down the slide!
And when it's time, take the cable car back to Mürren, where you're headed for dinner!
---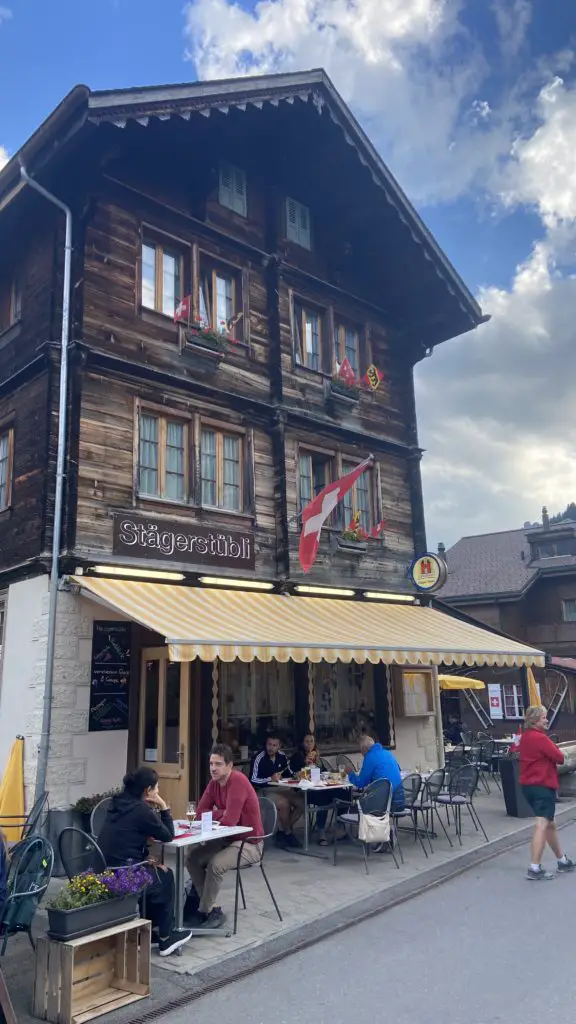 12 | Dinner at Stagerstubli—6:15pm
We first came to Mürren in 2012 for our honeymoon. We've been back at least 10 times since then, and this place is still one of our favorite restaurants in the area. 
Don't skip the lamb, one of our favorite dishes—but everything looks good and you really can't go wrong!
---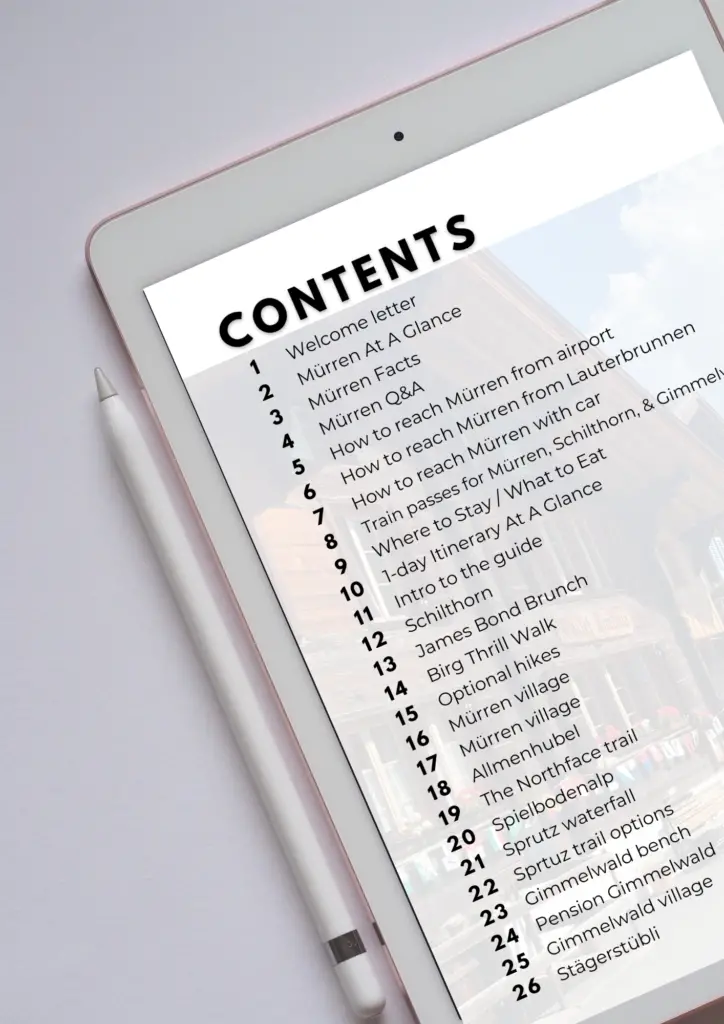 One more thing…
Wouldn't it be nice if you had someone to guide you through your time in Murren so you can have a
✔️stress-free trip
✔️with incredible views
✔️sweet memories
✔️and zero decisions (other than what dessert to have after dinner…)? 
Our done-for-you guide to Mürren is like a personal tour guide in your pocket that doesn't empty your pocketbook!
We can't wait to show you around Mürren!