Some things are unforgettable, like my romantic two-week honeymoon in Switzerland. Some experiences are so noteworthy that they tower over the others like a lone tree on the savannah desert. For me, that includes an out-of-the-world dinner that I enjoyed in the Swiss Alps with my husband of just a few days.
We spent almost a week in the Lauterbrunnen Valley. What's not to love about a lush green valley with seventy two waterfalls, snow-peaked mountains that your eyes can't capture in one glance, and the most charming village perched between both extremes? 
A cableway and narrow gauge train delivered us to the north end of Mürren. The wheels of our bags clamored on the streets as our gaze tore to the left (where clouds covered our view of the famous Jungfrau) and to the right (to the adorable chalet-style architecture of the town). 
Our cosy airbnb was a studio apartment on the top floor with a view that made me want to stay in bed all day. All we had to do was push open the curtains and throw open the window to be greeted with a blast of alpine air and jaw-dropping views.
Thankfully we had fully recovered from jet lag so we set off to explore the village. 
We found a family playing chess on a life-sized board in the park. 
The wood sheds were stocked and begging to be photographed. 
Imagine a quaint chapel complete with worn pews, stained glass windows, and a baby organ. We discovered that a traveling preacher rotates from one mountain chapel to the next so this little church was only in service about once a month.
A colorful shop of board games and trendy gadgets drew our attention for quite a while. 
We spotted the supermarket and picked up a few snacks. (Chocolate is a daily necessity, right?!)
And somehow our self-guided tour even included a waltz through the laundromat (which is actually a couple of machines located in the basement of a hostel). 
As we walked around, we scoped out the menu posted beside every restaurant door. One near our apartment had great views and seemed to be a popular place during all hours of the day: Restaurant Stägerstübli. (Travel tip: Never eat at a restaurant that's empty. Always try to eat where the locals eat!) 
Eventually our growling bellies indicated that it was time for dinner. We were seated at a sturdy table inside of a bright room paneled with wood. Our table resembled the rest with a small red tablecloth and sparkling dishes. In particular, I remember the huge cowbell dangling from the ceiling above Brett's head. 
We reviewed the menu as other visitors entered the dining area, but I had no trouble deciding what to order: lammfilet mit Knoblauchmayonnaise (lamb filet with garlic mayonnaise). 
You would think that I had been surviving off of the human equivalent of dog food because this dish surpassed all of my expectations.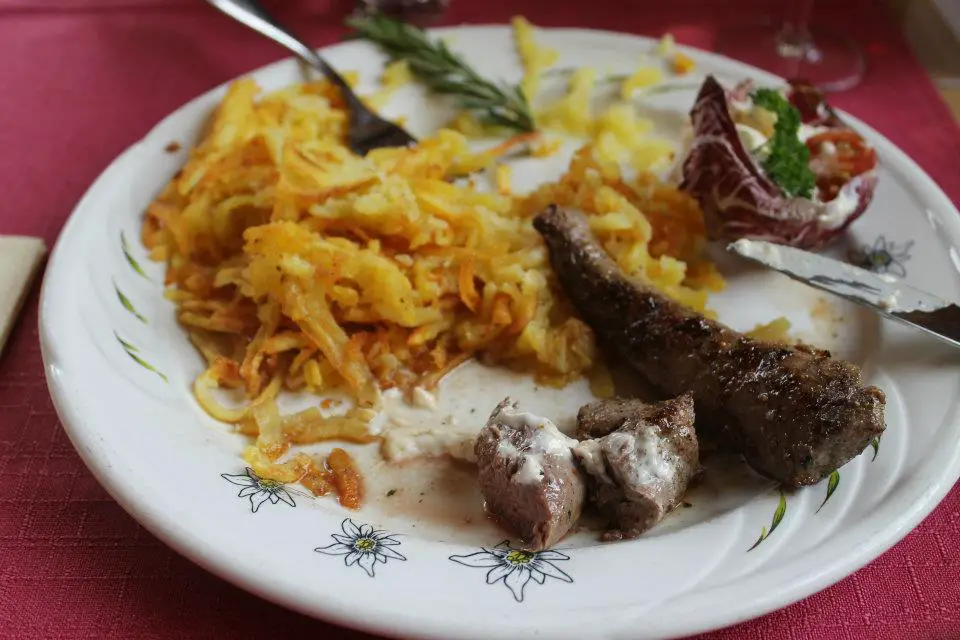 First, the presentation. My off-white plate was simply and appropriately decorated with a few hand-painted edelweiss flowers. The lamb was perfectly charred yet not dried out, just the way it should be. The garlic mayo was served in a mini red cabbage leaf, accented with a fresh tomato and a sprig of parsley. A side dish of rosti looked like a glorious heap of fried hash browns. And a snipping of rosemary completed the dish.
Even before the days of instant sharing on social media, I took a minute to photograph our food.
After I snapped a picture, I was ready to savor the first bite. A mouthful of the warm, moist lamb dipped into the sauce was stunning; the moist gamey complemented the smooth creaminess from the mayo and a much-appreciated splash of garlic. (What can I say, this Italian girl cherishes every entree that includes aglio!) 
Par for the course, I closed my eyes. I swirled the flavors around in my mouth. My hands shot up in the air as I expressed my characteristic, "Mh-hmm.†It was more than satisfying.
In fact, I treasured every bite and graciously took my time. Even my notoriously-slow-eating husband finished miles ahead of me. But I was not deterred—this meal was worth smaller bites and extra chews so I could relish it just a little bit longer.
By this time, the sun had set and we were ready for bed. Tomorrow would be another full day of exploring the Swiss mountains.
However, this isn't about the mountains. It's about my favorite meal ever. So let's flash forward just over five years. Brett and I had spent the last year and a half traveling across Europe and we finally made it back to our favorite place in the world, the place we fell in love with on our honeymoon: the Swiss Alps.
That meal left a legacy. And I couldn't visit Mürren without another stop at Stägerstübli, my favorite Swiss restaurant. Five years later, I was just as impressed with and enamored by that lamb filet with garlic mayo sauce and a side of rosti. Hopefully it won't take me another five years to return.
Planning a trip? Get $40 toward your first airbnb booking when you sign up using this link, and we will receive a small travel credit too. Win-win! Here's where we stayed in Mürren: Chalet Fontana.