This might be the most beautiful village in Sicily!
If we haven't met, we're Jana and Brett, and we spent 5 days in Erice, Sicily because this is the exact village where my great grandparents lived before they emigrated to the US in the early 1900s. And because of them, I have Italian dual citizenship. And here in this village is where I am registered as an Italian citizen.
Curious if you're eligible for dual Italian citizenship? Read this to find out!
This medieval village is a super popular place for tourists and one of the best villages to visit in Sicily. We put together an incredible 1-day itinerary of what you should see, do, and eat while you're in Erice, Sicily.
---
Prefer to WATCH instead of read?
Join our 23,000+ subscribers by watching on YouTube!
---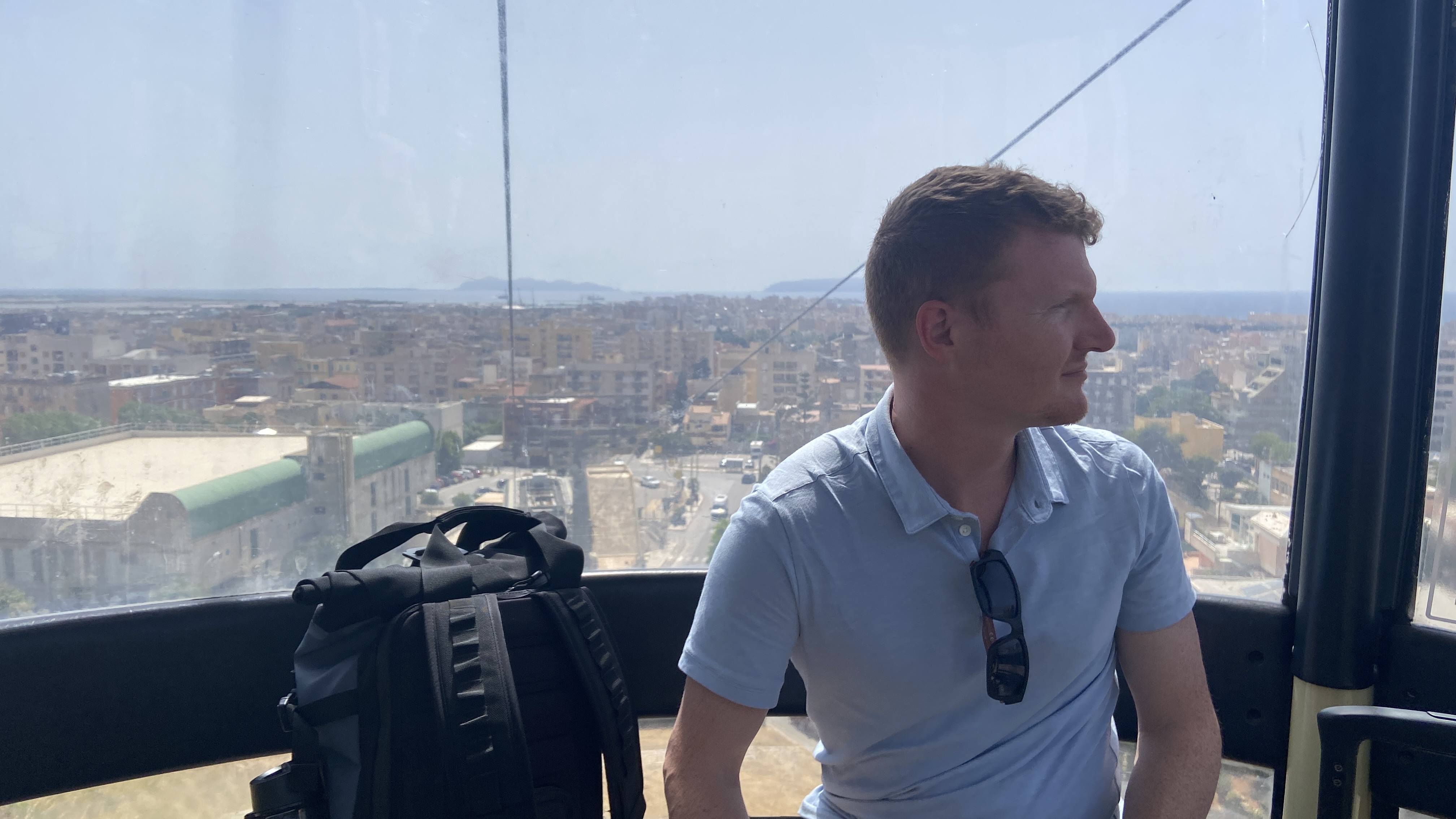 How to reach Erice, Sicily
Erice is 750 meters above sea level, so how do you get up here? 
There are 3 main ways that you can get up to Erice.
The first is to drive your car.
The second is to ride a bus.
And the third is to take the funicular.
I guess there is a fourth way: you could hike up, but it takes about 2 hours, it's really steep, and the sun is going to be beaming down on you the whole time.
The bus leaves from the Port of Trapani and takes about 40 minutes along some very steep and winding roads to arrive at Erice. But there are only about four buses every day. If you have a car, you can either drive all the way up and park on top or you can park down at the funicular and ride up.
We think the funicular is just the simplest way to get up and down, so that's why we're riding it today. But no matter how you arrive, you'll be dropped off about a minute walk from the main gate. 
---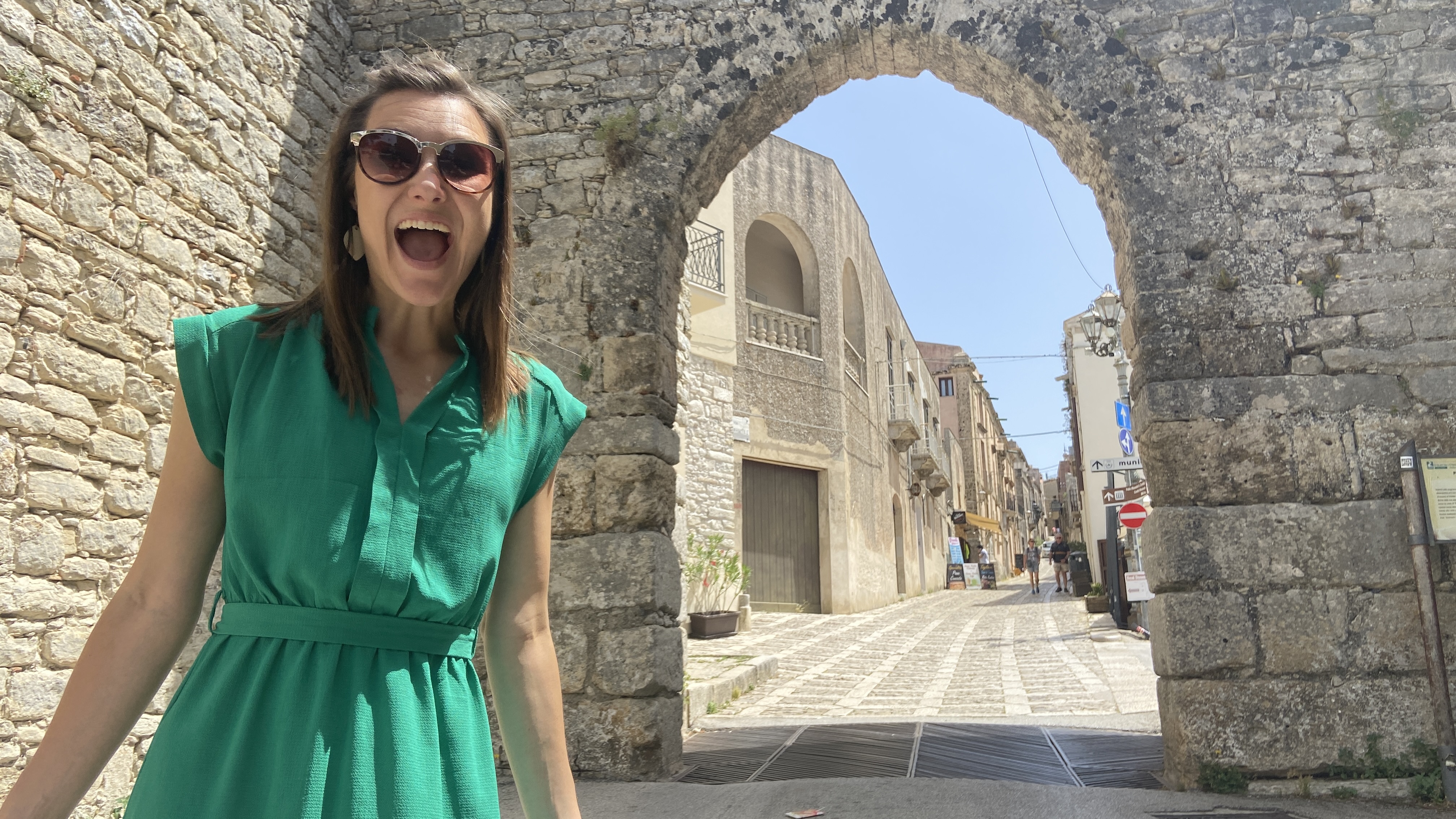 Porta Trapani (Gate of Trapani)
This is the thousand year old Porta Trapani, the Gate of Trapani. It opens up onto the main street of town, Via Vittorio Emanuele. 
And the first thing you'll notice are the beautiful cobblestones. While they have lots of medieval charm, they're really hard to walk on. So make sure you wear sturdy shoes when you come to Erice. The first little bit is steep, but I promise it's not too far. You can do it!
---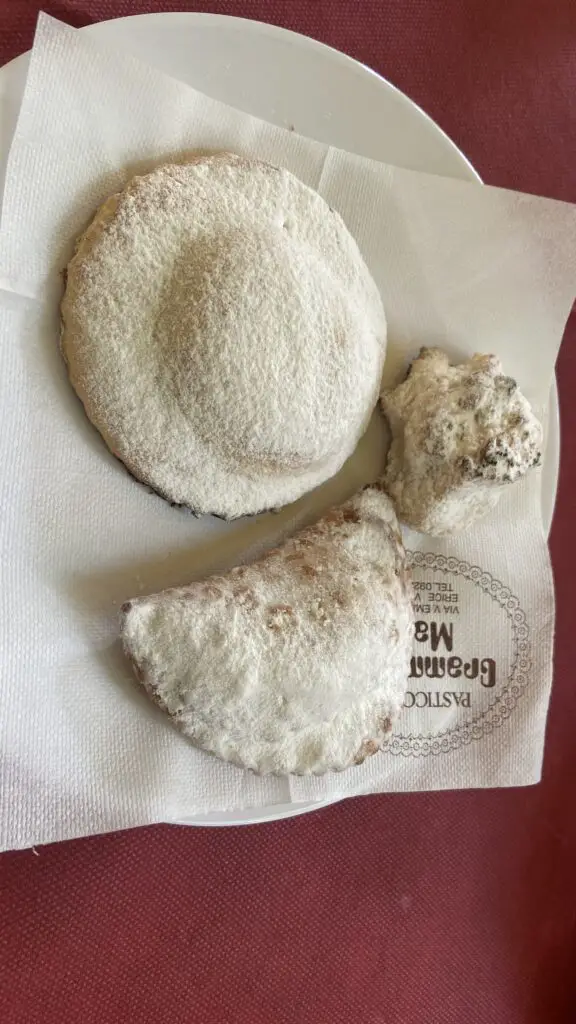 Breakfast at Maria Grammatico's Pasticceria
Your first stop of the day should definitely be breakfast at Maria Grammatico's Pasticceria. You'll find pistachio in just about everything around here. But there was one thing Brett did not expect to find it in, and that is coffee. The pistachio coffee looks incredible, smells even better, and was a perfect with these desserts (or so he says!)
There are lots of incredible and typical Sicilian treats. We've tried a few of them, like cannoli, of course. And we got to try a few more right here at Maria Grammatico's Pasticceria!
We saw the genovese pastry evertywhere. And this was the first time we tried it, which was super exciting to me. It just smelled like a really good sugar cookie. And it was a little bit warm! The flavors were so delicate and well-balanced, nothing overpowered the other ingredients. Oh, and it was filled with a sweet custard. Just smooth and delicate, that's the only way we could describe this. 
In Brett's words: "I almost imagine that if you took a vanilla wafer and heated it up so it was a little bit moist, hollowed it out, then shoved some kind of cream or custard in it, and then covered it with powdered sugar—that is what a Genovese would taste like." 
Another piece of advice from Brett: Don't forget when you're eating powdered sugar not to breathe really deeply and suck it down. (haha!)
We also had a bello e brutto. It's funny because that basically means "beautiful but ugly." And I think the reason for that is because it doesn't really look that good but apparently it tastes amazing. 
We're not sure how to describe this, because it looked kind of like a drop cookie. It doesn't really have a shape or anything to it. Surprisingly, I didn't realize it would be crunchy! Although the inside was nice and doughy, with some citrus hints (maybe lemon or orange?).
Sometimes you eat cookies and they're so heavy, with all the sugar and butter in there. But this is actually a light cookie. And I totally see why they're popular here. Way more bello than brutto!
It was so refreshing. Instead of being super sweet and sugary and filled with normal flour, nearly everything here in Erice has almond flour, almond extract, or actual literal almonds!
Next was the cassatelle. It looked kind of like an empanada, but was filled with ricotta and, of course, covered with powdered sugar. It did not look appetizing on the inside. (It kind of looked like when you chew your food and then spit it out…I know that's gross.)
It was not what we expected! It was like a savory pastry. Because ricotta is not sweet, right? It's traditional, but not our favorite. Thankfully, the sugar on top really does help.
Overall, our favorite was the ugly but delicious one!
Don't let your mouth water for more Italian pastries — learn about street food in Palermo and what to eat in Rome!
---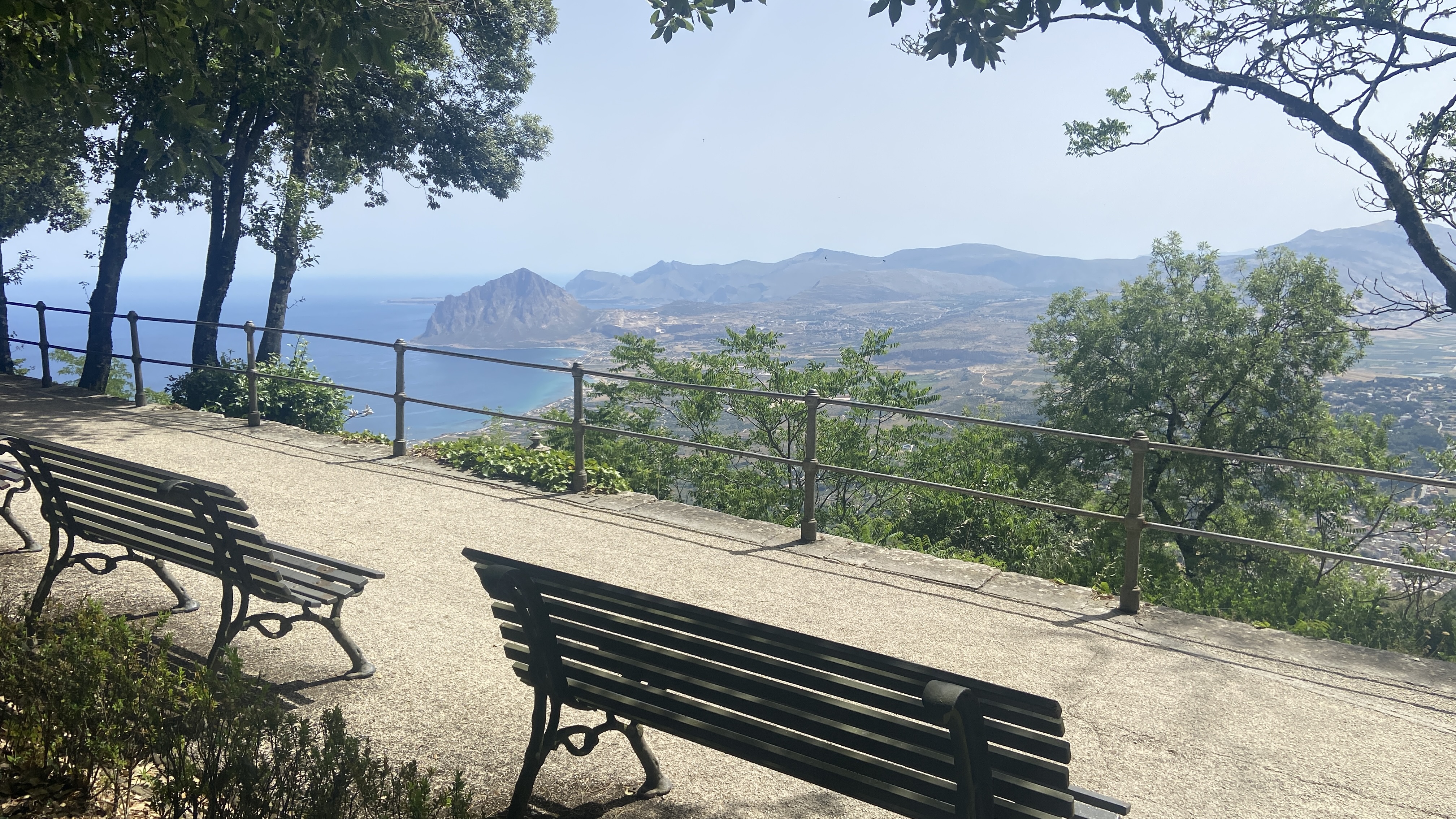 Explore the village of Erice, Sicily 
After breakfast is the perfect time to walk around and explore the beautiful village of Erice. Allow yourself plenty of time to just wander and enjoy these beautiful streets. This medieval village has so much history to offer. 
In fact, the first record mentioned of this dates back to 200-400 B.C. Sicily has been conquered by so many people over the years. In the 1100s the Normans came here and named this place Monte San Giuliano.
But it wasn't until 1934 that the village regained its old name of Erice.
---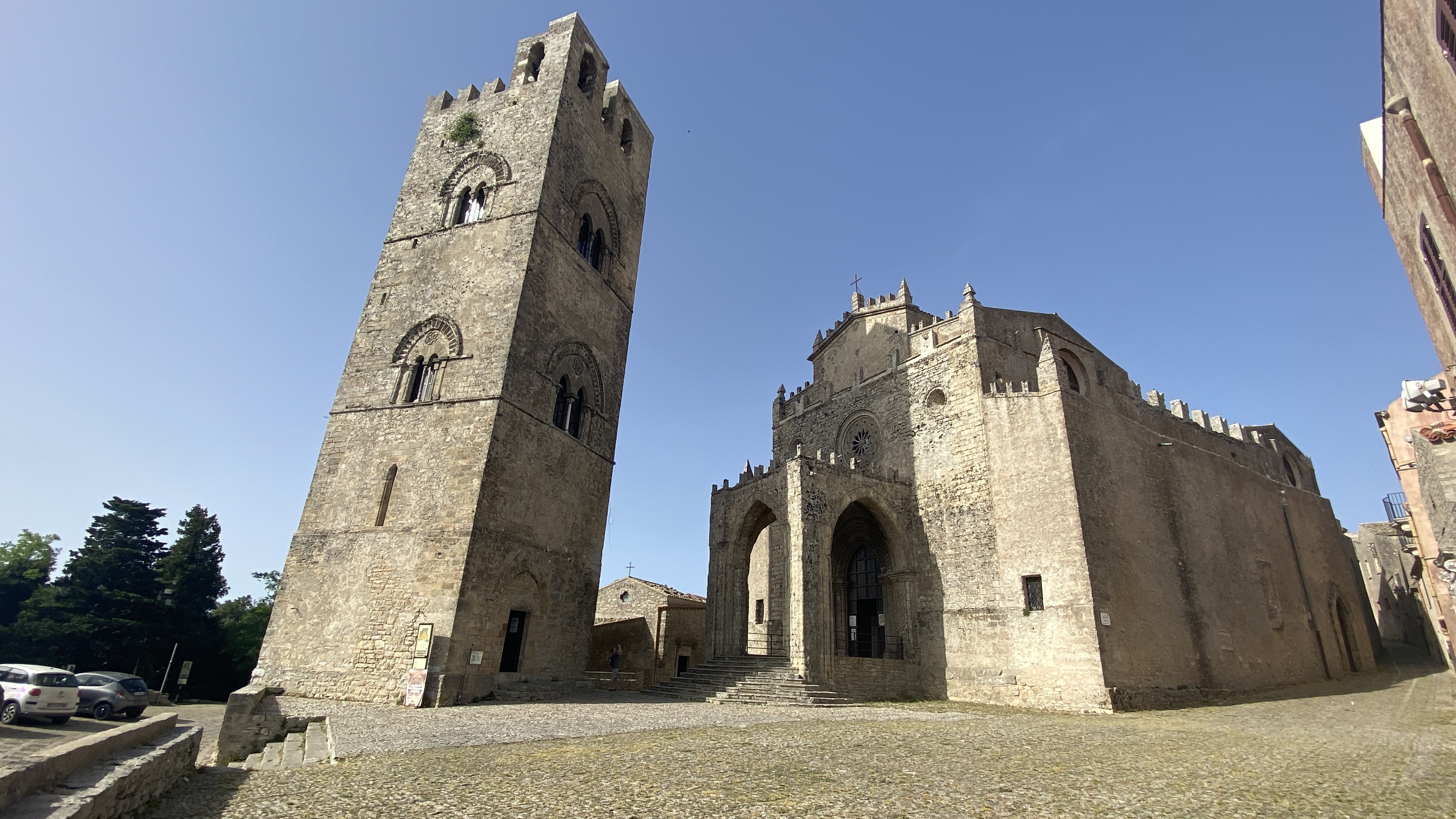 Visit the Churches in Erice
And while you walk around, don't miss all of the churches in the village. Maybe not all…there are a lot!
The most famous church in Erice is Chiesa Madre, or Mother Church. It was built here in the 1300s, and it stands right next to a 28-meter tall bell tower, which they used to use as a lookout during wars.
You do have to pay to enter the churches in Erice, but you can buy a card that gives you admission into multiple ones.
---
Lunch at Caffè San Giuliano
All of that walking has probably made you hungry. So now it's time for lunch at one of our favorite spots in town. 6 years ago, when we first came to Erice, we came to this cafe and the people who own it are so nice.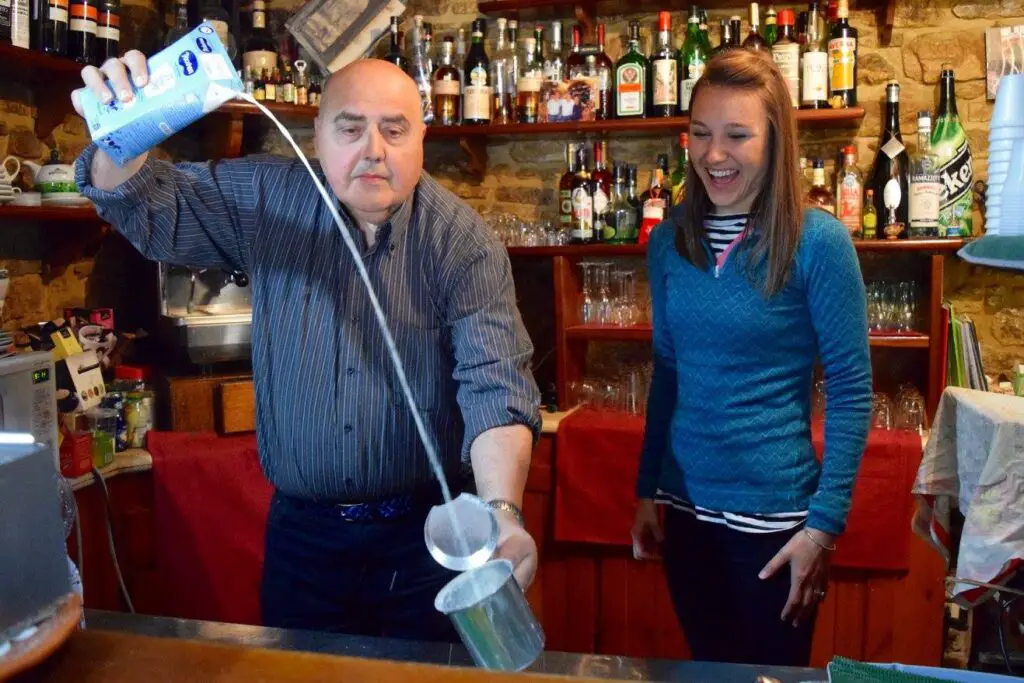 They literally say to call them "Nonno" and "Nonna," which means grandpa and grandma. This was our third time back. We showed them these pictures that we have from the last time we were here, and they remembered us and they've been so kind to us ever since.
He has all these super fun tricks, pouring milk, flipping plates, it's a whole lot of fun. 
So when you come here, come for lunch at Nonno and Nonna's Caffè San Giuliano.
---
If you're enjoying this incredible village and delicious food as much as we are, then subscribe to our weekly emails for more jaw-dropping landscapes, mouthwatering food, and oh-so-helpful tips about traveling Europe!
---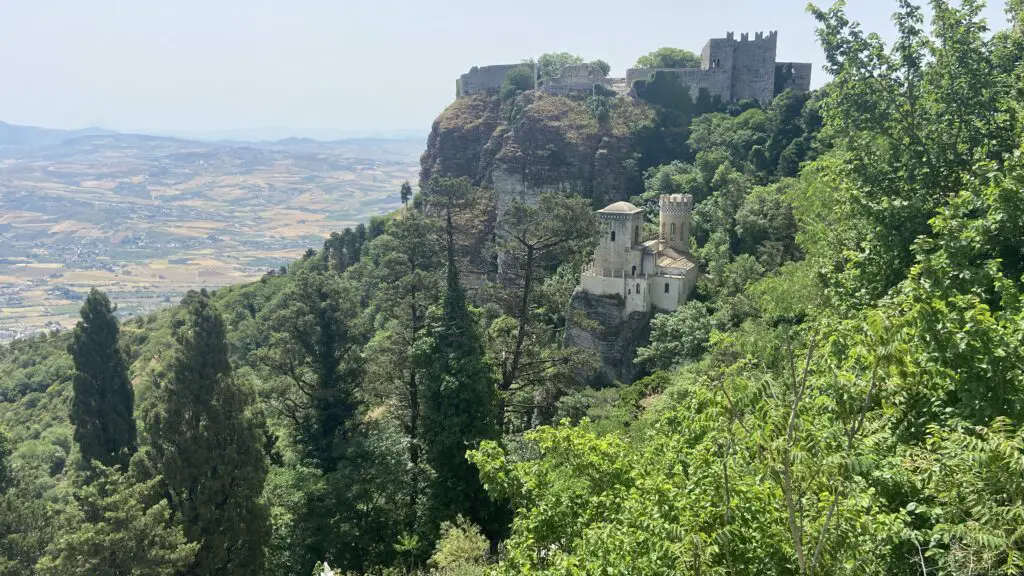 Visit the Erice Castle
After Lunch is a great time to explore the castle, fortress, and park of Erice. And it's a nice shady spot too. 
First is the Castle of Venus. It was built in the 12th century by the Normans on top of old ancient ruins. It's right next to Balio Castle. And interestingly enough, the two used to be connected by a drawbridge. Right next to this castle are the beautiful Balio Gardens, where you will always see people hanging out and enjoying the day.
On one side, you can see the Tyrrhenian coast, the Gulf of Trapani, and the tip of San Vito Lo Capo. And on the other side you can see the Trapani Salt mines and Egadi Islands.
---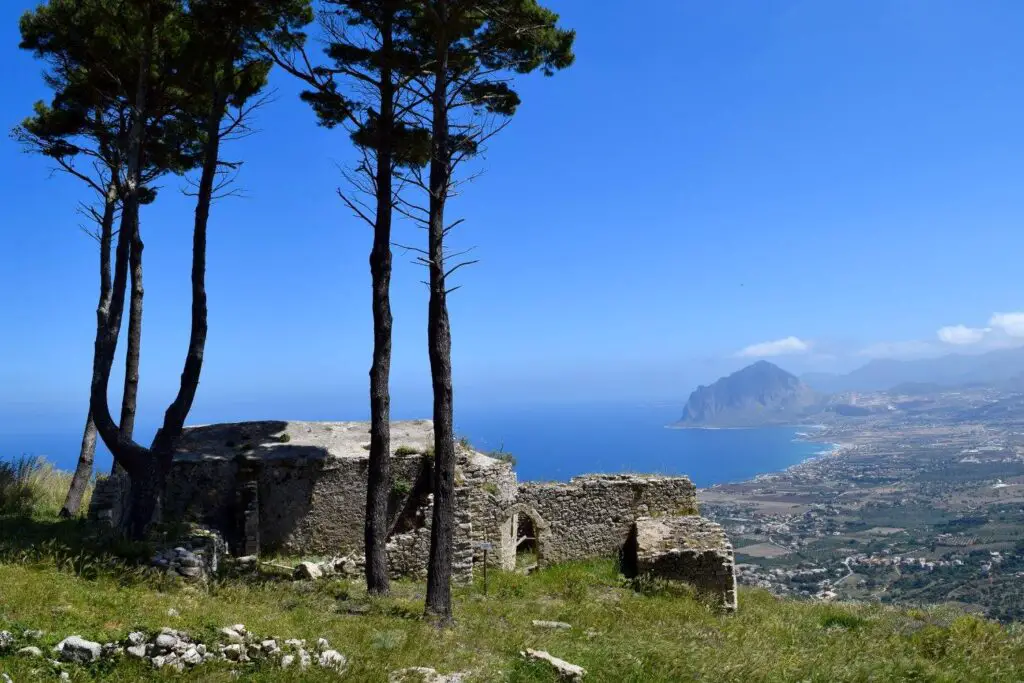 Walk around the village of Erice, Sicily
If you're up for it, take one of the panoramic walks or hikes around the outside of the village. Simply follow the trail signs and the red-and-white trail markers. Don't forget to look up and admire the costal views!
---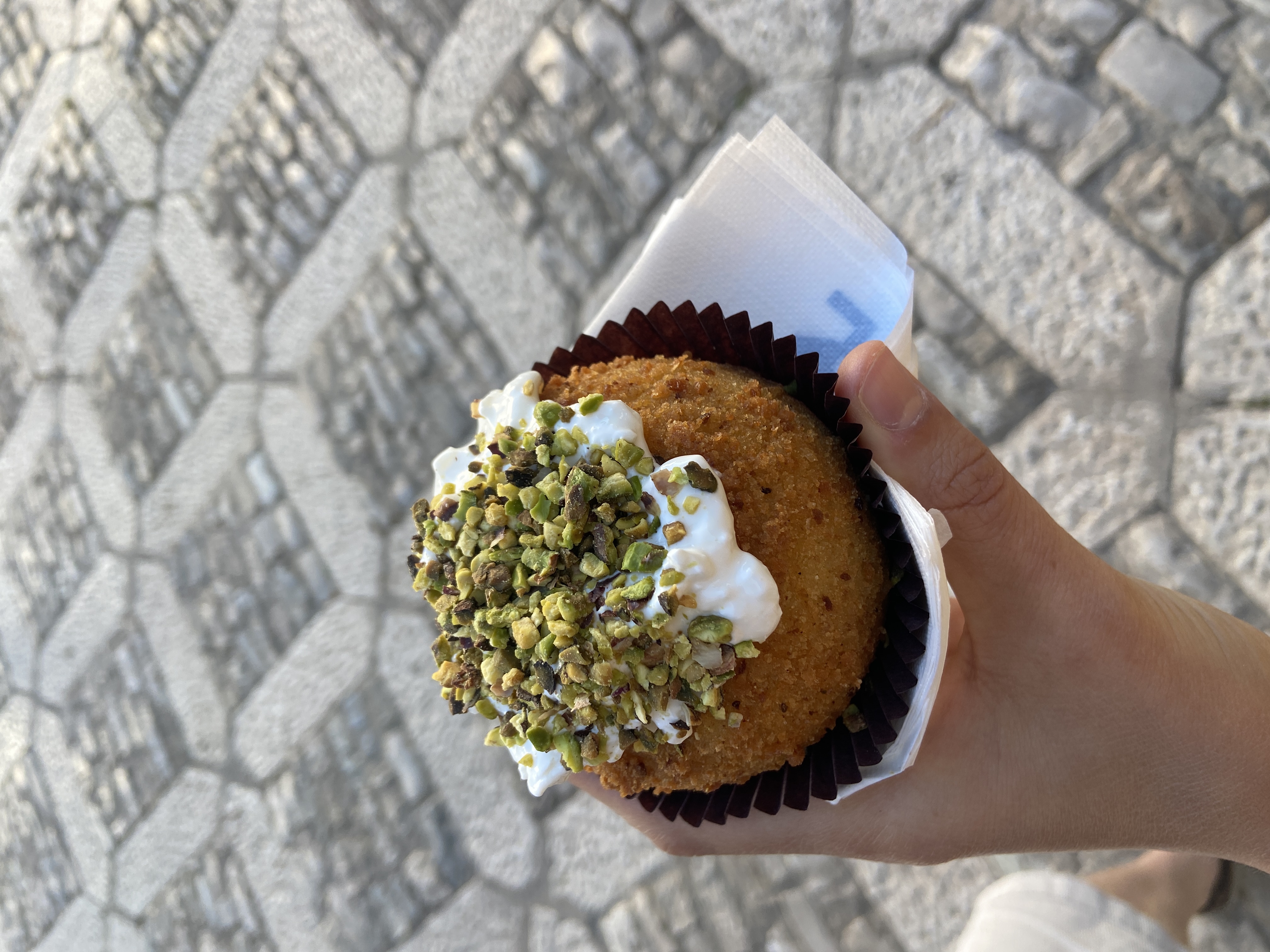 Enjoy an Arancina snack at La Tonda
By now, all of that walking and exploring probably has you hungry again, which means it's time for a snack.
If you're like us, we typically eat dinner around 6:30, and since the restaurants here don't tend to open till 7:30 or 8, we usually need an afternoon snack. And an arancina is perfect. 
You can never try too many arancine and we think we found the best place in town: La Tonda. Now we've had traditional ones with ragu and with meat. Here we had one with burrata cheese and pistachio, and it was amazing. Hint: We still don't know how to eat it without getting completely messy!
We have literally never had an arancina that is this creamy and gooey, the perfect balance of crispy on the outside while being soft and creamy on the inside. We wish smell-o-vision existed so you could actually try it!
The reason we came to this place, La Tonda, is because we kept hearing that these are literally the best arancine in town. And we totally agree. This guy's won so many awards, he's been featured on Food Network, which means he must be great at what he does.
Also, they make them totally fresh so they haven't been sitting out in the case all day. You only have to wait about 5 minutes or so — completely worth it!
---
Shopping in Erice
Grab your snack to go and walk around the village. This time to do some shopping. Look out for some traditional souvenirs like ceramics, liquor, woven carpets, salt from the Trapani salt flats, and Modica chocolate. 
---
Dinner Restaurants in Erice, Sicily, Italy
If you don't need to catch the last bus or lift back down to Trapani, then stay up here in Erice for a romantic dinner.
Our two favorite restaurants are Gli Archi di Carlo and Ristorante Monte San Giuliano. When you walk by early in the day, be sure to make a reservation because they can definitely fill up quickly. It's not unusual at all for restaurants to only open at 7:30 or 8 p.m., and you'll see families with little kids in the restaurant until 11.
A Sicilian meal is an event in and of itself, so pick a good restaurant and be prepared to stay for a while.
What we like to do is share the plates so we get a:
Primo, which is usually a pasta.
A secondo, which is usually a meat or a fish plate.
And then of course we share a dessert.
Sometimes Brett orders an espresso.
And we often enjoy a digestivo.
Don't forgot the wine! In fact, you should try Jana's favorite Sicilian wine, Nero d'Avola.
When you're here in Erice, you have to try the local busiate pasta and basically anything coated in pistacchios. We had a lamb with pistacchio on top, incredible desserts, the local Erice digestivo, and of course…lot's of other stuff.
Buon appetito! 
---
Evening in Erice
Erice is so charming at night. So after dinner, make sure to do a little evening stroll under the moonlight. After just a few minutes wandering around here at night, you will already be planning your next trip to Italy. To help you out, check out our other Italy blogs!