Did you know that the Swiss Travel Pass is actually not the best train pass for most Swiss Travelers? 
We're Jana and Brett, and our first video about Swiss Train Passes now has well over 200,000 views. And our second Swiss Rail Pass Guide…well it's just as popular! But we still get lots of questions, and we realize there's so much more to understanding this wide world of train passes than meets the eye.
After you finish reading this post, you'll have answers to your biggest questions about Swiss train passes before you even know you have them! We're covering 19 things to know about the types of passes, discounts, buying tickets, traveling with kids, dogs, bikes, and so much more!
So get your notebook ready, and let's go.
(And if you haven't seen our Ultimate Guide to Swiss Train Passes, we'll cue it up at the end of this blog for you!)
---
Prefer to WATCH instead of Read?
---
1 | In almost every case, a Swiss train pass will save you money. 
Here's the thing, traveling Switzerland can be expensive, but it doesn't have to be, especially if you buy a Swiss Train Pass! In almost every case, you will save money with some type of Swiss rail pass. 
Honestly the only exceptions we can think of are if you're only taking a short trip to a city, or if you're renting a car with multiple people and not planning to visit the mountains.
---
2 | One pass will not cover 100% of your rides in Switzerland.
If you were hoping it would be easy to just buy one Swiss train pass and never have to think about tickets again, we're sorry but that's not the case! This is partially why the maze of Swiss train passes can be so confusing.
If you're like most Swiss travelers, you might assume that this is what the Swiss Travel Pass does. Yes, it does cover your rides 100% at lower elevations. But you'd be in for a nasty surprise when you discover that it only gives you a discount on many mountain rides—usually 50% but sometimes only 25%.
And that's why you're here reading this article, and why the next 17 tips are absolutely necessary.
---
3 | There are national Swiss rail passes and regional Swiss train passes.
Okay, so just exactly how many Swiss rail passes are there? Well, there are national passes and regional passes. 
The national ones are valid throughout the whole country, and include the famous Swiss Travel Pass, day passes, and the Swiss Half Fare Card (which is basically like having a 50% coupon for every ticket you buy).
There are a bunch of regional passes so we're not gonna name them all, but the popular ones include the Berner Oberland Pass and the Jungfrau Travel Pass.
In general, the regional Swiss train passes provide better coverage in their area of validity than the national ones do in the same area.
---
4 | There are also Europe-wide passes that work in Switzerland.
Here we're talking about those Eurail and Interrail passes. They're basically the same thing, but the Interrail is made for European residents and the Eurail is made for non-European residents.
Like the Swiss Travel Pass, these train passes provide great coverage at lower elevations and between major cities, but that's also when ticket prices tend to be the cheapest and train passes just aren't as valuable.
And once you make it to Interlaken, for example, you'll only get a 50% reduction for every ride toward the Lauterbrunnen Valley, and just a 25% discount on all the major mountain lifts. So it works similar to the Swiss Travel Pass, but you'll find yourself paying more for extra tickets if you want to spend a lot of time in the mountains (like Grindelwald, Jungfraujoch, Schilthorn, or Mürren).
We're not at all saying you should never buy one of these train passes. They're fantastic for the right kind of traveler on certain types of trips—especially if you've already purchased one to visit other countries on a grand European vacation!
---
If you're feeling a little overwhelmed, just stick with us!
These 19 tips will help you grasp the basics about Swiss train passes before you ever research, choose, or buy one!
And the next article we have lined up for you offers a deeper dive into each Swiss train pass to help you choose which one is best for you.
So for now let's keep plugging through these tips! 
---
5 | Some of the Swiss rail passes are seasonal.
Time of year not only impacts what you stuff into your suitcase, it also affects which Swiss train pass you buy! The National and Europe-wide passes are available every day of the year, but not all regional passes are available all year-long. 
For example, the Berner Oberland Pass is not available outside of the "summer" season. 
And, it's a little weird, but there are separate summer and winter versions of the Jungfrau Travel Pass too.
So before you book your trip, double check that the regional pass you want is available during your travel dates. We have a free spreadsheet that lets you know month-by-month which passes are available. Find it HERE. 
---
6 | No matter when you visit, take a good, long look at the Swiss Half Fare Card.
Since producing our first train pass video, we've received hundreds of questions about Swiss rail passes, and now we even offer consultations to help travelers like you choose a train pass that saves you time and money. And a high, HIGH percentage of the time, we find that the Swiss Half Fare Card alone or the Swiss Half Fare Card paired with a regional pass is the best buy. Here are a few reasons why:
First, You'll often get a discount on your regional pass if you have the Swiss Half Fare Card too. In some cases, the discount could even be more than the cost of the Swiss Half Fare Card itself! In this case, "too good to be true" is actually true!!
Second, If you're flying in to Switzerland and traveling from the airport to a part of the country that's covered by one of these regional passes, then the savings just from those train rides to and from the airport will be substantial. Again, practically a no-brainer!
Third, If you ride any public transportation not covered by another Swiss rail pass, then you'll benefit from a 50% discount on every trip you take. And this applies throughout the entire country of Switzerland, further increasing your savings—which is why you don't really need a pass that will 100% pay for every ride in order to save money.
Which brings us to a final point, Sometimes the best thing you could do for your budget is to pay 120 CHF to buy the Swiss Half Fare Card, and just leave it at that. Let's do some quick math, shall we?
An 8-day Swiss Travel Pass costs 389 CHF.
That's 269 CHF more than the Swiss Half Fare Card.
Sure, you'll still pay 50% for all your tickets with the Swiss Half Fare Card, but do you realize how hard it is to spend 270 CHF on transportation in just a week, when you're only paying half price?
"Well those mountain lifts are expensive!" you might say. But keep in mind that the Swiss Travel Pass only gives you a 50% discount on most of those anyway, so it's equal with the Swiss Half Fare Card there.
Quick summary: The Swiss Half Fare Card is one of the best values in Swiss travel, so take it seriously!
---
7 | The Swiss Half Fare Card gives me a discount when I purchase the Swiss Travel Pass, right?
So does the Swiss Half Fare Card give you a discount off the purchase of the Swiss Travel Pass? Nope. If only it were that easy. 
That's why it rarely makes sense to buy both the Swiss Travel Pass and the Swiss Half Fare card together. But we had so many questions about this on our first train pass video, which is why we had to answer it here.
So the biggest thing to remember is that the Swiss Half Fare Card does not give you a discount on the purchase of a Swiss Travel Pass. Sorry! 
---
8 | The SBB Mobile App is your friend.
Seriously, the SBB Mobile App is the best public transportation app for any country we've seen. And it's the best way to check timetables, buy tickets, and figure out the quickest route from point A to point B in Switzerland.
Even if you're covered by a Swiss rail pass and never plan to buy tickets, it's ultra convenient. That means you never have to stop by a rail office for info, or show up to the station without knowing when the next train leaves.
It sucks to show up just after a train leaves with 29 minutes to wait until the next one, knowing you could have spent that time sitting and sipping that beer just a little bit longer!
---
9 | To really benefit from the SBB app you'll need cell phone data.
To really benefit from the SBB app, you'll need cell phone data. Unfortunately free wifi isn't as extensive in Switzerland as it is in the US, which means you won't find it at every store, restaurant, gas station, and beyond.
And the reality is that you're mainly gonna use the SBB app on-the-go. We've tried lots of different data plans over the years, and we think the easiest option is an eSIM card. You don't have to go into a store, and you don't even have to take your earrings off to pop in a new sim card.
Last summer we used an eSIM from Holafly. It was easy to set up and we were impressed that we had cell phone data everywhere we went up in the Swiss Alps. But this point is all about using data for the SBB Mobile App. So to help you get started, and to show you how serious we are about having data to use this app, we've scored you a 5% discount with Holafly.
5% HOLAFLY DISCOUNT CODE: APLINSINTHEALPS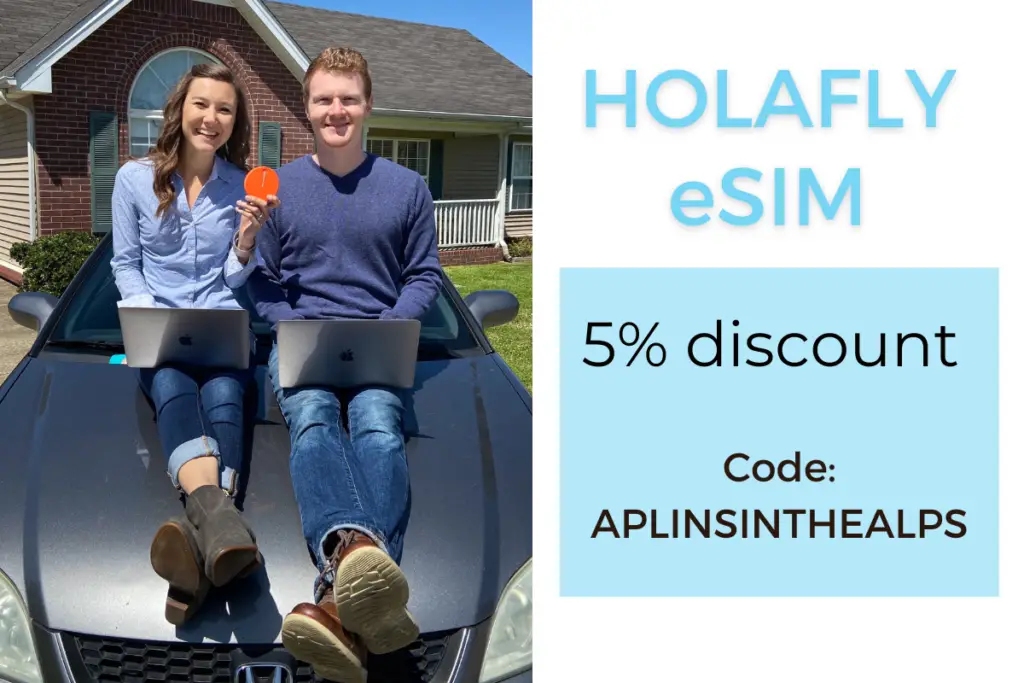 ---
10 | In general, tickets and passes do not increase in price as your travel date gets closer.
Prices for the Swiss Travel Pass, Swiss Half Fare Card and regional passes pretty much stay the same, though they could of course increase from year to year, and once in a while there's a promotion on the Swiss Travel Pass.
Tickets also have a set price per route, regardless of the time of year, day of the week, and time of day. We really like this because it allows you to maintain flexibility in your travel plans without feeling like you're losing money by booking at the last minute.
However, there are ways to save money if you buy early, and that's what the next two points are about.
---
11 | Day Passes and Saver Day Passes
If you have the Swiss Half Fare Card, you can buy a Day Pass for 75 CHF. This can even be purchased the same day, which is nice if you're making last minute plans.
Saver Day Passes can be bought up to 60 days in advance of travel. Prices start as low as 29 CHF if you have the Half Fare Card or 52 CHF if you don't, but the prices vary by demand and purchase date. Keep in mind that these are non-refundable, so make sure that you plan to travel on that day regardless of weather.
These two kinds of day passes are great if you're coming into Switzerland from a neighboring country for a single day and plan to ride LOTS of trains. Or if you need to add on one more day of train travel after your Swiss train pass expires.
The coverage is the same as the Swiss Travel Pass, so unfortunately these day passes don't cover most mountain lifts or funiculars.
But if you're traveling a long distance in a single day, especially on one of those scenic trains like the Glacier Express or Bernina Express, then you could save a ton of money by buying a day pass in advance.
---
12 | Supersaver Tickets
Like the Saver day passes, Supersaver tickets can also be purchased for a point-to-point route up to 60 days in advance, and offer the potential for savings, based on demand.
You can buy these online or through the SBB app, and they'll be displayed automatically using a % symbol if they're available.
Supersaver Tickets are for a specific time and train connections, so your plans need to be firm in order to take advantage, because refunds are only available within the first 30 minutes of your purchase just in case you make a mistake.
But, you really can save some money with these Supersaver Tickets. We really like them for traveling to the airport when we're flying out of Switzerland.
And sometimes, you'll even find 1st class Supersaver tickets cheaper than 2nd class!
---
13 | Speaking of first class, is first class worth it?
Speaking of first class, is it worth it? In general, we don't think first class is worth the splurge. There's very little difference on most trains, especially regional ones or in the mountains. Often it's a divided section with a door and slightly wider or more plush seats.
In fact, many regional passes you're likely to buy are only valid for second class. But, we've heard that first class tickets on long scenic trains, like the Bernina Express or Glacier Express, can be totally worthwhile, although we haven't tried that yet.
---
14 | Do I need seat reservations on Switzerland trains? 
Typically, seat reservations are not necessary and not worth the money. They're required on some scenic trains like the Glacier Express, and you'll have to book those through the corresponding website.
You'll also see that seat reservations are encouraged for the train to Jungfraujoch, but visiting mid-week or early in the morning makes that unnecessary in our opinion.
So for most train travel throughout Switzerland, you won't need a seat reservation. Most intercity trains allow them, and you can pay 5 CHF to do so if you'd like. But we've ridden these plenty of times and have never made a reservation.
One exception to keep in mind: if you're traveling to or from another country in peak season, a reservation could be handy.
---
15 | What if you're traveling Switzerland with kids?
What if you're a family traveling with kids? Honestly, Switzerland may be one of the best family-friendly destinations simply because of how affordable it is to travel with kids on public transportation. Here are a few quick fire answers:
Kids under 6 are always free.
Kids ages 6-15 travel free with the Swiss Family Card when they're with a parent or guardian who has a valid train ticket or pass. You can request the SFC (for free!) when you purchase your Swiss Travel Pass or Swiss Half Fare Card.
If traveling with a 6-15 year old grandchild (or other child not your own), the Children's Co-Travelcard is a great option for just 30 CHF.
For the most part, anyone age 16+ is treated as an adult, though the Swiss Travel Pass, Eurail, & Interrail passes offer "youth" discounts up into the mid-20s.
---
16 | What about dogs? And bikes?
Small dogs under 30cm travel for free when in a carrier, but larger dogs must have a second class, half fare ticket regardless of which class you ride in.
You can also buy dog passes, like the 25 CHF day pass. And the Berner Oberland Regional Pass is also available for dogs at only 30 CHF for up to 10 days.
Like dogs, bikes require a ticket, which can be purchased at the half fare price, and you'll need reservations for your bike on intercity routes for a good part of the year. But there are also day passes available for 14 CHF.
There are quite a few rules about when and how to travel with a bike, so be sure to read up on the details if this applies to you.
---
17 | Some Swiss rail passes offer benefits beyond transportation.
Here's the thing, a Swiss rail pass obviously provides you a discount on transportation, but it offers other benefits too! 
With the Swiss Travel Pass, you gain free admission to more than 500 museums in the country of Switzerland. And The Berner Oberland Pass provides discounted admission to lots of attractions throughout the region
That doesn't mean you should choose a pass just because of those perks, but it could be worth exploring if you know which museums and activities you're planning to visit on your trip.
---
18 | Studying the validity maps for each pass is the only way to know where it will or won't work.
I know it doesn't sound fun, but you really need to compare these maps for a few passes once you know where you plan to visit.
For example, the Jungfrau Travel Pass has solid coverage from Interlaken in toward the mountains, but the Berner Oberland Pass covers way more territory: more lifts, village buses, lake travel, and lots more even beyond the Jungfrau region.
We've heard a few people say they chose the Jungfrau Travel Pass because they wouldn't be able to visit most of the places covered by the Berner Oberland pass. But for many of them, they could have actually saved money buying the Berner Oberland pass.
So don't worry if you can't take advantage of everything offered in a pass. If it's the best pass for the trip you have planned, buy it!
---
19 | How do I know which Swiss train pass is best for me?
But how do you know which pass is best for you?
First, read this article, our Ultimate Guide to Swiss Rail Passes.
Then, download our free checklist to choose which Swiss train pass is best for you in just a few easy steps.
We'll see you in Switzerland!