Switzerland can be expensive—but it doesn't have to be! Here are 17 practical budgeting tips that could easily save you over $1000 on your next trip to Switzerland!
We're Jana and Brett and we help you travel Switzerland with confidence — which means maximizing your experiences, minimizing your planning time, and stretching your budget.
So get your notepad ready because we're going to show exactly how much money you can expect to save on a 10-day trip to Switzerland by following each of our budget tips.
---
Want to Watch Instead of Read?
---
LODGING | Travel Switzerland on a Budget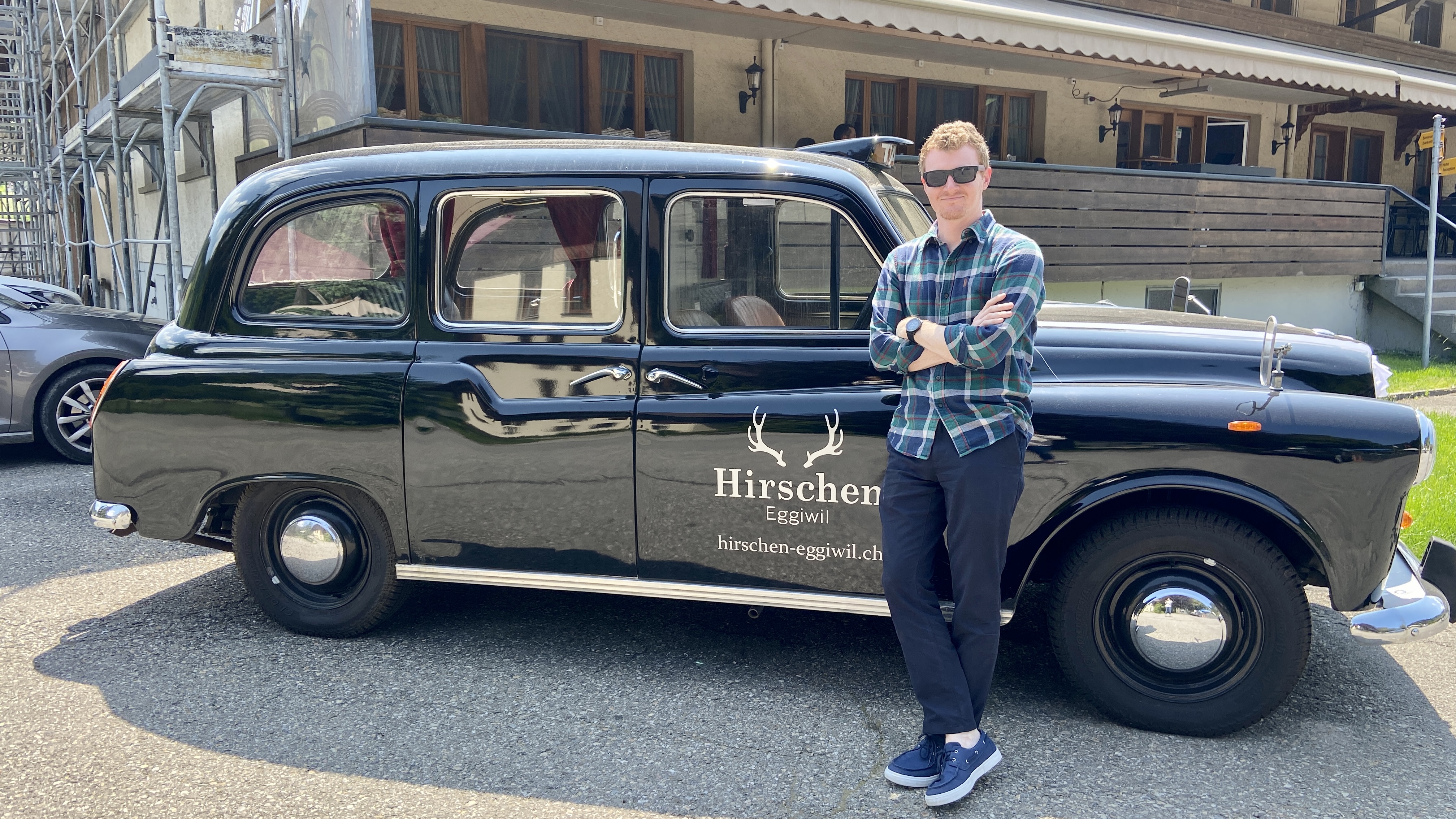 1 | Buy A HotelCard
We love staying in Airbnbs when we travel because — well, there are a lot of reasons. But sometimes you just want to be pampered. Or you're staying in the middle of the city and an Airbnb doesn't make sense. Or you just need to book one night somewhere and can't find a good deal. In that case, a hotel is the best option. 
And we are LOVING our HotelCard! 
HotelCard is a platform that offers its members discounts of up to 50% at over 500 hotels, based on availability.
We recently did this for a weekend getaway to the Emmental for our anniversary. And even though we booked last minute, we saved 150 CHF on our two-night stay.
A HotelCard membership normally costs 99 CHF for a year, but when you buy through our link, you'll save 30 CHF, reducing the cost to just 69 CHF. 
And the best part is that you can browse all the available hotels, the discounted prices, and a calendar of their availability before ever buying the card.
Here's the thing: you can spend 69 CHF on the membership and instantly save that much on your first booking, with an average savings of over 100 CHF per night. So if your Swiss vacation will include even just one night in a hotel, be sure to check out HotelCard.
2-night stay using HotelCard = Save 100+ CHF

TOTAL TRIP SAVINGS SO FAR = 100 CHF
2 | Snag an Airbnb long stay discount
But sometimes an Airbnb just makes sense. You can buy groceries and save on food costs, stay in a more local area, and — if you're willing to slow down and stay a little longer — save quite a bit on your lodging prices too!
A random sampling of Airbnbs in Switzerland revealed that one week stays are 12.5% cheaper (per night) on average than 3-night stays.
At an average nightly rate of 225 CHF, a 12.5% discount would save you about 200 CHF over the course of a week — meaning, you're basically buying 6 nights and getting the 7th night free!
7-night stay in an Airbnb = Save 200 CHF

TOTAL SAVINGS SO FAR = 300 CHF
---
TRANSPORTATION | Travel Switzerland on a Budget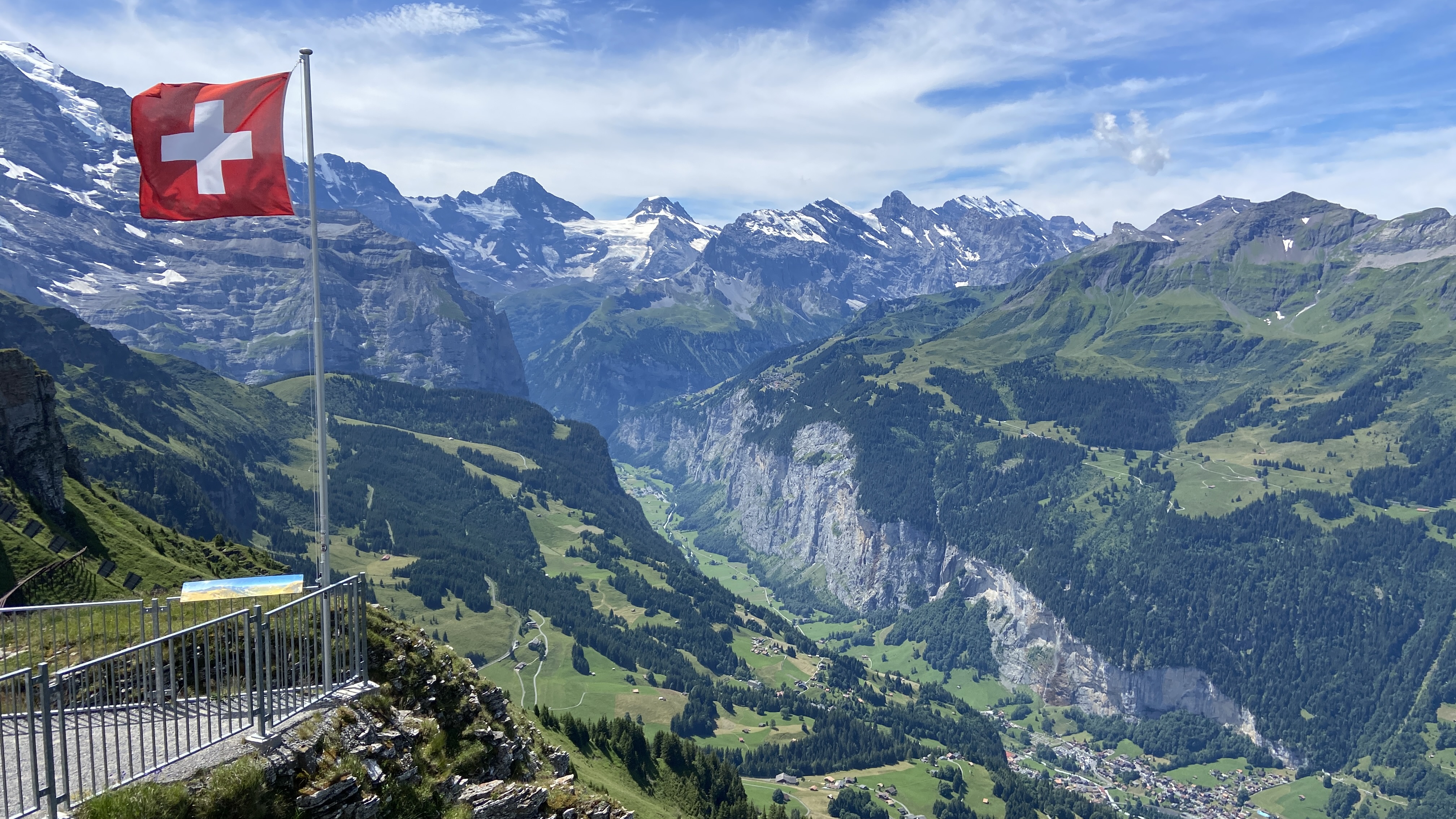 #3 | Use a train pass (and choose the right one!)
We know we've said it before, but in most cases, not buying a Swiss train pass is like throwing your Swiss Francs in the garbage. Here's a quick example:
For a typical 10-day trip to Switzerland with a week in the Jungfrau Region and a couple days near Lucerne, you'll spend around 960 CHF on transportation without any kind of train pass.
With the Swiss Travel Pass, your cost would go down to about 800 CHF, so you've already saved 160 CHF compared to having no pass at all.
But, if you knew exactly which pass (or passes) was best for this trip itinerary, you'd lower your total transportation cost to just 600 CHF—saving you 200 CHF compared to the Swiss Travel Pass and 360 CHF compared to having no pass at all!
We know that Swiss Train Passes can be incredibly complex, so if you need help deciding which one is best for your trip to Switzerland, be sure to check out our Ultimate Guide to Swiss Rail Passes (with a free "How To Pick A Swiss Train Pass" checklist!). 
Until then, here's another way to save money on transportation in Switzerland.
Picking the Best Train Pass = Save 200 CHF/person

TOTAL SAVINGS SO FAR = 500 CHF
#4 | Use a Guest Card for local transportation
Many Swiss cities offer complimentary guest cards to overnight visitors. And while not all of these are equally helpful, some provide free local transportation, which is nice if you don't have a train pass covering the area.
For example, the Lucerne Visitor Card provides free transportation throughout your stay within zone 10 of the local network. If you follow our 1-Day City Guide to Lucerne, you'll take 5 short rides that would normally total 12.50 CHF. But with the visitor card, every single one of those rides is totally free. 
In fact, our Lucerne Itinerary includes a handful of additional rainy day activities and day trip options, some that are within zone 10 as well. So with just a couple days in Lucerne, this visitor card could easily save you 25 CHF per person on transportation alone.
Using city guest cards for local transport = Save 25 CHF/person

TOTAL SAVINGS SO FAR = 525 CHF
---
FOOD | Travel Switzerland on a Budget
Eating out in Switzerland isn't exactly what we'd call budget friendly. In fact, if you're not careful, it's possible to spend more on food than on lodging during your stay!
Most dinner plates average 40 CHF or more if they include meat. So some of your biggest savings might just come from following these budget food tips.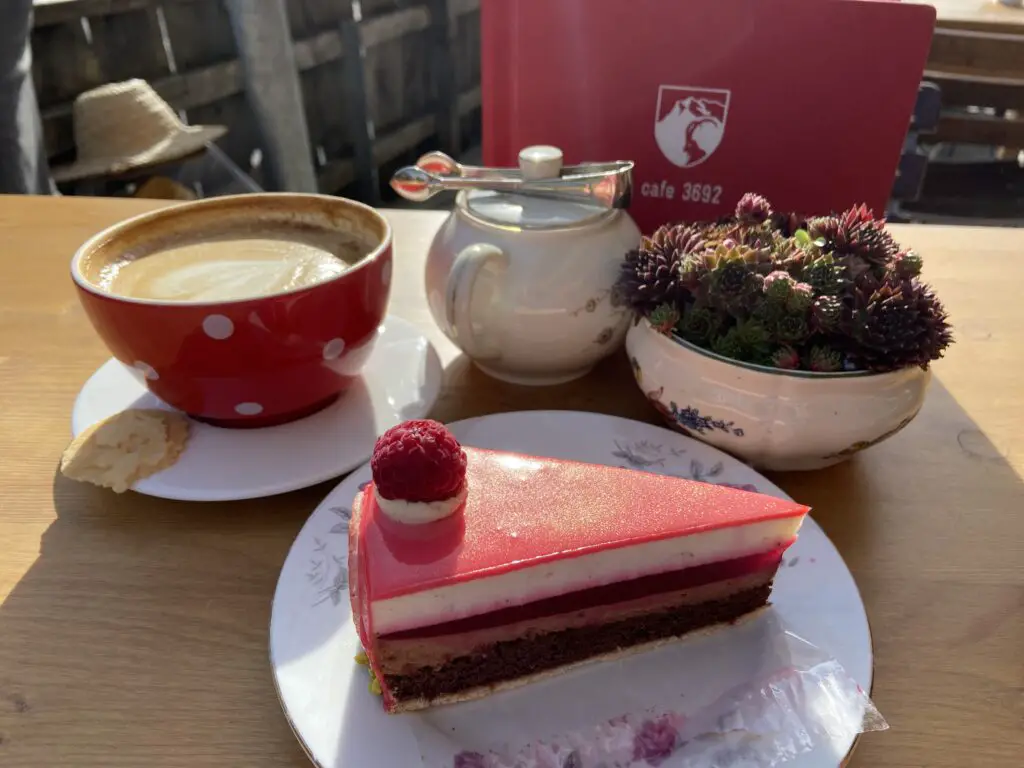 #5 | Get the Too Good to Go App
We're starting with our favorite food tip! What if you could enjoy food from a restaurant for the same price as if you'd bought it from the grocery store and cooked it yourself? Well you can — using Too Good to Go!
Too Good to Go is an app that prevents food waste by letting you "rescue" unsold food from nearby restaurants. It's a bit adventurous, because your meal actually comes in a "surprise bag" — meaning you won't know what you're eating until you pick it up!
But this is part of the fun, and there are options for vegetarians as well. Just know that the food usually comes cooked but cold, so you'll need a way to reheat it.
Besides the fun of the mystery, you'll enjoy your meal at about a third of the price it would cost to dine in. We do this every week or 2 at a restaurant near us and it costs less than 6 CHF per person!
So enjoy some good food, help the environment, and save at least 15 CHF/person each time you use Too Good to Go. Win, win, Win!
Too Good to Go 1x = Save 15 CHF/person

TOTAL SAVINGS SO FAR = 540 CHF
#6 | Eat out for lunch instead of dinner
All things being equal, if you're going to eat in a restaurant, it's cheaper to eat out for lunch than for dinner.
The average lunch plate costs around 30 CHF compared to 40 CHF for dinner, so by making lunch the meal you eat out each day, you'll save around 10 CHF per person while enjoying practically the same food!
Do this just 5x during your trip, and you'll save 50 bucks!
Eat out for lunch instead of dinner (5x) = Save 50 CHF/person

TOTAL SAVINGS SO FAR = 590 CHF
#7 | Book an airbnb with a kitchen (cook at home)
Consider booking an airbnb or apartment with a kitchen and do some of your own cooking. We know, it's your vacation and you probably don't wanna cook! But whether you make something elaborate or keep it simple, we estimate that you'll save at least 20 CHF per person per meal when you eat at your apartment instead of in a restaurant.
And since the average hotel breakfast costs 10-20 CHF per person, simply going to the grocery store to buy your breakfast food will save you a ton of money as well.
So eat half of your dinners and breakfasts at your apartment, and you'll save 125 CHF per person over a 10-day trip!
Eat 5 meals at your airbnb/apartment = Save 100 CHF/person

Purchase breakfast food for 5 days = Save 25 CHF/person

TOTAL SAVINGS = 715 CHF
#8 | Eat meatless meals
While we're on the topic of food, you should know that meat is REALLY expensive here, both in restaurants and from the grocery store.
So save some money by adopting a temporary vegetarian lifestyle! Choosing dishes where meat is a garnish of sorts instead of the main feature — or simply skipping meat altogether — will have a surprising impact on your budget, saving around 10 CHF per meal.
One great example is the famous Swiss rösti. You can find big, filling plates of these hashbrowns for between 20-25 CHF, even with sausage or bacon included. But soup, salad, or pizza can be great budget choices as well.
Simply choosing a meatless option for 5 of your restaurant meals would save you about 50 CHF per person.
Eat meatless 5x = Save 50 CHF/person

TOTAL SAVINGS SO FAR = 765 CHF
#9 | Pack a Picnic Lunch
The last budget tip for food is to pack a picnic lunch instead of eating in a restaurant. We like to take dried sausage, alp cheese, peppers and hummus, apples, berries, nuts, and bread with us when we go out for the day. It's healthy and saves us money at the same time.
But even if you'd rather not prepare picnic food, Swiss grocery stores tend to have lots of really good takeaway items such as sandwiches, salads, potatoes, pasta, and lentils.
So if you eat just half of your lunches picnic style during a 10-day trip, you'll save about 75 CHF/person!
Picnic Lunch 5x = Save 75 CHF/person

TOTAL SAVINGS SO FAR = 840 CHF
To summarize these budget food tips, you'll save over 300 CHF (per person!) over a 10-day trip if you simply:
Buy food from the grocery store for 5 of your breakfasts
Eat half of your dinners at your apartment
Pack a picnic or takeaway food for 5 of your lunches
And eat meatless for 5 of the 10 meals you eat in a restaurant
And try a meal with Too Good to Go just for the fun of it!
---
MONEY & TRAVEL CREDIT CARDS | Travel Switzerland on a Budget
So far we've covered ways to save money on lodging, transportation, and food. Now, let's talk about how to save even more when swiping your credit card.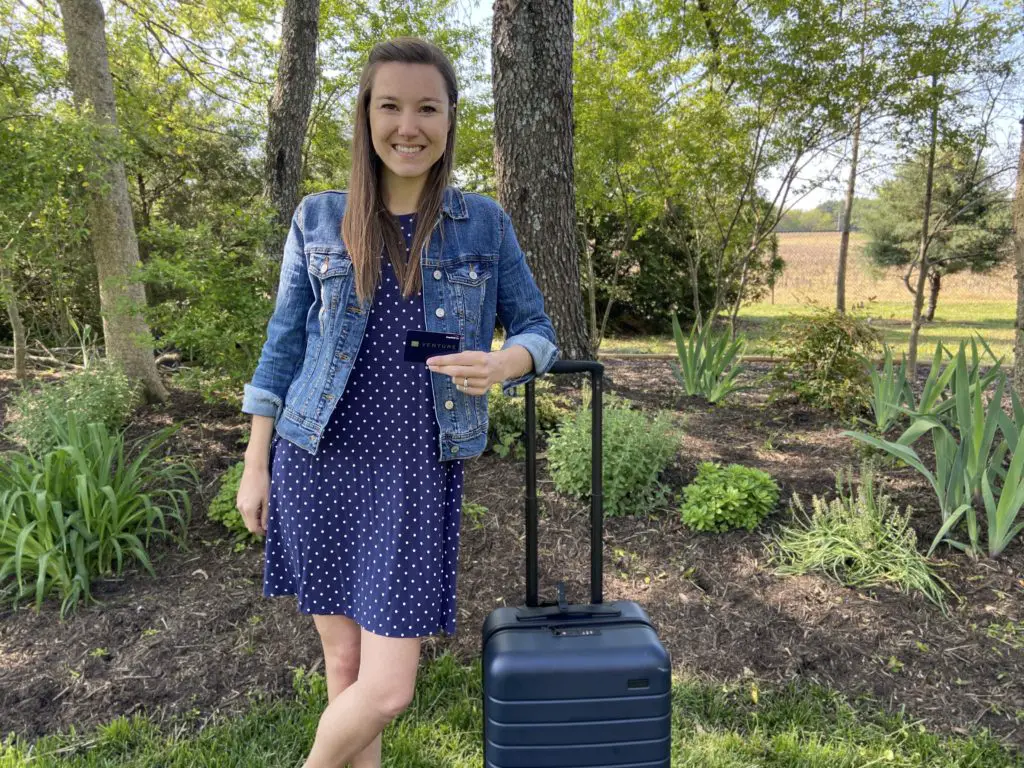 #10 | Pay in the local currency
Every time you insert your credit card into a chip reader or swipe it in a card machine, you will be given two options:
Pay in CHF.
Or pay in your home country's currency.
This tip is super simple and straightforward: ALWAYS select to pay in the local currency! In this case, that's CHF.
The credit card companies automatically take care of the currency conversion. So when you select to pay in your home currency, you're giving them permission to charge you for something they were going to do anyway — and the fee averages around 3.5%!
If you spend just 800 CHF ($900) over the course of a 10-day trip at restaurants, grocery stores, and shops, these fees could total 30 CHF. So always, ALWAYS pay in Swiss Francs!
Pay in the local currency = Save 30 CHF

TOTAL SAVINGS = 870 CHF
#11 | Utilize Travel Credit Cards with NO foreign transaction fees
You know that awesome feeling when you find a random $5 bill in your pocket? Well, using a travel credit card with no foreign transaction fees is like saving 5 bucks a day!
The average credit card charges a 3% foreign transaction fee. And last time we checked, Switzerland is a foreign country (unless you're Swiss!) and you kinda have to spend money here while you're on vacation. So skip that pesky fee with a fee-free travel credit card.
And while we're on this topic, we have other videos and resources that show you how to use travel credit card points and miles to save thousands of dollars on your next Swiss or European vacation. So be sure to check those out later if you're a U.S. resident.
Use a credit card with no foreign transaction fees = Save 40 CHF

TOTAL SAVINGS = 910 CHF
---
PRACTICAL TIPS | Travel Switzerland on a Budget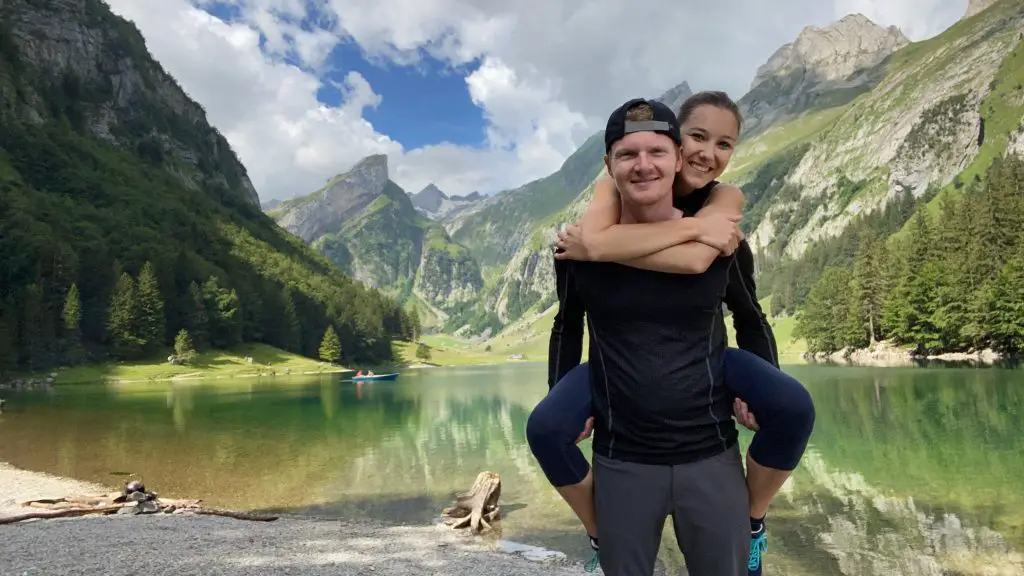 #12 | Skip the bottled water
Swiss water is some of the best in the world! So skip the bottled water, bring your own refillable bottle, and fill up from the tap.
Your savings won't be huge, but you'd spend at least one franc per bottle of water purchased in a grocery store (and way more if you find yourself thirsty while visiting a tourist attraction!)
So refill your own bottle, save your francs, and enjoy a couple extra coffees or pastries instead!
Drinking Tap Water = Save 10 CHF/person over a 10-day trip

TOTAL SAVINGS SO FAR = 920 CHF
#13 | Cheaper Cell Phone data
Having access to cell phone data is a big help when you visit Switzerland — even if just to use the handy SBB Mobile App!
And while it might be convenient to simply use your home carrier's international roaming plan, this usually comes at a cost of at least $10/day for a short trip.
The best alternative used to be a local SIM card. And while that's still an option, you've gotta visit a store, figure out which package you need, sign papers, swap out SIM cards…not how you wanna spend your vacation time.
So we recommend using an eSIM like the one offered by Holafly. It's so easy — if you have a compatible smartphone, you just buy the eSIM, scan the QR code, and turn on data roaming — then you're setup to enjoy unlimited data throughout your trip!
Use our link and coupon code listed below to enjoy a 5% discount on your purchase, which would score you a 10-day unlimited data plan for Switzerland or all of Europe for less than 33 bucks!
Use an eSIM Card = Save 60 CHF over a 10-day trip

TOTAL SAVINGS SO FAR = 980 CHF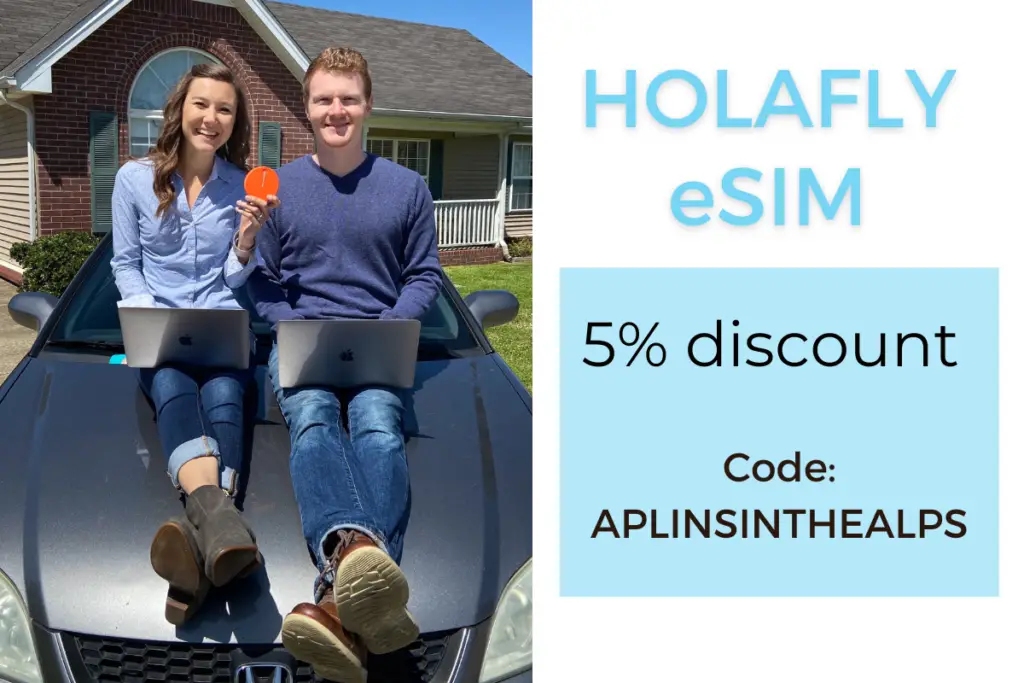 ---
SIGHTSEEING | Travel Switzerland on a Budget
#14 | Enjoy Birthday freebies
Happy birthday to you! 🥳 No really, if you can travel to Switzerland on your birthday, you'll find the red carpet rolled out for you!
Here are some pretty sweet freebies available on your birthday in the Jungfrau Region alone:
Ride the Schilthorn Cable Car for free. This allows you to travel from Stechelberg to Gimmelwald and Mürren, to the Birg Thrill Walk, to the Schilthorn, and all the way back down — a value of up to 108 CHF!
Enjoy a 1st Class Day Pass for boats on Lake Thun and Brienz — a value of up to 106 CHF
Ride the cogwheel train to and from Schynige Platte for free, and enjoy a free dessert in the restaurant — a value of up to 70 CHF!
And enjoy many more offers for free cable cars or train rides including Niesen, Niederhorn, Brienzer Rothorn, and the Stockhorn!
Even if you're traveling with our favorite train pass and just visit the Schilthorn on your birthday, you'll enjoy a savings of more than 40 CHF.
Visit the Schilthorn on your birthday = Save 40+ CHF

TOTAL SAVINGS SO FAR = 1020 CHF
#15 | Train pass/guest card discount partners
But guest cards and train passes often do more than just save you money on transportation. Be sure to check out their list of discount partners too!
The Berner Oberland Pass — our favorite train pass for trips to the Jungfrau Region — includes about 40 discounted attractions. And here are a few examples of how much you'll save:
And if you stay in Lucerne, the Visitor Card offers plenty of discounts too, including:
3.5 CHF off a day at the Swiss Museum of Transport (10%)
4 CHF off a visit to the Glacier Garden (and mirror maze) (20%)
10 CHF off while enjoying a relaxing day spa (20%)
And finally, though we rarely recommend it, the Swiss Travel Pass offers free entry to over 500 museums throughout Switzerland. So if you were to travel to the area around Lake Geneva and were traveling with a Swiss Travel Pass, you could visit:
Chateau de Chillon for free (normally 13.50 CHF)
The Olympic Museum in Lausanne for free (normally 20 CHF)
And La Maison du Greyeres for free too (normally 7 CHF)
So how much will these train passes and guest card discounts save you? Well, we're not big museum people because we prefer to spend our sunny days outside exploring.
But even if you just do the Mürren via ferrata near Interlaken, the Olympic Museum in Lausanne, and Swiss Museum of Transport in Lucerne, you'll save around 40 CHF per person.
Guest Card/Train Pass Discounts = Save 40 CHF/person

TOTAL SAVINGS SO FARE = 1060 CHF
#16 | Recognizing when you've seen enough of something
There are so many incredible things to see when you visit Switzerland! But if you go at your sightseeing pretty hard, you might begin to experience the fatigue that comes from seeing your 12th waterfall, your 7th museum, or your 19th high mountain cable car!
So our advice is to recognize when you've seen or experienced enough of something. This will help you relax a bit, but also save you from spending money just doing more of the same.
For example, if you've been to Giessbach Falls, maybe you don't need to pay to see Trümmelbach Falls. And if you go to Matterhorn Glacier Paradise, consider skipping Jungfraujoch which is another similar (and expensive!) experience.
There are endless places worth seeing in Switzerland, but don't try to do everything. Your body, and your budget, will thank you!
Skipping Jungfraujoch = Saves at least 75 CHF/person

TOTAL SAVINGS SO FAR = 1135 CHF
#17 | Buy a "done-for-you" itinerary
But how do you know which experiences are worth your time and money? Our Swiss Travel Guides answer that question!
Each guide includes a minute-by-minute itinerary and custom maps to help you experience both the top highlights and the local hidden spots. Plus there are lots of extra bonuses to help you travel Switzerland with confidence.