What if riding a Swiss train was as easy as 1-2-3? Well, we're gonna make it that simple!
Today we're traveling from the Zurich Airport to Interlaken and are gonna take you along for the journey so you can learn how to ride Swiss transportation like a pro.
---
Want to Watch instead of Read?
---
Zurich Airport Train Station
Welcome to Switzerland! We're in the Zurich Airport, Terminal 2, which most of you will fly into if you're coming from outside of Europe. And thankfully the train station is literally next door.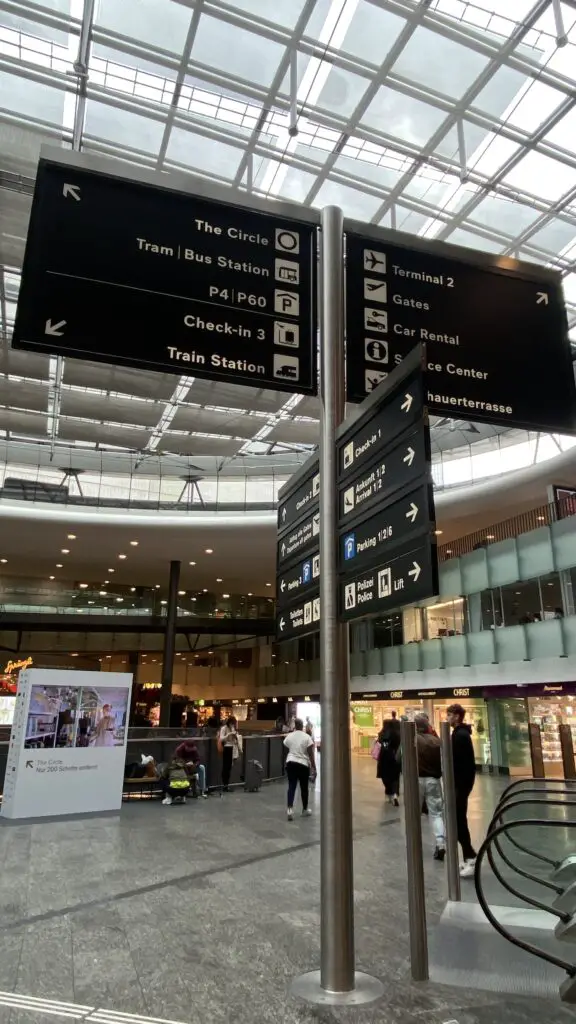 Follow the signs to reach the station. Once you get there, you'll see plenty of restaurants, grocery stores, and shops. But we need a train ticket, so let's follow the signs to the ticket office.
---
How to Buy Swiss Train Tickets & Swiss Rail Passes
There are 4 ways to buy a Swiss train ticket and two ways to buy a Swiss rail pass, but we won't bore you with the details here since we have a step-by-step guide for that, which we'll tell you more about later.
Today we're just going to buy from the train station Ticket Office.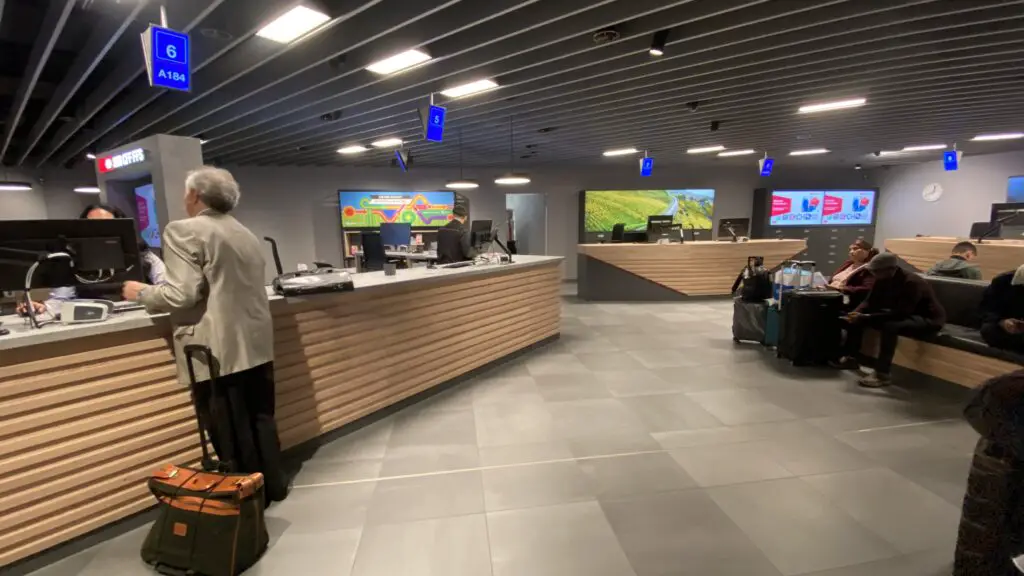 When you buy a ticket from a Ticket Office, you can ask for the next available departure or the route with the fewest train changes. And there are even a few nonstop trains from the Zurich Airport to Interlaken!
Obviously, that's a good choice if the timing makes sense. But for our route today we're going to have a few train changes.
So the friendly staff (who speak fantastic English, by the way) printed off an itinerary for us so we can show you every step of our journey!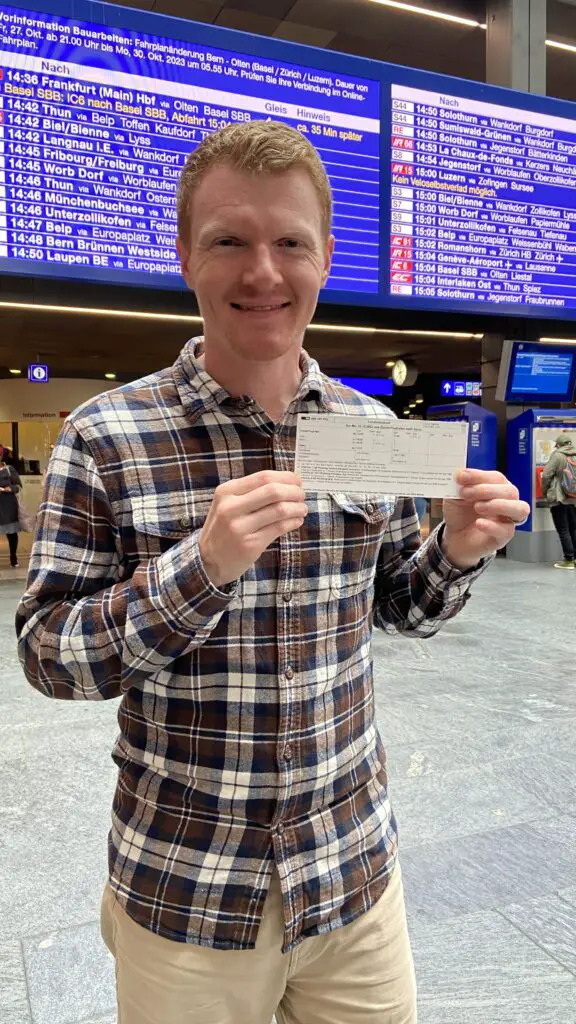 Now here's the thing, we had to wait quite a while in line to buy these tickets. But we could have easily skipped the line and used the SBB App instead! We have a complete tutorial of the app available in our Swiss Transportation Guide, but since I have this handy piece of paper right here, I'll just show you what you need to know.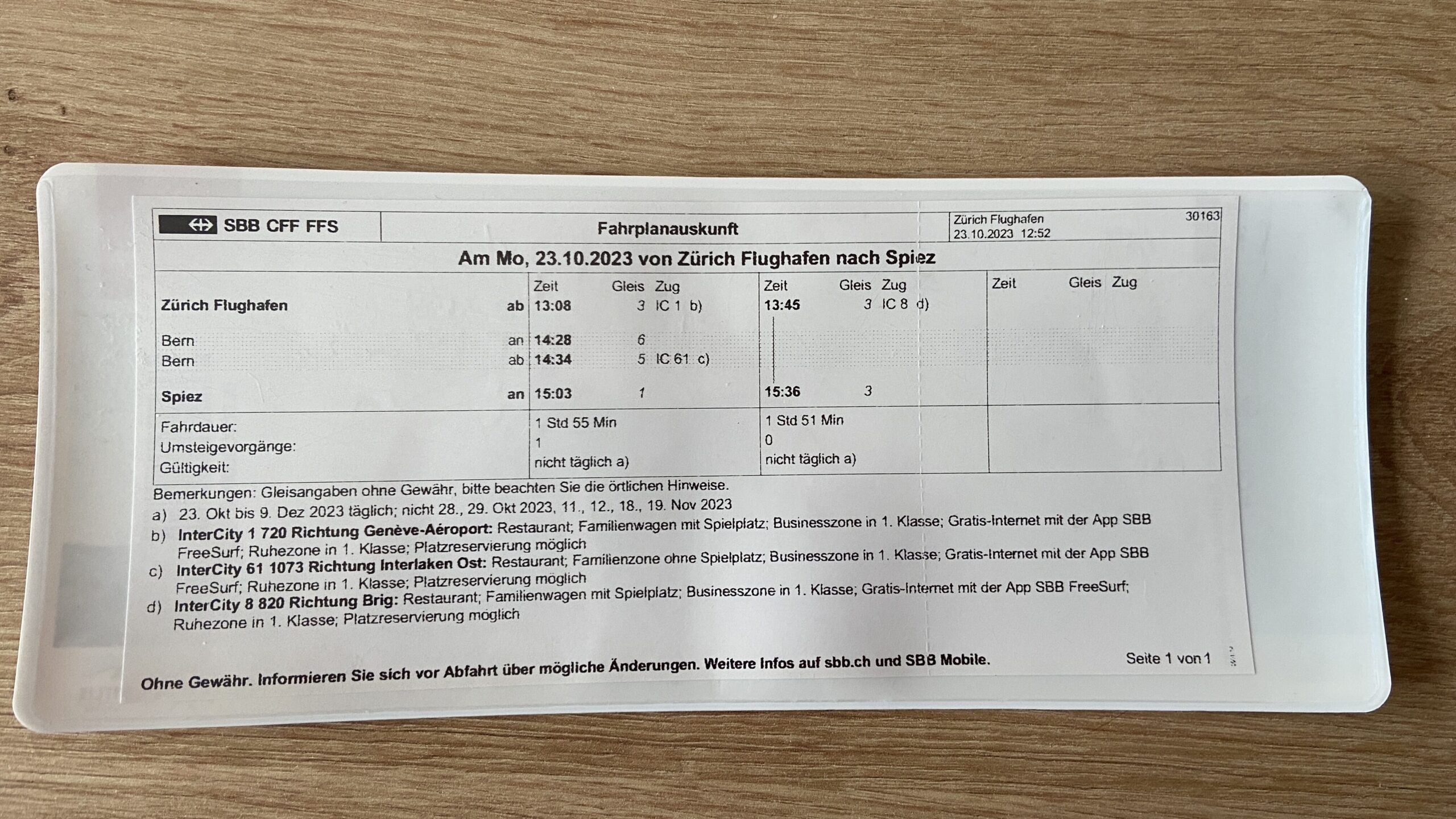 This itinerary shows you the departure time ("Zeit"), direction of travel, train number ("Zug"), and platform number ("Gleis") for each segment of our journey. Our first route from the Zurich Airport to Bern departs at 13:08 from platform #3, so we better get going!
---
How To Find Your Platform & Board A Swiss Train
We followed the signs to platform #3, which should look similar to this photo below.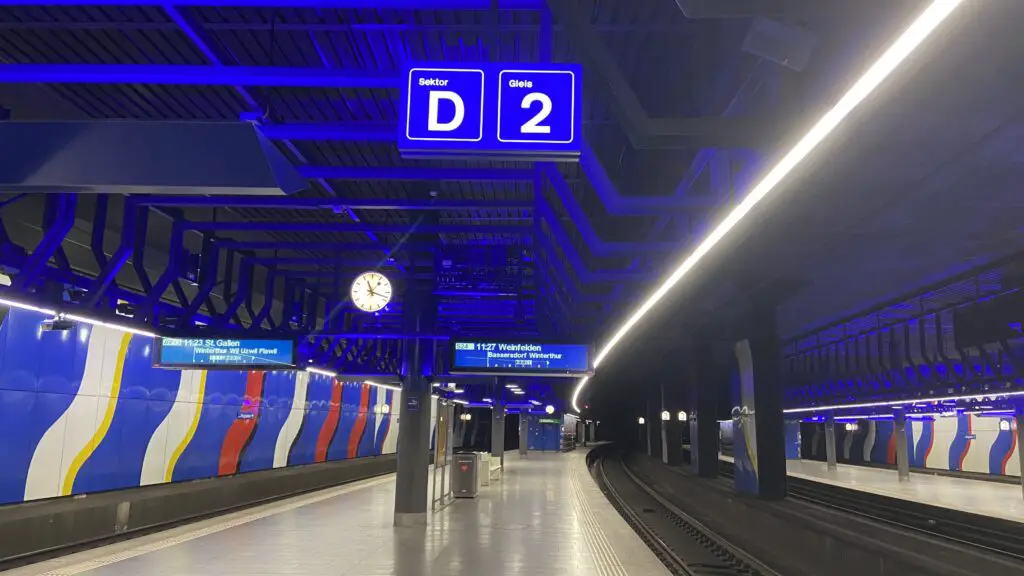 When the train arrives, step aside so passengers can exit the train first, then you can board. If no one gets off the train, press the button on the outside of the train to open the door.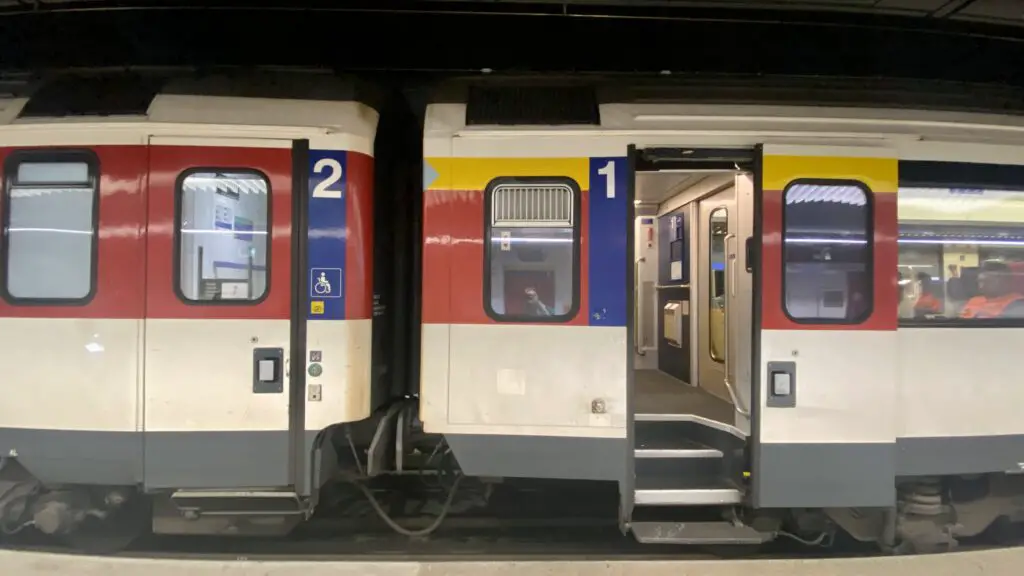 We have a First Class ticket so we're going into the First Class carriage marked with the large #1 beside the door. If you have a Second Class ticket, be sure to board the doors marked with a large #2 instead.
If you have luggage, you can place it in the luggage racks near the doors, on the overhead shelves, or between the seats.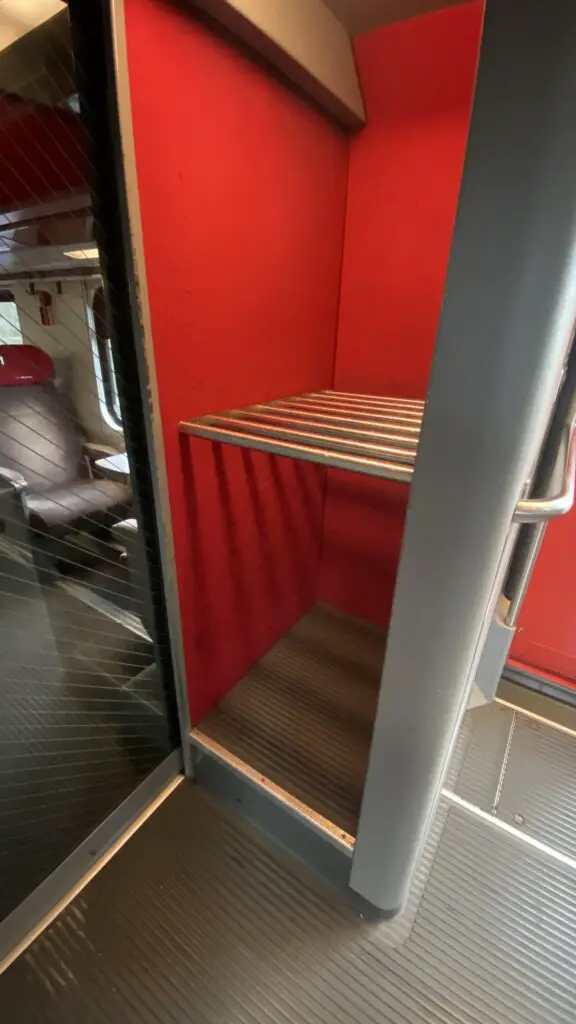 Just keep an eye on your luggage so you don't get pickpocketed or pick luggage-ed…you know what I mean. 😆
---
How To Find A Seat (that isn't reserved)
Now it's time to find a seat. There's open seating on most Swiss trains so we can sit down in any unoccupied seat. 
But, sometimes seats can be reserved. So you'll wanna make sure this little screen right here is blank. If it has someone's name and route on it, then you'll probably want to find another seat.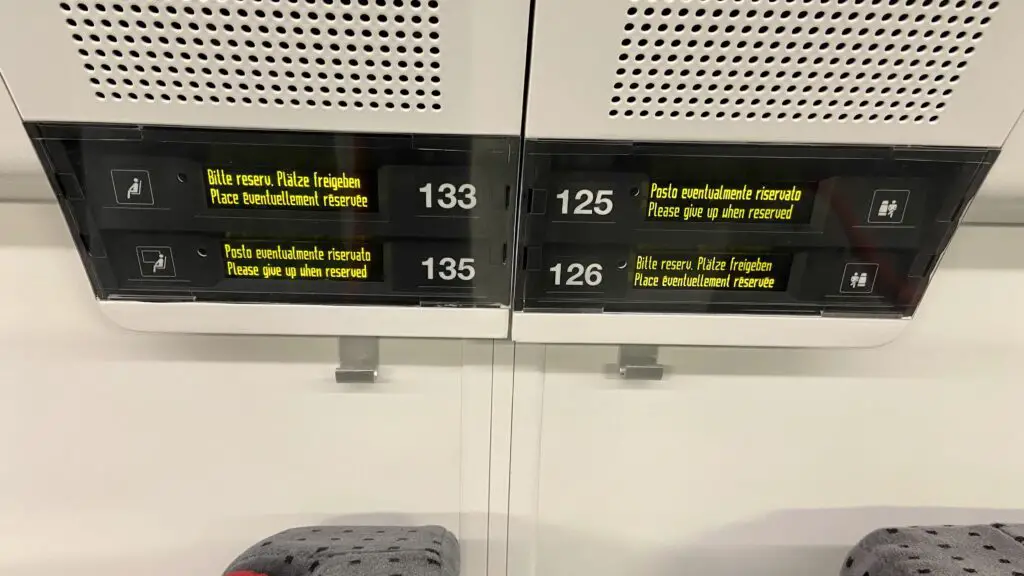 According to both our printed itinerary and the handy screen in our train carriage, we can see that our ride from Zurich Airport to Bern should take an hour and 20 minutes. 
So what are we gonna do with all that time? I don't know about you, but I usually get pretty hungry on travel days. So let's go find the restaurant car. 
---
Restaurant Cars on Swiss Trains
There are usually icons in each carriage that tell you which direction the restaurant car is in. You can walk from carriage to carriage until you find it.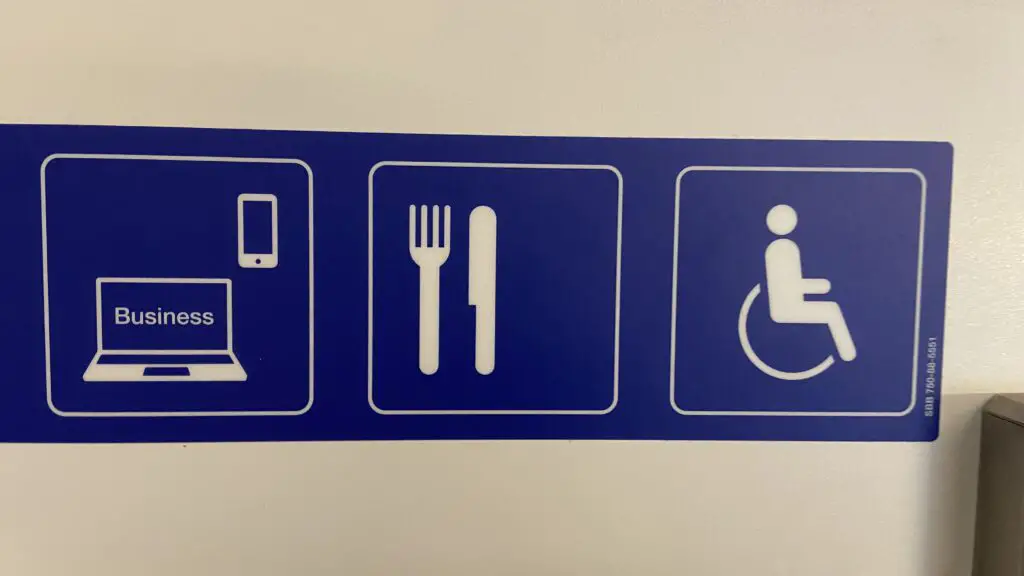 Not all trains in Switzerland have a restaurant car, but most of the longer routes do, like this one from Zurich to Bern. You can order anything off their full menu, or just keep it simple with coffee and a snack. 
But if you came prepared with your own snacks, you can eat in your seat — which is why we often hit up the grocery store in the airport before getting on our train. Just don't forget to throw your trash away in the trash cans!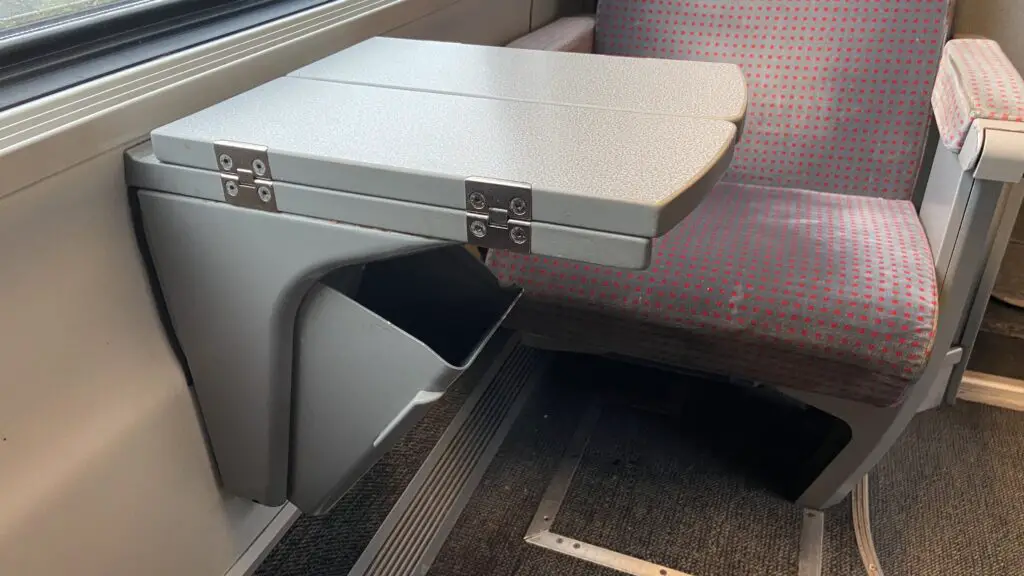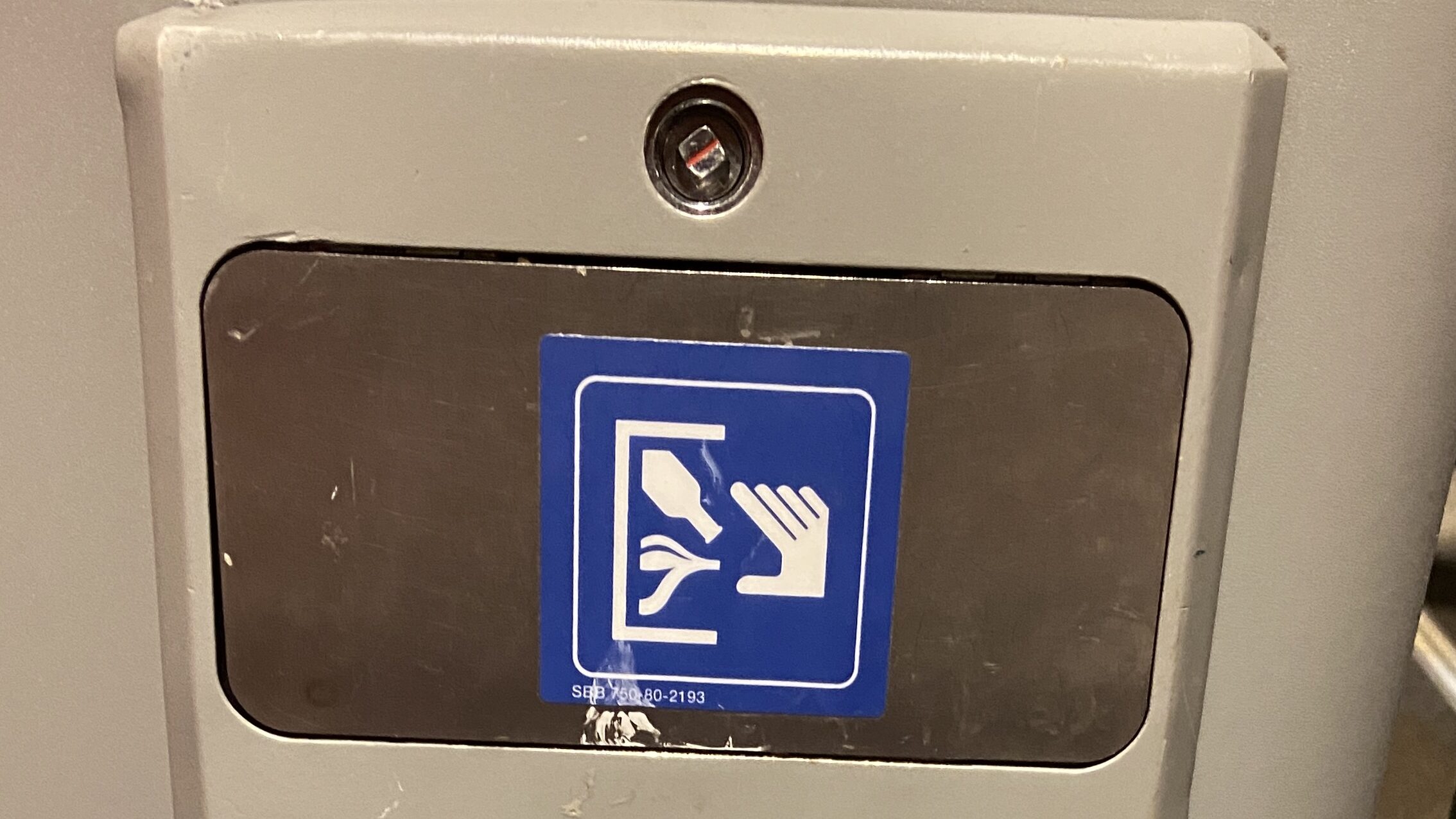 ---
Switzerland Train Travel Mistakes
I still remember the very first time we rode a train in Switzerland. It was on our honeymoon in 2012. And we looked like fools because we sat in the silent business-class carriage even though we had second-class tickets. We put our luggage on an empty seat because we didn't know about the luggage racks. And I'm pretty sure we asked about 10 different people where we were so we didn't miss our stop. Thankfully we didn't, but we were definitely newbies to Swiss transportation!
And we don't want you to make the same mistakes we did. That's why we created the Ultimate Guide to Swiss Transportation! I'm super excited to tell you all about it but we're almost to Bern and have to switch trains, so it'll have to wait until we make our connection!
---
How To Exit The Train
Push the button to open the door and exit the train onto the platform.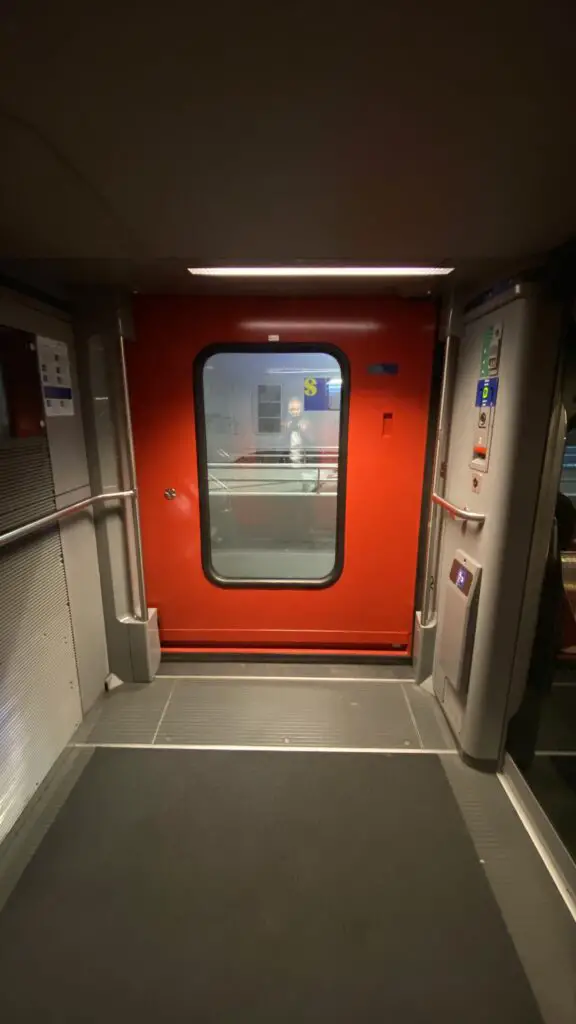 We're arriving on Platform 6. Our itinerary says our next train departs from Platform 5, but let's go double-check. Walk down the stairs or the ramp and find a Display Board to confirm your next train's departure time and Platform.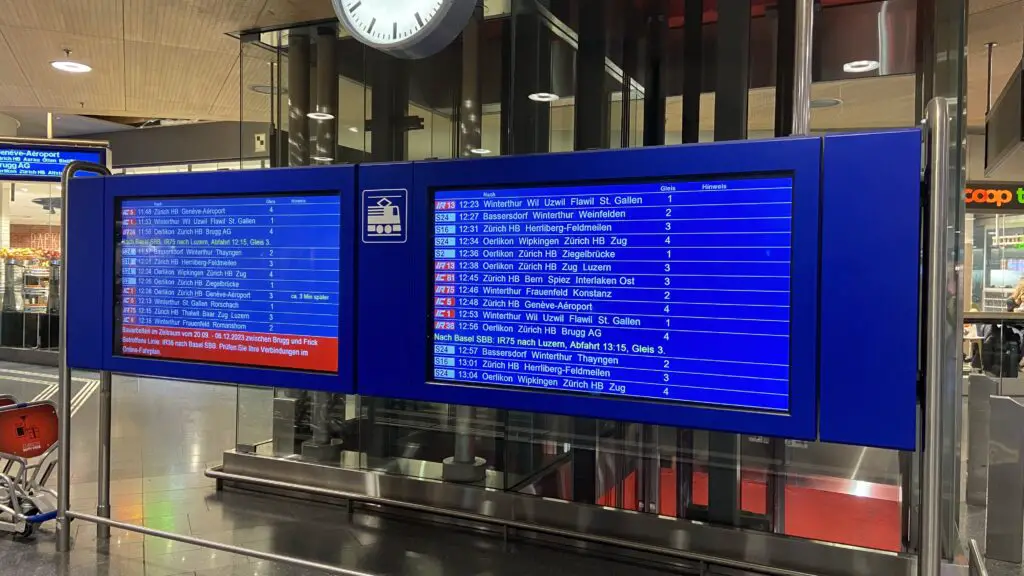 Once you're on the platform, look up at the Platform Display sign. First, make sure you're on the right platform. If you have a long connection, there may be a train arriving on this platform before your train. Once your train info pops up on the screen, look at the train formation and identify which carriage you want to sit in and which sector that's in. Since we're going to sit in First Class, we want sector D and E (the white carriages marked 1, 2, and 3). That's where we will wait on the platform.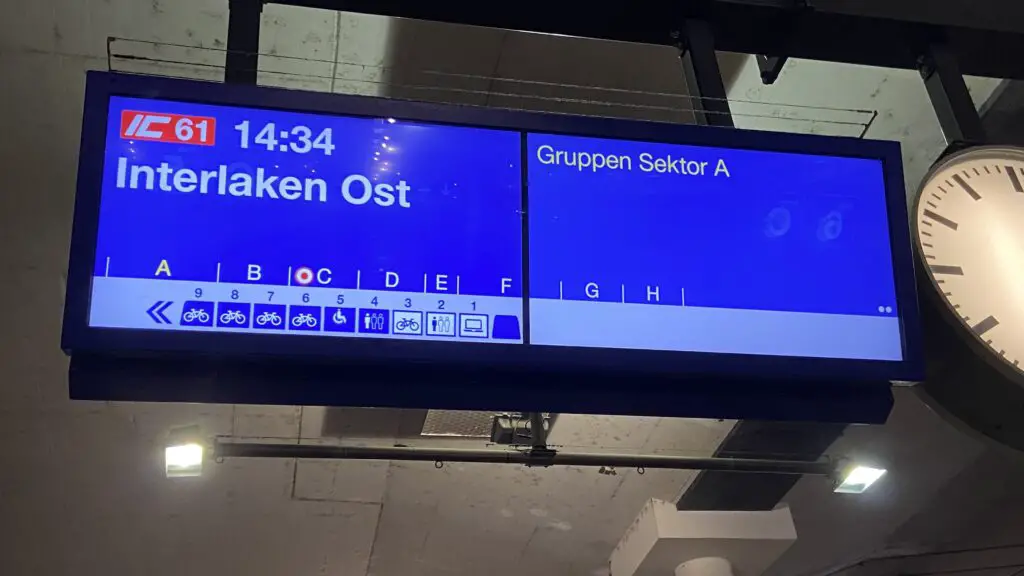 You might notice that this train looks a bit different from the last one, but all of the trains are pretty similar to each other. Wait for the passengers to exit the train, then board and find an open seat. If the train is full, you may have to stand near the door.
---
How To Show The Ticket Inspector your Swiss Train Tickets & Rail Passes
At some point during your ride, a ticket inspector will likely come around and check your tickets. If you bought from the Ticket Office or a ticket machine, show them your paper ticket. If you bought online or from the SBB app, then they can scan your digital copy. 
By the way, if you have a Second Class ticket, make sure you're sitting in Second Class! We've seen so many people get fined because the train was crowded so they just sat down in an open seat…which happened to be in First Class. That's an expensive mistake that we'd like to see you avoid.
This route from Bern to Spiez is only 30 minutes. Try to sit on the left side of the train to catch the best views of Lake Thun! Like before, check your printed itinerary and the onboard screens to make sure you don't miss your stop. And they'll also make announcements over the intercom as you're approaching each stop.
We have a long connection in Spiez, so let's find somewhere pretty to sit and tell you more about our Swiss Transportation Guide!
---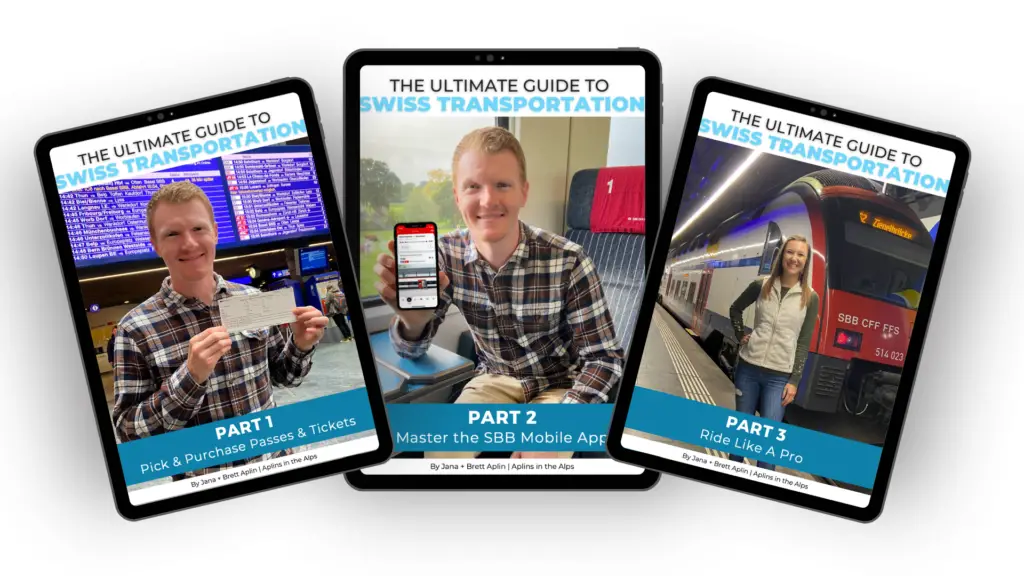 Okay, like I said earlier, we've made a ton of mistakes while riding transportation in Switzerland — and we've seen lots of confused travelers trying to figure it out too — which is why we made the Ultimate Guide to Swiss Transportation.
Our goal is to help you travel Switzerland with confidence. And for pretty much all of you that means riding Swiss transportation with confidence!  
We've had hundreds of Swiss Vacation Consultations with travelers like you and most of their questions are all about transportation. So we wrote this guide for Y-O-U. 
So, when you buy this, what are you actually gonna get? We make it as simple as 1-2-3.
Part 1 is all about Picking & Purchasing Passes and Tickets.
How do I know which one or ones I need?
Where do I buy them?
Do I really need one?
Do I need to buy them in advance?
You'll get all of this — and a whole lot more — in Part 1!
Part 2 is all about Mastering the SBB App.
It's a step-by-step tutorial on how to use this incredible tool that's basically a timetable and ticket machine in your pocket.
Part 3 is all about Riding transportation like a Pro.
We walk you through the journey from arriving at the station to boarding to riding. It covers things like what's in the station, restaurant cars, bathrooms, traveling with kids, and where to put your luggage.
Oh, and this isn't just about trains. We cover all modes of transportation, like buses, boats, cable cars, and more.
We've literally spent hours and hours and hours researching plus years of traveling through Switzerland, which means we've done the research so you don't have to!
Is This Guide Right For You?
1 | Will you be traveling in Switzerland? ✅
2 | Will you be riding at least one train, bus, boat, tram, metro, gondola, cable car, or funicular? ✅
3 | Do you feel a little anxious because you've never had to do that in another country before? ✅
If you answered YES to any of those questions, then the Ultimate Guide to Swiss Transportation is right for you!
Chugga-chugga-choo-choo on over to www.aplinsinthealps.com/guides to pick up your Ultimate Guide to Swiss Transportation and start riding transportation like a pro. And now we need to run back to the station so we don't miss the train and can show you the rest of the journey to Interlaken!
---
FAQs about Switzerland Trains & Transportation
Compared to Bern, Spiez is a small station with only a few platforms, so it's much easier to navigate and find our platform. And once again, we recommend sitting on the left side for the best views.
You probably have a few more questions about Swiss trains, so let's try to answer them before we make it to Interlaken. 
If you're like Jana and have a tiny bladder, you'll be happy to hear that all Swiss trains (except for the ones that travel high up into the mountains) have bathrooms! And they're usually pretty clean too. 
Sometimes there are power outlets, but a lot of times they're only in the First Class carriages. 
And unfortunately, there's rarely wifi. But cell phone coverage is really good.
Sometimes the windows open, and sometimes there are sun shades.
There are dedicated seats for handicapped travelers.
And there are even separate carriages for families with small children.
And yes, it's not unusual for the trains to be very, very quiet.
---
After you Get Off a Train…
That was a short but scenic train ride from Spiez to Interlaken West. From here you can:
Continue on the train to Interlaken Ost
Ride a bus to somewhere nearby
Hop on a boat to cruise Lake Thun
Or walk. 
In fact, our Ultimate Guide to Swiss Transportation tells you how to do all of that and more! So if you want to ride Swiss transportation like a pro and avoid making the same mistakes we did on our first trip here, then check out our Ultimate Guide to Swiss Transportation today. And we'll see you in Switzerland — riding the trains like a pro!