Which Swiss chocolate should you buy on your next Switzerland vacation? Blindfold on, mouth open: We tasted 6 different brands of dark and milk Swiss chocolate…some are out of this world, some are boring, and some are just plain good. Keep reading to discover which Swiss chocolate you should try next!
---
Prefer to WATCH instead of read?
Join 22,000+ subscribers who use our YouTube videos to travel Switzerland with confidence! That means less indecision, planning time, and wasted money.
---
What is Switzerland famous for?
What is Switzerland famous for? Swiss watches, Swiss cheese, Swiss army knives…and SWISS CHOCOLATE of course!
Of all the famous Swiss food (like fondue and rösti and alp cheese), Swiss chocolate ranks at the top for many tourists. Some are even bold enough to claim that Swiss chocolate is the best chocolate in the world — and we may agree! We've lived in Interlaken, Switzerland for the past 2 summers, which means we've enjoyed our fair share of chocolate.
Obviously you're reading this Swiss blog because your mouth is watering over the creamy, melt-in-your-mouth combination of cocoa and butter. So let's get to the good stuff — the actual chocolate!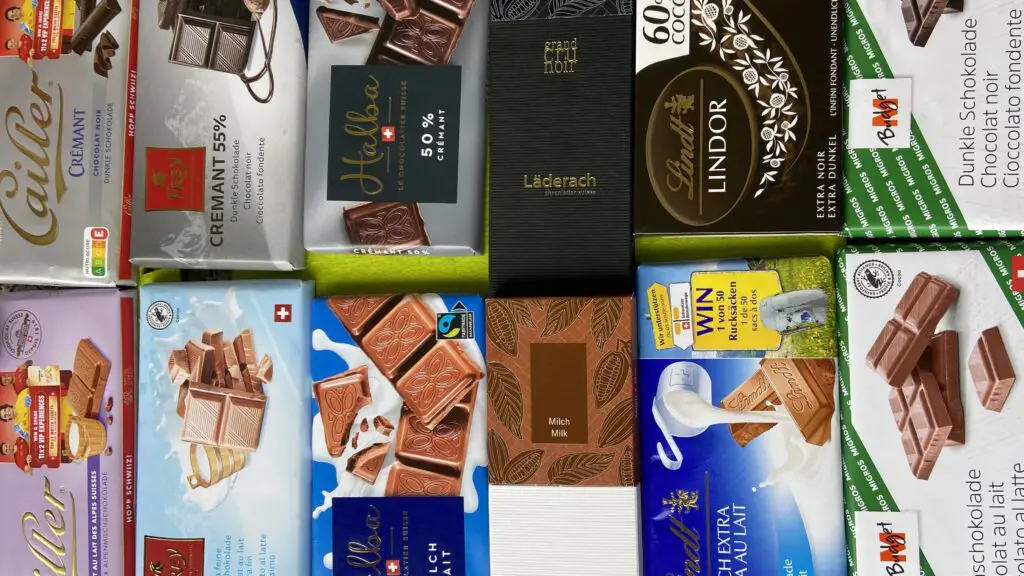 What is Swiss chocolate?
First, it is classified as chocolate that is produced in Switzerland. The cocoa beans are imported, often from Africa, but the milk is fresh from cows grazing in the Swiss Alps! Swiss chocolate is also characterized by a higher percentage of cocoa butter and alpine milk.
Tasting the Best Chocolate in Switzerland
We experimented with a blind taste test to sample some of the best Swiss chocolate and rank the best Swiss chocolate brands. Here's how it worked:
We each blind taste tested and picked our favorite dark chocolate, milk chocolate, and overall Swiss chocolate champion.
Jana tasted first, so Brett randomly drew a number out of the hat. 
Jana smelled the chocolate-y aroma before taking a bite — but couldn't touch the chocolate at all.
After each taste, Jana ranked the chocolate's standings, and then cleansed her palate using "very expensive" Swiss mineral water (just kidding—it was the store brand 😉 ).
Brett continued drawing numbers and Jana continued tasting until she tried all of the dark Swiss chocolates. 
At the end of the round, Jana got to see which one was her favorite!
Then we swapped roles for the remaining Swiss chocolates.
We combined our rankings so you can actually see both of our Swiss chocolate rankings at the same time here on this blog. 
The Best Chocolate Brands in Switzerland 
How did we pick these Swiss chocolate brands? Well, we found 1 luxury brand, 2 internationally-known brands, 2 lesser-known brands that were easily found in a grocery store, and then 1 affordable grocery store brand.
Lindt Chocolate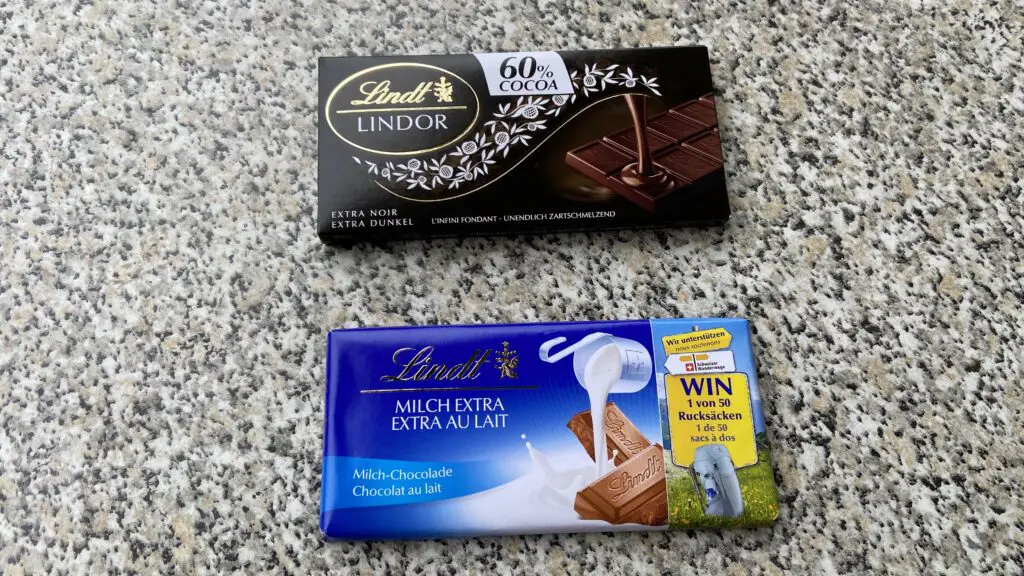 It's no surprise that you can find Lindt chocolate in nearly every grocery store in Switzerland. There are seemingly endless Lindt chocolate flavors to choose from! But one of the biggest factors that sets Lindt chocolate apart from other Swiss chocolates is its creamy, melt-in-your-mouth satisfaction. 
Rudolph Lindt was making chocolate in 1879, but accidentally forgot to turn off one of the machines before leaving on Friday evening. He returned on Monday morning to find not a disaster, but the smoothest chocolate he had ever tasted! The extensive time combining the cocoa mass, cocoa butter, milk, sugar, and other ingredients was the key to melt-in-your-mouth Swiss chocolate. 
Our Lindt Chocolate rankings:
Lindt Dark Chocolate: #1 for Jana, #1 for Brett
Lindt Milk Chocolate: #2 for Jana, #6 for Brett
---
Läderach Chocolate
When you're walking down the main street of Interlaken, Switzerland, you'll notice the Läderach Chocolate Store. Don't hesitate to swing open the door and cross the threshold. Your nose will be greeted with a chocolate-y aroma while your eyes gaze on bar upon skinny bar of this luxury Swiss chocolate.
This was the most expensive Swiss chocolate we sampled (5.90 CHF per bar), and maybe the most notable since Läderach boasts the world's best chocolatier, according to the World Chocolate Masters. Läderach has some of the best chocolate in the world…and our rankings seem to agree with that!
Our Laderach Chocolate rankings:
Laderach Dark Chocolate: #2 for Jana, #2 for Brett
Laderach Milk Chocolate: #3 for Jana, #2 for Brett
---
Cailler Chocolate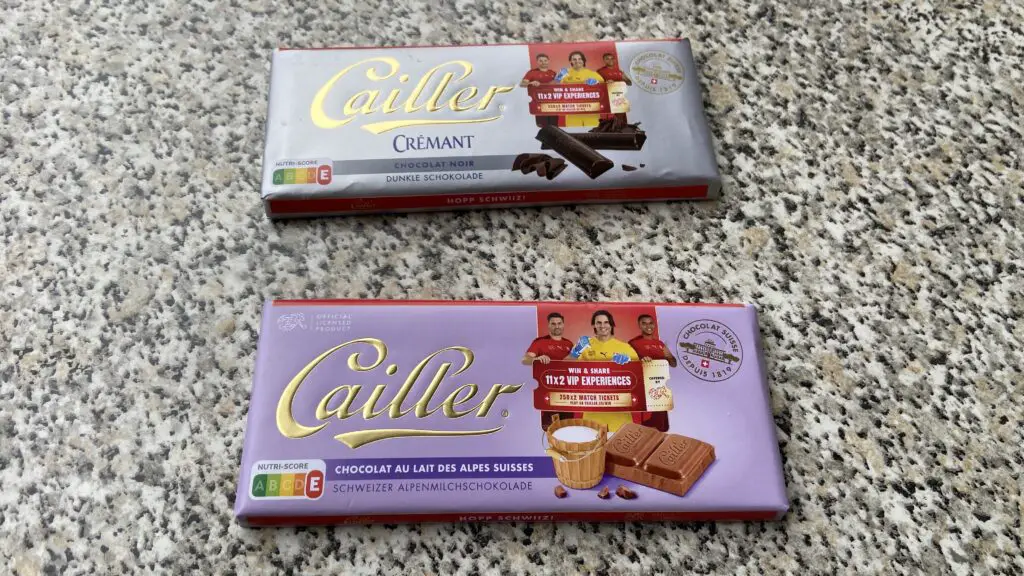 Meet Switzerland's oldest chocolate brand, the ones who made the first chocolate bar, the ones who invented milk chocolate, and the only Swiss chocolate producers who use condensed milk instead of milk powder in their chocolate. 
But do all of those accolades translate to really good Swiss chocolate? Well, we had mixed reviews! 
Our Cailler Chocolate rankings:
Cailler Dark Chocolate: #4 for Jana, #4 for Brett
Cailler Milk Chocolate: #5 for Jana, #1 for Brett
---
Frey Chocolate
Maybe you're like us and you'd never heard of Frey Chocolate before your trip to Switzerland. But once you take a bite of their milk chocolate, we think you'll be swayed! It's creamy, nutty, and coats your mouth with the cocoa flavor you expect from world class chocolate (well, the milk chocolate, at least!) 
For more than 130 years, Frey Chocolate has blended their chocolate passions and traditions with premium ingredients. Yet this approachable Swiss chocolate brand is easily found in many grocery stores. 
Our Frey Chocolate rankings:
Frey Dark Chocolate: #6 for Jana, #6 for Brett
Frey Milk Chocolate: #1 for Jana, #5 for Brett
---
Halba Swiss Chocolate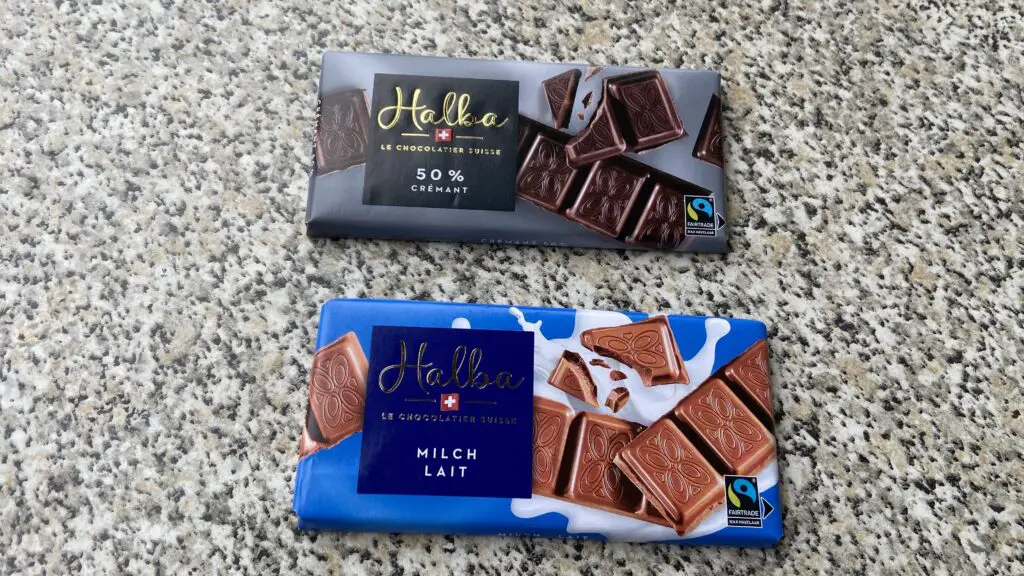 Like Frey chocolate, Halba Swiss chocolate is not as popular as Toblerone or Cailler or Lindt — but that doesn't mean it isn't tasty! In fact the milk and dark Halba chocolate earned the most consistent rankings from both of us. Plus, we can't argue with Halba's first place title as one of the most sustainable chocolate companies in the world!
They sell 20,500 tons of chocolate per year, mainly distributed through their partnership with Coop grocery stores. In fact, that's where we bought our Halba Swiss chocolate from in Interlaken!
Our Halba Chocolate rankings:
Halba Dark Chocolate: #3 for Jana, #3 for Brett
Halba Milk Chocolate: #4 for Jana, #4 for Brett
---
Migros Swiss Chocolate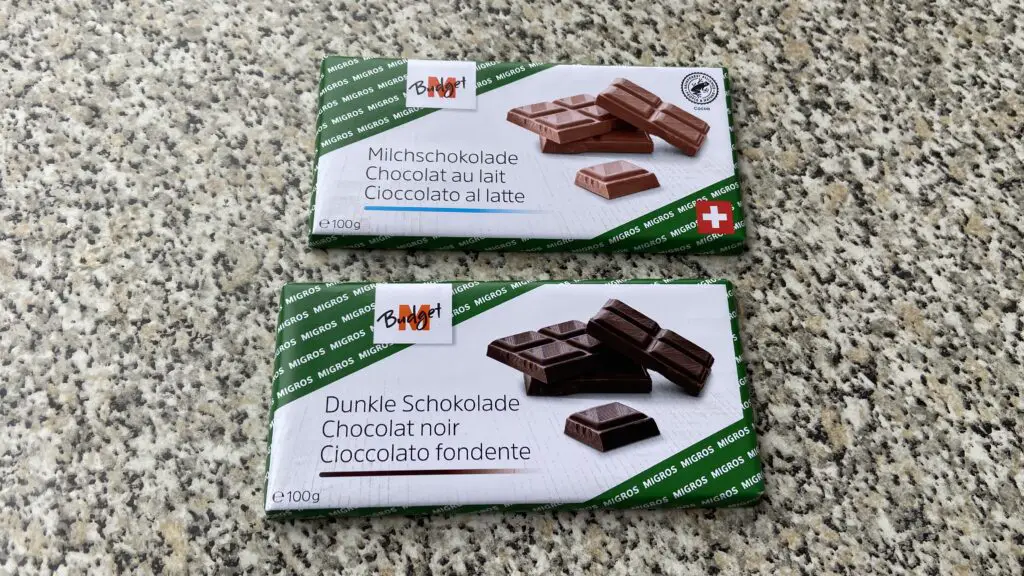 Coming from a grocery store near you is Migros Swiss chocolate! To round out our list of Swiss chocolate brands, we wanted to include a cost-effective store brand. We bought it for only 0.50 CHF per bar — that's a steal! We were rooting for this underdog to supercede the opponents…did it earn a place on our Swiss chocolate podium?
Our Migros Chocolate rankings:
Migros Dark Chocolate: #5 for Jana, #5 for Brett
Migros Milk Chocolate: #6 for Jana, #3 for Brett
---
Buy THIS Swiss Chocolate on your Switzerland Vacation
Obviously we're not well-trained chocolatiers or world-class taste-testers. But according to our small sample of Swiss chocolates, here's what we think you should buy on your next trip to Switzerland! 
Dark chocolate: Lindt
Milk chocolate: Läderach
Best Swiss chocolate brand: Läderach
---
Switzerland Facts: Swiss Chocolate
And let's end this discussion with some fun facts about Swiss chocolate, because then your brain and tastebuds can work together!
The Guinness Book of World Records for world's most expensive chocolate is from Attimo Chocolate in Zurich 
Cailler is the oldest chocolate company in Switzerland, founded in 1819.
Cailler also made the first chocolate bar.
Nestle (who owns Cailler) made the largest chocolate firework (and yes, they exploded it too!)
Lindt developed the first melt-in-your-mouth kind of chocolate (using the "conching" method)
Lindt's golden-chocolate easter bunny has copyright protection.
Swiss people eat approximately 11.3kg/24.9lbs of chocolate per year. That's more chocolate per capita than anyone else!
Switzerland is one of the world's biggest chocolate producers, and 70% of all Swiss chocolate is exported.
The triangular shape of Toblerone references the shape of the Swiss mountains.
The Swiss chocolate industry employs more than 4000 people.
The Swiss have even created lab-grown chocolate…although it hasn't taken off yet.