If you're a foodie looking to eat and drink your way through Interlaken without spending a fortune, then you've come to the right place. Here are 15 foods to try during your trip to the Jungfrau Region. 
We've got all the major food groups covered: coffee, cake, beer, cheese, and meat, plus a few more treats just to make sure you're satisfied. But we're not just telling you what to eat—we're going to show exactly where to find all the tasty goodness.
In fact, if you follow along using our custom map, then you can save these spots on your own Google map and follow this tour on your next trip to Switzerland.
Grab the FREE MAP! What & Where to Eat in Interlaken
Prefer to WATCH instead of read? Here ya go!
Note: Of course you should try Swiss cheese fondue or raclette, and rosti or the Berner Oberland Plate—that kind of Swiss food is worthy of a taste! However, we've spent the past 2 summers living in Interlaken, Switzerland, and these are our favorite local spots for local treats. Enjoy!
---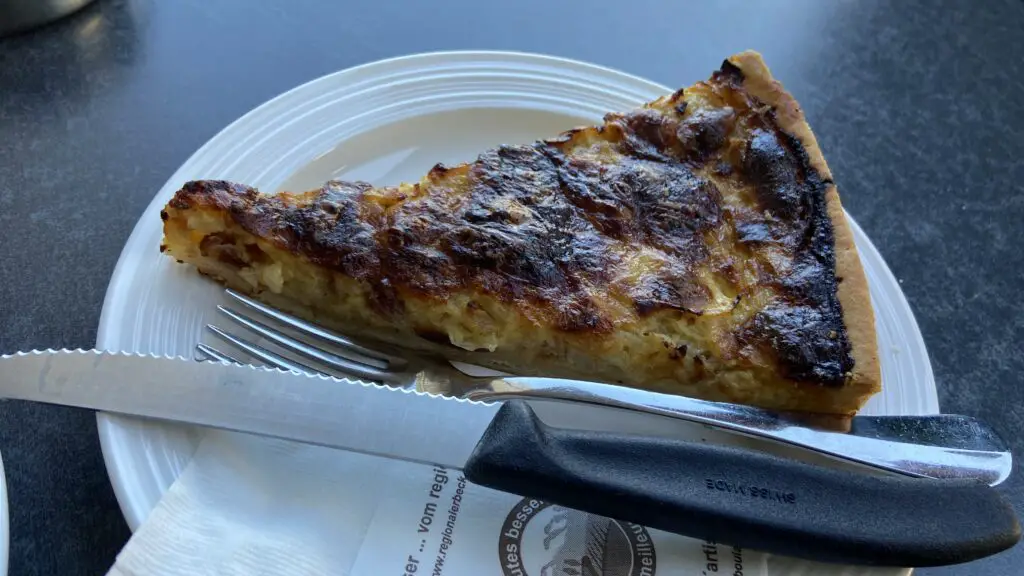 1 | Quiche at Steininger in Matten
Our first recommendation is the quiche from Steininger, the very first bakery we ever visited in this area, and we keep coming back again and again. It's located in Matten, just a short walk or bus ride from Interlaken.
While there are lots of tasty treats to try, we just can't stay away from the quiche. They have plain cheese, cheese with spinach, and cheese with onions and bacon. They are all delicious, but our taste buds find it really hard to beat the one with cheese and onions and bacon. 
"It's so cheesy…Even cheesier than a bad dad joke!" –Brett
But seriously, we don't know what kind of cheese gives it a creamy yet substantial texture. And the onions ensure there is a bit of crunch while the bacon, well, that provides the bacon flavor!
---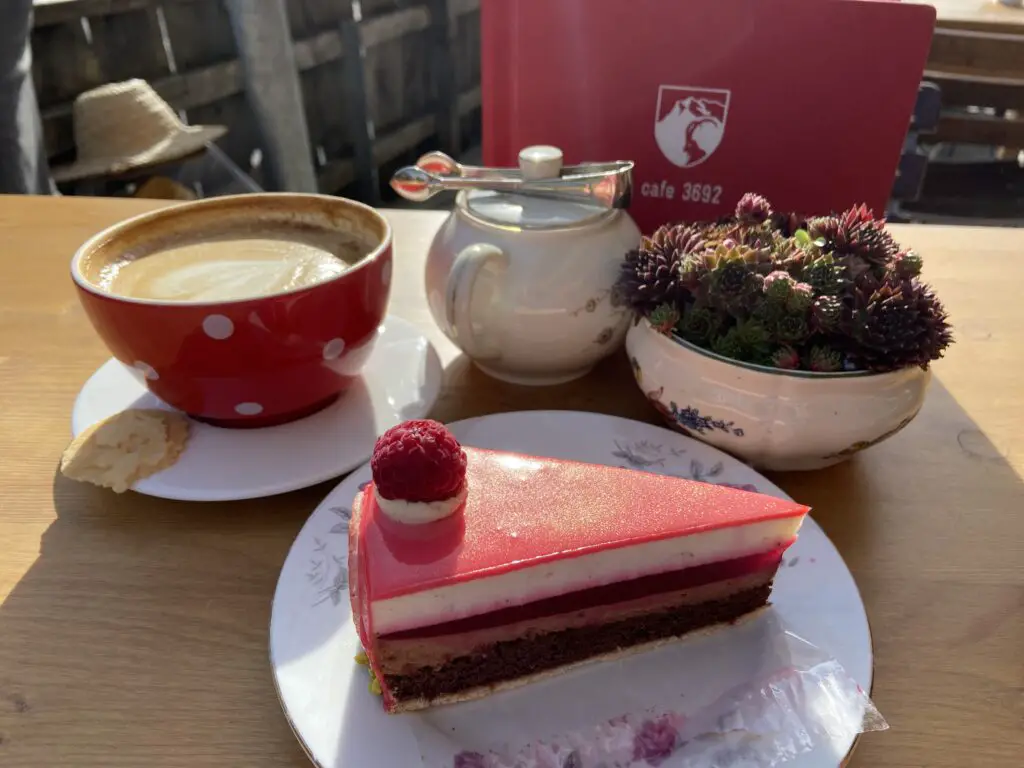 2 | Cake at Cafe 3692 in Grindelwald 
Dorfstrasse in Grindelwald is one of the most touristy streets you'll find in the entire Swiss Alps. But sneak away from it all by going just up the hill to indulge in a piece of cake at Cafe 3692.
All of the artisan cakes here are made with love by a local baker who seriously makes some of the best cakes we've ever tried. (They are mighty pretty too!) There's always a different selection every time we come, but so far Brett's favorite is the Irish Cream cake and Jana's favorite is the strawberry lime cake.
While your belly enjoys a sweet treat, let your eyes feast on the ridiculous view from the terrace, including: the Wetterhorn, Schreckhorn, and the Eiger North Face.
Actually, Cafe 3692 get's it name from the elevation of the Wetterhorn, 3692 meters. 
You're not going to want to unglue your eyes from these views, but don't skip the inside of this cafe. The owner is also a carpenter who has beautifully decorated the interior with unique wooden designs—including the bathroom doors and the ceiling!
---
3 | Coffee & American Breakfast from Velo in Interlaken
Having spent a lot of time in Italy, my (Brett) level of coffee snobbery has gone through the roof. Which means it hasn't been easy to find good coffee in Switzerland. 
So if your expectations for coffee are higher than your heart rate after a Starbucks venti mocha latte (yikes!), then you'll love the coffee at Velo Cafe in Interlaken.
Velo's coffee is Italian style, unlike many cafes around here that use a glorified Nespresso machine and charge 6 francs for it. There is also a fantastic American breakfast spread and vegan food…that often doesn't taste vegan!
The owner, Rob, is a friendly and energetic guy who continuously works to improve the coffee, the vegan and vegetarian food, the vibe, and the overall customer experience. Stop here for a coffee, and say hello to Rob for us!
---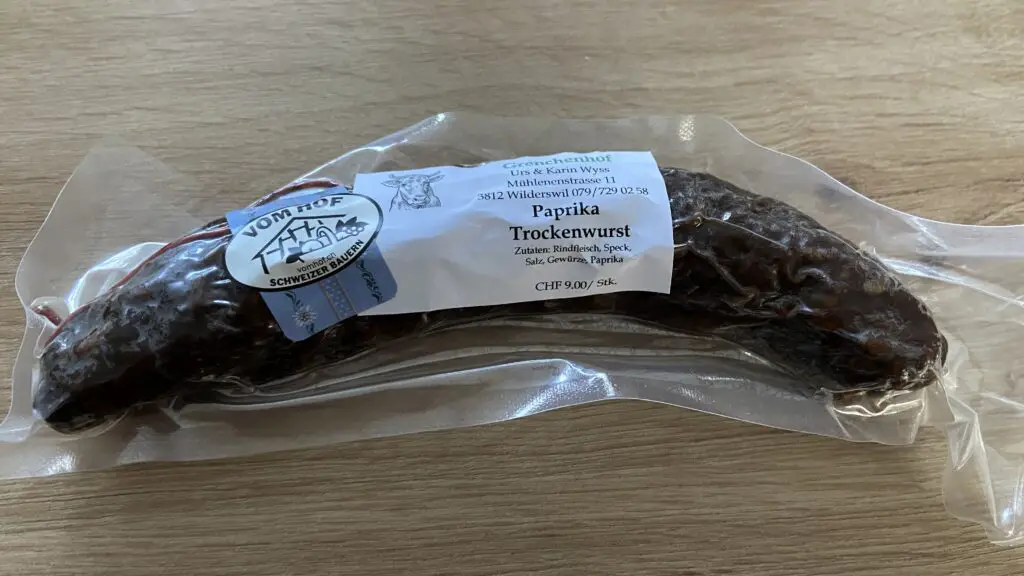 4 | Sausages from a Farm fridge in Wilderswil
Growing up in the U.S., we rarely thought about where our food came from. But when you walk around here, you're literally looking at it!
There's nothing quite like the taste you get from eating local and fresh, so stop by a farm fridge to try some sausage. We love the one on the edge of Wilderswil because of the variety: there are usually sausages with paprika and garlic, as well as a dark sausage (which we haven't figured out the name of). And there's even an entire freezer of more beef!
When you visit a farm fridge, bring your cash and coins. Pick out the items you want, add up the total, then leave your money in the box or basket. This one has plenty of extra coins so you can make change for yourself, but not all farm fridges have a change basket so coins are always helpful.
Local sausage is always a great addition to a charcuterie board or perfect for a picnic with a view!
---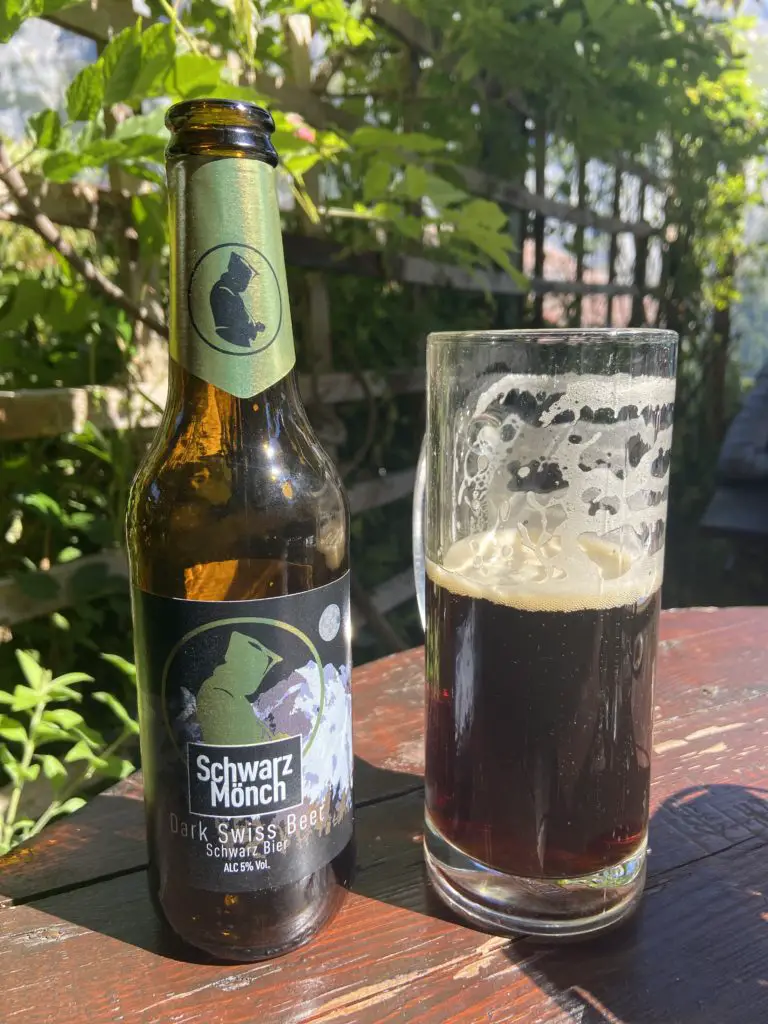 5 | Schwarz Mönch Beer at Pension Gimmelwald in Gimmelwald 
From the tiny village of Gimmelwald comes a world famous beer—Schwarz Mönch—which you'll find at Pension Gimmelwald.
This beer reigned as the king of dark lagers for a few years, ranking #1 in the world on a beer rating app called Untappd.
One of my favorite ways to enjoy a day in the Swiss Alps includes a long hike that ends in Gimmelwald, and then relaxing with a glass of Schwarz Mönch on the panoramic terrace. It's hard to imagine a more beautiful spot, or a more refreshing beer.
Be sure to check out this itinerary (video and blog) later if you wanna see our favorite 1-day itinerary for a hike that ends with a Schwarz Mönch beer!
---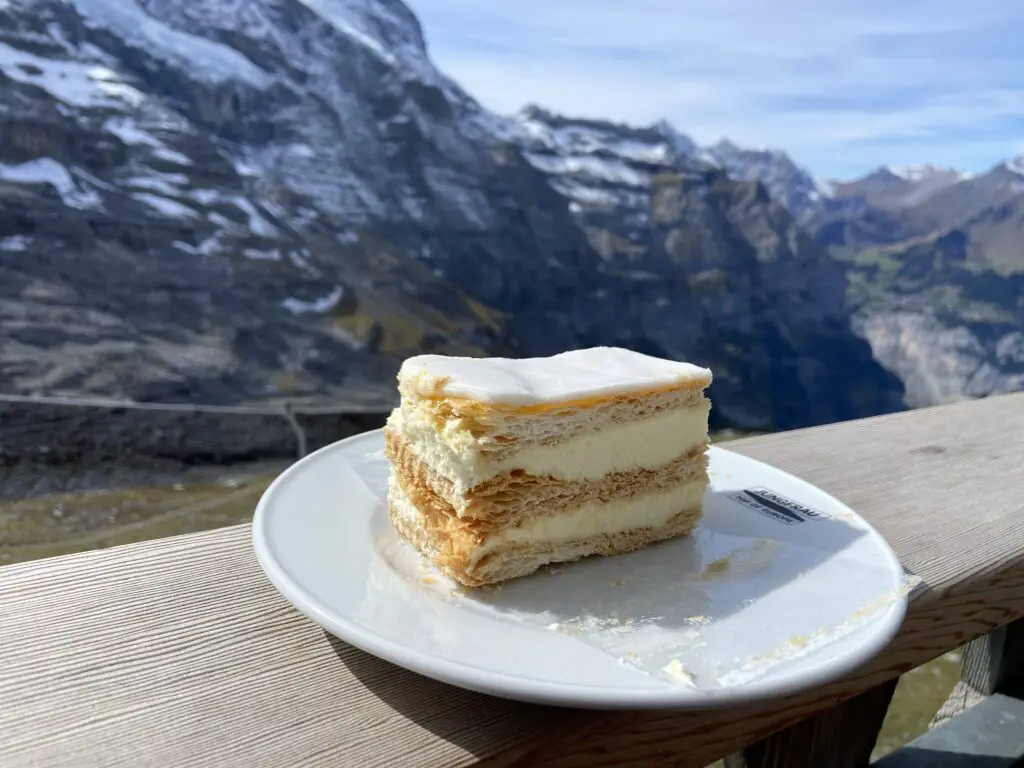 6 | Rahmschnitte (cake) at Restaurant Eigergletscher in Eigergletscher 
For most people, Eigergletscher is just a necessary stop on the way to visit Jungfraujoch. But if you simply pass through, you'll be missing a dramatic view—and a tasty local pastry!
Head through the Eigergletscher Restaurant to the back deck. Because honestly, if there's a restaurant that gets you closer to these mountains, we're not sure what it would be! You're literally perched at the base of the Eiger, Mönch, and Jungfrau with snow fields and waterfalls all around you.
Once you find a table with a view, order a rahmschnitte. This creme cake is so light and flaky, it's impossible to resist. There's a similar version that's become very famous on Lake Bled in Slovenia, but this one here comes with an alcoholic twist since there's rum in the icing.
So whether you're on your way to or from Jungfraujoch, or simply here for a great hike, Eigergletscher restaurant is worth your time!
---
Wanna eat this Swiss Food?
---
7 | Älpler Cappuccino at Cafe 3692 in Grindelwald 
We know we already mentioned the cakes here, but the coffee is so good it's worth a mention too. And this drink in particular is special.
It's a giant cappuccino served in a bowl. Yes, a bowl! An älpler is a herdsman or an alpine farmer. And a person who does that tough work deserves a drink like this.
We know you're not exactly an älpler, but you'll be working hard, too, hiking in these mountains. So channel your inner herdsman and enjoy an Älpler cappuccino at Cafe 3692.
---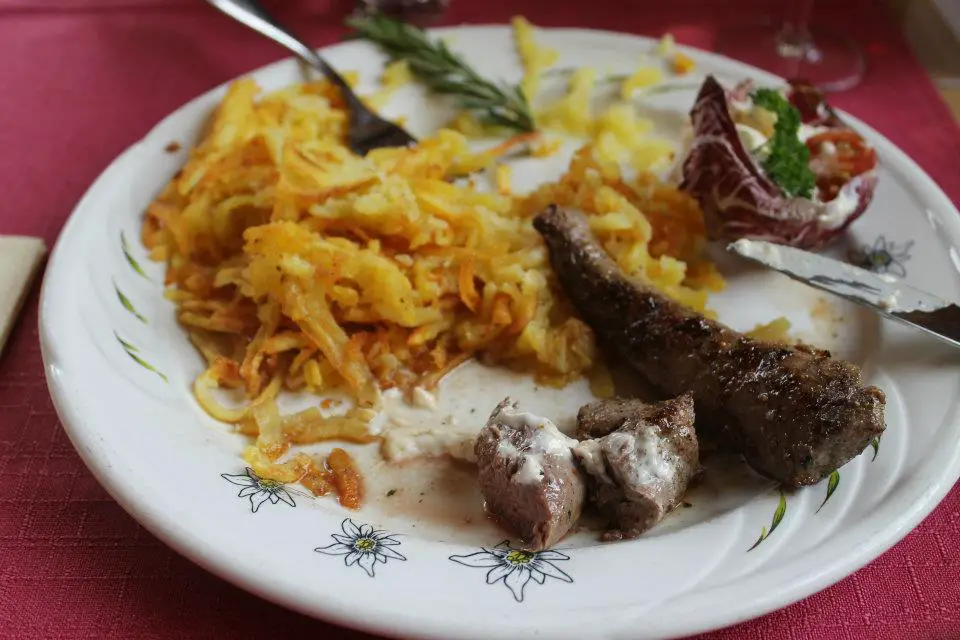 8 | Lamb fillet at Stagerstubli in Mürren
We don't eat out at restaurants in Switzerland very often because they can be a real budget buster. But there's one particular Swiss restaurant in Mürren we've been to at least 5 times.
Stägerstübli has a lamb fillet that definitely deserves a spot on this list. The tender lamb and flavorful spices melt in your mouth. But the addition of garlic mayo on the side—I mean, come on!
Most of our recommendations revolve around cafes and bakeries. But if you're looking to enjoy a nice dinner in a beautiful Swiss village, head straight to Mürren and order the lamb fillet at Stägerstübli!
---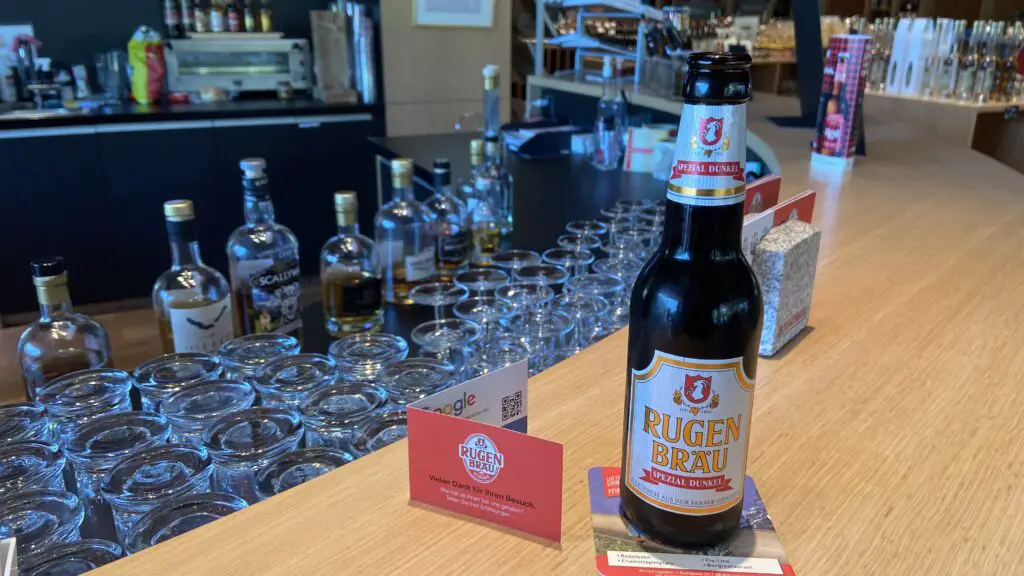 9 | Drinks (beer, whisky, gin) at Rugenbräu in Matten 
Rugenbräu is a brewery and a distillery that produces about a dozen different beers, half a dozen whiskies, a couple gins, and some beer schnapps.
Brett's favorite beer is the Dunkel, and his favorite whisky is the Rock Label. And though they're sold out of it this year, they even make an Ice Label whisky that's aged for 7 years in the ice way up at Jungfraujoch. Prost!
---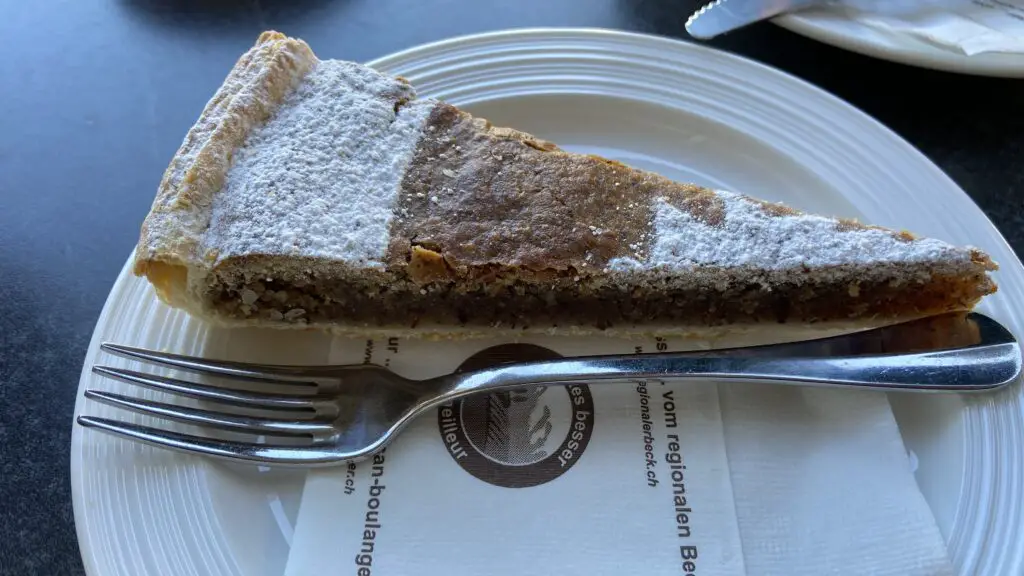 10 | Hazelnut Cake at Steininger in Matten
We have to take you back to Steininger one more time to show you the haslikuche, or hazelnut cake!
Brett has way more of a sweet tooth than me, but I appreciate a dessert that has just the right amount of sweetness without sending me into a sugar crash. And this moist cake has achieved that balance.
You'll find hazelnut cakes and lots of other hazelnut pastries all over the area. But we have yet to find one as good as this one here at Steininger!
---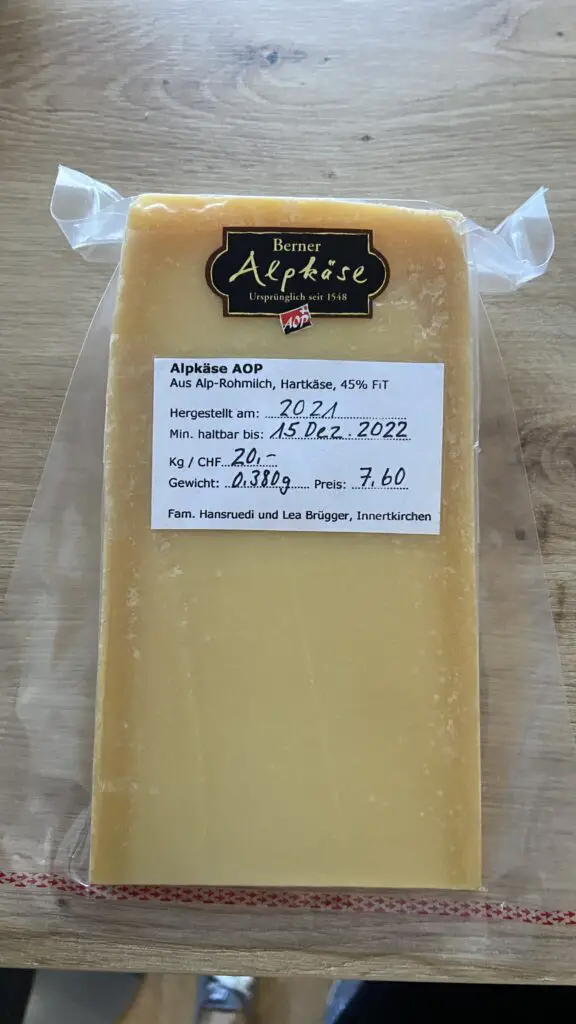 11 | Alp Cheese from a farm fridge in Wilderswil
When we told you about buying sausage from a farm fridge earlier, you didn't think we'd leave it at that, did you? No charcuterie board is complete without cheese! So number 11 on our list is alpkäse or alp cheese from a farm fridge.
During the summer, cows are taken into the alps to graze at higher elevations, while fields down below grow extra hay for the winter. The milk the cows produce during this season is used to make alp cheese which has a different taste from the cheese produced at lower elevations—due to the grass, wildflowers, and other things they eat up in the alps!
In fact, Swiss cheese even tastes different depending on where the cows graze, so we think it's a fun experience to sample cheese from a few different alps (and therefore, a few different farm fridges).
---
12 | Cinnamon rolls from A SECRET BAKERY
Since you're here, we will let you in on a little secret: the absolute best cinnamon rolls we've had in our entire lives can be found near Interlaken.
But the place to buy them is kind of a locals' secret, and those locals will probably not be happy if we spill the beans on where to find them. So in an effort to maintain good relationships, we're not going to share the name of it here in this blog.
However…I heard that if you download our custom map, the name and location is pinned there 😉
Snag the custom map HERE!
Seriously though, these cinnamon rolls are layer after layer of gooey goodness! They're perfectly baked, with the ideal balance between a crunchy outside and a gooey inside, sweet sugar and savory cinnamon. And if you happen to find this local place and buy a cinnamon roll, something tells us you won't just buy one!!
---
13 | Zopf at Mohler in Unterseen
In Unterseen, just across the river from Interlaken, you'll find another bakery known for locals lined up in the morning. It's called Mohler, and our favorite thing to buy here is zopf.
Zopf is Swiss braided bread, and it's amazing with butter and jam (which can be purchased at a farm fridge or grocery store) or even all by itself.
And while you're here, pick up a bag of Kirschstängeli. They're Swiss chocolate balls filled with Kirsch (a local liquor), and they're one of Mohler's specialties.
---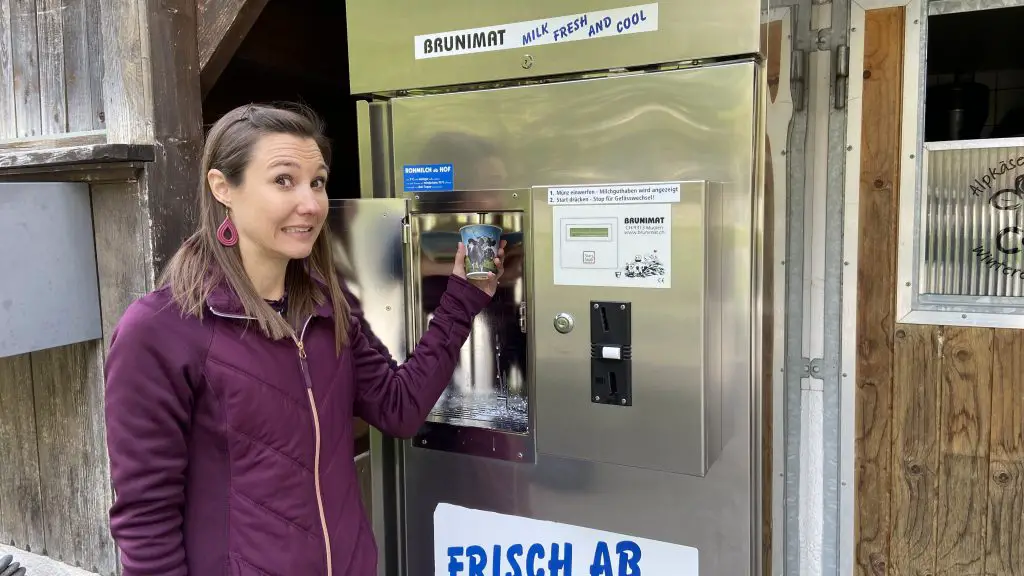 14 | Farm Fridge Milk in Lauterbrunnen
For our next stop we're taking you to Lauterbrunnen, but you could try this drink in just about every village: we're talking about milk from a farm vending machine!
The first time we tasted this stuff, it was as if we'd never drank milk before! It's so creamy, and I (Jana) was absolutely amazed that I could literally taste the grass and flowers the cows had grazed on. 
You should know that the milk is often unpasteurized, so if you do decide to try it, you might only want to have a really small amount. I had a little bit of potty probs after I tried it, but Brett was totally fine, and I still think it was worth it.
---
15 | James Bond Brunch at Schilthorn Piz Gloria
Number 15 is the high point of this list—literally. It's the James Bond Brunch way up at the Schilthorn. And there's so much to this experience that we made an entire blog and video about it.
We take you along for our James Bond Brunch in a revolving restaurant, and show you everything else you can do during your visit to the Schilthorn, including how much it costs and how to get there. Check that out next and we'll see you in Switzerland!
---
Don't forget the FREE map!