What do James Bond, a revolving restaurant, and the Swiss Alps have in common? The Schilthorn of course!
Here's everything you need to know before you visit the Schilthorn, including the views, the food, and the James Bond activities.
If we haven't met, we're Jana and Brett, Aplins in the Alps. We help you travel Switzerland with confidence by maximizing your travels and minimizing your planning time. And since there's a lot to see up here at the Schilthorn, let's get started!
Where is Schilthorn, Switzerland?
This famous mountain in Switzerland is located in the Bernese Oberland of the Swiss Alps. It's near Interlaken, Grindelwald, Lake Brienz, and Lake Thun. It's perched above Lauterbrunnen Valley, Mürren, and Gimmelwald.
From the top, there are 360° views of 200+ Switzerland mountains, including Jungfrau (a (UNESCO World Heritage site), Mönch, and Eiger, plus Mont Blanc in France.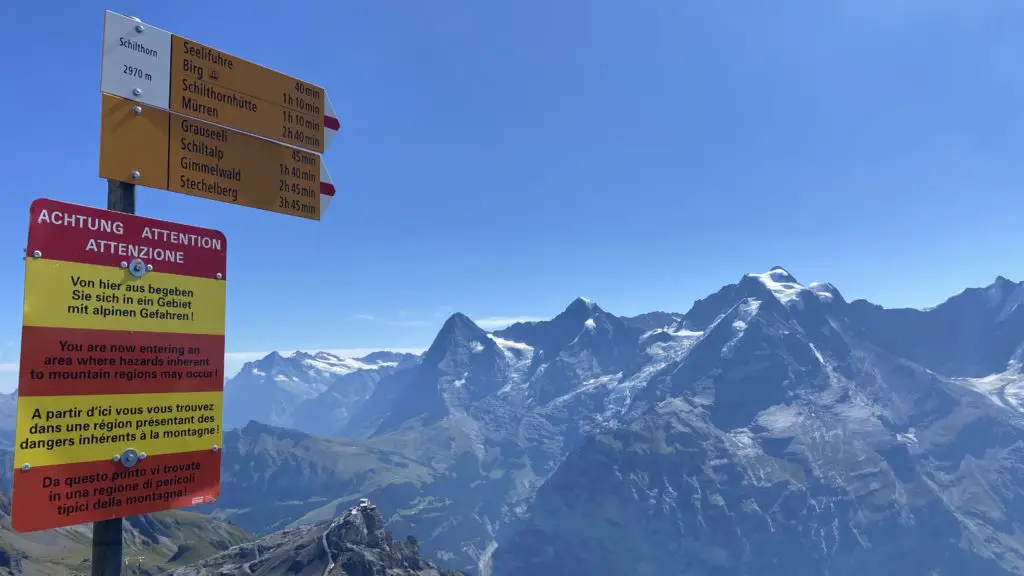 How to reach Schilthorn
There are 2 different ways to reach the Schilthorn from Lauterbrunnen Valley.
1 | BLM from Lauterbrunnen to Grütschalp to Mürren. However, if you come this way, you'll need to walk about 10-15 minutes through the village to reach the Schilthornbahn.
2 | Lauterbrunnen to Stechelberg to Gimmelwald to Mürren. You can ride bus 141 from Lauterbrunnen to Stechelberg, or drive and park your car there. The Schilthorbahn first opened in 1967 and was the world's longest aerial cableway at the time. The Schilthorn cable car runs from Stechelberg to Gimmelwald to Mürren to Birg to Schilthorn.
Both of these options deliver you to Mürren, where you'll ride the Schilthornbahn to Birg and then to the Schilthorn. 
In our opinion, the easiest option is from Stechelberg to Schilthorn, which is only a 32 minute ride (and lifts run every 30 minutes—sometimes every 15 during peak season).
If you've already purchased our 1-Day Guide Near Mürren Bundle, then you can view the updated time tables in your spreadsheet!
Discounted Tickets to Schilthorn
Here's the thing, Switzerland train tickets can be expensive. Thankfully, buying a Swiss Train Pass can really help!
For example, the standard adult roundtrip ticket from Stechelberg to Schilthorn costs 108 CHF.
— If you have a Eurail, Interrail, Top of Europe, or Jungfrau Pass, you get 25% off this trip, dropping the price to 81 CHF.
— But the Swiss Half Fare Card drops that even further to only 54 CHF. 
— Or better yet, visit on your birthday and get a FREE roundtrip ticket! That's what Brett did last year and it was awesome.
— And by the way, if you have kids, definitely ask for the complimentary Swiss Family Card (free if you hold a Half Fare Card or Swiss Travel Pass) because then your kids can ride to the Schilthorn for completely FREE!
Don't know which Swiss rail pass will save you the most money? Download our free checklist!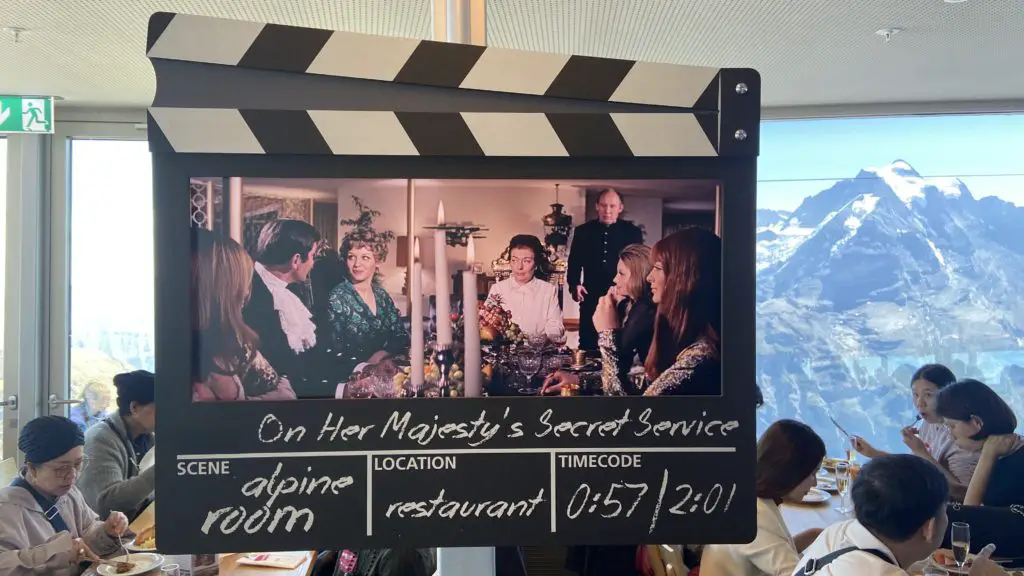 James Bond at the Schilthorn
Riding a cable car to the top of a mountain in the Swiss Alps is already pretty amazing. But to make it even cooler, they built the world's first revolving restaurant at nearly 3,000 meters in altitude! 
Obviously, that was cool enough for James Bond (George Lazenby) to film On Her Majesty's Secret Service here in 1968. Now more than 3 million people visit the Schilthorn every year for the views, the restaurant, and, well, just because James Bond was here. 
But here's what else you can do at the Schilthorn!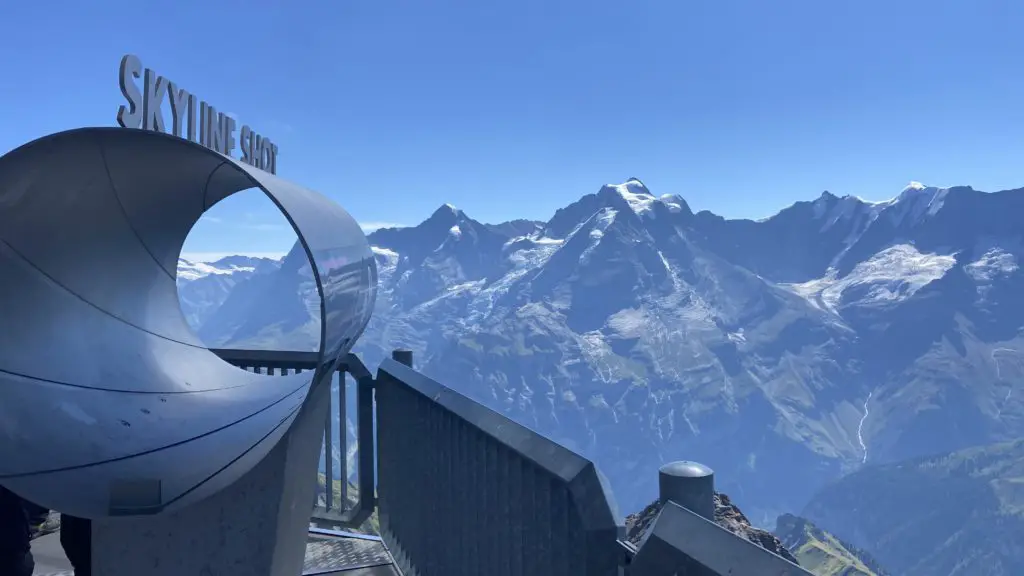 Skyline View Platform
When you first come up here, you can't help but admire the 200+ Switzerland mountain peaks, many of which have snow year round. Of course you can see the iconic trio of the Jungfrau (a UNESCO World Heritage site), Mönch, and Eiger. If the skies are clear enough, you can even view the Mont Blanc in France and the Black Forest in Germany! (They have fantastic signs to help you see where each of these mountains are.)
Wander around the entire platform because it nearly wraps completely around the building, with plenty of spots for viewpoints and photos.
A Note About Switzerland Weather
The daily temperature can definitely fluctuate, so bring a jacket when you venture up here. In fact, the Schilthorn weather averages around 8°C / 46°F. The sun makes it feel warmer while clouds or a cool breeze make it feel even chillier.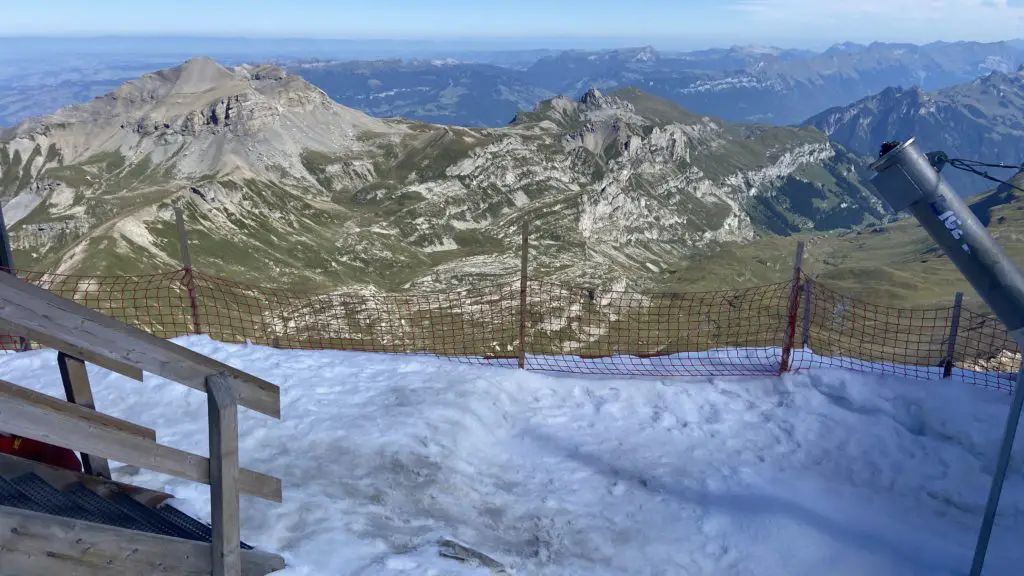 Snow
The cold weather also explains why you can see a small pile of snow stored beside the observation platform. There are 2 snow depots where they store snow year round. And it may just appear like a tiny hill, but there's enough snow on Schilthorn and Birg to fill up about 20 Olympic-sized swimming pools!
Step down into the snow from the observation platform. Don't hesitate to form a snowball or make a snow angel! (Glimpse the bigger snow field down at Birg, too.)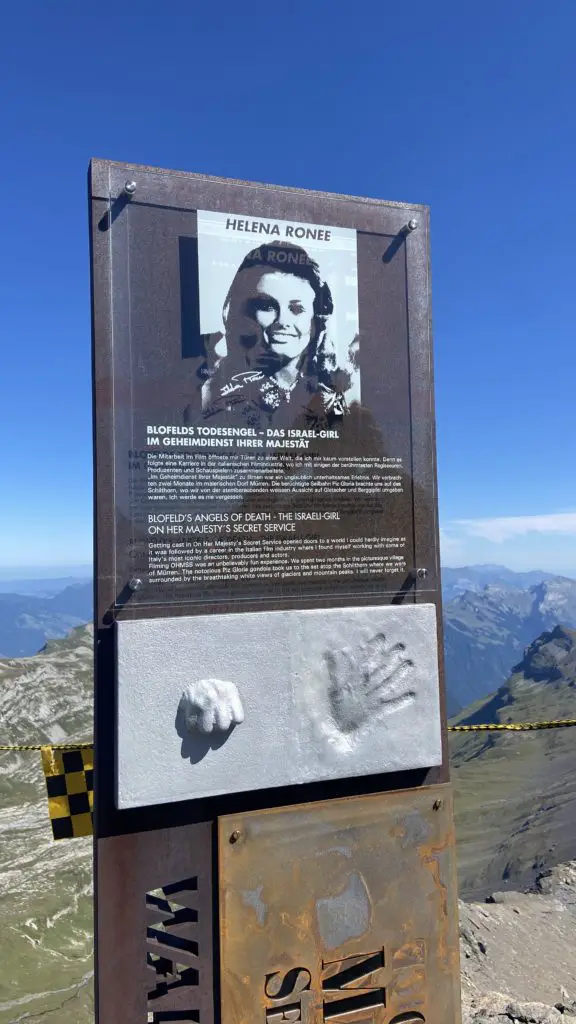 Walk of Fame
If you've ever wanted to fist bump James Bond, now is your chance! Head down the steps to the Walk of Fame, a short walk with 15 information panels about the cast of James Bond On Her Majesty's Secret Service.
Each tall brown panel features a picture of the actor/actress, their personal signature, a handprint with a personal message, and a fist to fist bump.
If you're like Jana, then you enjoy learning interesting things. For example, one of these panels explained how the late Queen of England is actually a Bond Girl!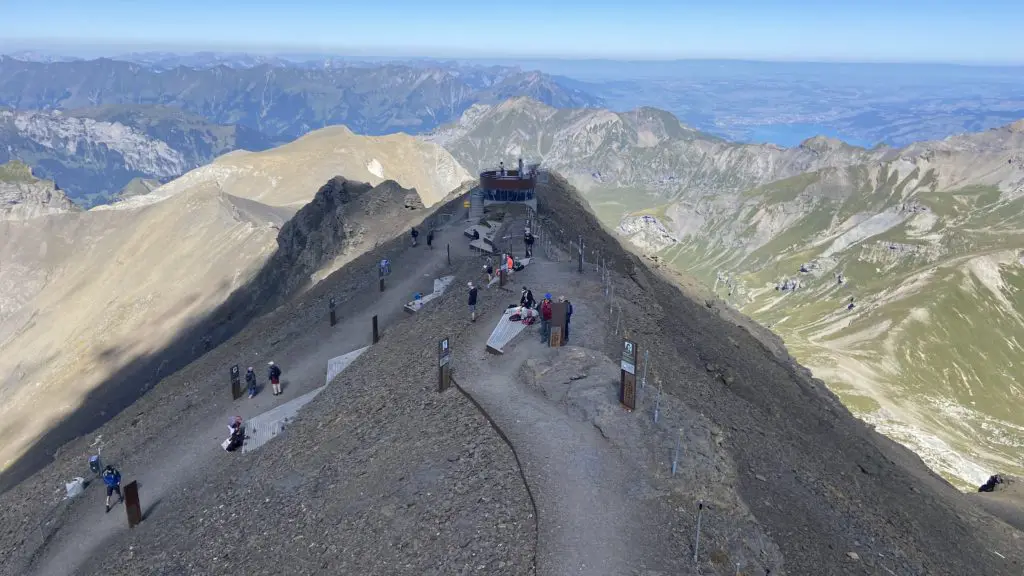 Piz Gloria View
Visit the Piz Gloria View — because 1 observation platform isn't enough! The Skyline View Platform provides a view of the Swiss mountains, while this one delivers a glimpse of the Piz Gloria with the Swiss Alps surrounding it. Talk about a panoramic terrace!
And if you forgot your camera, this has a souvenir photo opportunity where you can buy your pictures online!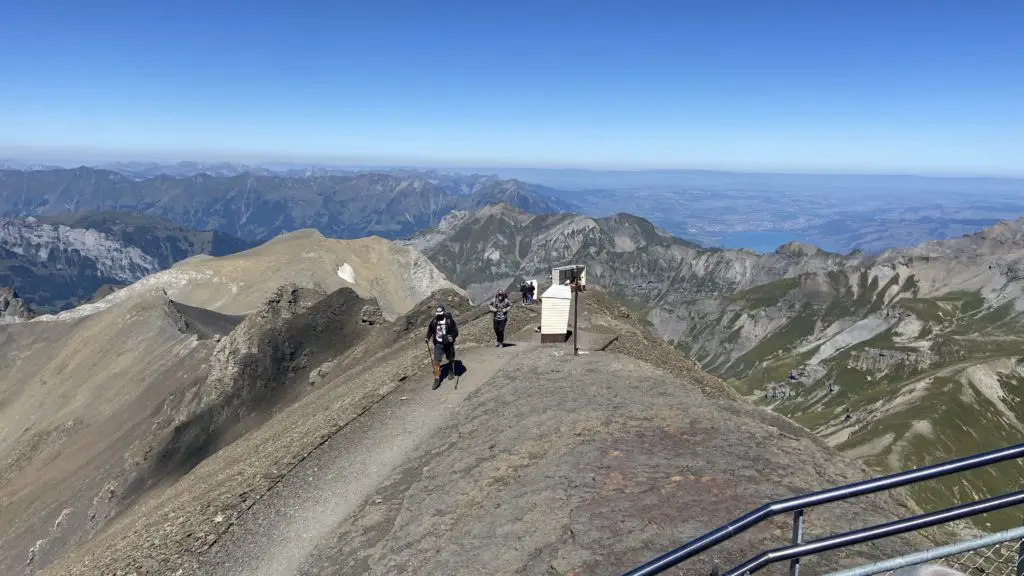 View Lounges
See those bright wooden boxes beyond the Skyline View Platform? Those are actually benches!
Pass through the gate and walk carefully along the ridge toward a bench. Each one faces a different direction so you can pick your preferred view!
Cozy up on a bench with captivating panoramas. But if it's a sunny day, you might get warm enough to shed your jacket. And don't forget your sunscreen since we're at 2970m/9744 feet in elevation!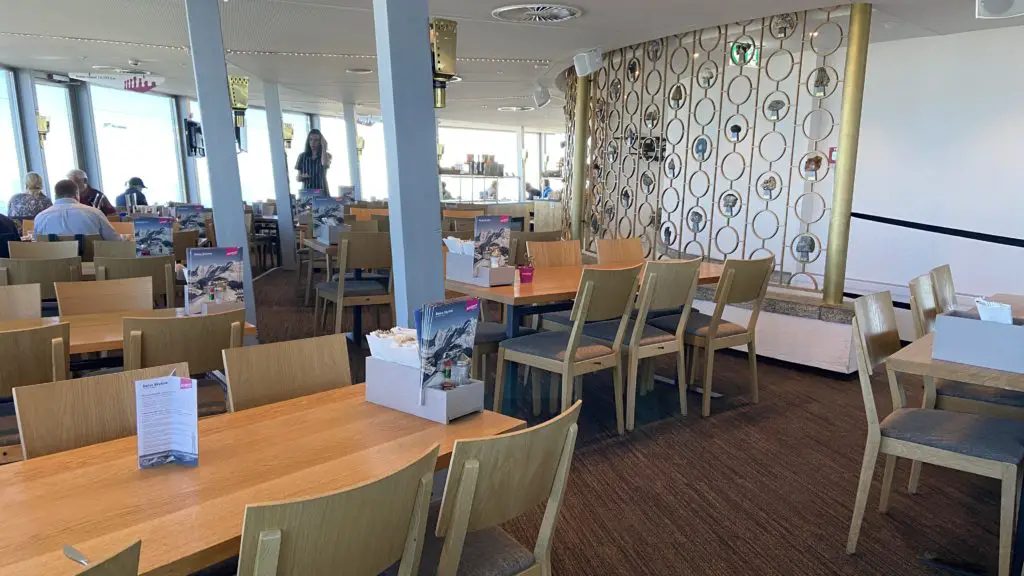 Piz Gloria Restaurant
Piz Gloria isn't your ordinary restaurant — because it spins! It's kinda like a donut where the outer ring of the restaurant rotates but the center remains stationary. Don't worry about getting dizzy; it takes 45 minutes to complete one rotation. It's slow enough to walk on and off of the rotating part and moves fast enough to catch 360° alpine views.
Like most restaurants, Piz Gloria has a standard menu, but most people visit here for the James Bond Brunch, Piz Gloria afternoon platter of regional meats/cheese/wine, or 007 Burger.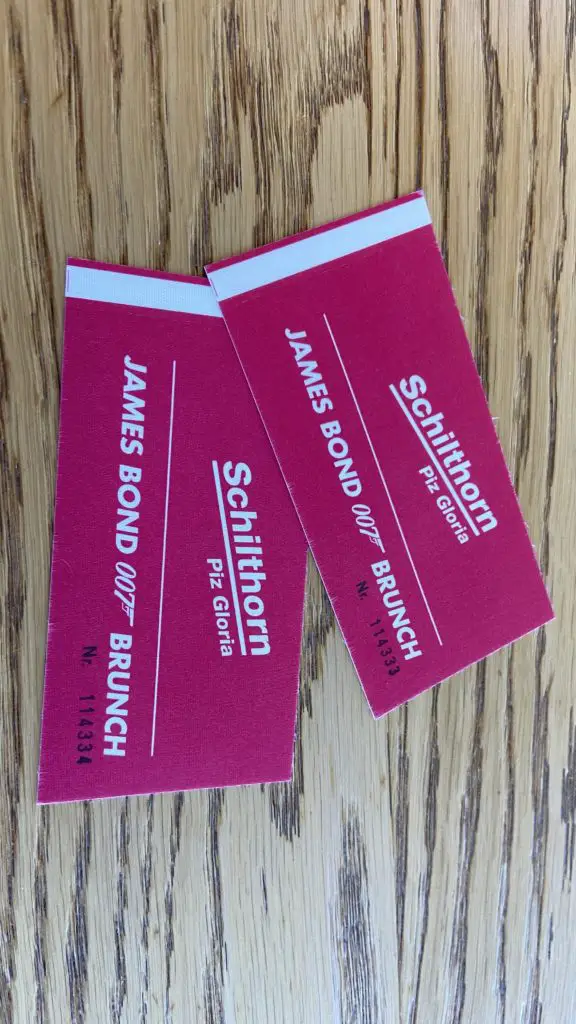 James Bond Brunch
Before you visit Schilthorn Piz Gloria, make a reservation online. The tables can fill up quickly, and sometimes making a reservation means you get a window seat for unobstructed views. No matter when you book, you'll have a table for 90 minutes, which is 2 complete restaurant rotations! 
Tip: Follow our 1-Day Guide to Mürren to learn about the best time to visit the Piz Gloria revolving restaurant!
The James Bond Brunch is a breakfast buffet from 8am-11am and then a lunch buffet from 11am-2pm. You'll also find cold cuts of meat, cheese and fruit no matter when you enjoy this bottomless brunch.
After you check in for your reservation, they will take you to your table and give you a sticker. Place the sticker on your shirt and then you can go up to the buffet as many times as you'd like during your reservation.
Don't forget your table number, because your table will be in a different place every time you go to/from the buffet.
Our fav picks: the soft cheese, white sausage, braided bread, and cinnamon rolls!
Is the James Bond Brunch a good value?
— Adult = 35 CHF
— Kids 6-16 = 20 CHF
— Kids 0-5 = Free
— Save money by purchasing a combo lift + brunch ticket
We know that eating out in Switzerland isn't exactly a budget activity, but this self-service, all-you-can-eat buffet is a great deal and honestly the food is excellent! We have been here three times and every time it has been worth it — we even think James Bond would agree!
Schilthorn Bathrooms
Be sure to visit the bathrooms at the Schilthorn because they come with a 007 twist! Pay attention to what happens when you flush the toilet or wash your hands…but we won't give all the surprises away!
Honestly, the Schilthorn has carried the James Bond theme throughout the building, and the details are well-done — and entertaining!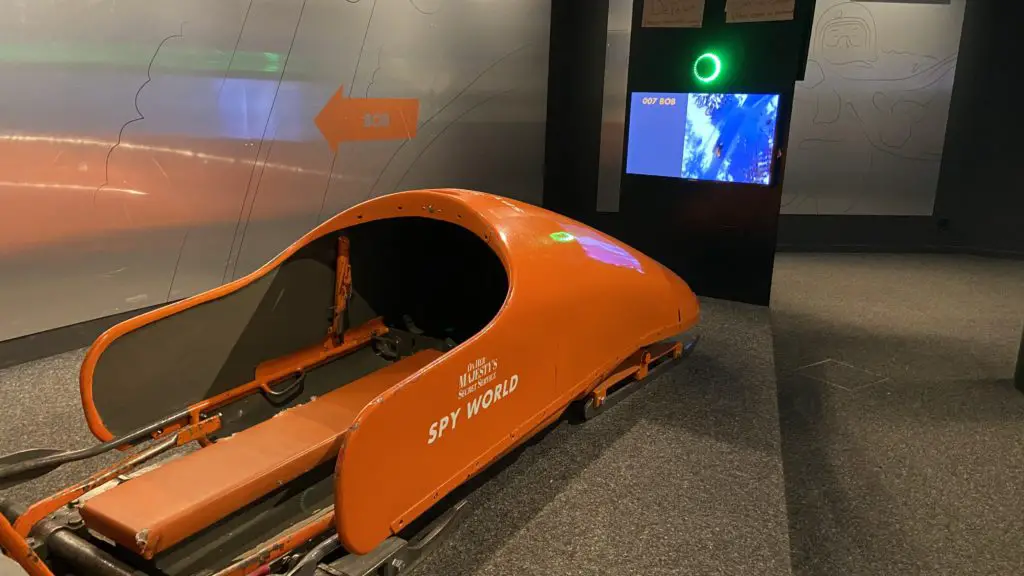 James Bond Spy World
Speaking of entertaining, you can practice being a secret agent, just like James Bond, in Spy World!
James Bond On Her Majesty's Secret Service was filmed here in 1968 (the one with George Lazenby). The iconic feature of the movie was the Piz Gloria revolving restaurant, but you can explore even more about the movie here in Spy World.
If you're a Bond fan or enjoy movie trivia, then you're probably going to love this. But even if you've never seen the movie, you can still pretend you're riding on a bobsled or flying a helicopter or dodging bullets, just like James Bond did.
In fact, I read that they had reopened a closed bobsled run just for this movie…and it was closed due to how dangerous it was. But that was no trouble for Bond because, well, he's James Bond!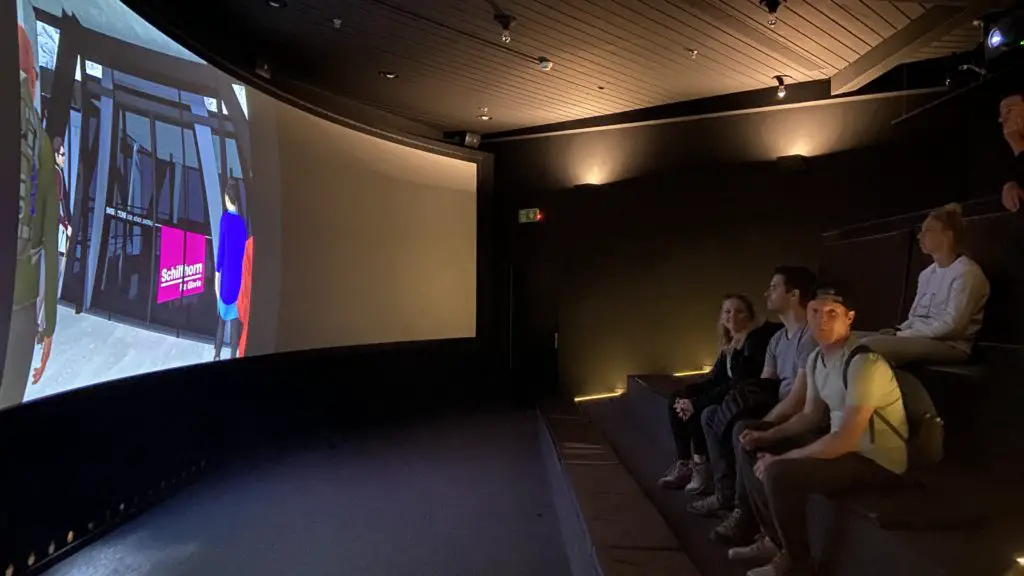 James Bond Spy Cinema
For even more spy-like action, relax in the Spy cinema. A 12-meter curved screen shows clips of stunts from the James Bond movie and aerial views of the Schilthorn.
And when we visited, there was also a showing of the new Schilthornbahn 20XX, the brand new cable car line being built right now (in 2022).
Skyline Top Shop
When you take a vacation, you want to bring home more than just memories. And although the Schilthorn is super memorable, don't pass the Skyline Top Shop for some creative souvenirs! 
We found a neat wooden postcard here that we're going to frame and hang in our house! But of course they have Swiss chocolate, Swiss watches, Swiss cow figurines, and all of the Swiss things you expect in a tourist shop!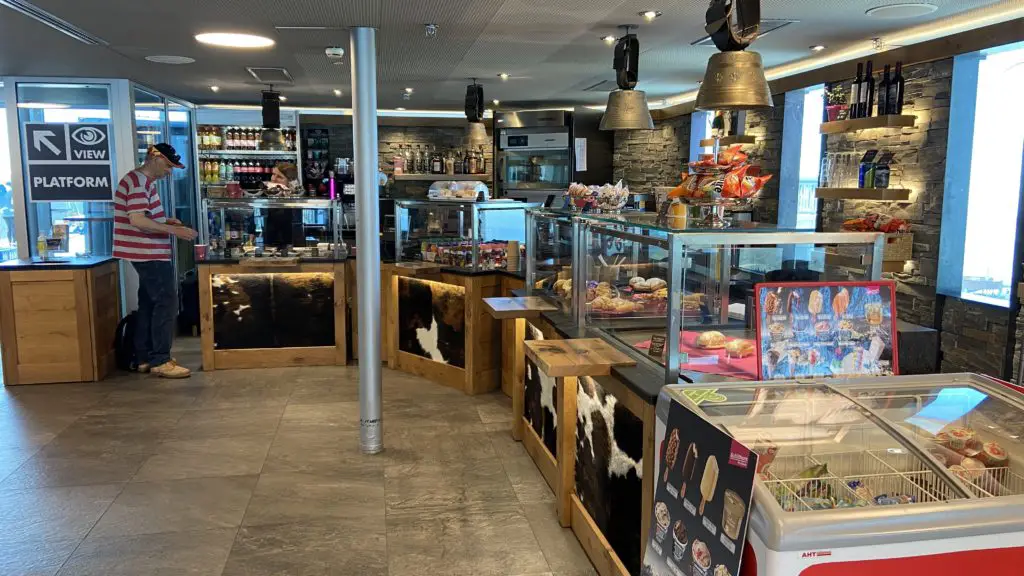 Skyline Take Away
If you are somehow hungry after the all-you-can-eat James Bond Brunch, or if you're craving a snack or a hot drink, the Skyline Take Away has you covered. It's right in the lobby near the elevators and entrance to the Skyline Observation Platform.
Near here is also a free charging station with cords for any kind of device. This was actually pretty handy since our phones were starting to lose battery power!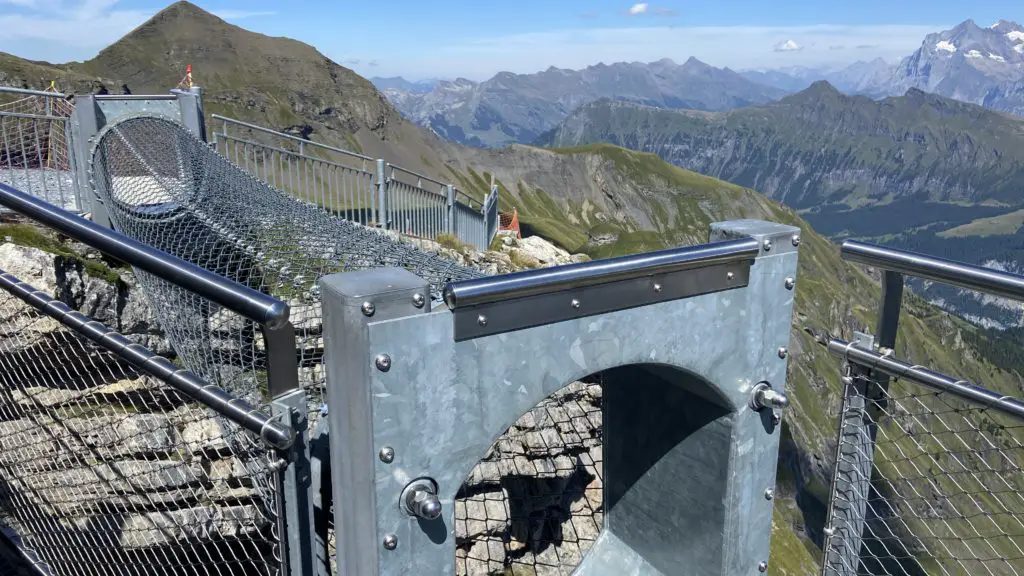 Birg, Switzerland Thrill Walk
There are a few more thrilling things we want to show you near Schilthorn…but they're down at the Birg Station. 
The lifts descend every 30 minutes, and Birg is one stop below.
If you own our Guide to Mürren, then you're already familiar with Birg, some of the incredible hikes you can do from here, and how to fit a visit here into your day or weekend in Mürren.
But the number one reason you stop here is for the Birg Thrill Walk—plus it's already included in your lift ticket (FREE)!
Here you traverse beside the cliff and over a glass floor and through a tunnel while perched high above the ground.
So if you have a fear of heights, I know you can do it! Be brave! Or at least walk on the side to bypass the scary elements so you can still admire the view! (Or you can watch from the panoramic observation platform above).
…If Bond were here, he wouldn't even need a Thrill Walk. He'd just climb across the entire cliff! 😀
The Schilthorn is just one of many great things you can enjoy while visiting the Jungfrau Region. So if you're searching for more things to do near the Schilthorn, we made this guide to help you enjoy the perfect day in and around Mürren. And the Schilthorn is just the first stop of the 12+ places we share with you.