Today we're taking you along to a lesser known place near Grindelwald that literally has something for the whole family, including some hikes, fun adventures, a cool mountain hut, and an impressive gorge.
We're visiting Pfingstegg and Grindelwald Glacier Canyon (Grindelwald Gorge), and we'll tell you everything you need to know, like how to get there, how much it costs, and what to do.
If we haven't met, we're Jana and Brett, and we help you travel Switzerland with confidence. In other words, we do the research and planning for you so you can maximize your time in Switzerland. That looks like knowing where to visit in the Swiss Alps, choosing the best Swiss train pass, and finding neat local activities, like everything we're about to do tell you about.
---
Prefer to WATCH instead of Read?
---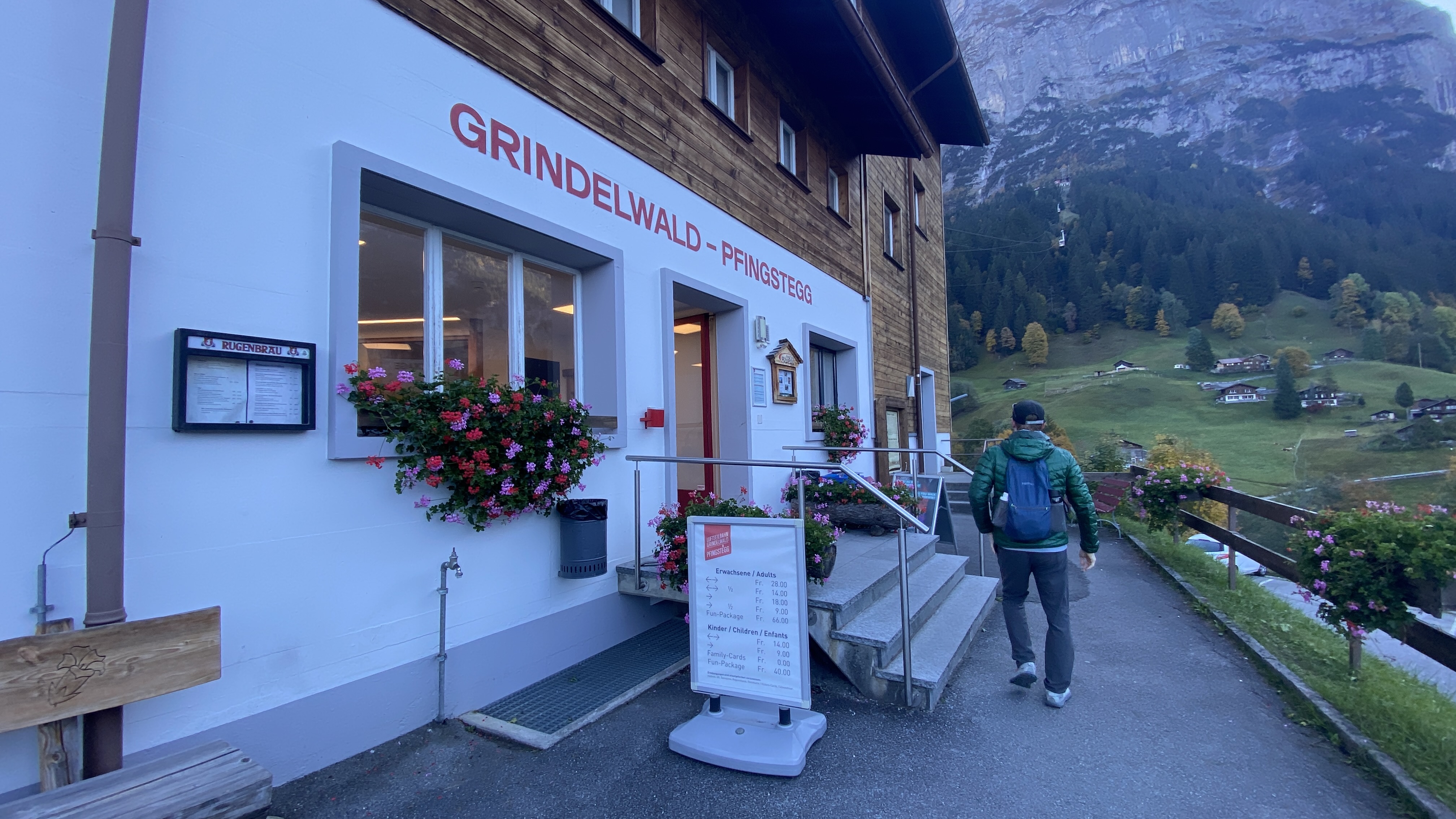 The Pfingsteggbahn Cable Car from Grindelwald village to Pfingstegg
The Pfingsteggbahn is at the end of the village of Grindelwald.
Ride bus 122 from the Grindelwald train station (not Grindelwald Terminal) to the Grindelwald Pfingsteggbahn stop (in direction Grindelwald, Gletscherschlucht). Ha, that's a mouthful! It's a 5-minute ride and the 4th stop. By the way, it's free if you're staying in Grindelwald and have the Grindelwald Guest Card (or the Berner Oberland Regional Pass…Jungfrau Travel Pass…or Swiss Travel Pass). You could also walk it in about 15 minutes (1.2km).
In just 5 minutes, the cable car whisks you to the top. And it runs every 15-20 minutes (depending on the season), so you never have to wait for long. If you've watched our other videos, then you know that we're huge fans of Swiss train passes, and Pfingstegg is the perfect example of why. You cannot drive up to Pfingstegg, so you have to take the cable car—and you might as well save some money while you're at it!
The standard round trip ticket to and from Pfingstegg for adults is 28 CHF. 
If you have the Grindelwald Guest Card or Jungfrau Travel Pass, then that price is reduced  by about 5 and a half francs (22.40 CHF)
However, it gets better!
When you have the Swiss Half Fare Card or the Swiss Travel Pass, you get 50% off (down to 14 CHF). 
And finally, if you use the Berner Oberland Regional Pass, our favorite Swiss Train Pass, then you can ride to and from Pfingstegg for completely free! 
In fact, if you hold the Swiss Family Card (which you can get for free when you purchase a Half Fare Card or Swiss Travel Pass), then your kids ages 6-15 can also ride for free, otherwise, their ticket will cost 14 CHF. 
As usual, kids under the age of 6 always ride for free.
If you're planning to do some hiking in Switzerland during your visit to Grindelwald Pfingstegg and only need a one-way ticket, there's a similar breakdown:
A one-way ticket for adults costs 18 CHF.
That drops to 14.40 CHF with the Grindelwald Guest Card or Jungfrau Travel Pass.
You'll only pay 9 CHF if you have the Swiss Half Fare Card or Swiss Travel Pass.
Adults still get a free ticket with the Berner Oberland Pass.
Kids 6-15 are still free with the Swiss Family Card (otherwise, 9 CHF), and kids under 6 are always free.
Note: prices may change at any time. Consult the official Pfingstegg Pricing Page to confirm.
You can easily buy your tickets online before you visit, but you can't get a discount with the Grindelwald Guest Card or Jungfrau Travel Pass when buying online. We're not sure why, we just haven't seen an option available for those.
And while we're on the topic of things you should know, Pfingstegg is only open from mid-May to mid-October (May 13-October 15, 2023).
Before you visit Pfingstegg, check the webcam for a glimpse at the weather. This isn't a place to visit on a rainy day because at the first drop of rain the activities will close. Speaking of activities, let's go play!
---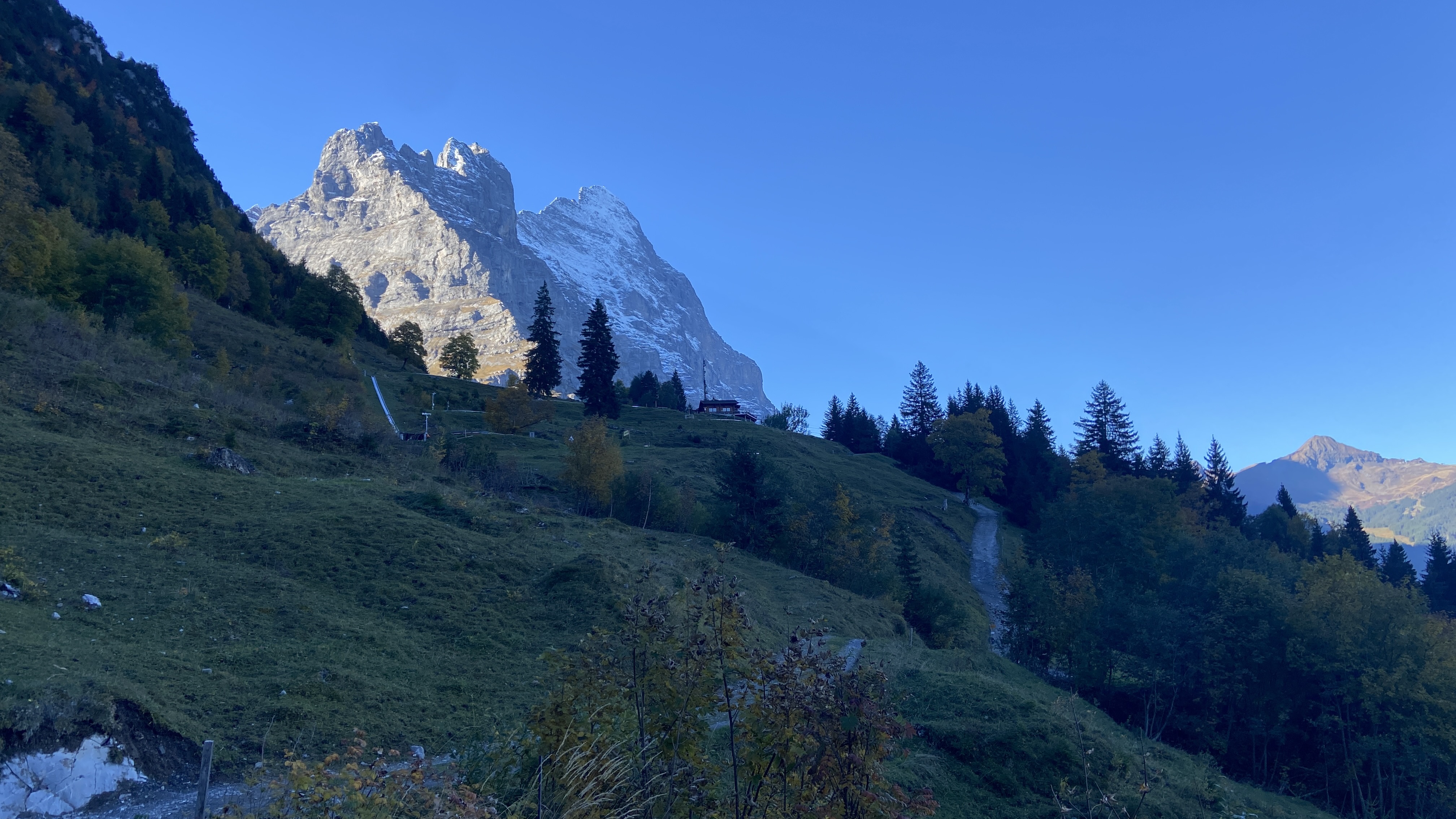 Hike from Grindelwald to Pfingstegg
We recommend hiking the trail from Hotel Wetterhorn (1228m) to Pfingstegg (1386m).
3.5 kilometers
Posted at 1 hour 10 minutes
Has 240m of total uphill along the way
You can reach the trailhead by riding Bus 121 from Grindelwald to Grindelwald Oberer Gletscher (it's the last stop in the direction of Grindelwald Oberer Gletscher). This bus is also free with the Grindelwald Guest Card, Berner Oberland Regional Pass, Jungfrau Travel Pass, or Swiss Travel Pass!
Start by walking beside the runoff from Grindelwald Oberer Gletscher (which means "Upper Glacier").
You can find a helpful map of all the trails near Pfingstegg here!
You'll pass a variety of rivers in the early part of the trail. Apparently they're runoff from the glacier above and can surge at any time. So no swimming! (Not that you would anyway since it's probably very cold!)
Once you start the ascent, you'll pass by an abandoned mountain restaurant—Milchbach (1349m)—which is sad because it looked pretty neat! Then you'll wind up and down a bit until a unique feature on this trail.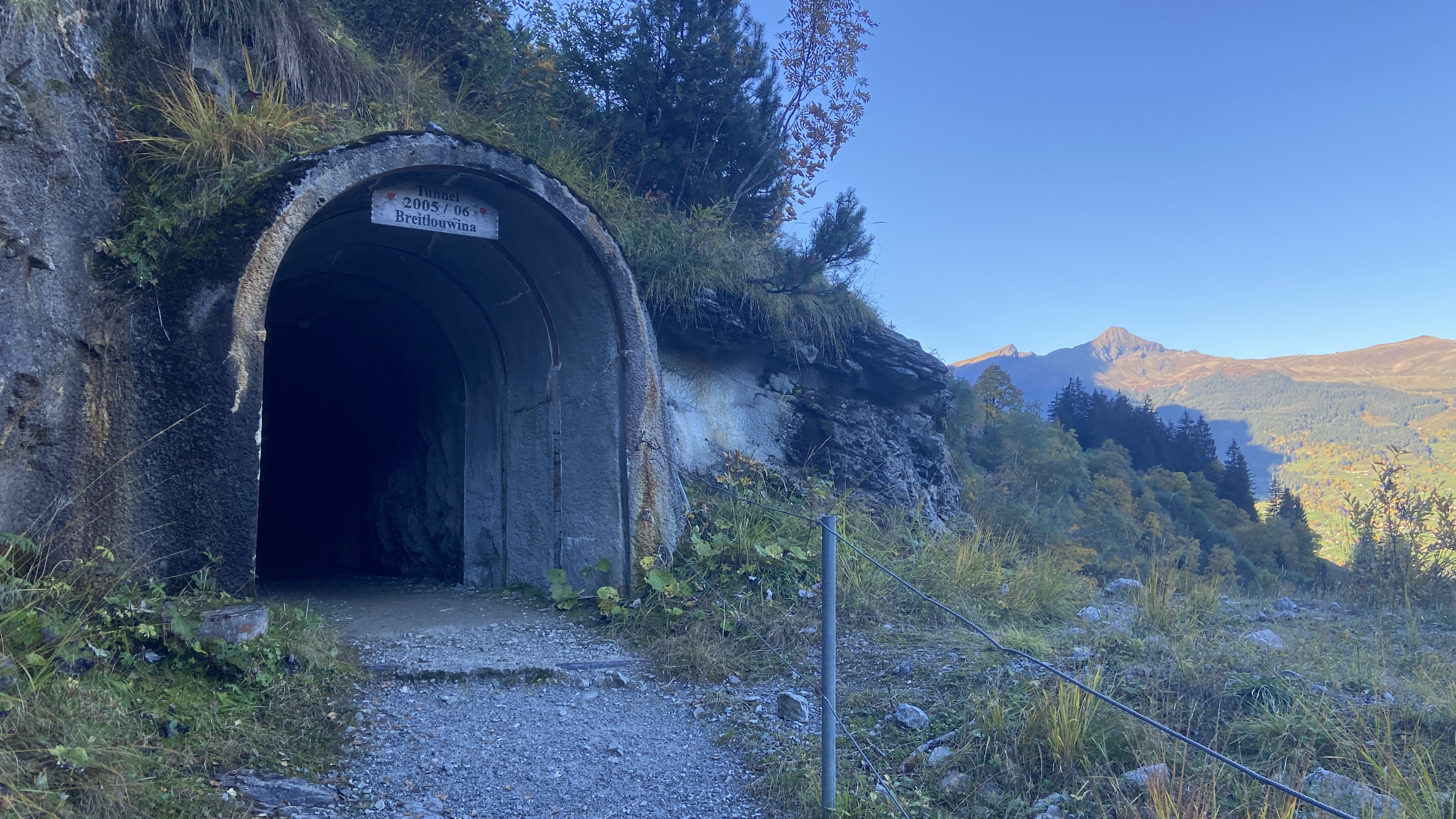 One of the reasons Brett wanted to hike this trail is to walk through the Breitlouwina Tunnel. It was built in 2005 after a landslide to preserve the trail. The lights automatically turn on as you walk down the dark tunnel, and you get a glimpse out over Grindelwald in the middle.
We hiked this in October, and oh my gosh the autumn colors and crisp blue sky enhance these alpine views even more!
Then you're not far from Pfingstegg! The hike was pretty easy, and now it's time to play!
---
Activities at Pfingstegg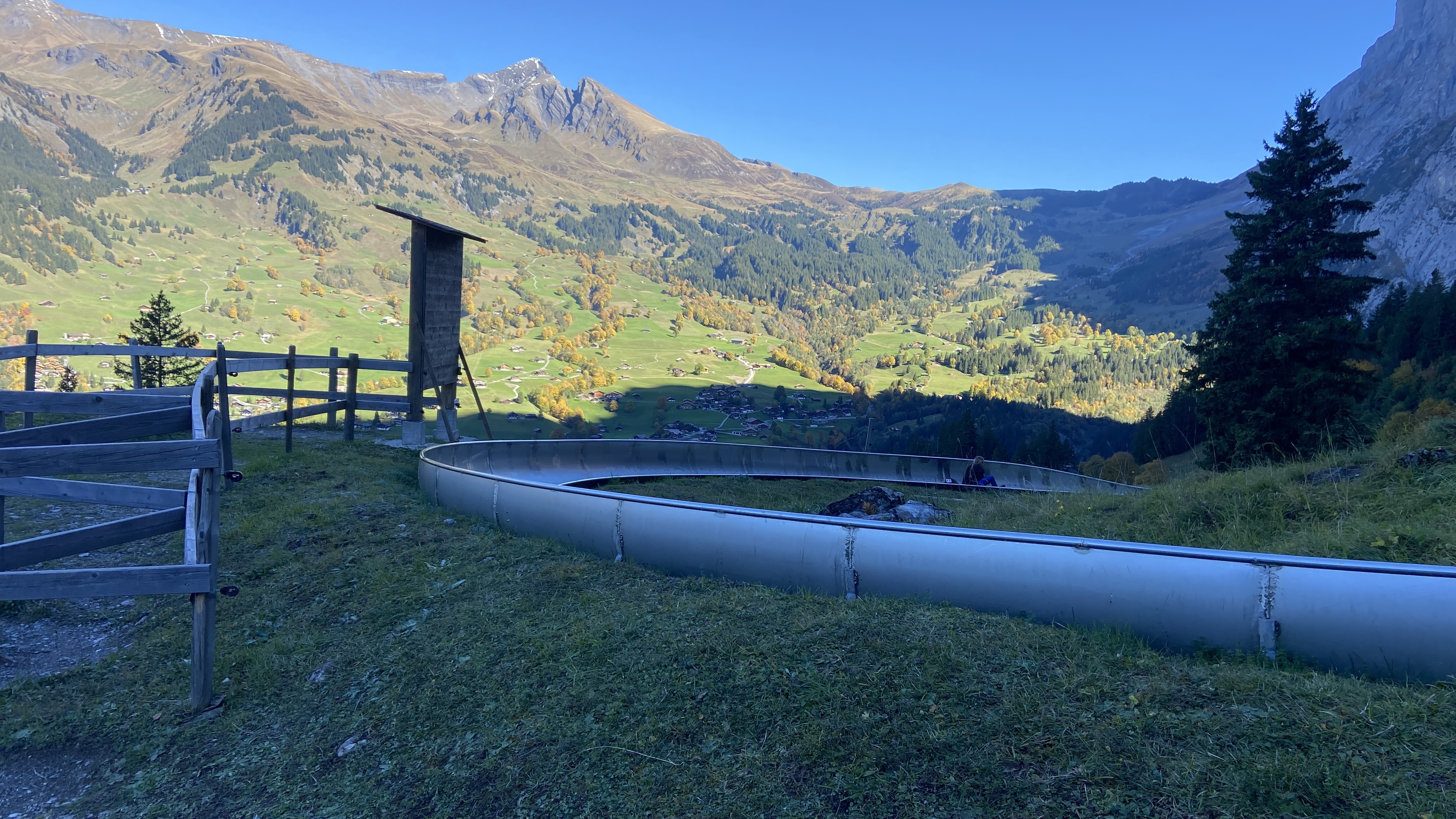 Pfingstegg Toboggan Run
We've done a similar toboggan run (summer luge ride) a few times before. So when we saw that there was one at Pfingstegg, we got pretty excited. And it did not disappoint!
Drop your bag, tie back your hair, and slip on your sunglasses to prepare for a thrilling ride. Push the handle down to accelerate and start your adventure. You'll zip around curve after curve, so you're probably gonna need to pull that handle back to slow down a bit. After 725 meters of track, you reach the end of your ride. Well, sorta.
You don't have to hike back up and lug your cart with you. Stay seated as you and your cart are pulled back to the top. Adults can ride by themselves or with a partner, but kids ages 4-7 must ride with an adult. 
Prices for the Toboggan (as of May 2023)
Single Trips:
Adults = 6 CHF
Kids (8-15) = 4 CHF
Kids (4-7, with a parent) = 2 CHF
Multiple Trips:
Adults (6 runs) = 30 CHF
Adults (10 runs) = 48 CHF
Adults (20 runs) = 96 CHF
Children (6 runs) = 20 CHF
Children (10 runs) = 32 CHF
Children (20 runs) = 64 CHF
*Multiple Trip tickets are transferable, so you can share them with multiple people!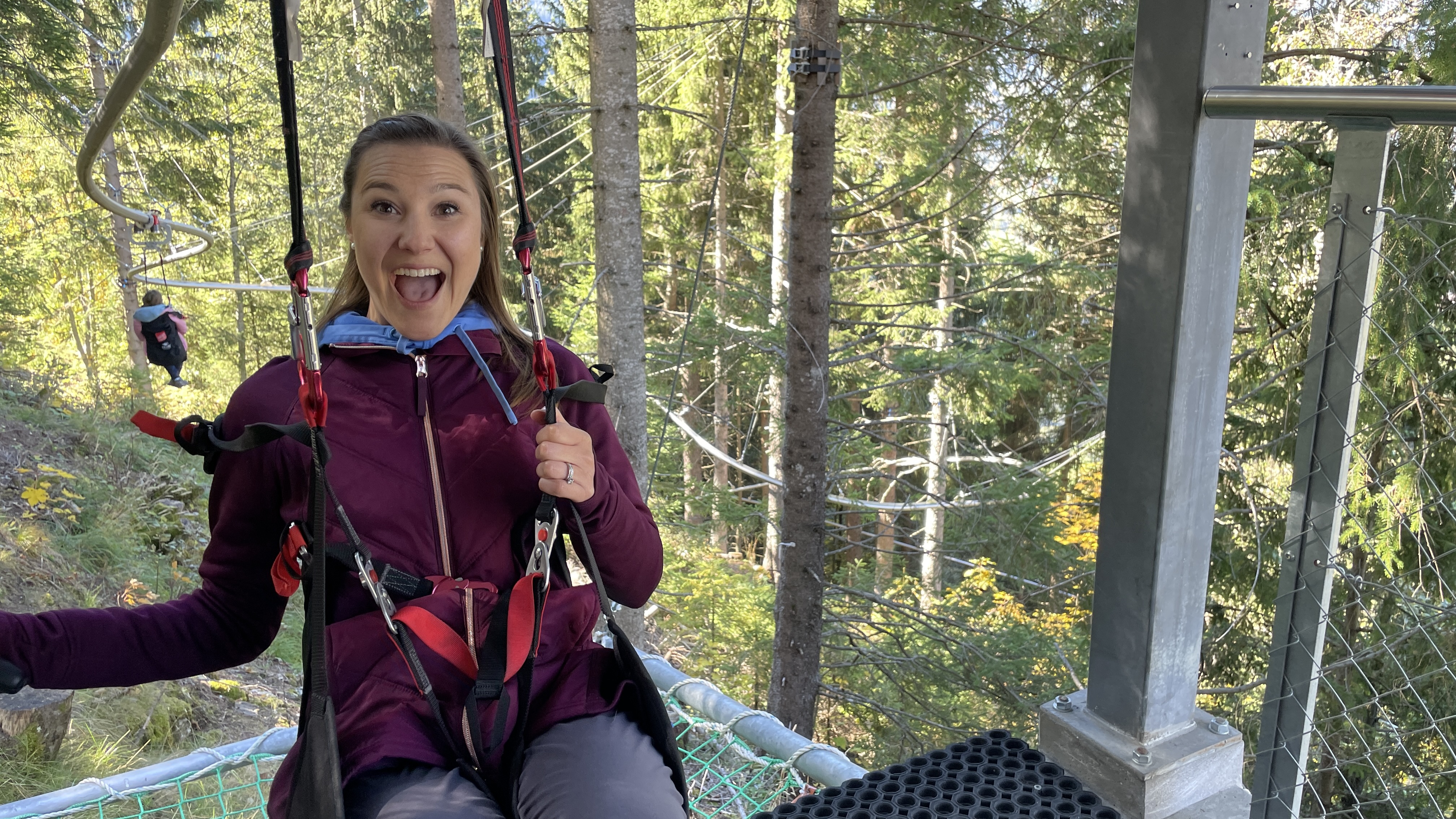 Pfingstegg Fly Line
On to our next adventure, this one is in the trees! 
Strap on your harness that's hooked up to the rollers. For the next 2 and a half minutes, you'll cruise through 350 meters in the woods. You're secured to stainless steel pipes that gracefully glide you along at 8-12 km/hr. Soak in the serenity of nature and feel free to kick your legs a bit too, just don't try to swing. 
Like the toboggan run, you don't have to hike back to the top because you get transported right back to the starting point.
Prices for the Fly Line (as of May 2023)
Single Trips:
Adults = 12 CHF
Kids (4-15) = 8 CHF
Multiple Trips:
Adults (6 runs) = 60 CHF
Adults (10 runs) = 96 CHF
Adults (20 runs) = 192 CHF
Children (6 runs) = 40 CHF
Children (10 runs) = 64 CHF
Children (20 runs) = 128 CHF
*Multiple Trip tickets are transferable, so you can share them with multiple people!
Pfingstegg FUN Package
You might be glad to know they offer the Pfingstegg FUN Package.
Adults = 66 CHF
Adults (with Half Fare Card or Swiss Travel Pass) = 55 CHF
Kids 8-15 = 40 CHF
Kids 6-7 = 36 CHF
Kids 4-5 = 24 CHF
With the FUN Package, you get a roundtrip cable car ride, 3x Toboggan and 3x Fly Line rides. If you literally just showed and paid in full to do all that, it would cost you 82 francs. So the FUN Package saves you 16 CHF.
But unless you plan to ride the Fly Line 3 times and the Toboggan at least once, OR plan to ride the Fly Line at least twice and the Toboggan 3 times, then this package just doesn't make sense.
And if you're traveling with the Berner Oberland Regional pass you'll actually LOSE money buying the FUN Package—even if you enjoy both activities three times (because your cable car rides are totally free)!
So if you really wanna get your adventure on, we think it's worth checking out their tickets for multiple trips on the Fly Line or the Toboggan Run. These will definitely save you money, and better yet—you can use them for multiple people!
*For complete price lists and up-to-date info including opening times and dates, consult the Pfingstegg website.
Pfingstegg Playground
If those activities don't make you feel like a kid again, then their playground definitely will! There's a zip line, a bouncy house, 2 slides, a tunnel, and even a foosball table!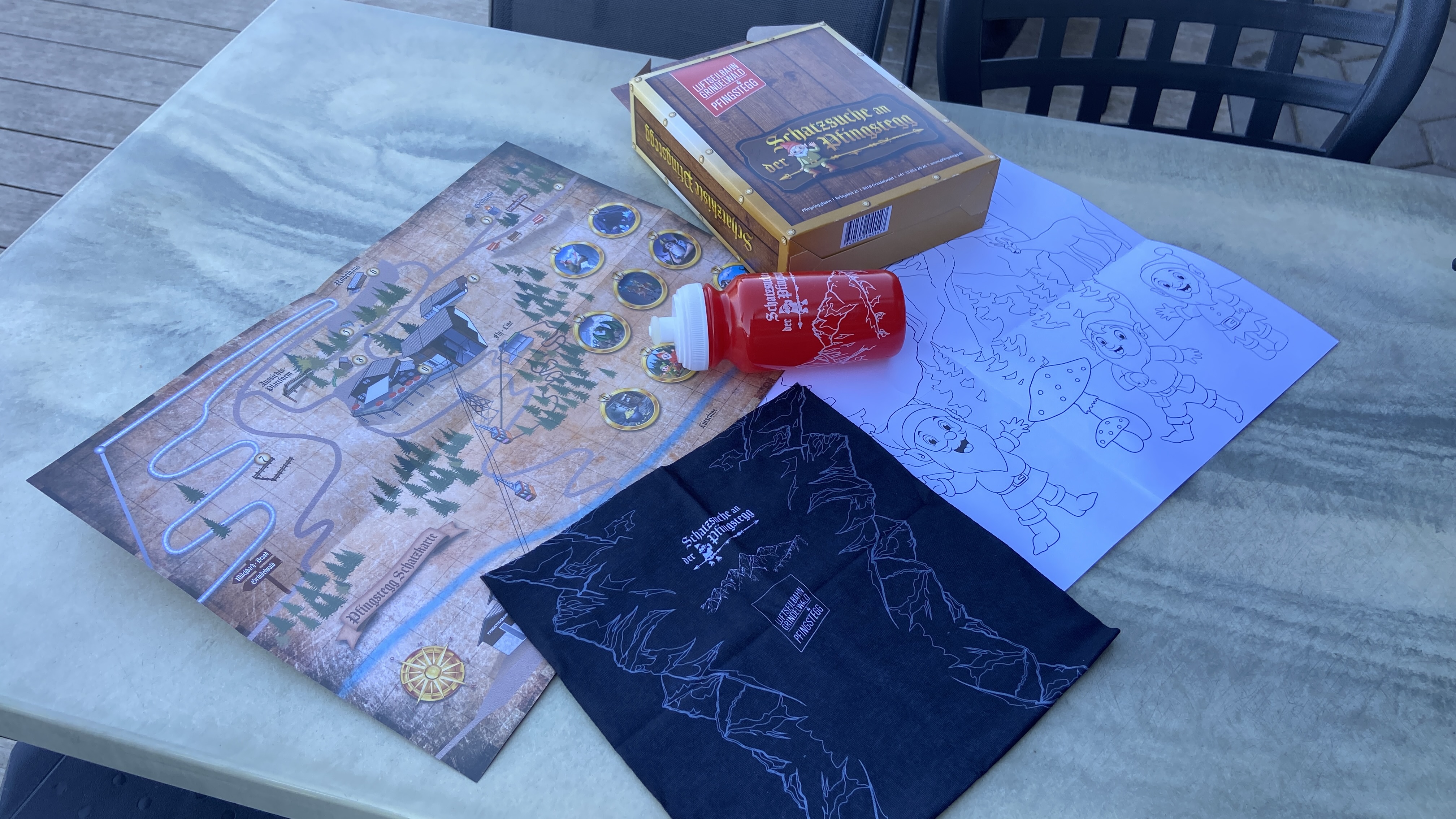 Pfingstegg Kid's Treasure Hunt
And if your kids aren't worn out yet, take them along on the treasure hunt! Request a treasure hunt box at the Pfingstegbahn cable car station. The box includes a treasure map, candy, bandana, water bottle, and coloring supplies. The treasure hunt signs follow gnome fables and are written in both English and German.
Pfingstegg Restaurant and Grill Area
The hiking and adventure activities are sure to work up your appetite! So bring your own food to cook on the grill, or enjoy a meal in the restaurant.
---
Pfingstegg Candlelight Dinner or Sky Dinner
In fact, if you wanna really spend your whole day up here, reserve the Candlelight Dinner for 2 or the Sky Dinner for 4-8 people, where you spend 2.5 hours at sunset slowly floating in the cable car with an impressive meal of traditional Swiss food and drinks. But like we said, there's really something for everyone at Pfingstegg. You can even book a 45-minute apertif for 2 with dried meat, sliced ​​cheese, and wine, all while you glide along in the cable car.
---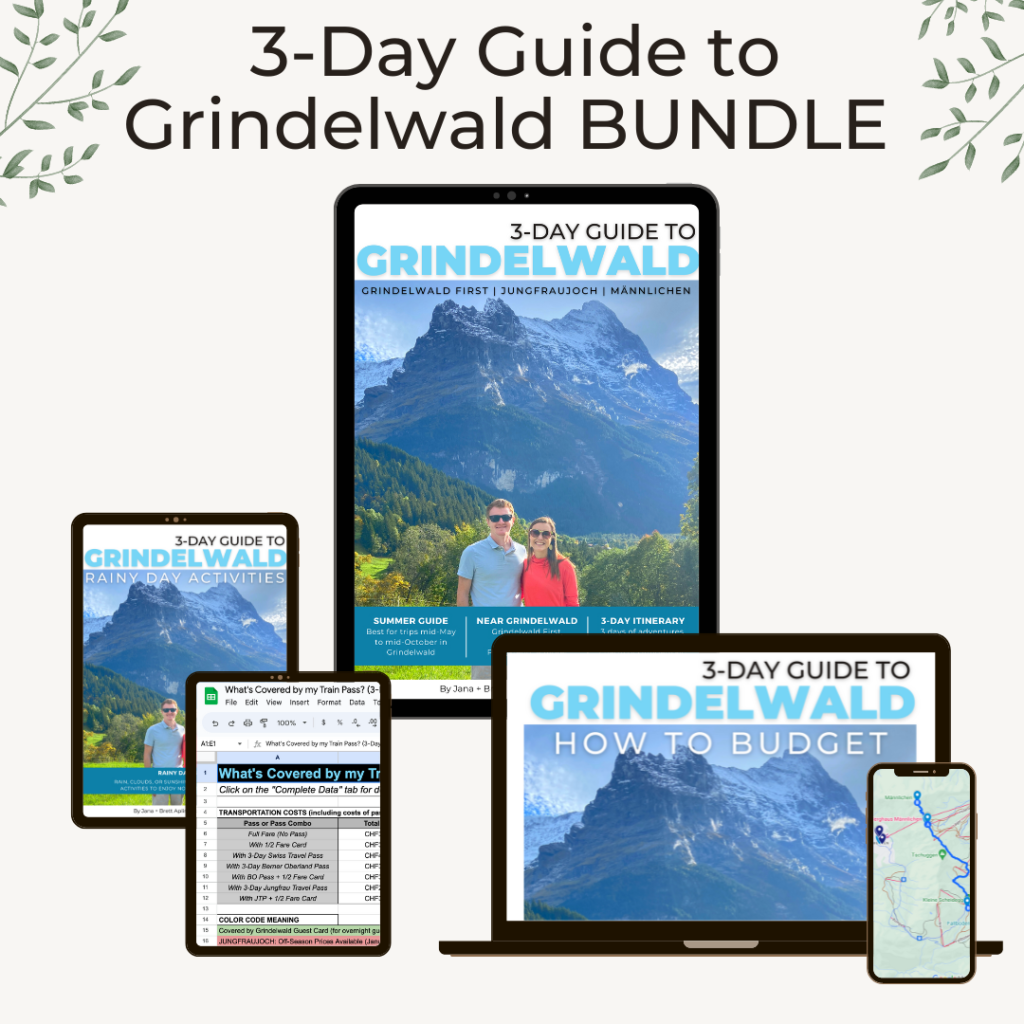 Want even more details about Pfingstegg? Find them in our 3-Day Guide to Grindelwald!
We seamlessly incorporate a trip to Pfingstegg into a well-balanced 3 days in Grindelwald, and even help you determine if the Pfingstegg FUN Package is a good buy for you!
Don't miss our digital maps, Rainy Day Guide, and train pass advice too!
---
Optional Hikes from Pfingstegg
Hike to the Bäregg Hut
You can stay here overnight or hike up to the glacier, but don't miss the panoramic terrace perched right beside the imposing mountains and glacier.
1.5 hours
2.7km
420m uphill
Ends at 1773m elevation
If you're extra adventurous, you can even hike one hut higher to the Schreckhorn Hut at 2527 meters (but this is considered a mountaineering route, not suitable for those without proper equipment or experience).
---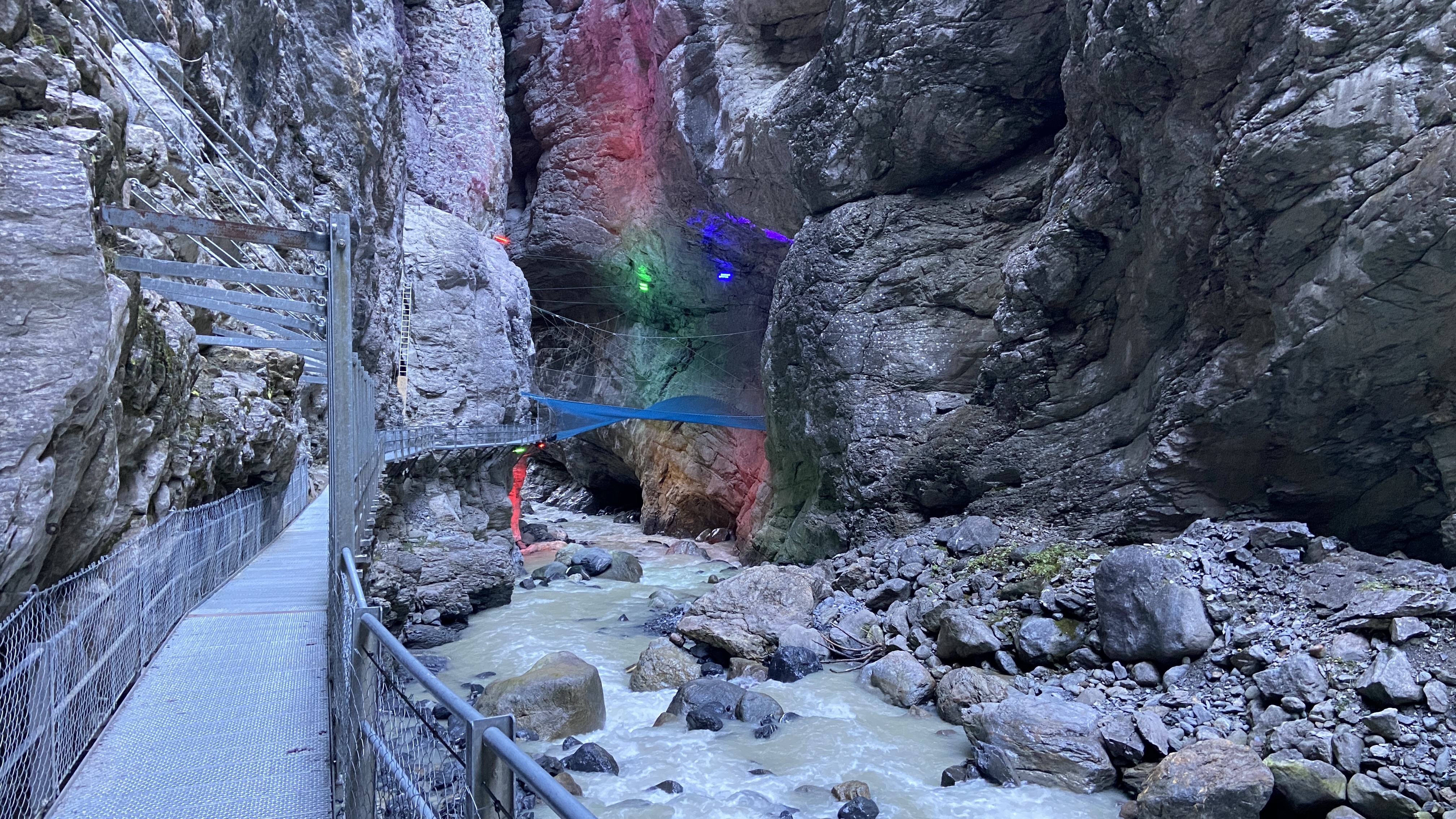 Hike from Pfingstegg to Grindelwald Glacier Canyon (Grindelwald Gorge)
We enjoyed this hike when we visited Pfingstegg, which is downhill, marked at 50 minutes with about 400 meters of descent.
You'll enjoy a nice descent through the forest, and then pass another mountain restaurant and hotel, Berggasthaus Marmorbruch (1107m) before you reach Grindelwald Gorge…which is gorgeous of course! That's because Jana's favorite landscape is a gorge.
How to reach Grindelwald Glacier Canyon (Grindelwald Gorge)
You can obviously hike here from Pfingstegg like we did, or it's a 20-minute walk from the bottom Pfingstegg cable car station.
You can also take bus #122 from Grindelwald or the Pfingsteggbahn to Gletscherschlucht, which is the last stop.
Or you can drive your car here too!
Cost of Grindelwald Glacier Canyon (Grindelwald Gorge)
Adults = 19 CHF
Children 6-15 = 10 CHF
Children less than 6 = free
Grindelwald Gorge snakes along 1 km through 300-meter-high walls beside the Lütschine River. The average temperature is around 10°C, so be sure to bring your jacket!
The Grindelwald Gorge is just 1 of 16 things that you can do near Grindelwald! So if you're planning a visit to Grindelwald, check out that list of foods, hikes, viewpoints, and adventures.
---
Need extra help planning your time in Grindelwald? We can help!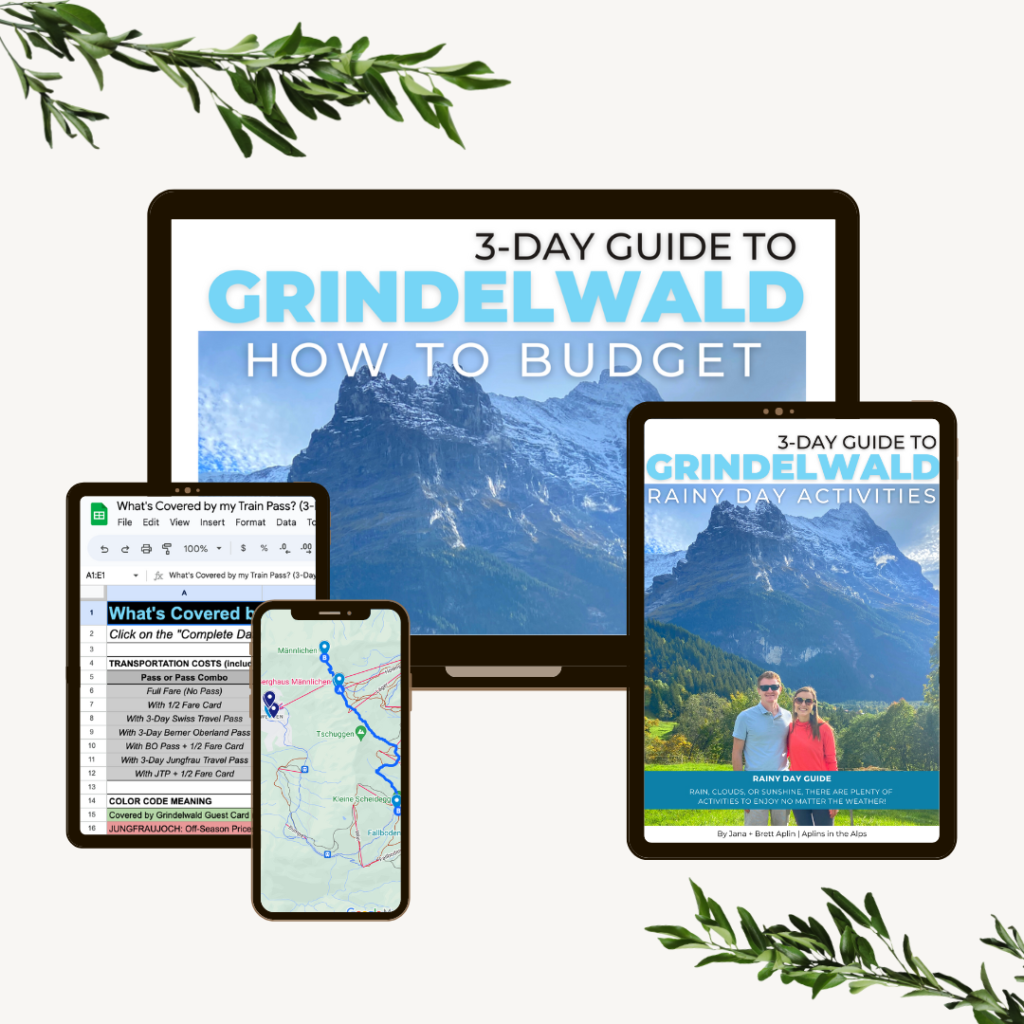 We're done the research for you with our 3-Day Guide to Grindelwald, Switzerland!
It includes Pfingstegg and Grindelwald Glacier Canyon (Grindelwald Gorge), as well as Grindelwald First, Männlichen, and Jungfraujoch.
In other words, plenty of alpine adventures, 360° views, and enjoyable train rides along the way!