You don't have to be a serious hiker to enjoy the natural beauty of the Swiss Alps. In fact, there are trails for all ability levels! Here are our top 7 easy hikes in the Jungfrau Region that are less than two hours long.
Hey there, if we haven't met, we're Jana and Brett. Our trail shoes have clocked hundreds of miles hiking throughout the Jungfrau Region. And both our free YouTube library and our website shop are stuffed with resources to help you maximize your travels to Switzerland. 
Each of these hikes is included in our Ultimate 1-Week Guide to the Jungfrau Region, and pairs perfectly with 7 can't-miss destinations. That means you could hit up one of these hikes and check out a top spot each day during your one-week trip to the region.
So if you're searching for incredible trails, family-friendly walks, or just epic views, this list—in no particular order—offers it all. 
---
Prefer to WATCH instead of Read?
---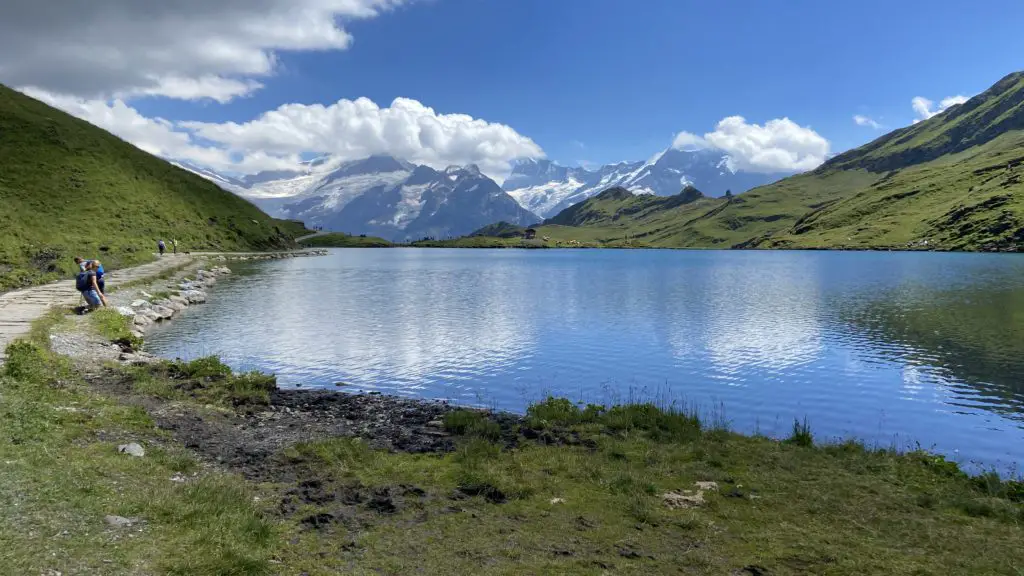 Hike #1 | Bachalpsee (Grindelwald First)
Just a 30 minute cable car ride above Grindelwald village is Grindelwald First, known for its high-flying, high-speed, and high-suspension adventure activities. But if you prefer to keep your feet on the ground, an ideal hike could be "The One to the Alpine Lake."
Starting from just behind the cable car station, this trail challenges you with 15-20 minutes of fairly steep uphill hiking before leveling off for the next 30 minutes. But your reward is the beautiful blue lake of Bachalpsee. Bachalpsee reflects the snow-capped Schreckhorn on a cloudless day, and is the perfect spot for a picnic by the cows. 
In addition to the adventure activities at First, hiking to Bachalpsee can easily be combined with other activities in and around Grindelwald. 
"The One to the Alpine Lake" is posted at 5.6km roundtrip and takes about 1 hour 40 minutes.
---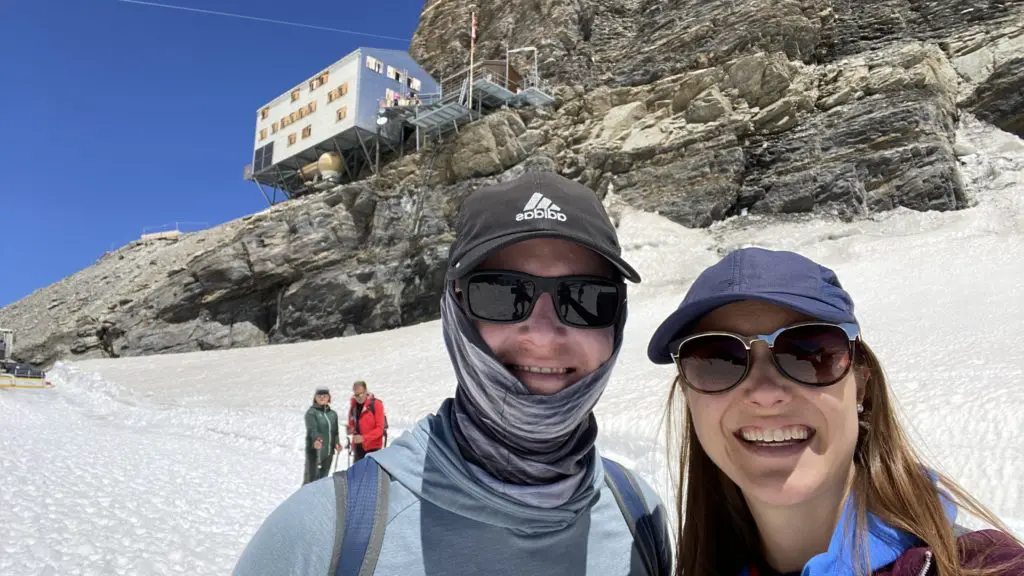 Hike #2 | Mönchsjochhütte (Jungfraujoch)
This next place needs no introduction. Known as the "Top of Europe," Jungfraujoch attracts thousands of visitors every day with its year round ice caves and guaranteed 365 days of snow. But not as many people seem to know about the hike we've called "The One to a Hut at 12,000 feet."
Starting from the Snow Fun Park (which is #5 on the Jungfraujoch tour), you'll head gradually uphill—across a glacier!—to your destination: the Mönchsjochhütte. This hut, which is the highest serviced hut in Switzerland, also serves lunch, drinks, and cakes daily in the summer months from 10am-3pm. And there are few things as satisfying as a warm meal at 12,000 feet after hiking through the snow!
Keep in mind that good shoes and fitness are required for this route, and you'll probably wanna pack an extra pair of socks to change into after the hike in case they get soggy. Plan plenty of time to enjoy the full experience at Jungfraujoch, including a visit to the ice cave and the highest chocolate shop in Europe. 
"The One to a Hut at 12,000 feet" is posted at 4.8km roundtrip and takes about 1 hour 25 minutes.
---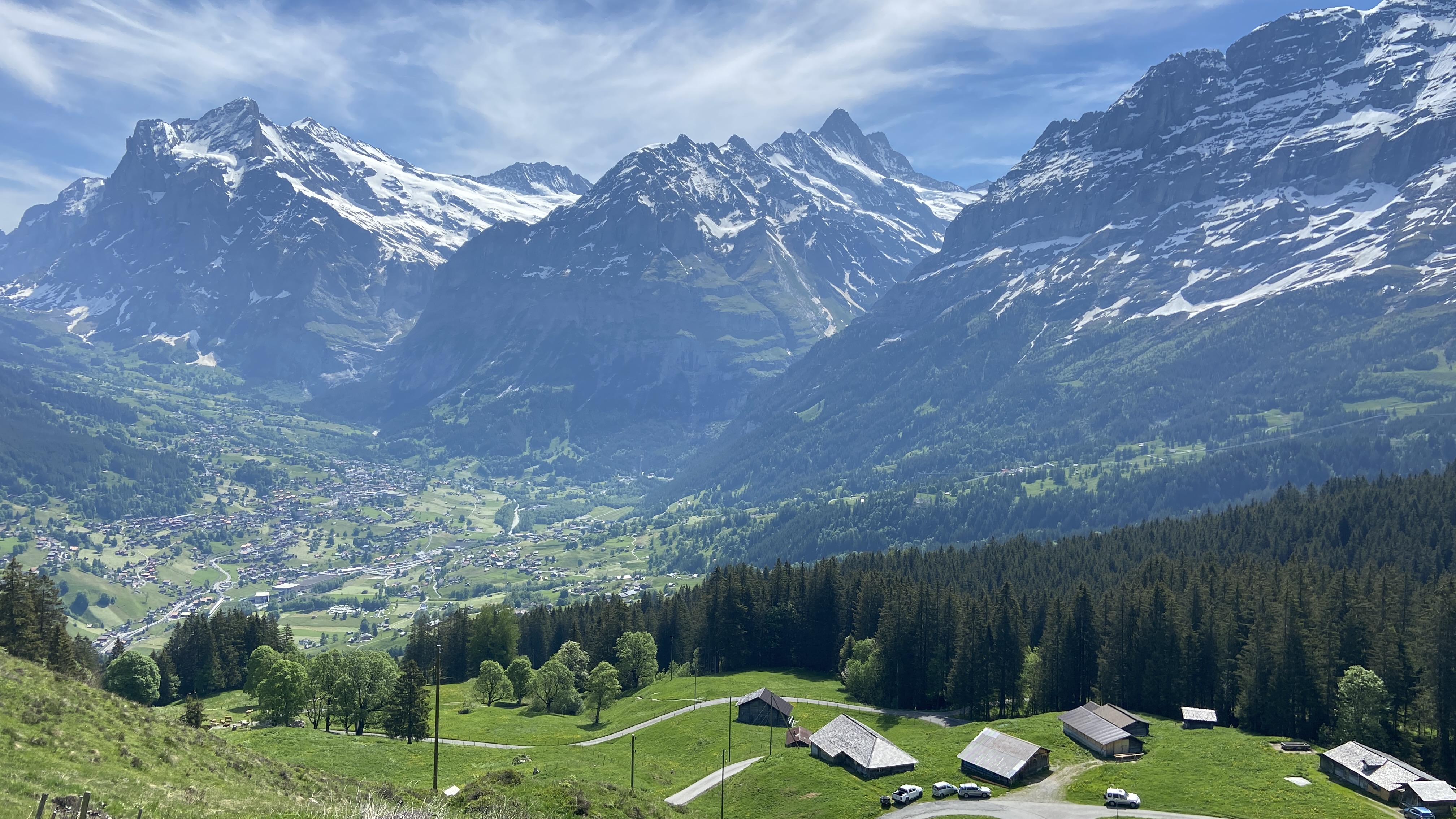 Hike #3 | Männlichen to Kleine Scheidegg (Männlichen)
Perched on a ridge separating Grindelwald from Lauterbrunnen Valley, Männlichen offers up what might just be the best views in the entire region. You can see nearly every place we'll mention in this video from where you'll start this hike. But the highlight is gazing at the Big 3—the Eiger, Mönch, and Jungfrau—which you'll get to enjoy the whole time while hiking "The One for Everyone."
Starting from just below the Grindelwald to Männlichen cable car, a wide, gravel trail leads very gradually downhill all the way to Kleine Scheidegg, where a few restaurants and a train station await. In fact, people of nearly all ages and ability levels can enjoy this easy trail, which might just be the best choice if you can only hike one short trail in the region.
A visit to Männlichen pairs well with a day exploring Grindelwald or Wengen, since cable cars lead there from both villages, and you can return to either one using the train from Kleine Scheidegg. 
"The One for Everyone" is posted at 4.4km one way and takes about 1 hour 5 minutes.
---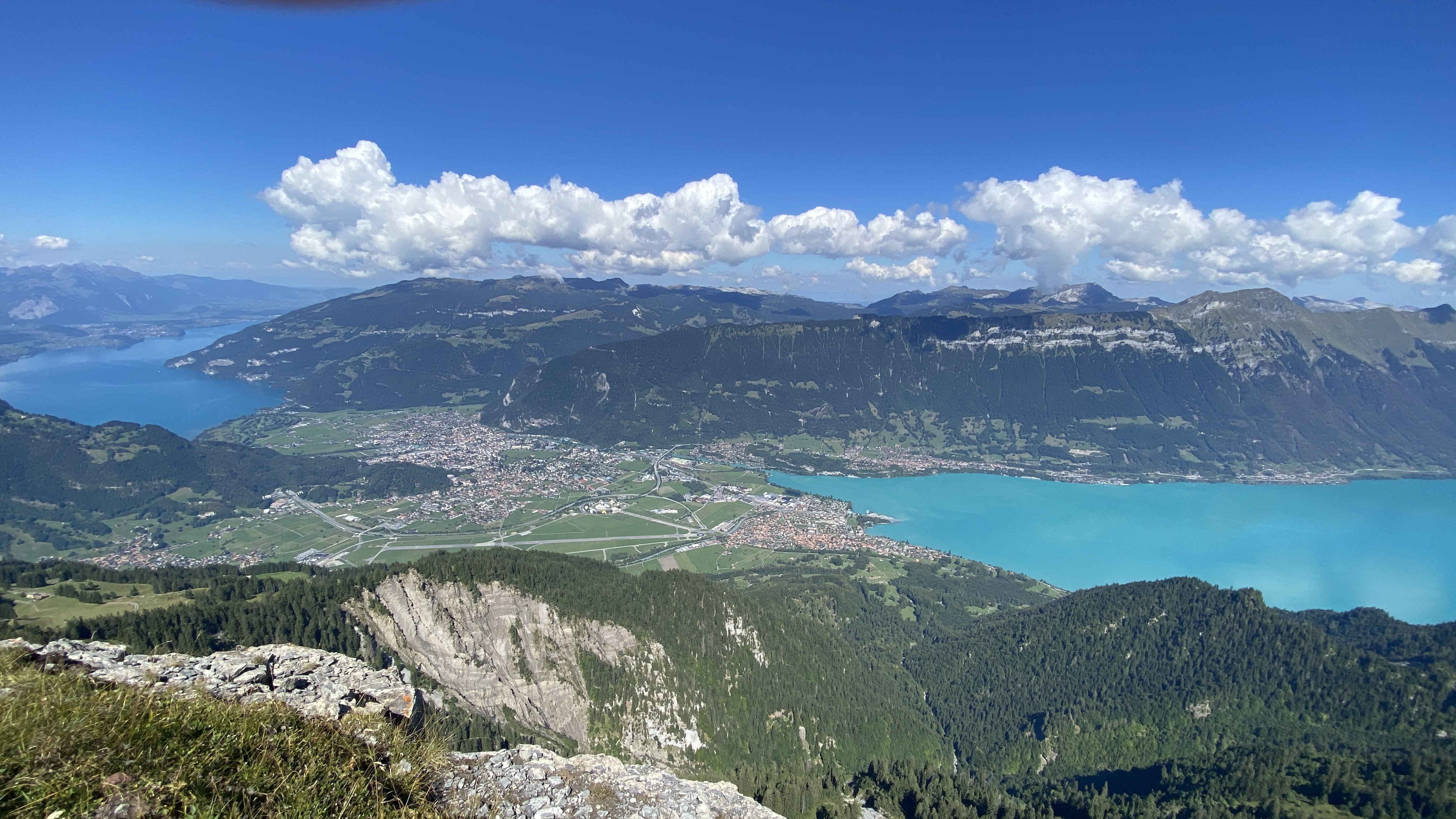 Hike #4 | Oberberghorn Loop (Schynige Platte)
A stunningly scenic 50-minute ride on a historic cogwheel train climbs from Wilderswil to Schynige Platte, another mountain ridge. Here you can enjoy an alpine flower garden and daily alphorn performances. But those are best enjoyed, in our opinion, after hiking "The One with the Lake Views."
After exiting the train, you'll head uphill to and then behind the restaurant, where you'll find the start of the trail. There are 15 minutes of steep uphill hiking until you reach Daube, where views of both Lake Thun and Lake Brienz sprawl out in front of you. Then, after about 10 more minutes of downhill hiking, you'll have the option to climb up to the viewpoint at Oberberghorn for an even better peek at the lakes.
In addition to the activities up at Schynige Platte, hiking the Oberberghorn loop combines well with some time exploring the charming village of Wilderswil, including a local brewery, castle ruins, and some of our favorite farm fridges!
"The One with the Lake Views" is posted at 3.8km and takes about 1 hour 20 minutes.
---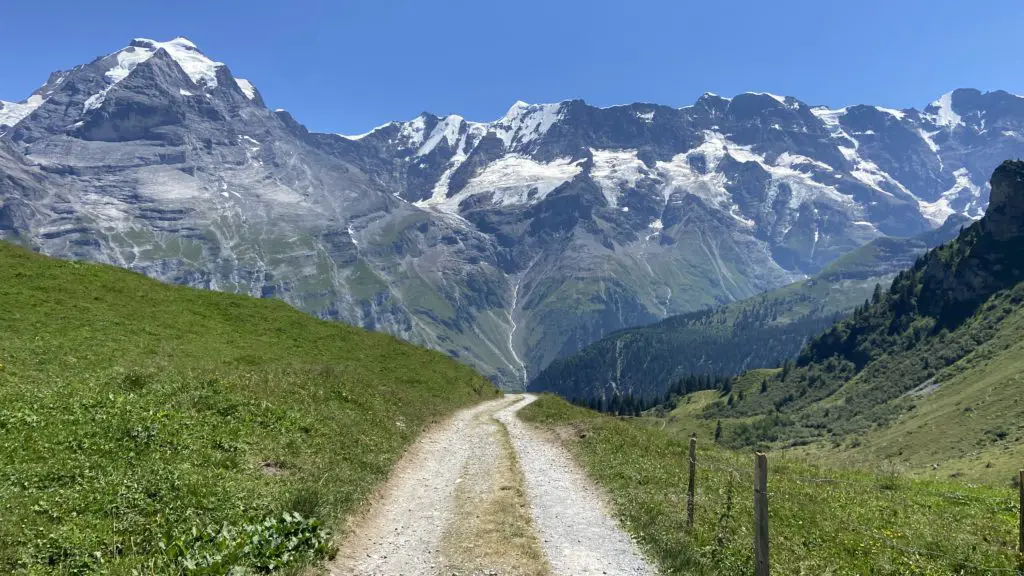 Hike #5 | North Face Trail (Mürren/Gimmelwald/Schilthorn)
If we had just one day in the Swiss Alps, we'd head straight to Mürren and Gimmelwald.
Way more than just a couple cute villages sitting below the Schilthorn, you'll find some of the best hiking in the entire region here. And one of our favorites is definitely "The One with the Self-Service Huts."
Ride the funicular from Mürren up to Allmendhubel, and head uphill beyond the sweet-action playground to find the start of the Northface trail. Along this hike, you'll pass 4 mountain restaurants where you can stop for refreshments during the summer months, and likely get up close and personal with some cows too! 
After leaving the last hut at Spieldbodenalp, you can either continue the trail back to Mürren OR leave the Northface trail and head downhill to Gimmelwald, while discovering a hidden waterfall along the way. "The One with the Self-Service Huts" is easily enjoyed during a day exploring Murren, Gimmelwald, and even the Schilthorn, with the official Northface trail posted at 5.9km and taking about 1 hour 40 minutes.
Want to learn more about exploring Mürren and Gimmelwald? Buy our 1-Day Guide to Schilthorn, Mürren & Gimmelwald!
---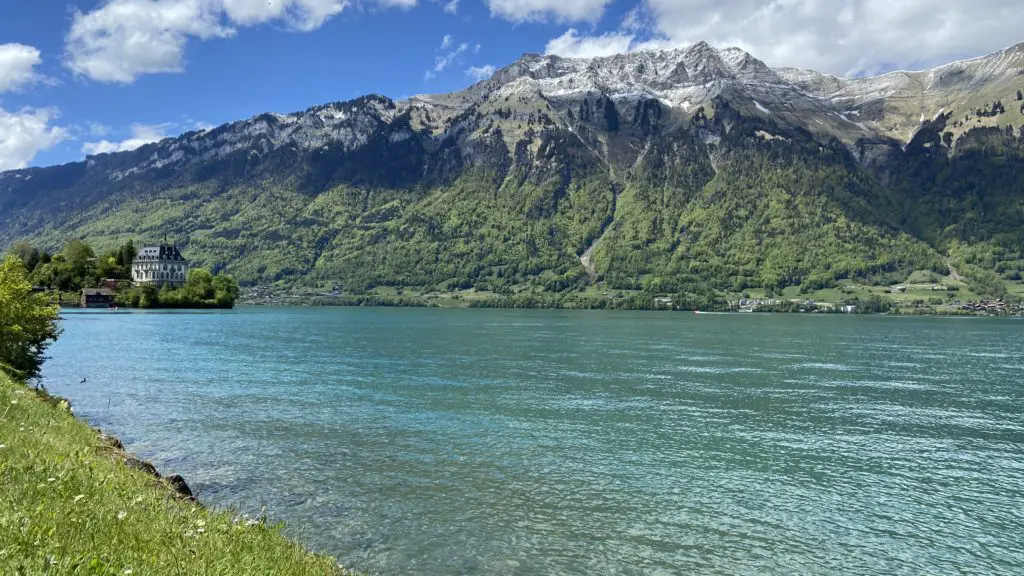 Hike #6 | Iseltwald to Giessbach (Lake Brienz/Giessbach Falls)
The mountains aren't the only stars of the show here in the Jungfrau Region. Running along the milky teal waters of Lake Brienz, you'll find a trail we call "The One that Goes Behind a Waterfall."
Starting from the lakeside village of Iseltwald, this hike (which is officially part of the 3 Waterfalls Hike) hugs the lake for a while before heading into the woods and up toward the incredible Giessbach Falls. Once you arrive at the falls, you can view them from the bridge, but don't miss your chance to hike behind them from just above. Giessbach is also home to a historic hotel, which makes a great stop for lunch, and a hike here combines well with a boat cruise on Lake Brienz or a visit to the village with the same name.
"The One that Goes Behind a Waterfall" can be hiked in either direction, and is posted at 5.9km taking 1 hour 40 minutes.
---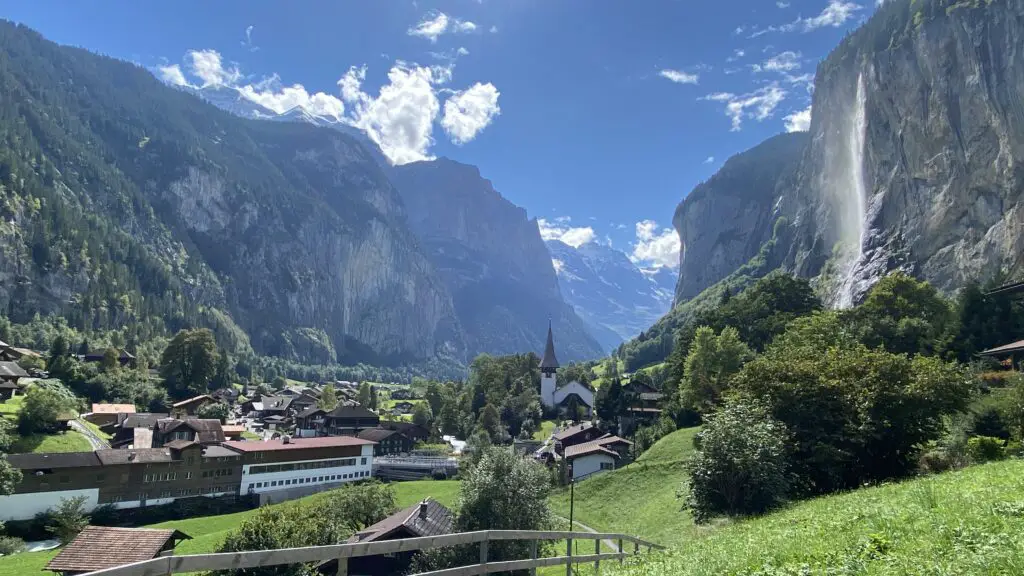 Hike #7 | Lauterbrunnen Valley Walk (Lauterbrunnen Valley)
No trip to the Jungfrau Region would be complete without a visit to the Lauterbrunnen Valley, where Tolkien found inspiration for Rivendell, and where you can hike "The One through the glacial valley."
From the Lauterbrunnen train station, walk toward the back of the valley, staying on the upper road. You'll probably see tons of people at first, but once you pass the Staubbach Waterfall, you'll experience more peace and quiet to enjoy this majestic place. Take your time while wandering this stunning glacial valley. At many points along the way, you can cut across the river and catch a bus to take you back to Lauterbrunnen.
But we like to walk to the Stechelberg, Sandbach bus stop. Along the way, there are a few farm fridges where you can buy fresh Swiss cheese and other snacks, and you'll even find a milk vending machine! Hiking here obviously pairs well with a visit to Lauterbrunnen, but also works for exploring the mountain villages of Wengen on one side, or Mürren and Gimmelwald on the other.
"The One through the Glacial Valley" is posted at 3.8km from Lauterbrunnen to the Sandbach bus stop, and takes about 55 minutes.
---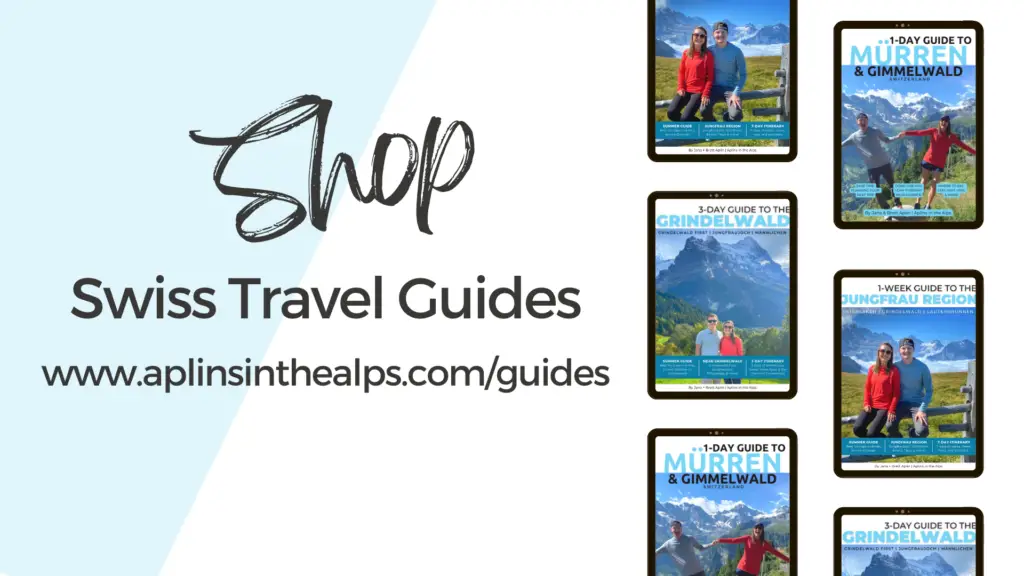 Fit these hikes into your Switzerland itinerary!
Wondering how to fit these fantastic hikes into your trip to Switzerland? Well, we've got you covered. Like we mentioned earlier, each of these hikes is detailed in our Ultimate 1-Week Guide to the Jungfrau Region, including custom maps so you know exactly how to get there and where to go. You can learn more about our Swiss Travel Guides here or by watching this video next. Then we'll see you on the trails in Switzerland!