If you're planning a trip to the Swiss Alps and wondering where to stay, then this is the post for you!
---
Prefer to WATCH instead of read?
Join our audience of more than 20,000 subscribers on YouTube!
---
From mountain views to charming Swiss villages to modern conveniences, every traveler wants something different from their home base. So answering the question "Where should I stay in the Swiss Alps?" can be really tricky.
After spending more than 6 months traveling the Jungfrau Region, we have a lot of thoughts on where you could stay, but we're not going to spell out the 5 best places to stay near Interlaken or the top 10 places to avoid near Lauterbrunnen.
Instead, we're gonna equip you with the most helpful information so you can pick the best town or village to make your home base. 
We've narrowed the home base options down to 7 towns and villages worth considering, and we've ranked why you may or may not want to stay there based on a few criteria, such as proximity to popular sights, conveniences, the charm level, and average Airbnb costs.
Download the FREE cheat sheet:
How To Pick A Home Base in the Swiss Alps!
So, if you're ready to scout out these 7 Swiss villages and towns, let's get started!
Note: We pulled the average Airbnb cost data from our free spreadsheet about when to visit the Swiss Alps Month-by-Month. Gain access to the free spreadsheet here.
1 | INTERLAKEN
Interlaken, Switzerland is the gateway to the Lauterbrunnen Valley and Jungfrau Region. It means "between the lakes" because it is nestled between Lake Thun and Lake Brienz. Of all the places we mention in this video, Interlaken is the closest to the big cities and Swiss airports.
[Show map]
In fact, the first time we spent 1 whole month in this area, we chose to stay in Interlaken. That's because we didn't really know where we were going to adventure during our month, so it was the most central location. 
Proximity to Sightseeing: 1st
Interlaken really is the best location if you're looking to enjoy a variety of activities. It's a great base for excursions along the lakes (such as Giessbach Falls on Lake Brienz or the Castles on Lake Thun), or even further outside of the Jungfrau region to Bern or Lucerne.
Why? Because nothing is very far!
But don't be surprised to find that it takes an hour to get basically everywhere, especially if your destination includes riding a mountain lift.
So if you're only going to explore a smaller area in the mountains, another one of these locations might provide even better proximity to your planned adventures.
But overall, Interlaken ranks #1 as a sightseeing hub, meaning less time on trains and more time enjoying the beautiful Swiss landscapes!
Convenience: 1st
As a tourist hub, Interlaken has all the amenities.
For real, there are 2 train stations, loads of bus routes with frequent stops, lots of restaurants with international cuisine, large grocery stores, pharmacies, and the list goes on.
Staying here also means that you're closer to the airport or wherever else you'll be visiting in Switzerland.
All of this means that Interlaken is also the #1 best home base if you're looking for convenience.
Charm/Authenticity: 7th
But for what it has in convenience and location, we definitely think it lacks charm. Honestly, the town itself feels like it was made for tourists. You can't walk down the street without seeing shops selling chocolate, watches, and cuckoo clocks galore.
Thankfully Unterseen is way more authentic, but overall, Interlaken still ranks dead last for this category.
Cost: 4th
For airbnb rentals, Interlaken, Switzerland sits right in the middle of the pack. But there are a number of reasons why it might be a good choice if you're traveling Switzerland on a budget.
Obviously it's a larger town so there are just more options in terms of lodging, from hotels to airbnbs to hostels too.
If you book a rental with a kitchen, you will save tons of money vs eating out all the time. I'm not kidding when I say you could easily spend as much on food during your trip as you do on lodging if you're not careful. Plus, Interlaken has big grocery stores like Migros and Coop, which offer lots of store brand products to further stretch your budget.
And because of its location, you could enjoy endless adventures without breaking the bank on transportation costs. Which brings me to a few other factors to consider before choosing Interlaken as your home base.
Other Factors to Consider: 5th
When you stay in the Interlaken area, you get the Interlaken guest card, which provides free local travel and scores you discounts on certain activities. That means trains between Interlaken West and Interlaken Ost, and from Interlaken Ost to Wilderswil, plus buses within Interlaken and Wilderswil, the bus to Iseltwald, and buses part of the way toward Thun are totally free!
This is incredibly handy if you're traveling without a train pass (which we just about never recommend) or with nothing but a half fare card (which we recommend surprisingly often).
But it also means that if you have the Berner Oberland Pass, you'll get no additional benefit from the Guest Card since those routes are already covered.
Already confused about Swiss train passes? We've got you covered! Check out our Ultimate Guide to Swiss Rail Passes + free checklist download!
Another benefit of staying in Interlaken is it's usually warmer and sunnier than other places on this list. But that's also a trade-off. It's the "gateway" to the mountains which means you're not actually IN the mountains, so hitting a trail or enjoying that sweet smell of cow poo right from your doorstep is pretty unlikely.
But you can watch the sunset from just about anywhere in town (Harder Kulm is fantastic!), and gaze at the Jungfrau from Hohematte and Unterseen, so Interlaken ranks 5th in this "other factors" category.
Where we would stay
If we wanted Interlaken to be our home base, we would stay within a 10-minute walk of the Interlaken Ost station:
The first area to consider is near the Gymnasium bus stop, just a short ride from Lake Brienz, the Interlaken Ost train station, and all the amenities near Interlaken West. But you can also walk to the Ost station in about 8 minutes.
We stayed in this area last year and loved it. We felt like we were so close to everything, while tucked away in a quieter neighborhood surrounded by locals. And as a bonus, we were just a short walk or bus ride from Jana's favorite grocery store, Aldi!
Another good spot would be somewhere directly between the West and Ost stations, which is where you'll find most of the hotels.
There are frequent buses, and you're no more than a 10-minute walk from either train station. So if you value convenience, it's hard to beat this are. Though charming and quiet are not at all the words I'd use to describe it!
Keep in mind that the West station gives you all the amenities, but it also adds an extra bus or train ride to every journey you take toward the mountains. So make sure you really value the shopping, restaurants, and other conveniences if you choose to stay here.
Visiting Interlaken with a Car
It's very doable to drive to Interlaken, although you will probably have to pay to park for all mountain lifts. It may also be difficult to find parking in the center of Interlaken during peak tourism season.
Staying in Interlaken
We think that Interlaken, Switzerland can be a great place to stay in the Swiss Alps if:
You're a family who wants convenience and options.
You're looking for the best nightlife in the area.
You plan to take day trips outside of the mountain region.
You're visiting for a longer trip, especially 1 week or longer.
---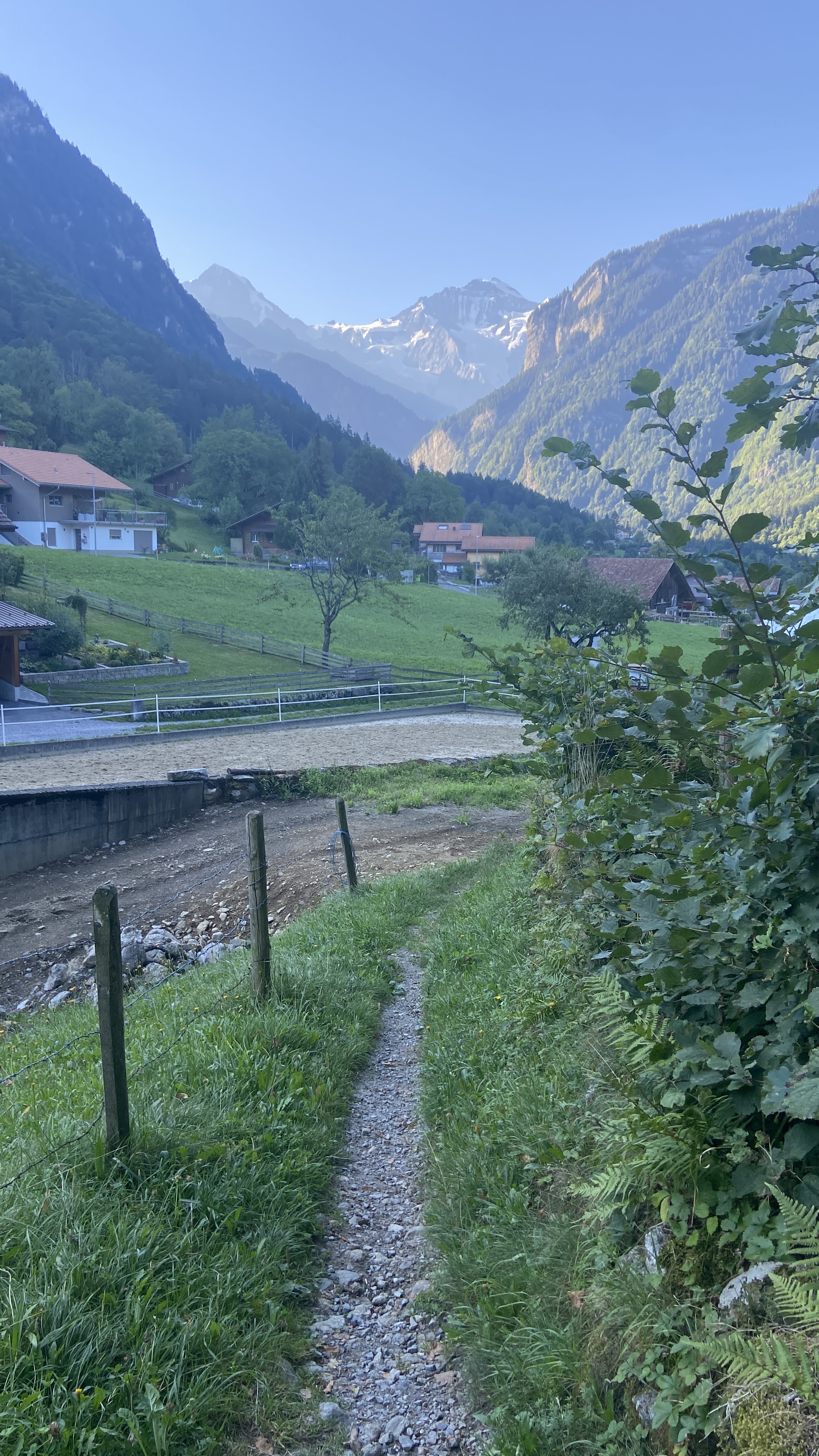 2 | WILDERSWIL
Wilderswil, Switzerland is just one train stop from Interlaken toward the mountains, and is often overlooked as just a point along the way to bigger and better things. But we'd like to throw it into the mix as a possible home base and specifically as an alternative to staying in Interlaken.
[Show map]
It's no secret that we're kinda partial to this little village. We spent 3 months living here this year, and loved pretty much everything about it! Especially once we discovered a local cheese shop, a village bakery, our favorite walking trails, and the ease of transportation connections.
Proximity to Sightseeing: 2nd
There's one train station in Wilderswil with departures every 30 minutes to Interlaken, and every 30 minutes in the direction of Grindelwald or Lauterbrunnen.
It takes 1 hour and 31 minutes to reach Jungfraujoch from here, which is only 6-8 minutes longer than from Wengen or Grindelwald, meaning you're closer to the high mountains than you might think.
And as a bonus, the cogwheel train up to Schynige Platte leaves directly from the Wilderswil train station.
For sightseeing, it's basically as good as Interlaken, because you're 5 minutes closer to the mountains. But because you'll often need to ride one more bus or train to reach the lakes compared to staying in Interlaken, Wilderswil ranks 2nd on our list for proximity to sightseeing.
Convenience: 3rd
There are a handful of restaurants and hotels, as well as two small grocery stores right near the train station, but there is not a pharmacy in town. So you'll be able to find most of what you need, just not extensive options like in Interlaken. Even when we lived here for 3 months in 2022, we rarely had to visit a bigger town to find what we needed.
We also like that it sits right along the route for bus 105. A 10-minute ride brings you to Interlaken West and its shopping center, larger grocery stores, restaurants, and connections to locations outside the valley.
You can reach Interlaken by train in 5 minutes, Lauterbrunnen in 15, and Grindelwald in 25 minutes, meaning you're never too far if you need anything.
For these reasons, Wilderswil ranks 3rd for convenience.
Charm/Authenticity: 2nd
But honestly, we think Wilderswil, Switzerland is one of the most charming and authentic villages that's still central enough to be a good tourist home base.
You'll find lots of locals living on these streets and walking around here. There are beautiful old houses with plentiful gardens. There are farms all around Wilderswil (with great farm fridges, we might add!) and an awesome playground on the edge of village where we often meet local families.
Nothing is really screaming for your attention, unlike the touristy stuff in other villages. So Wilderswil is hard to beat for its authentic feel, ranking 2nd in this category.
I know, if this is oozing with charm and doesn't rank #1, which village does? Keep reading and we will show you soon!
Cost: 1st
But how does Wilderswil perform on cost? Well, according to average Airbnb prices, it's the cheapest of all the places we've reviewed in this list. Charming and affordable, Wilderswil is hard to beat!
And similar to Interlaken, it has a few other factors that you might not know about.
Other Factors to Consider: 4th
A huge plus is you'll still get the Interlaken Guest Card if you stay here in Wilderswil.
That'll cover the train or bus into Interlaken, meaning you can stay in this more local village while still having all the amenities within reach for no additional cost—well, just the cost of tourist tax which you have to pay no matter where you stay.
There are beautiful walks in the hills surrounding the village or through the fields between here and Interlaken. So you can wander so much farther and enjoy way more solitude than walking around Interlaken.
There are also some unique food spots we absolutely love. (Check out Interlaken food video if you're curious to see those places!)
But while you'll enjoy great Jungfrau views on a clear day, and even the ability to see all the way to Lake Brienz, keep in mind that you're not actually in the mountains here. Though you're likely to enjoy that sweet sound of cowbells and sheep bells clanging, especially in the spring or Fall.
Where we would stay
If we chose Wilderswil as a home base—which we usually do :)—, we'd want to be a little ways from the train station and main road for more peace and quiet.
We like the area that's within a 10-minute walk from the train station and near the bus stops, but not directly on the main road. An added benefit is when you're going to Interlaken, you can jump on bus 105 one stop before it picks up lots more travelers at the Wilderswil train station, giving you time to snag a seat because it can get crowded.
But we also think the older area of Wilderswil near the river is really pretty, close to the train station, and only a short walk from the beautiful village of Gsteigwiler.
Visit Wilderswil with a Car
Since most hotels and Airbnbs have parking available, driving to Wilderswil is not a problem. Although, like Interlaken, you will still have to pay for parking in most places near cable cars and funiculars.
---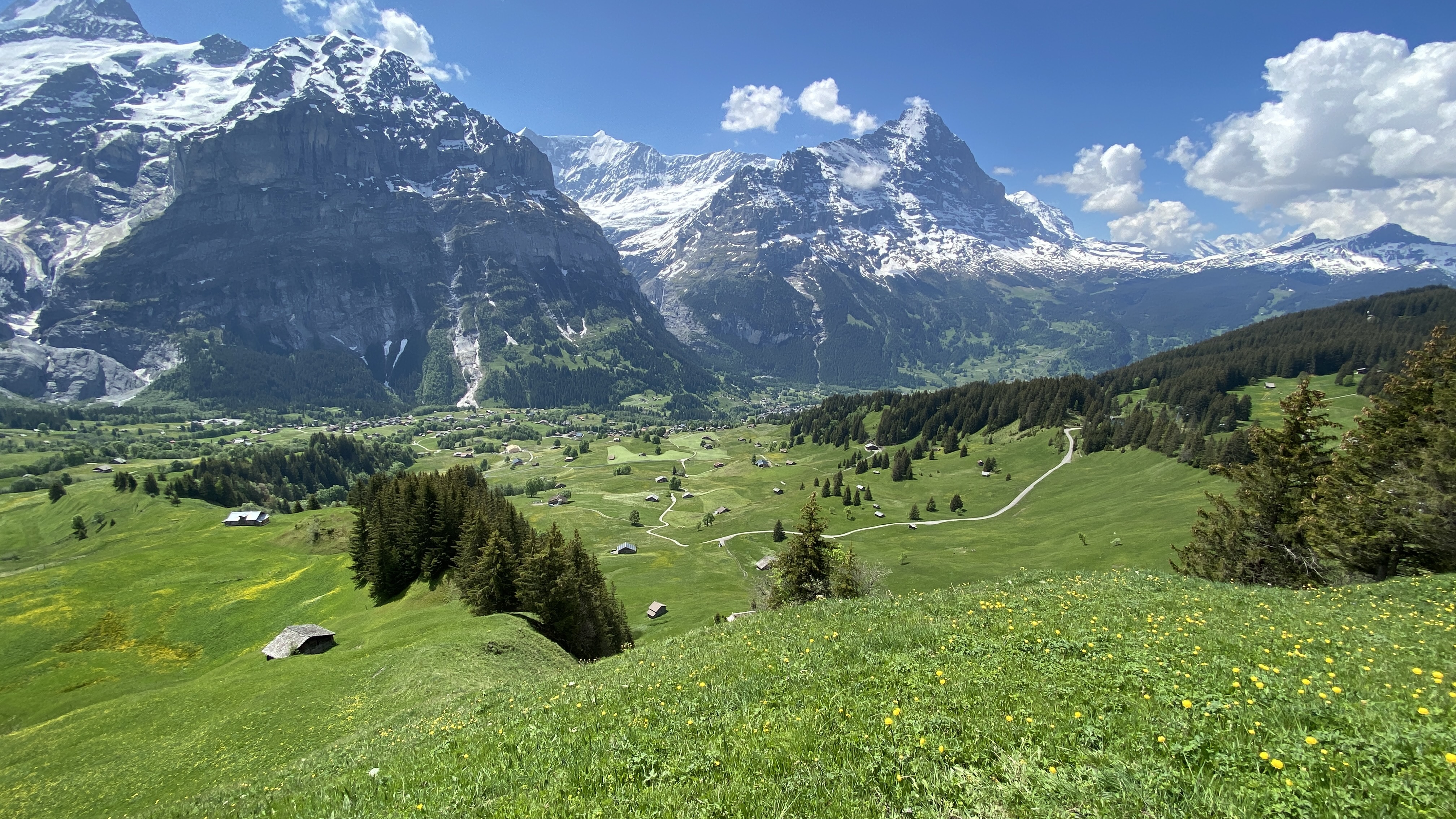 3 | GRINDELWALD
It's probably true that Grindelwald — the village, not the Harry Potter character — needs no introduction, but we're giving you one anyway. Nestled in a large, bowl-shaped valley at the base of the mighty Eiger, Grindelwald enjoys some of the most stunning scenery on the planet.
We stayed here for the first time this Fall. We weren't sure if we were going to like the town because, well, we'll tell you why in a minute, but we fell in love with the small neighborhood streets and never-ending alpine vistas. Not gonna lie, after staying in Grindelwald, Jana hopped online and started looking at houses for sale 🙂 
[Show map]
Proximity to Sightseeing: 4th
If your sightseeing plans focus on Jungfraujoch, Grindelwald First, Männlichen, or Pfingstegg, then you could easily enjoy 3 or 4 days here without ever leaving the valley, making Grindelwald a great home base for a short trip focused on a small area. 
But if your travel plans will take you to Lauterbrunnen, Murren, Interlaken, or to the lakes and beyond, Grindelwald is a little less central. You'll have to make your way out of this valley every time you want to leave, which is why Grindelwald is 4th in proximity to sightseeing within the whole Jungfrau Region.
Convenience: 2nd
But for convenience, you'll find Grindelwald has everything you need and then some. There's a huge Coop near the main station as well as a smaller Migros in the center of town, and way more restaurant options than you'll ever need.
You'll find lots of hotels and plenty of Airbnbs, and if you desire luxury—this is probably the best place to find it.
There are three train stations:
Grindelwald Terminal, with connections to Mannlichen and Eigergletscher
Grindelwald Grund, which heads up along the base of the Eiger to Kleine Scheidegg
The main Grindelwald station, which is directly in the village
Most of you will likely use the main train station as your hub to connect to the other stations when you need to.
There are also quite a few bus routes running through the village and beyond, so you'll have plenty of options for nearby adventures.
Because of this, Grindelwald ranks a close 2nd to Interlaken in terms of overall convenience.
Charm/Authenticity: 5th
But now for a controversial subject. We have a love-hate relationship with Grindelwald.
Dorfstrasse, the main street through the village, is over-crowded, way too tourist-focused, and honestly just not that charming in our opinion.
There are high-rise hotels, plenty of mediocre restaurants, and very little about the place that feels like an authentic Swiss village.
When it comes to this main area of Grindelwald, we'd probably consider Interlaken more charming, which is saying a lot.
BUT, if you're willing to stay just a little bit away from the action, there are parts of Grindelwald that feel the exact opposite. We might really dislike the touristy center of the village, but just outside of that? Wow, we could live there! More on that in a moment.
All in all, it's hard to rank Grindelwald on charm and authenticity because it will greatly depend on where you stay and spend your time. So because of that, we rank it 5th in this category.
Cost: 5th
As perhaps the most famous place to stay in the Swiss Alps, costs follow suit, and it ranks 5th on this list for average Airbnb costs.
You can always find budget options, but they're fewer and farther between here. And because of the location, you're probably going to want a train pass like the Berner Oberland Pass or Top of Europe Pass to save money and control costs on your transportation.
By the way in case you missed it, we're pulling this Airbnb cost data from one of our free spreadsheet. Discover more Airbnb stats, weather data, and train pass info in the handy free download!
Other Factors to Consider: 3rd
We clearly have a lot to say about Grindelwald, Switzerland, because here are a few more factors to consider.
A benefit of staying in Grindelwald is that you'll receive the local guest card. In our opinion, this one isn't as valuable as the Interlaken Guest Card, but it gives you free transport on some of the local bus lines.
That means you can find a cheaper Airbnb in a more charming area of the village along one of the bus routes without having to worry about the cost of the additional transportation.
The Top of Europe Pass, for example, doesn't cover any of the buses, so the Guest Pass could come in handy. Yet the Berner Oberland Pass covers the local buses as well as the mountain lines.
Another great thing about Grindelwald is sunshine! Because it's a big, open valley running east to west, it gets plenty of light throughout the day. And the village itself is perched on a hill facing South, which only increases the amount of sun you'll enjoy. According to Jana, sunshine is like medicine for the soul, so she's a happy traveler when we're in Grindelwald.
On top of that, the setting is absolutely stunning with epic views of Eiger, Schreckhorn, Wetterhorn, and absolutely endless walking trails and hiking options through the hills and farms surrounding the village.
Where we would stay in Grindelwald, Switzerland
So where would we look for lodging in Grindelwald? Well, definitely not on Dorfrstrasse, as convenient as that may be!
We really like this area just one street above the village (which has one of Brett's favorite cafes in the whole region!), and the far edge of the village just past the church.
Both areas are serviced by bus lines, plus are way more peaceful, quiet, and charming with lots more locals.
Visiting Grindelwald with a Car
Personally, we would not bring a car here. There is one road into and out of the village, so you can imagine how much traffic there is! Plus, once you're in Grindelwald, you can walk or use the buses (with the free Guest Card) to reach everywhere you want to go.
Keep in mind that every mountain surrounding Grindelwald is not accessible by car, so you will have to use the cable cars and trains.
Download the FREE cheat sheet:
How To Pick A Home Base in the Swiss Alps!
---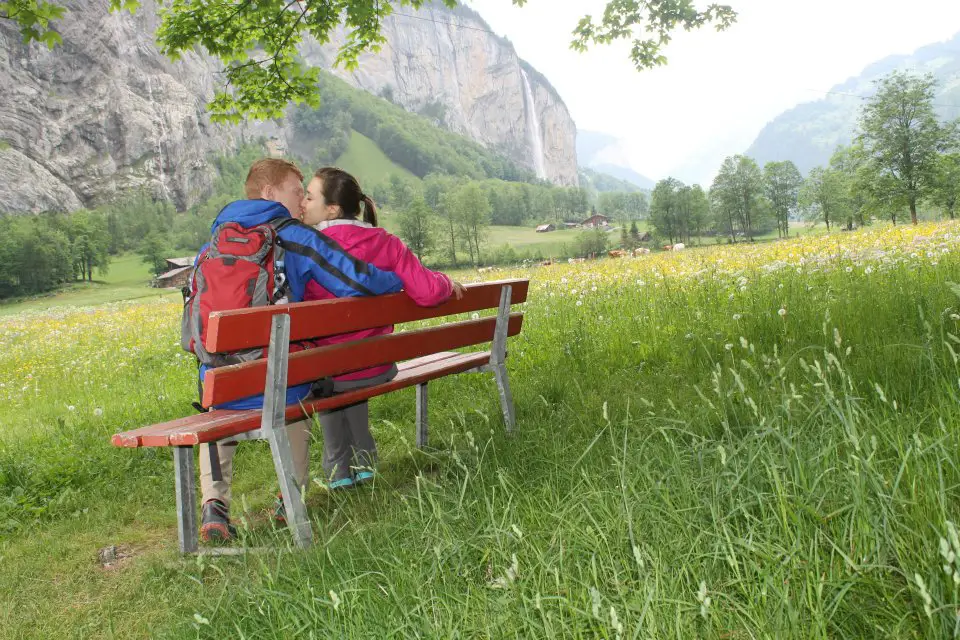 4 | LAUTERBRUNNEN
While Grindelwald sits in a valley, it's probably not the most famous valley in the Jungfrau Region. That well-deserved title belongs to Lauterbrunnen instead.
This iconic valley has been on the tourist map for centuries because, well, just look at how beautiful it is! It sits in a deep glacial valley with cliffs that tower more than 600 meters above.
We first came here on our honeymoon and were blown away by the beauty. Even though we've been here dozens of times since, we're still in awe of this glorious place, especially when it's brimming with waterfalls in the spring!
[Show map]
Proximity to Sightseeing: 3rd
Lauterbrunnen, Switzerland is perfectly situated for exploring Wengen and Jungfraujoch on one side, and Gimmelwald, Murren & the Schilthorn on the other.
In fact, like Grindelwald, you could easily stay in Lauterbrunnen for a few days with endless sightseeing options without really ever having to leave the immediate area.
It's also just a 20 minute train ride from Interlaken and the lakes.
For these reasons, Lauterbrunnen ranks 3rd for proximity to sightseeing, providing the best home base on this list for quickly finding yourself either up on a mountain or out on the lake.
Convenience: 4th
This sightseeing convenience isn't as well matched by amenities though. There's a small convenience store at the train station and a Coop grocery store nearby, but they're mostly limited to the basics.
But two trains, a bus line, and a cable car all leave from the main station and literally take you in every direction.
In fact, the bus line runs all the way through the valley, taking you to Trummelbach Falls, and the lift that goes from Stechelberg up to Gimmelwald, Murren, and the Schilthorn.
If you're coming with a car, there are plenty of places to park including two big garages. But they can fill up quickly during peak season. On top of that, there's one road leading into and out of the valley, so on weekends traffic will be bumper to bumper.
You'll find a handful of restaurants, and a variety of tourist shops, but nothing we've found there has been super memorable.
For these reasons, Lauterbrunnen Valley ranks 4th for convenience.
Charm/Authenticity: 4th
Like Grindelwald, Lauterbrunnen feels like it was once the most authentic little village tucked into a deep valley, but now it's flooded with tourists year round.
Outside of the village, however, you're in the land of farmers and locals. And lots of cows, of course.
So make sure you take a stroll all the way to the back of the Lauterbrunnen Valley. You'll enjoy the same views that inspired Tolkien and numerous other writers, plus you can stop at some of our favorite farm fridges along the way!
But because we're ranking Swiss villages, we've gotta say that the village of Lauterbrunnen isn't the most charming or authentic, and we've ranked it 4th.
Cost: 3rd
However, Lauterbrunnen can be a surprisingly budget-friendly option, ranking 3rd for average Airbnb prices. 
But further down the valley, you'll find cheaper lodging options and campgrounds as well. So if you're willing to forego a little convenience, you might find a killer deal as well as a more peaceful setting. And you'll never be too far from the bus line either.
Other Factors to Consider: 6th
Okay, here are a few additional factors to consider before you pick to stay in Lauterbrunnen, Switzerland.
You'll receive a local guest card for staying here, but we don't think it's worth choosing Lauterbrunnen for that alone, even though it does get you a small discount to Trummelbach Falls.
There are no local transportation benefits that we're aware of, which means that if you're staying further into the valley, the Berner Oberland Pass or Swiss Travel Pass could be your friend, since they're the only passes that cover the bus line.
Another consideration is sunlight. Lauterbrunnen sits in a deep, narrow valley that runs north-south. So if you crave lots of natural light like Jana does, daylight hours will be limited. And with lots of shade comes cooler temperatures, which you'll either welcome gladly or greet with extra layers depending on the time of year.
But holy cow, what can we say about the beautiful views you can get from this place? In the Spring when snow melt is plunging from the cliffs everywhere you look, this really does feel like a fantasy world.
And that's why Lauterbrunnen ranks 6 out of 7 for these other factors.
Where we would stay in Lauterbrunnen Valley
I honestly don't think we would choose to stay in Lauterbrunnen because of how much Jana craves natural sunlight. But if we did…
I think we'd stay further down toward Stechelberg, maybe even on a farm or in a Bed & Breakfast. As long as it's near a bus stop, it wouldn't take too long to get to the village, and we'd be really close to the lift to Gimmelwald and Murren.
But to us the hard thing with Lauterbrunnen is that it's so close to the mountains, we'd wanna be further UP into them. So that's where we're taking you next.
Why choose to stay in Lauterbrunnen
We can't deny the Lauterbrunnen is a fantastic spot for a romantic, relaxed trip. Although you couldn't fill more than just 1 day with things to do in the valley, there are plenty of nearby places to visit.
---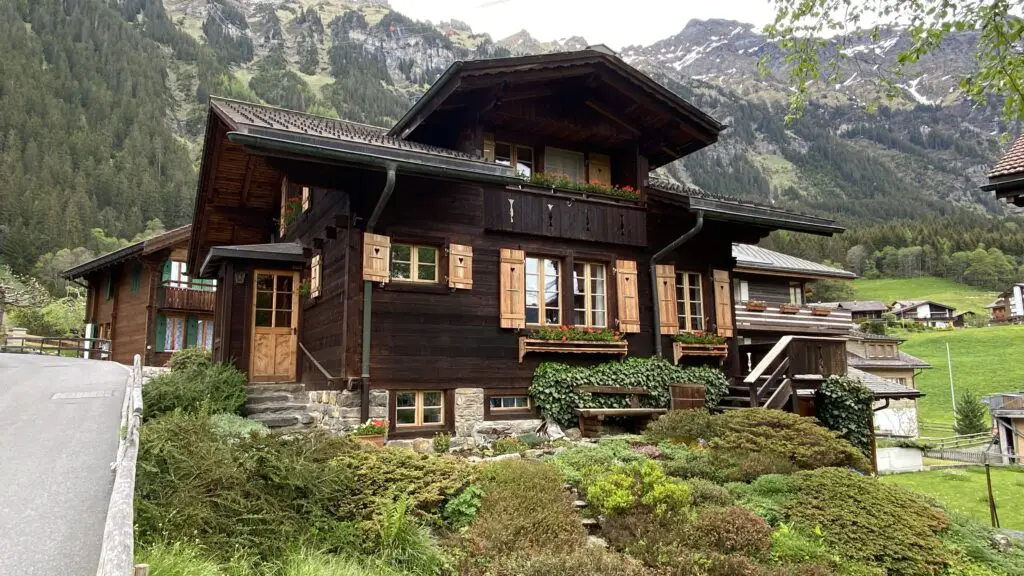 5 | WENGEN
Now we've arrived at the alpine villages! Where mountain views, scenic hikes, and the sound of cowbells promise to fill your days. And for lots of travelers, Wengen will be near the top of the list.
Although we haven't personally stayed here, we've been in and through Wengen many many times. And we've talked to a handful of our viewers like you who have stayed in Wengen and loved it.
[Show map]
Proximity to Sightseeing: 5th
Wengen sits on the train line toward Jungfraujoch in one direction, and down to Lauterbrunnen in the other direction.
This makes it seem pretty close to a lot of adventures in the region. But the reality according to train time tables is a little different. Jungfraujoch, as close as it is, takes 1hour and 25 minutes, and reaching Grindelwald, Murren, or Interlaken—even though it seems you could reach out and touch them—will require multiple train connections.
But there's a cable car to Mannlichen—and some of the best views around—that leaves from right there in the village. And it's only a 13-minute train ride to Lauterbrunnen.
So throwing together the good and the bad, Wengen ranks 5th in sightseeing proximity for the region.
Convenience: 5th
Like Lauterbrunnen Valley, there's a convenience store at the train station and a small Coop grocery store across the street. But we find prices in these little stores to be higher than the big ones because there are less budget options.
There are lots of tourist shops and activities, and quite a few restaurants for a small village. And we think that it's really nice that Wengen can be reached by train, which isn't the case for the next two spots on the list.
Wengen is a car-free village, so you can't drive here. But there is a parking garage at the Lauterbrunnen train station, and trains run until late at night.
So for convenience, Wengen ranks 5th
Charm/Authenticity: 6th
For most of you looking for Swiss charm, I think you'll find a lot to like in Wengen. The architecture is beautiful, with plenty of those half-timbered buildings with flower boxes on the windows. But it also caters a bit too much to tourism for our liking, and in ways that feel similar to Grindelwald.
Basically, imagine an authentic-looking Swiss village that has been expanded for tourism. The hotels are taller, the shops are geared for tourists, and there are amenities like spas and playgrounds and mini golf too.
If you're looking for more of a resort feel, you'll like it here. Don't get me wrong, it's not ugly, but if you're wanting something that feels more authentic, Wengen probably isn't the place, coming in 6th on our list.
Cost: 7th
Another reason to consider looking elsewhere is the cost, with average Airbnb rentals being higher in Wengen than any other place on our list. Translation: It's expensive!
And because of its location, transportation and parking costs could easily get out of control unless you choose a good train pass. Here are a few other things to consider.
Other Factors to Consider: 7th
Like Lauterbrunnen, there's a Wengen guest card with a few discounts, but we don't think this will offer much value to most travelers.
But compared to Lauterbrunnen, you should see a lot more sunlight because of its higher elevation and somewhat south-facing slopes. Plus, you're actually in the mountains when you're here!
Some of the best views of the Lauterbrunnen Valley, Murren, and Schilthorn can be enjoyed here, and you can do plenty of hiking as well. Though you'll pretty much have to hike steeply up or down regardless of which direction you choose!
So for these intangibles, we rank Wengen 7th
Where we would stay in Wengen
Like Lauterbrunnen, Wengen is another place we probably wouldn't choose to stay. There's a lot to like, but it just doesn't really suit our style. There are good but not great hikes from the village (in our opinion), and we really like to be able to walk out the door and have numerous trail options.
And on top of that, if we're in the mountains, we want a little more peace and quiet to enjoy the natural beauty. Wengen is a little too much of a pass-through place for day-trippers to be that.
But if we were to choose a place to stay here, we'd probably look for something across the train tracks, or just outside of the village in the opposite direction.
---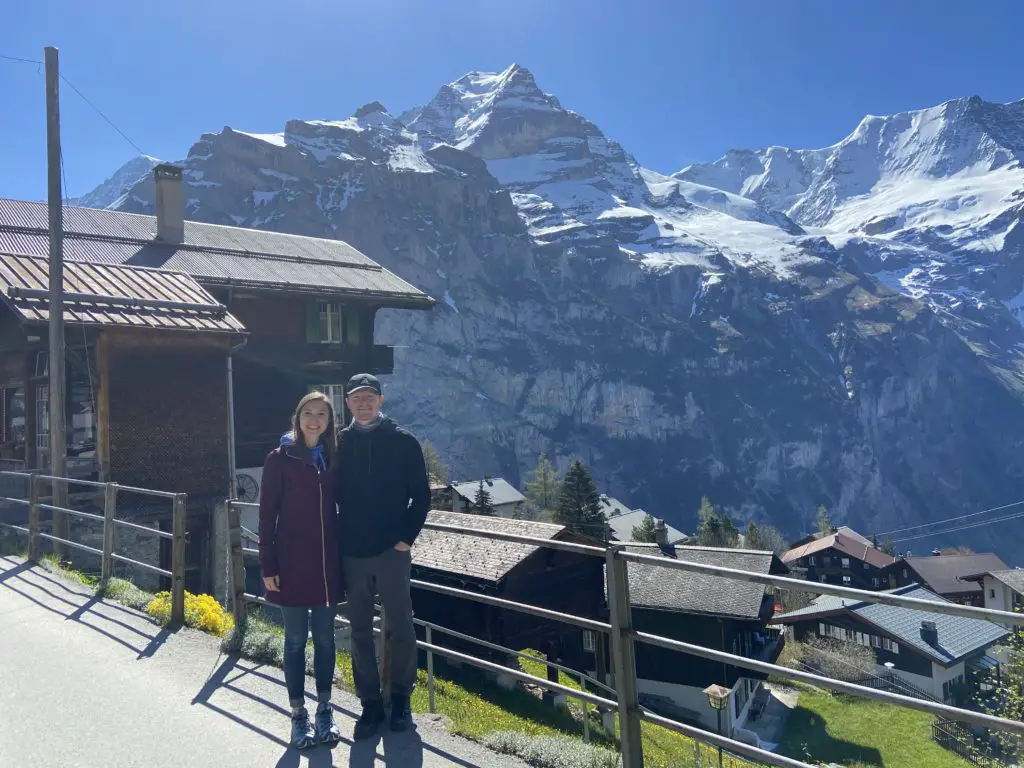 6 | MÜRREN
As you gaze from Wengen across to the other side of the Lauterbrunnen Valley, you'll find Mürren, Switzerland, the next spot on our list.
And full disclosure—we honeymooned here in 2012—but we promise to be as impartial as we can! 
[Show map]
Proximity to Sightseeing: 7th
And to live up to that promise, we'll start by telling you that Mürren comes in dead last on our list for proximity to sights all around the Jungfrau Region.
It's just not easy to get up or down from here, requiring a cable car and a bus ride or a train and cable car just to reach Lauterbrunnen.
While Mürren is not a very central location in the region, there's a lot you can see and do from right here on this side of the valley. In our opinion, you could easily enjoy a weekend up here without the need to go down to Lauterbrunnen.
Convenience: 6th
There's just one small Coop grocery store, and like in Wengen, the prices can be a little higher here, although they supply plenty of groceries and produce.
And while restaurant options aren't plentiful, there are more than enough to keep you busy even for a week, and we think the food is generally better here than in Wengen or Lauterbrunnen.
Maybe the best part of staying up here, though, is that you can truly hike from your doorstep, and these hikes include some of our favorites in the area, for just about every ability level.
Something to keep in mind is that this end of Mürren is connected by the Mürren BLM, which only runs until around 8pm. So if you're planning to return to Mürren later in the evening, you'll have to use the Schilthornbahn on the other side of the village.
It's only about a 10-minute walk between the two, but choose your lodging location wisely if that's important to you.
And don't forget that the section of the Schilthornbahn from Stechelberg to Mürren is only fully covered by the Berner Oberland and Swiss Travel Passes.
On top of that, it's also a car-free village. So if you drive into the valley, you'll have to leave it in Lauterbrunnen below.
For these reasons, Mürren doesn't rank too highly for convenience, coming in 6th.
Charm/Authenticity: 3rd
But for a charming alpine village with the necessary amenities, Mürren is tough to beat. It feels so much more quaint than Wengen, though it sees plenty of tourists too.
While it's one of the most popular ski areas around, it's still managed to stay somewhat traditional.
But while it oozes with charm, it's honestly not as authentic as we'd like because so many tourists come and less locals seem to stick around. But it feels incredibly authentic once you're hiking in the mountains outside the village, just you and the cows.
It's really hard to be approachable for tourists and authentic at the same time. So while it's far from perfect, we think Mürren is one of the more romantic spots and absolutely amazing if you really just want to soak in the Jungfrau region, hike, and take your time.
For these reasons, it comes in 3rd for charm and authenticity. I know, I know, you're still waiting to see the #1 most charming village on our list. It's coming up next, so we're almost there!
Cost: 6th
Overall, Mürren comes in 6th on the list for the cost of an average Airbnb.
Cost varies widely, depending on the time of year. During peak ski season rentals can be sky high, while you can find deals during the summer season.
Like the cost of a rental, your budget is going to change drastically based on how you travel. If you shop at the grocery store and cook some meals, you'll save a ton. 
The same thing goes for transportation. Choose a good train pass to cap your expenses, because you'll be riding a cable car anytime you want to leave.
Other Factors to Consider: 1st
Alright, there are a few more helpful things to know about Mürren.
Mürren is another spot that offers a guest card that unfortunately isn't really helpful. Though you can use it for a free guided tour to the Sprutz Waterfall! (Psst—if you already own our Mürren Guide, we show you how to get there!)
Of all the spots on this list, Mürren is the highest, sitting at 1650m of elevation. So here you're more in the mountains than anywhere else. And it's probably going to be colder than the others as well.
Compared to Wengen, you won't see quite as much sun. And when it rains, you're likely to be in a misty fog.
But absolutely no other spot offers views of the Big 3—the Eiger, Monch, and Jungfrau—like Mürren does. And when you're here, you'll feel like you can reach out and touch them.
There are waterfalls, alpine pastures, and mountain huts you can reach with no transportation necessary other than your legs.
That's why we rank these factors as 1st on our list.
Where we would stay in Mürren, Switzerland
If you can't tell, we would definitely stay in Mürren again!
We don't think there's really a bad spot to stay in Mürren. Although we'd choose somewhere that isn't directly on the main street between the stations just for more peace and quiet.
The road running down toward Gimmelwald, or the one going slightly uphill from the train station would be good options.
But if you really want to be away from it all, there are numerous huts peppering the hills surrounding Murren, and it's possible there's no more peaceful place on earth!!
Plan your trip to Mürren!
Mürren is absolutely worth a visit, so we've made it easy for you with this comprehensive done-for-you 1 Day Itinerary Bundle!
---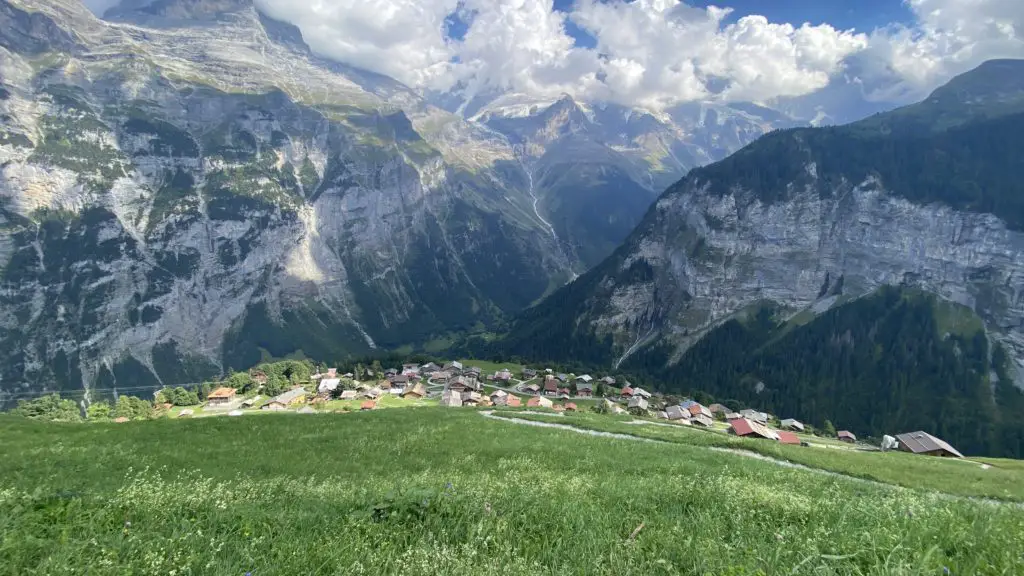 7 | GIMMELWALD
Much of what applies to Mürren applies here. However, you can't dial up the charm and authenticity any higher than this alpine village. To be fair, we haven't actually stayed here yet but so many of our YouTube viewers stayed here this summer and loved it, and we've spent plenty of our days enjoying it as well!
[Show map]
Proximity to Sightseeing: 6th
From the village, you can quickly get onto hiking trails where you'll hardly see anyone else. So if that's why you're coming to Gimmelwald, you won't be disappointed.
Beyond that, it's not very well connected, similar to Mürren. But since it sits one station lower on the Schilthornbahn, you'll save a few minutes. And so it ranks 6th for proximity to sightseeing.
Convenience: 7th
Like Mürren and Wengen, Gimmelwald is also a car-free Swiss village. If you stay in Gimmelwald, we highly recommend the Berner Oberland Pass or the Swiss Travel Pass because they cover transportation on this section of the Schilthornbahn which is the only way in or out of town — unless you wanna walk!
There is no grocery store here so you'll have to do your shopping in Mürren or Lauterbrunnen, although you will find a handful of farm fridges and restaurants. We often stop at Pension Gimmelwald for drinks or buy local ice cream from Esther's Guesthouse. 
Because of those factors, this charming village ranks last for convenience.
Charm/Authenticity: 1st
But let's be real, you can't get much more authentic than Gimmelwald. It's still a working village with active locals, farmers, and villagers. The buildings are beyond charming, the gardens are lush, and it's a lot of fun to see the animals on the nearby farms. 
You'll see precisely stacked wood piles everywhere, reminding you that wood is still the primary heating source many homes. 
And here you're 100% in the mountains, tucked further back into the valley than anywhere else on this list.
So all that earns Gimmelwald 1st place on our list for the most charming alpine Swiss village.
Cost: 2nd
It's not hard to find affordable lodging in Gimmelwald, but keep in mind that there aren't a whole lot of options. So for what's available, it ranks 2nd in terms of cost.
But it's going to take a little more planning and effort to cook at home if you're staying here, so food could quickly break your budget if you're not careful.
Other Factors to Consider: 2nd
Here are a few more things to keep in mind. Like Mürren, a guest card is included in your stay, but it probably doesn't have much to entice you.
Weather and sunlight will be pretty similar as well, but Gimmelwald is about 300m lower, so you'll probably find temperatures a few degrees warmer.
But seriously—walk just a little bit out of town in most directions and you'll find hiking trails and scenic spots that hardly anyone but the locals will ever see. These landscapes in the hills surrounding Gimmelwald are unspoiled, majestic nature at its finest.
Where we would stay in Gimmelwald, Switzerland
There's really not a bad location in Gimmelwald. But we've observed that so many people who visit the village walk from the cable car station partway down the main road, and then turn around and head back.
So if we wanted to have a peaceful spot to myself, we'd probably look for something that's not in that section right there. But really, compared to Mürren and especially Wengen, you'll feel like you're getting the mountains all to yourself here!
Why you could choose Gimmelwald
If you're searching for the best place to stay in Switzerland for a romantic or slower-paced holiday, then Gimmelwald is the Swiss village for you!
It's amazing for the views and hiking. But even if you want to be active, there are plenty of things to do without feeling the need to go see everything in the area.
Pick your home base with confidence!
Obviously there are a lot of details to consider when you're planning a trip to the Swiss Alps. Beyond these tips on where to stay, we crafted a whole guide about when to visit month-by-month, including a free spreadsheet download of weather facts, airbnb stats, and train pass data.
Read that next and we'll see you in Switzerland!
Other guides we mentioned in this article:
Download the FREE cheat sheet:
How To Pick A Home Base in the Swiss Alps!