We have been to a lot of lakes in Switzerland. But today, we're taking a day trip from Interlaken to Jana's favorite alpine lake, Oeschinensee. So board the train with us, and we'll tell you how to get there, how much it costs, what to do, and why Oeschinensee might become your favorite Swiss lake too.
---
Want to Watch instead of Read?
---
How to Reach Oeschinensee (Lake Oeschinen)
Oeschinensee is a teal-blue lake nestled in the mountains above Kandersteg, which is located in the Berner Oberland in Switzerland, about an hour by train from Interlaken or Bern, and two and a half hours from Zermatt or Lucerne.
You'll first travel from Interlaken West to Spiez, then from Spiez to Kandersteg. The total journey takes about an hour and 5 minutes, including a 20-minute layover in Spiez. So maximize that time by exiting the Spiez train station and walking across the street to enjoy the views over Lake Thun before catching your next train.
You can also drive to Kandersteg, but you can only reach Oeschinensee by riding the gondola or hiking. There are plenty of parking lots within a five-minute walk of the cable car station. But if you ride the train to Kandersteg, you'll have to walk about 15 minutes to get there.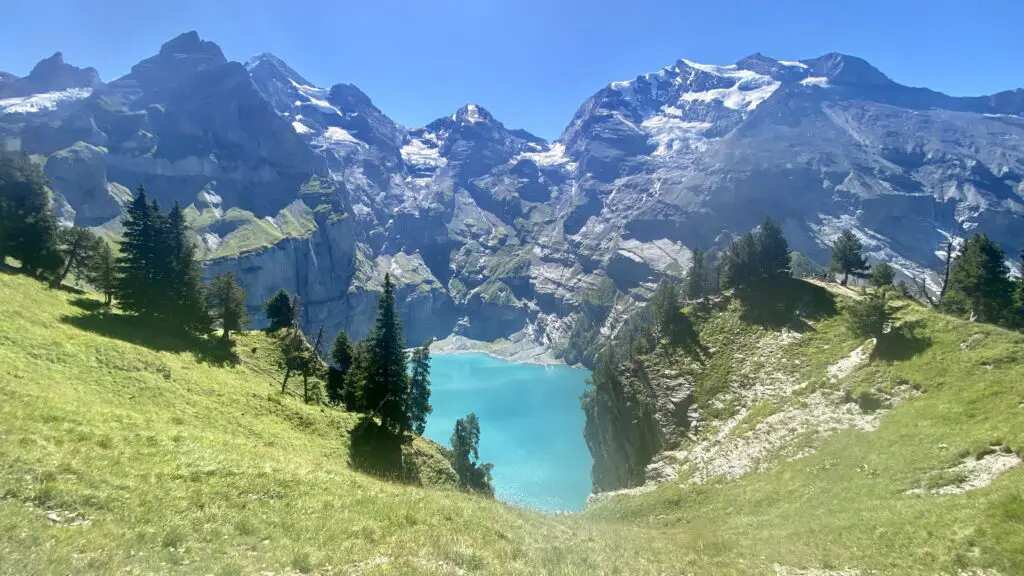 ---
When is Oeschinensee open?
The gondola is open during both the summer and the winter seasons, although it's usually closed for maintenance from mid-March to mid-May and then again from mid-October to mid-December.
It runs from about 8:30 or 9:00am until 5:00 or 6:00pm, depending on the season. And the ride to the top takes just a few minutes. Now, you could actually hike up to Oeschinensee, which would save you some money and allow you to visit when the cable car is closed, but it takes over an hour and includes nearly 500 meters of elevation gain.
---
How to reach Oeschinensee
So since most of you probably plan on riding the cable car, here's what it costs:
A standard round-trip ticket for adults costs 30 CHF.
You get 50% off with a Half Fare Card or Swiss Travel Pass.
But the ride is 100% covered by the Berner Oberland Regional Pass. And if you're planning on visiting as a day trip from Interlaken or another town in the Jungfrau Region, then the Berner Oberland Pass even includes completely free travel to and from Kandersteg.
We talk a lot about the Berner Oberland Pass in our ultimate guide to Swiss Train passes, so be sure to check that out if you haven't already (it includes convenient links to purchase your pass too!).
If you're traveling with children, kids ages 6 to 15 cost the 50% reduced price, or they're totally covered if you have the Swiss Family Card.
And as usual, kids under six are completely free.
And this is fun — you can buy an Oeschinensee day pass for your dog for just 5 CHF.
Tickets can be purchased at the bottom or top cable car stations or on the SBB Mobile App, which we think is easiest. You simply scan your barcode to enter the cable car, and you won't have to wait in line at the ticket window.
But make sure you purchase a round-trip ticket if you plan on riding both ways because two one-way tickets are actually more expensive.
---
Things to do at Oeschinensee, Switzerland
Once you're up here, there are two options: start walking towards the lake or ride the mountain coaster. And you know, we're always up for an adventure. So first, we took a quick ride on the 750-meter-long mountain coaster before we started our hike to the lake.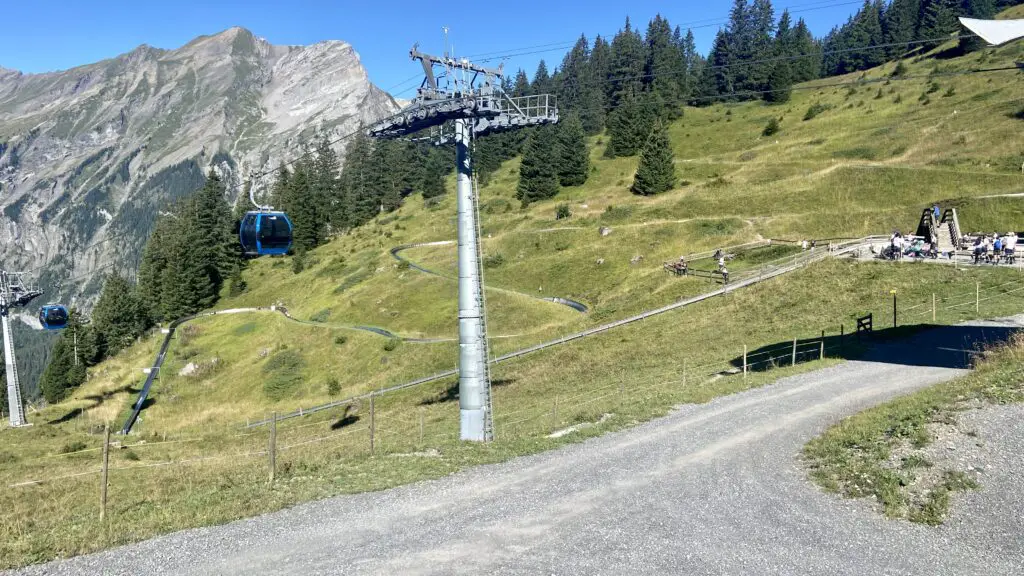 We will say it wasn't the fastest coaster we've ever been on, but that just means you can push the pedal to the metal and go as fast as you can, as long as you don't get stuck behind slow people like Jana did!
---
Oeschinensee Panorama Hike (trail #8)
Thanks to that adrenaline rush (at least for Brett!), we were ready to start our hike. We followed trail number eight (Oeschinensee Panorama Hike) above the lake because, well, just wait until you see these views.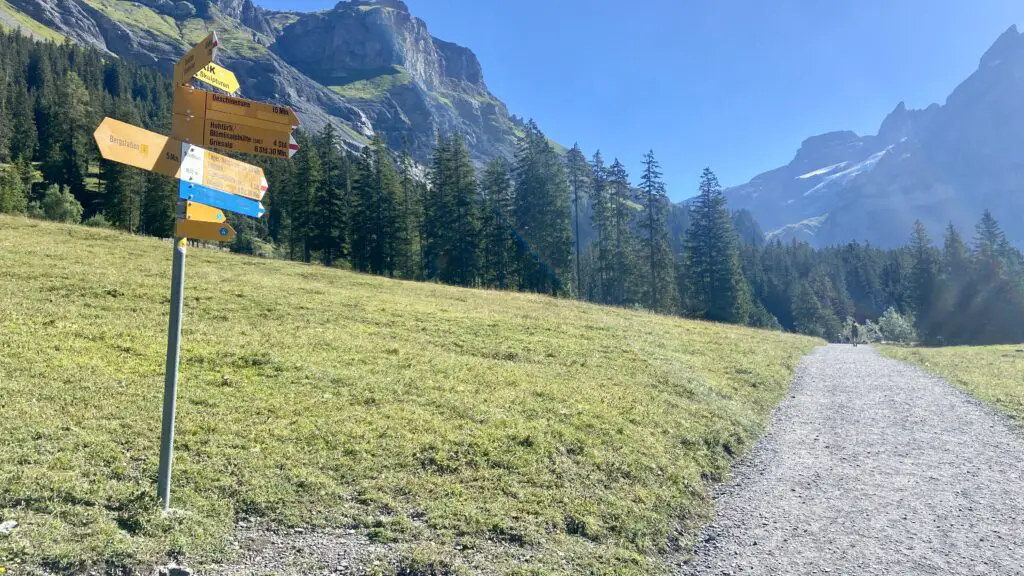 But if you want to skip the hike and just walk straight to the lake, you can follow trail number four and be there in about 25 minutes. It's an easy downhill walk on a beaten path. That shouldn't be a problem for most people with comfortable shoes. But we did want to mention that there's an electric shuttle that can take you from here to the Berg Hotel at the lake.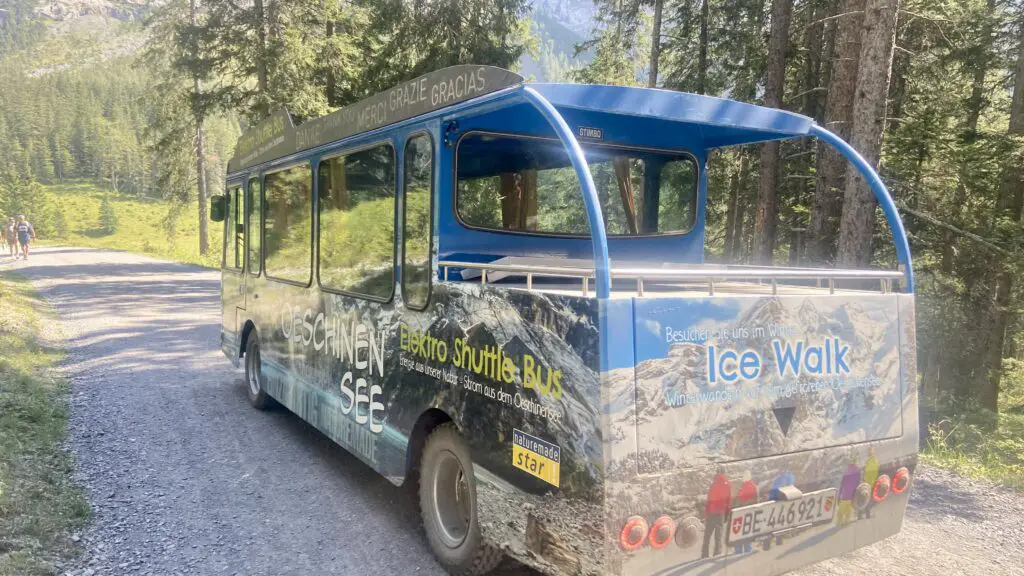 It runs daily from 11:00 until 4:30 or 5:30, depending on the season, with departures every 30 minutes or just whenever it's full. Priority is given to travelers with reduced mobility, and they will not guarantee you a seat. And the last time we were here, it was pretty much always full. It's pretty pricey for a one-way ticket, but it is a great opportunity to make this beautiful place accessible to anybody.
Okay. Like we said, we took trail number eight, which is a three-hour scenic loop that goes up above the lake and across to the other side. And since we've done this hike a couple times now, here are a few things that we've learned.
1 | The trail signs are super easy to follow, but it's still a good idea to grab a map from the station just in case, or use the Swiss Topo app like we do.
2 | It's pretty steep at first, but we promise it's worth it.
3 | If you come early in the morning and look closely enough, you might see ibex up on the hillside early in your hike!
4 | Don't miss this postcard-perfect view, which makes the hike up absolutely worth it.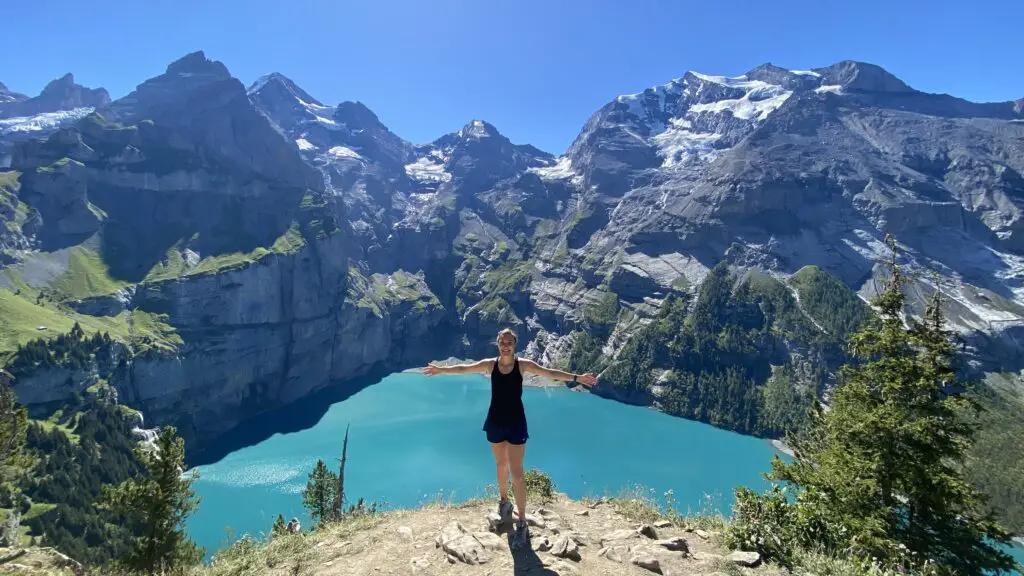 The first time we came here, we sat down on this bench to have a picnic, and another hiker stood on the bench and offered to take our photo. And it has been my favorite photo ever since. So do not hesitate to ask other people to take a picture for you here.
The trail does get narrower and a bit more exposed after you leave the viewpoint, which made us nervous the first time we came. We had read a few trail reports, which made it sound kind of treacherous, but to be fair, there was still snow on the trail at the time, and that's what we were most worried about.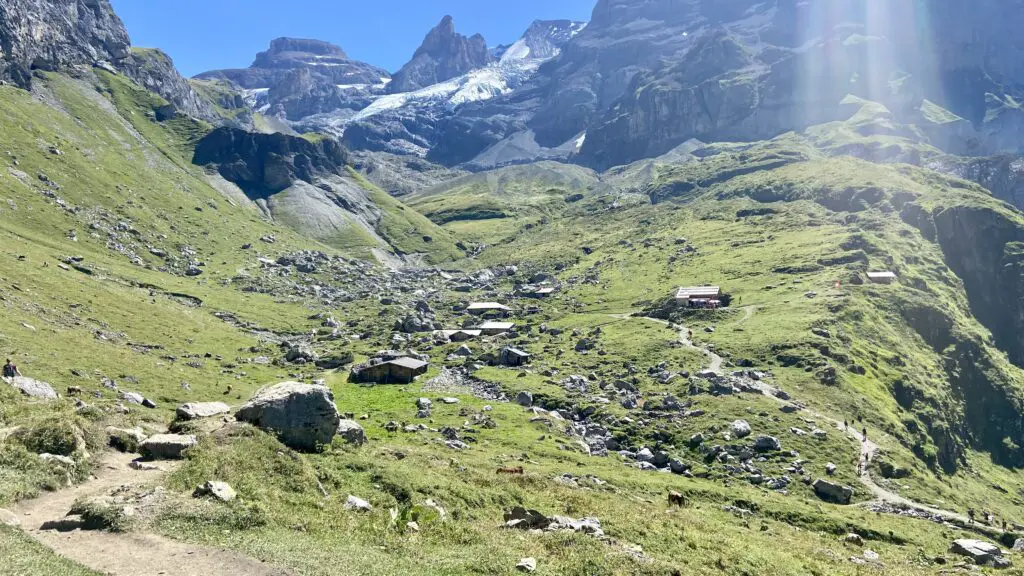 But it turned out to be no problem. After hiking this trail a couple of times, we'd say it's a pretty standard red mountain trail in Switzerland, which means you should be sure-footed and wear sturdy shoes. But it's accessible for most people.
By the way, there is nowhere to fill up your water bottle along the way, so make sure you bring enough water for whichever trail you choose.
Thankfully, when you get to the back end of the lake, there are a few mountain restaurants where you can stop for a drink.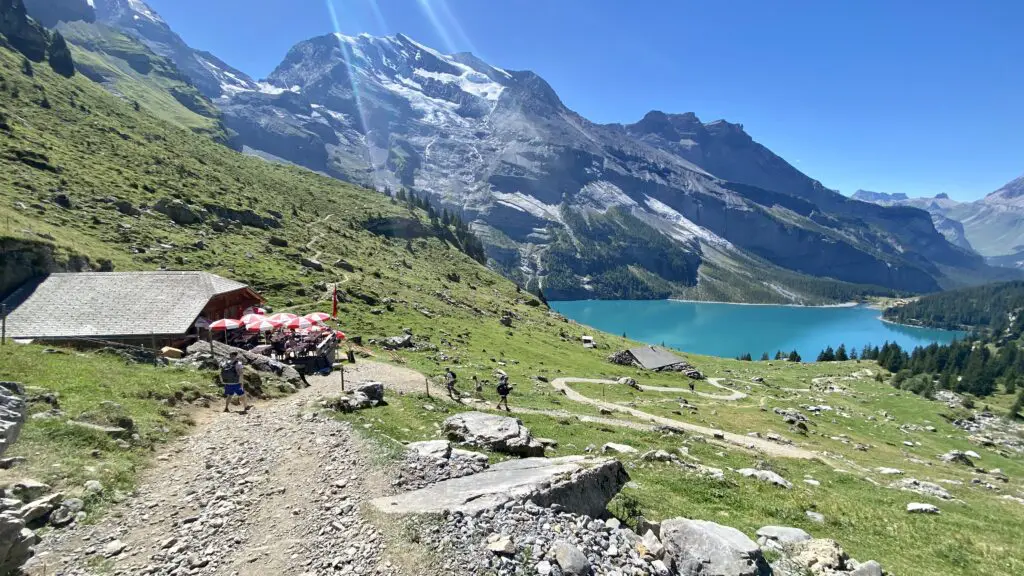 ---
Visiting Oeschinensee: Swimming and Boat Rentals
The average temperature at Oeschinensee in the summer is 25°C, but the water only warms to a cool 20°C. In fact, this is one of the few lakes that you can actually skate on in the winter! But it was pretty hot on our most recent visit, so we swam in the lake anyway.
In addition to swimming, you can rent a rowboat from Lago Mio for 29 CHF an hour or a fishing boat for half a day for 40 CHF. But if you want to fish, you'll need to buy a day permit, which you can also get from Lago Mio.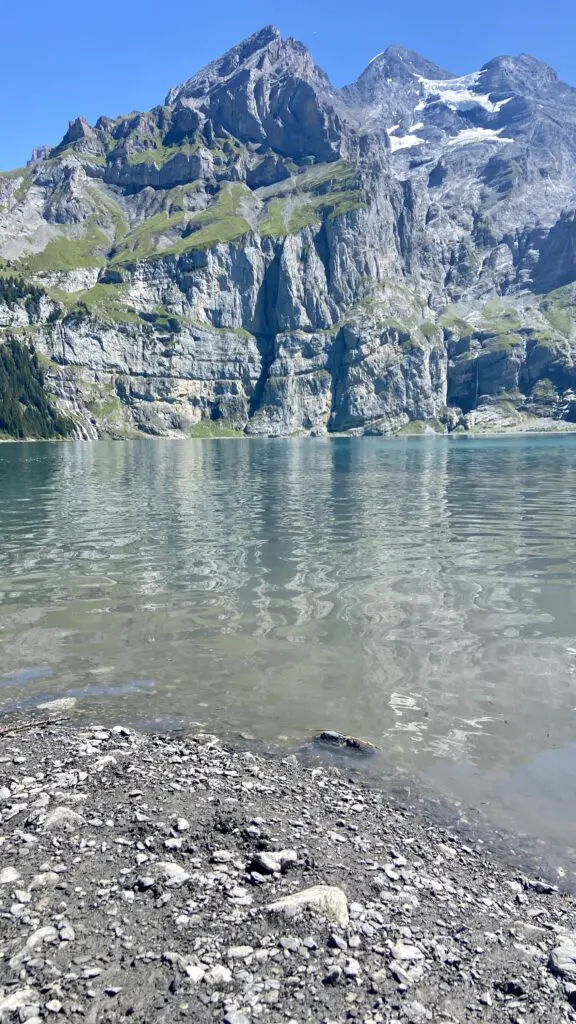 I thought the water was actually going to be freezing cold, but it was so hot when we visited that it was super refreshing. As you can see, there are plenty of places to spread out on a blanket and enjoy the lake as well.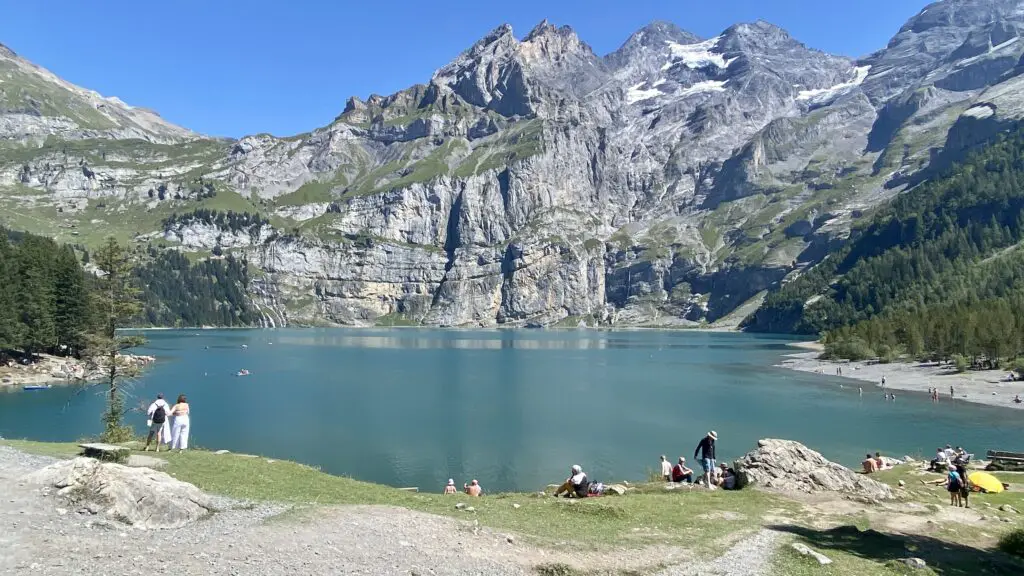 ---
Picnics and Camping at Oeschinensee
You cannot camp at Oeschinensee because it's a UNESCO World Heritage site as well as a game and plant protection area. So if you want to do some camping, you can do that down in Kandersteg at Camping Rendezvous.
You'll see a bunch of grill spots near the water. And from the Berg Hotel Oeschinensee, you can buy a picnic basket for 35 CHF per person. You get a Bernese Oberland bratwurst or a veggie sausage, bread, salad, chips, and Oeschinensee water. Now, that seems a little bit steep to me because you can pay much less for a picnic from the grocery store. So we checked out one of the six restaurants at Oeschinensee instead. (Well, I guess there are technically only three restaurants directly at the lake since we already passed two of them during our hike and the other is at the cable car station.)
---
Oeschinensee Restaurants
There's Mountain House Arva, which has seasonal local cuisine, the food trucks with snacks and drinks, and Bergstübli, which sells similar items as well. And then there's Mountain Hotel Oeschinensee. This has been run and owned by the same family for five generations. We're suckers for family-owned businesses and yummy dishes like lamb. So that's where we headed for lunch.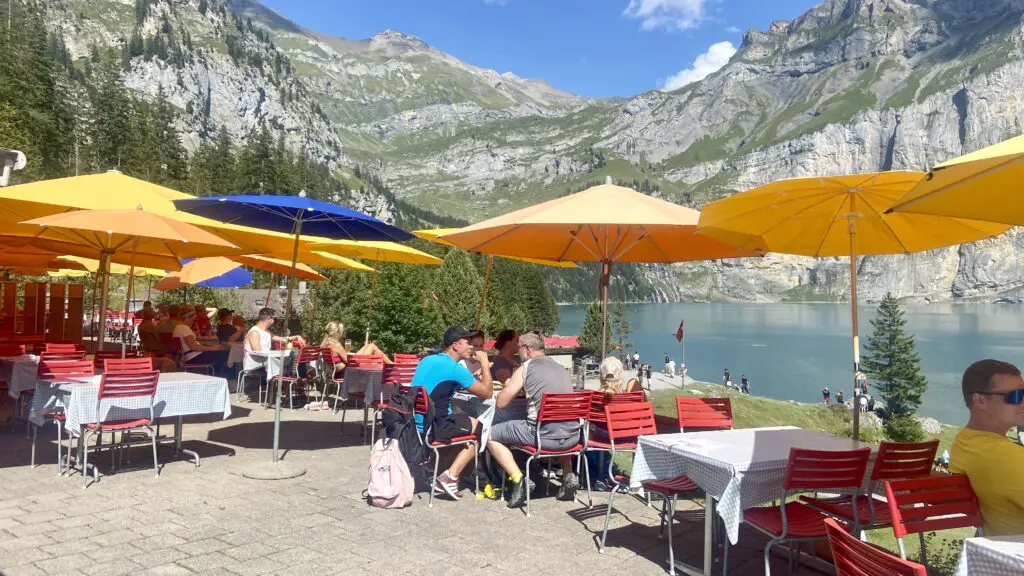 ---
Why Oeschinensee is a great Day Trip from Interlaken
If you're staying in Interlaken or Grindelwald, then Oeschinensee is a great day trip. And if you're traveling between the Jungfrau Region and Zermatt or Italy, it's also a great stop along the way. And you might even consider staying overnight in Kandersteg.
A bonus tip is that the Berner Oberland Pass covers you all the way from Interlaken to Oeschinensee and then all the way to Brig, which is not far from Zermatt or even across the Italian border to Domodossola.
---
Combine Oeschinensee and Blausee!
A visit to Oeschinensee also pairs really well with a visit to Blausee. It's just a ten-minute bus ride from Kandersteg, and the entry fee is 9 to 13 francs per adult, depending on when you visit. And once you're here, you can walk in the nature park, enjoy a glass-bottomed boat ride, see alpacas, visit a fish farm, dine in the cafe, bistro, or restaurant, or even stay overnight in the Plaza Hotel and Spa.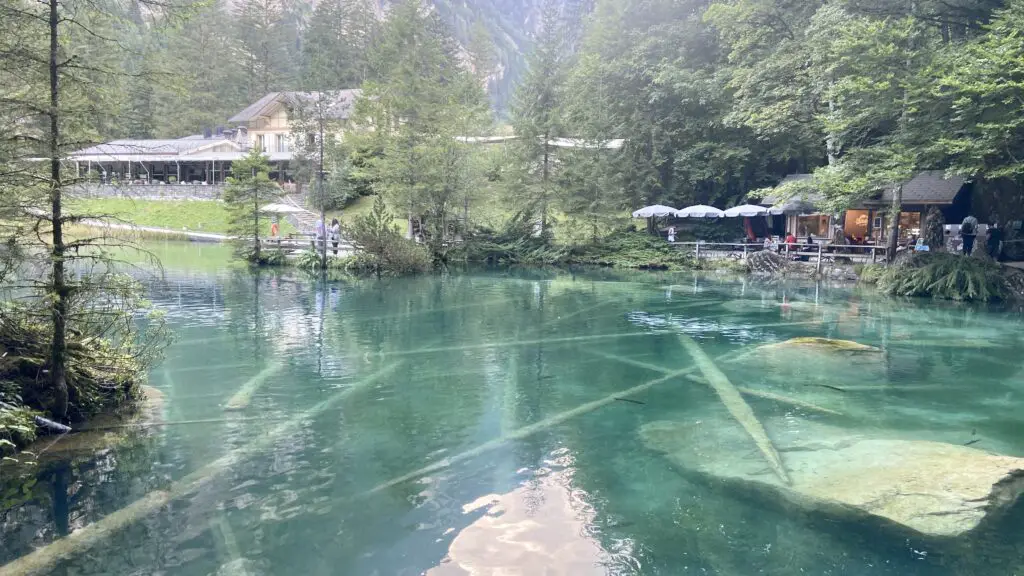 In case you can't tell, a morning and lunch at Oeschinensee, followed by an afternoon at Blausee, is a perfect combination!
If you're looking for more day trips in the Jungfrau Region covered by your Berner Oberland Pass, check this out.
We'll see you in Switzerland!