Alphorns, alpine flowers, panoramic views, Swiss food, and a historic cogwheel train — there's a lot to love about Schynige Platte Top of Swiss Tradition!
Hey there, traveler. We're Jana + Brett, and we create videos and travel guides to help you travel Switzerland with confidence. That looks like knowing where to go, what to do, how to get there, and how much it will cost.
Want to Watch Instead of Read?
---
Wilderswil to Schynige Platte
Schynige Platte is located right in between Interlaken, Lauterbrunnen, and Grindelwald, but the train to reach Schynige Platte actually departs from the Wilderswil train station. You can easily get to Wilderswil by riding the train from Interlaken Ost, Grindelwald or Lauterbrunnen, or by taking bus 105 from Interlaken West. If you're coming by car, there's parking available near the train station, and it's actually very affordable by Swiss standards.
But it's important to know that Schynige Platte is only open during the summer months, and the actual dates often change from year to year. For example, last year it opened toward the end of May, but this year not until July 1st. And it usually closes for the season around the end of October.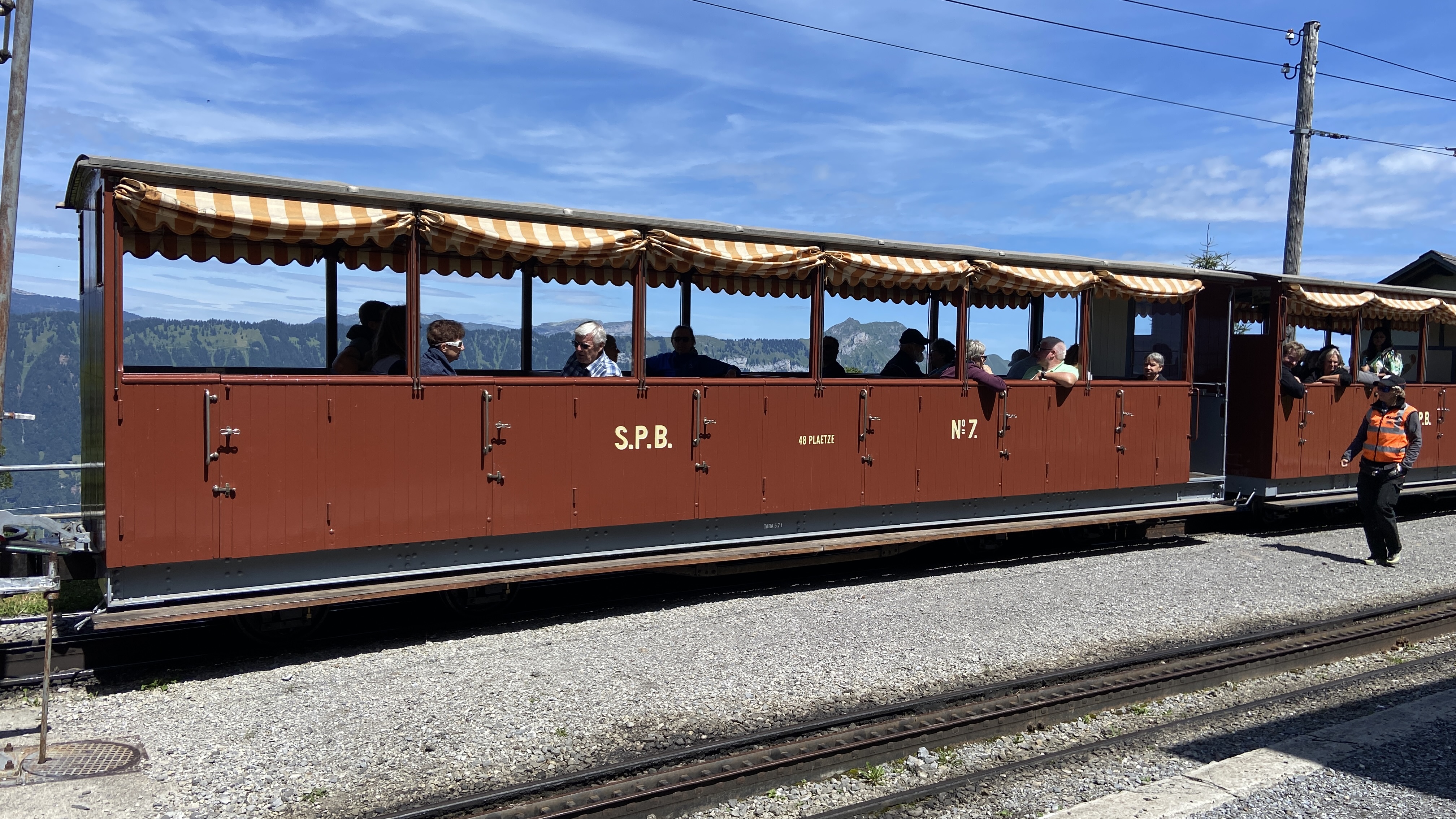 When you get to the Wilderswil station, walk to the end of the platform and cross the tracks to reach the historic cogwheel trains. They're the same 19th-century carriages that have been transporting travelers to and from Schynige Platte for more than 100 years!
In fact, these old-fashioned cogwheel trains and historic carriages are some of the biggest draws for tourists. And you'll have plenty of time to enjoy them since the ride to the top is just under an hour long.
---
The Cogwheel Train Ride to Schynige Platte
Usually, we tell you which side of the train to sit on for the best views but…honestly, this train winds back and forth so both sides get incredible views! As you ride, definitely soak in the mountain and lake views, but also notice a few things that are different about this train.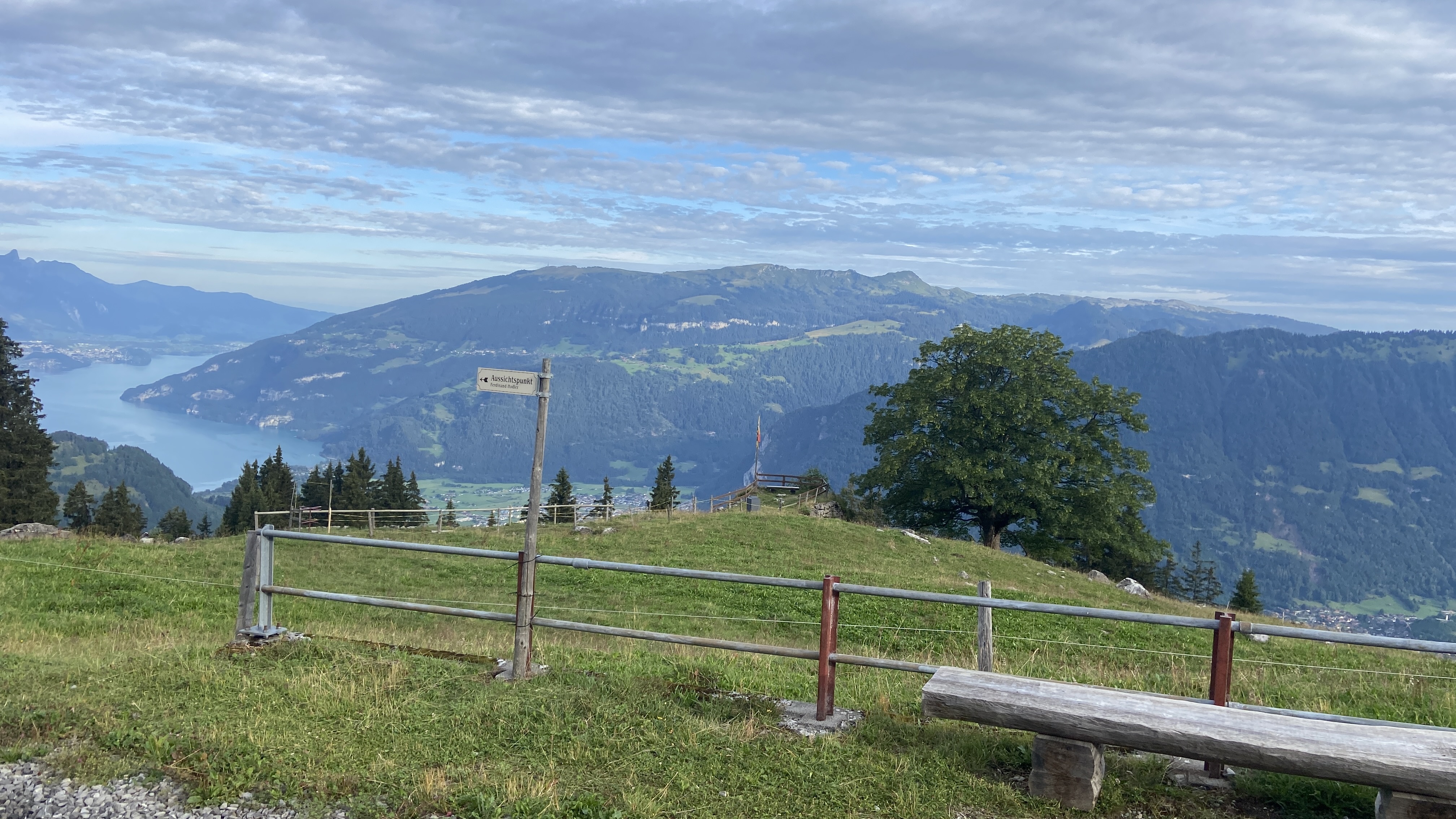 First, the locomotive pushes the train up the mountain instead of pulling it.
Second, it's been an electric train since 1914. Yet none of the signals along the track are electric, so you can actually watch the staff operate the crossings by hand!
Third, pay attention to how steep the ride gets. The journey is 7.3 kilometers with a max gradient of 25%.
Fourth, there's one intermediary stop along the way at Breitlauenen, which has tasty alpine cheese platters and (in their words) the best home-made fruit pastry in the Bernese Oberland.
Fifth, did you see Brett running alongside the train?!? Just kidding, although he does think it'd be impressive if someone could race the train (and beat it!) up the mountain.
---
Schynige Platte Weather
During the summer the average high temperature is 70°F (around 20°C), and the lows are around 50°F (around 12°C). Of course, we're on the top of a mountain so intense sun can make it feel warmer while sharp winds can make it feel even colder. Before you take an hour to come up here, you can see webcams on the Schynige Platte website to make sure it's clear.
That means you probably want to dress in layers, or at least pack a few in your backpack. Even during Summer, we have a light long-sleeve shirt in our backpacks, plus a rain jacket, because we basically never go out without a rain jacket.
---
Schynige Platte Hike & Panorama Trail
Start by walking from the train station to the restaurant. Go under the terrace, past the kid's playground, and up the steps to begin the hike. If you're like Jana and find slides irresistible, take a quick ride then join us back on the trail. At the first split, turn left. Now, follow signs up to Daube. This first part of the path is steep and rocky, with views of Interlaken and Lake Thun. After about 20 minutes of uphill hiking, you'll reach Daube.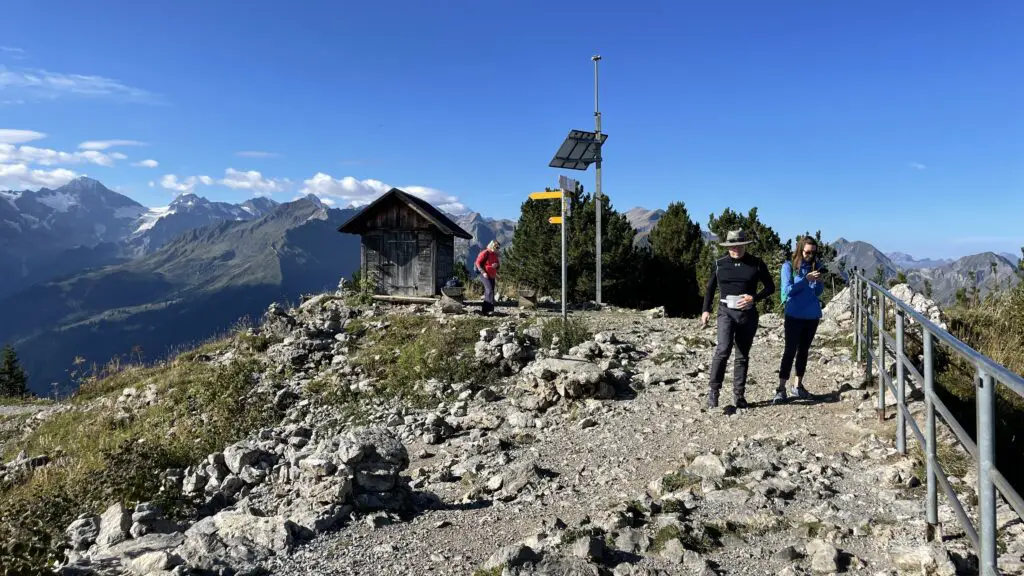 This incredible viewpoint is absolutely worth the climb! You can glimpse Lake Thun, Interlaken, Lake Brienz, a few glaciers, the Eiger, Mönch, and Jungfrau from here.
At this point, we usually like to stop for a quick snack and to enjoy the views. One of the best things about hiking here — other than the obvious — is that you have lots of options. If you've had enough hiking, you can just finish the short loop from here which takes you back to the station in around 30 minutes.
But if you're willing to go a little longer, continue along the ridge to Oberberghorn. This is the most exposed section of the trail, but it's still safe and wide enough to keep you far away from the cliff edge. A note about shoe selection — you'll probably want a trail or hiking shoe instead of tennis shoes because the rocks and roots will tear those "tennies" up!
When you reach this split at the bottom of the ridge you have a few options. If you're up for an adventure, climb the wooden ladders to the Oberberghorn (don't worry, the views are worth a bit of extra huffing and puffing!)
After soaking in the views (or if you decide to skip the viewpoint entirely), you'll make a short left as if you're continuing toward the Loucherhorn, and then turn back toward the train station and finish the trail by crossing the alp.
You could actually take a larger loop to the Loucherhorn or even the classic 6-hour hike all the way to Grindelwald First, but we think this Oberberghorn loop gives you the most bang for your buck — posted at just an hour and a half of total hiking time. And the end of this trail will actually lead to our next highlight, the Swiss Flora and Alpine Flower Garden.
---
Finding this helpful? Then you'll love our helpful weekly emails, stuffed with good-to-know info like seasonal closings, restaurants to try, how to save money in Switzerland, and more!
Join our weekly newsletter for free!
---
Schynige Platte Alpine Garden
Schynige Platte couldn't be called Top of Swiss Tradition if it didn't include some famous Edelweiss flowers! But that's not all that's here. Supposedly you can see ⅔ of the entire alpine flora in this garden. There's a 1 kilometer walk that includes nearly 800 different plants. If you have a green thumb, you can even plan your visit here according to the bloom calendar, or come on a Sunday afternoon for a free public guided tour.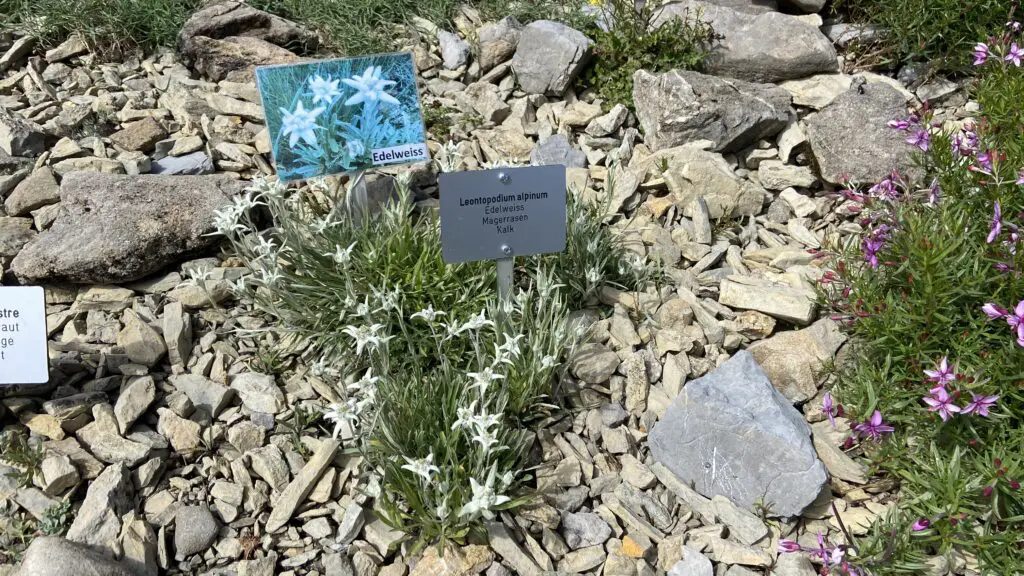 As you exit the flower garden, there are even a few fun photo spots with views of the Eiger, Mönch, and Jungfrau.
---
Lily the Cow (Schynige Platte mascot)
Lily the Cow is the kid's mascot for Schynige Platte, and that's because this place is super family-friendly. There's Lily's Alpine playground, a kid's treasure hunt in German, and even a family day every September where you can meet Lily.
---
Live Alphorn Concerts in Switzerland
If you're hoping to hear an alphorn while you're in Switzerland, then you're in luck! Every single day when Schynige Platte is open, you can hear live alphorn concerts between 11am and 2pm!
I mean, is there anything more Swiss than an alphorn concert way up in the mountains?
---
Okay, time for lunch at Schynige Platte!
We actually recommend eating up at Schynige Platte because the food is good, it's relatively affordable, and it's very typically Swiss. There's a panoramic restaurant which serves traditional Swiss food, a self-service buffet, and a small hut for on-the-go snacks, drinks, and hiking food.
Today we ordered a rösti with onions and sausage, a regional meat and cheese platter, plus a sirop made from local herbs and fruits .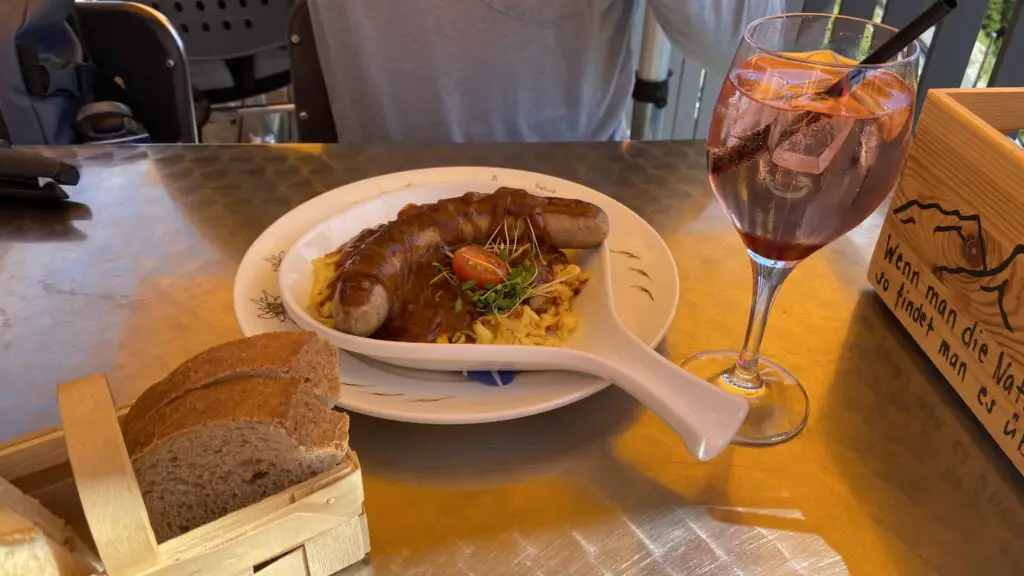 ---
Birthdays, Special Food, & Sleeping At Schynige Platte
By the way, if you happen to visit the Top of Swiss tradition on your birthday, you can get a free train ticket and a free dessert in the restaurant!
Or if it's not your birthday, you can book an afternoon ticket which includes alpine meat, cheese, and bread after your train ride. Or a breakfast ticket for a sweeping breakfast buffet.
In fact, there's even a dine-and-sleep option where you can buy a roundtrip train ticket with a 4-course dinner, 1-night stay in the hotel, and a breakfast buffet. Not gonna lie, these rooms look super charming so I hope we get to stay here one day. One more thing that would be pretty epic — to ride with the conductor up to Schynige Platte!
---
How Much Does it Cost to Visit Schynige Platte?
You're probably thinking, "Wow that looks like so much fun! But how much will it cost me?" The good news is that it's pretty reasonable. Here's a quick breakdown.
The full price of a round-trip train ticket for adults is 64 CHF.
It's 48 CHF if you have the Eurail or Interrail pass and only 32 CHF with the Swiss Half Fare Card or Swiss Travel Pass.
Better yet, you can come to Schynige Platte for FREE if you have the Berner Oberland Regional Pass or the Jungfrau Travel Pass.
Kids ages 6-15 are half price, or free with the Swiss Family Card, and kids under 6 are always free.
Learn more about train passes with our FREE Swiss Train Pass Checklist!
If you like the alpine views and family-friendly trails and mountain-top restaurants at Schynige Platte, then you'll also love other popular destinations in the Jungfrau Region!